OTTY Pure Hybrid Bamboo & Charcoal Mattress - 2022 Review
A hybrid mattress is always a good choice if you're looking for the perfect balance of comfort and support, and OTTY Pure Hybrid Bamboo & Charcoal mattress seems to be just that. However, it offers more than just that. Well, let's find out together what it offers.
Who is OTTY Pure Hybrid Bamboo & Charcoal mattress for?
OTTY Pure Hybrid Bamboo & Charcoal mattress is for anyone that is in the market for a medium-firm, hybrid mattress that is ideal for all sleeping positions. It is certainly a well-rounded mattress, and we're positive almost everyone will be able to enjoy it. On top of that, the multiple layers will definitely give you a better sleeping experience than you had earlier.
Add a header to begin generating the table of contents
What do we use this mattress for?
Aside from the obvious use of sleeping on it, OTTY Pure Hybrid Bamboo & Charcoal mattress can be quite helpful if you're dealing with back issues. The seemingly perfect combo of memory foam and pocket springs make this mattress one of the best mattresses for adequate full-body support, as well as some excellent pressure and pain relief, especially around the core areas. In addition, if you have a sensitive skin, you should consider this product definitely.
Features you should know about OTTY Pure Hybrid Bamboo & Charcoal mattress
This mattress is one of the four hybrid mattresses in the OTTY's catalogue, and if you don't know what separates it from the other three, it might be hard to understand why this one might be the right fit for you. On that note, here are a few words on the main features of this medium-firm, hybrid mattress.
This OTTY Pure hybrid mattress is made from 6 separate layers. The first layer is the foam-filled, charcoal-infused embroidered cover, which is not only hypoallergenic but also helps wick away moisture. Underneath it, we have a bamboo memory foam layer infused with charcoal to keep things cool. Not too many products have charcoal infused layers, so this is a huge plus for Otty Pure bamboo mattress which is also the first bamboo memory foam mattress. Bamboo fabric has a lot of benefits so no wonder that it is one of the most wanted types of fabrics in the world.
Next up, we have high-density, specially designed Reflex Foam, placed on top of the full-sized, pocket springs, for additional support and comfort. Finally, all of that lies on a high-density foam base and is surrounded by the Airflow side support layer, for both improved edge support and temperature regulation. Therefore, this is one of the best temperature regulating mattress options in our opinion.
2000 16cm encapsulated pocket springs
The main support layer of this mattress comes in the form of up to 2000 encapsulated pocket springs. These springs are full-sized, as they stand 16cm tall and are primarily responsible for the medium-firm rating of this mattress, as well as the excellent full-body support and motion isolation.
The side support layer isn't only there to improve on the edge support but is also there to help regulate the temperature of OTTY Pure Hybrid Bamboo & Charcoal mattress. This unique Airflow technology makes this product one of the most breathable hybrid mattresses we have had the pleasure to sleep on.
Antibacterial & hypoallergenic properties
Despite being non-removable, the embroidered cover on this mattress is hypoallergenic and antibacterial. The charcoal-infused layers and foam-filled cover is a great addition to this mattress because it allows you not to worry about allergens such as dust mites.
All of the materials and foams used in the manufacturing of the mattress are perfectly safe to be used. CertiPUR certificate guarantees it. CertiPUR certificate states that despite this mattress being fire retardant, in accordance with UK laws and fire safety regulations, it is also completely free of potentially harmful chemicals and toxins such as TCPP, phosphates or parabens.
Review of OTTY Pure Hybrid Bamboo & Charcoal mattress
All in all, we feel like it is safe to say that this product is genuinely a perfect all-around mattress that should fit everyone's needs and that offers a good value for money. It hits just the sweet spot when it comes to firmness, rated 6.5 out of 10 on the firmness scale. It contours your body perfectly, even when you're switching the sleeping positions through the night. Also, while you're doing that, this mattress manages to isolate almost all of your movements, so you don't have to worry about waking up or disturbing your partner as you sleep.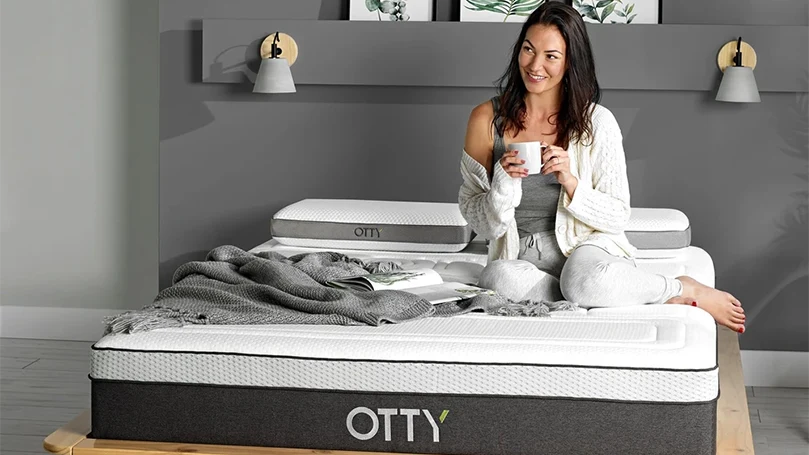 It offers great support, both alongside the edges and within the main portion of the frame. It doesn't get hot, at all, so if you're a hot sleeper – this one could just be the one for you. On the other hand, this mattress needs to be rotated once a month during the first six months, but the lack of handles makes that harder than it has to be.
Also, this mattress does not come with a removable, machine-washable mattress, so that is another thing that we don't find too appealing.
KEY FEATURES:
Type: Hybrid
Firmness: 6.5/10
Thickness: 25cm
Size: Single, Small Double, Double, King, Super King, Emperor + EU Double, EU King
Very comfortable and supportive
Excellent temperature regulation
Hypoallergenic.
Lack of side handles
No removable cover
Minor off-gassing.
What we like about OTTY Pure Hybrid Bamboo & Charcoal mattress
Arguably the best bamboo memory foam mattress at regulating temperature and keeping things cool
Excellent support throughout the whole mattress
Works equally well on both solid and slatted bed base.
What we didn't like about the Simba Hybrid Luxe mattress
The lack of side handles makes rotating a lot harder than it should be
It doesn't come with a removable cover
If you're sensitive to the memory foam smell – you should leave it in a well-ventilated room for about 24 hours.
Check the alternatives to OTTY Pure Hybrid Bamboo & Charcoal mattress
If this mattress isn't good enough for you, or you may want to explore your options – we have two alternative options for you to try out.
Eve Original Hybrid Mattress
 Eve Original Hybrid is one of the best mattresses your money can buy. It is truly a medium-firm, all-around mattress that suits most of the bed frame options.
It is supportive and comfortable, it is very durable, and quite frankly,  it is also quite cool and breathable, even during the warmest nights.
In the meantime, you can check the full and detailed review of Eve Original Hybrid mattress.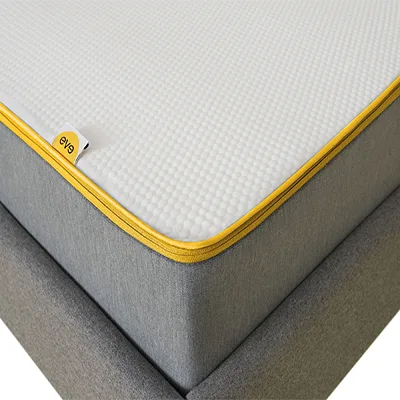 Suitable for all kinds of sleepers
Very comfortable, supportive and durable
Removable, machine-washable, hypoallergenic top cover.
Sub-par edge support
Limited sizing options
Pressure relief could be improved upon.
Simba Hybrid is the entry-level mattress from Simba Sleep, although you wouldn't call it that from looking at the price tag.
It is a 5-layered hybrid mattress that is exceptionally comfortable and durable, but it does lack in some areas such as support and breathability.
We have done a full review on Simba Hybrid mattress so we suggest you checking it.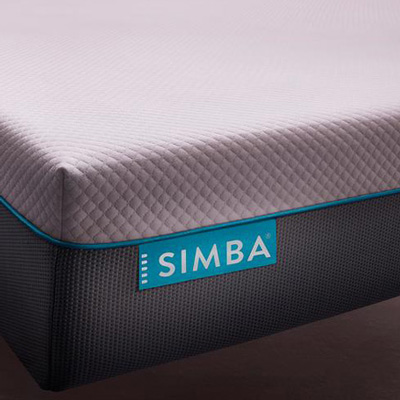 Very comfortable
Very durable
200-night trial period.
It should be more supportive
Not the coolest or the most breathable hybrid mattress
No removable cover.
Consider Panda Luxury Bamboo Memory Foam pillow if you are buying OTTY Pure Hybrid Bamboo & Charcoal mattress
Every good mattress and a bed frame should be paired with an equally good pillow, and a Panda Luxury Bamboo Memory Foam pillow might just be it. This pillow is everything that a memory pillow should be.
It is comfortable, it's supportive, it is very durable, and it does a great job at regulating temperature, so you don't have to flip your pillow in search of the "cool side". At 12 cm thick, this is the perfect pillow for all side sleepers, where as back sleepers can use it as well.
Do check our in-depth review of Panda Luxury Bamboo Memory Foam pillow to find out more information.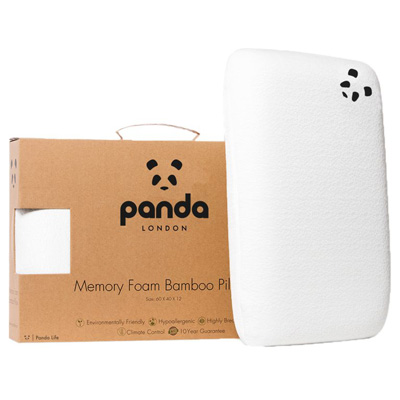 Hypoallergenic
Temperature regulating and breathable
10-year guarantee.
Not good for stomach sleepers.
What makes this product better than some other similar ones?
What makes OTTY Pure Hybrid Bamboo & Charcoal mattress superior compared to the other similar mattresses is certainly excellent support. Not only will this mattress adequately support your body, but you also won't feel like you're slipping off of the mattress when you get near the edge, which is usually a big problem for hybrid mattresses.
How did we test the product?
When the time came for us to review this magnificent product, we wanted to focus on two main things – support and durability. Before we could do that, we needed to order the mattress. This went smoothly, the delivery was fast and free, and within a few days – we could begin our testing.
 The first thing we noticed upon unpacking this bed-in-a-box is how fast it unfolded. Within four hours – the mattress was ready to be slept on. We inspected the mattress for any faulty seams or stitching, and when we couldn't find any – we proceeded with our testing.
 Each of our team members had spent ten nights sleeping on the mattress. During that time, they took notes and wrote down everything they found to be good, or bad, about this mattress.
 By comparing the notes and impressions from our team members, the first thing that caught our eye were the nice words about the support this mattress offers. Everyone was more than pleased with what this mattress had to offer. Everyone woke up pain-free and rested, regardless of their sleeping position.
 We determined that the mattress was also quite comfortable to sleep on, and as far as the firmness goes, we've come to a conclusion that this is a medium-firm mattress, as advertised. What we also found out is that OTTY Pure Hybrid Bamboo & Charcoal is arguably the coolest hybrid mattress we've ever slept on.
 Finally, we've performed a roller test, and fortunately, we've found out that OTTY Pure Hybrid Bamboo & Charcoal is also a very durable mattress.
Also, we've tested this mattress with a roller to simulate long-term use and test its durability and longevity and we have to say, results are much better than we expected.
On top of all that, we also focus on things like edge support, zone support, pain relief, pressure relief, motion isolation, weight distribution, bounce, breathability, hypoallergenic properties, alongside the features we've already mentioned.
FAQs about your OTTY Pure Hybrid Bamboo & Charcoal mattress
In the end, we wanted to answer some frequently asked questions about our review.
What bed frames/bases are suitable for OTTY Pure Hybrid Bamboo & Charcoal mattress?
Both solid and slatted bed frame bases work great with this mattress.
How do I clean my OTTY Pure Hybrid Bamboo & Charcoal mattress?
The only way to clean this mattress is either by vacuuming or with a damp cloth.
How long does OTTY Pure Hybrid Bamboo & Charcoal mattress last?
On average, you can expect this mattress to stay in excellent condition for about eight years.
Can I use a mattress protector on my OTTY Pure Hybrid Bamboo & Charcoal mattress?
Of course. Since there is no removable cover on this mattress, we'd even advise it.