Simba Hybrid Mattress Review
When it comes to hybrid mattresses, a Simba is a household name in the mattress industry. Any Simba mattress might just transform your bedroom for the better, but just to be sure, we wanted to find out can Simba Hybrid do the same. So, let us find out together.
Who is the Simba Hybrid mattress for?
Being the most affordable out of the three in Simba's Hybrid series, Simba Hybrid might just be the best out of three – all things considered. Compared to the Pro or the Luxe, this Simba mattress is much better suited for an average consumer. 
It is not too expensive, it isn't too complex in its nature, and what's more important – it is medium-firm. For those looking for a good balance of support and comfort, this is a great product that will last for many years.
Aside from being medium-firm and suitable for all sleeping positions, Simba Hybrid is also excellent for both solo sleepers and couples, people with bad backs and restless sleepers. However, the biggest praise comes from the side sleepers who want a firm pillow with enough support.
We guess what we're trying to say is – this mattress could just be for everyone. It is just a matter of personal preference – but in general, everyone should be good with this product. Also, hot sleepers who want a cooling pillow will absolutely love it!
Add a header to begin generating the table of contents
What do we use this product for?
This mattress brings you the best of both worlds – the support of pocket springs and the comfort of memory foam mattresses.
As is often the case with Simba mattresses, you'd use this one to finally get a good night's sleep. You see, this is not your "most advanced mattress", or anything of sorts, but what it is, is a very good mattress that can help you sleep better, and at the end of the day (pun intended) that is all that matters.
What's even better is, this bed-in-a-box Simba mattress comes in nine different sizes, which loosely translates that you can pretty much use this mattress however you want. Get it for your kids, your guests or your master bedroom – it'll get the job done.
Features you should know about the Simba Hybrid mattress
Since this is a hybrid, you are already aware that this one comes with pocket springs and memory foam, but we want you to know more than that. Now, let's take a dive into this mattress – Simba Hybrid.
Being the most affordable out of the three Simba mattresses in the Hybrid series, this one is also the least complex in its nature. However, we wouldn't call the 5-layer construction of the Simba Hybrid simple, so let's take a good look at it.
The first of five layers is the breathable sleep surface – a 100% polyester, hypoallergenic knitted cover. Underneath it, we have an open-cell Simba-pure layer, followed by Simba's unique patented titanium Aerocoil spring-comfort layer, which is then followed by the high-definition Simba-pure layer with edge support and supported by high-density foam zoned Simba-pure support base.
The hypoallergenic sleep surface isn't removable, so you won't be able to take a look at these layers, but since we did – let's find out more about them.
Open-Cell Simba Pure layer
Most memory foam and hybrid mattresses have a problem with being too hot, but this bed-in-a-box does not, and that's thanks to this layer. The open-cell Simba-pure layer isn't there just for kicks. It serves two purposes.
The first purpose is that of a comfort layer. Acting as a bridge between the white and grey base fabric breathable sleep surface and the Aerocoi mini pocket springs, this Simba-pure layer ensures that you never feel any of the springs on your body.
More importantly, this open-cell layer is graphite-infused to help you tackle overheating and sleep cooler. Graphite is known for being an excellent temperature regulator, and even though this is not the only mattress relying on this technology to keep things cool – it is one of the ones that do it really good.
Titanium Aerocoil spring system
Underneath the open-cell memory foam layer lies up to 2500 25 mm conical pocket Aerocoil springs, made in the UK with titanium alloy.
As you can see, this is not your regular pocket sprung memory foam hybrid. These springs aren't full-sized, but each of the 2500 springs is individually enclosed in a polyester pocket, the same as any other pocket spring.
Simba promises these will help you experience gravity-defying comfort and the best sleep of your life, and from what we've seen – that's not too far away from the truth. These mini springs promote great air flow, moving the warm air away from your body, but what they also do is effortlessly tailor to your body shape, improve on motion transfer and offer excellent pressure relief.
HD Simba-Pure Edge support
Between the HD support base and the Aerocoil pocket sprung layer, we have an HD Simba-pure edge support layer. To get the most out of these mini pocket springs, you need a firmer base to support them, and a grooved Simba-pure support base isn't going to cut it, which is why this layer is here.
That, and to provide a little bit of extra support around the edges, as you can tell by the name. Also, high-definition foam such as this one is not as heat retentive as regular memory foam, which is another bonus.
Zoned Simba-Pure support base
The base of this entire mattress is supported by the high-density Sima-pure support layer. The zoned Simba-pure support base has 7 different zones for support. This is achieved by grooving out the base in strategic places to offer right support and pressure relief where it is needed. This way, regardless of your sleeping position, you will always be properly supported and your spine will be correctly aligned.
Another thing to know about this bed-in-a-box is that all the foams used in the manufacturing of this mattress are CertiPUR certified. Loosely translated, this means that there are no harmful chemicals inside this mattress, so you may feel free to sleep on it for as long as you want.
Free of TCPP, phosphate, biocides, pollutants and parabens
However, Simba wanted to create a perfect mattress and lower their carbon emissions, so not only did they do this, but they also made sure that their mattress don't contain TCPP, phosphate, parabens, biocides and other pollutants, that may not be harmful to you but are sure harmful to the planet.
Trial period, warranty, shipping and refunds
Simba Company makes shopping much easier and stress-free, pleasant experience. Their customer support is always there for questions and help. Purchasing is risk-free, trial periods go up to 100 nights. There is a 10 years warranty on Simba Hybrid Mattress. Delivery for the UK is free. Returns are also stress-free and quite easy to make.
Simba Hybrid mattress review
And now, for the cherry on the cake – the review of the Simba Hybrid.
As you could tell so far, this is without a doubt an excellent mattress, which is what you would expect out of a Simba mattress. However, as you know, we wouldn't just make bold statements, so let's take a look at how this Sima mattress has performed.
Let's start with the essentials – support and comfort. We've learned earlier that a Simba mattress will rarely leave you asking for more when it comes to support and comfort, and once again, that proves to be true. Support is quite good with this one, and we're not just talking about the middle of the mattress but around the edges, too. Now, keep in mind, support and firmness aren't the same, but they're connected. So, if you're a bit on the heavier side, you might not find this mattress very supportive. And, we do know that comfort is a subjective thing, but as far as we're concerned, Simba Hybrid is objectively comfortable.
On the other side of things, despite their best efforts to keep this Simba mattress cool and breathable, they couldn't do it. There's just too much foam in this one, and if it's very hot in the room you're sleeping in – it's going to be hot in bed, too.
Type: Hybrid
Firmness: 6.5/10
Mattress depth: 25 cm
Size: (UK) Single, Small Double, Double, King Size, Super King Size (EU) Single, Double, Queen, Kids.
Very comfortable & cooling
Excellent durability
Offers great pressure-relief and motion isolation.
It may be too soft for some heavyweight stomach sleepers
Some overheating issues
Non-removable cover.
3 things that convince us to buy the Simba Hybrid mattress
One of the most durable and long-lasting mattresses in this price range
With nine sizes available, you probably won't have a hard time matching this one to the bed frame you own
Simba offers a 200-night trial period and a ten-year guarantee for the Simba hybrid.
3 things we didn't like about the Simba Hybrid mattress
Heavyweight sleepers will probably find this mattress too soft
Despite the best efforts, this Simba mattress has some overheating issues
The only way to clean this mattress is to clean it is by rubbing a clean cloth in small circular motions because this one does not come with a removable cover.
2 best alternatives to Simba Hybrid mattress
We've already mentioned that the Simba Hybrid was a part of a hybrid trio, so if you happen not to like this one, we thought you might appreciate the rest of the ensemble.
Simba Hybrid Luxe is inarguably the best mattress Simba has ever made. It is a 10-layer hybrid, medium-firm mattress that could many other mattresses to shame.
Everything about this mattress is luxurious, beginning with its 10-layer structure, including a zip-off cover and the premium materials used to build it. Also, we can't forget about the exquisite craftsmanship, excellent design and even better performance.
Naturally, this level of luxury and quality comes at a cost, since the Luxe is one of the most expensive commercially made mattresses in the UK. 
Very supportive and comfortable
Temperature-regulating and hypoallergenic
Excellent durability.
Not the best choice for motion isolation
It might be too firm for lightweight side sleepers
Very expensive.
Simba Hybrid Pro is a step-up from our reviewee in several ways.First of all, Hybrid Pro comes with up to 5000 pocket springs, which is twice the amount the Hybrid comes with. But, that's not the only difference. 
This one also has 7, instead of 5 layers. One of the extra two layers found in this one is the extra Aerocoil layer, but the other one is the natural wool layer added for improved temperature regulation.
All in all, the Hybrid Pro is quite similar to Hybrid, only it's a little bit thicker and a bit more supportive.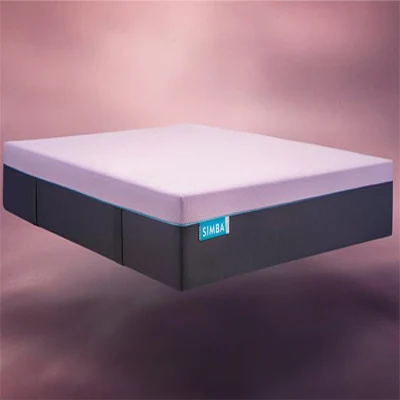 Excellent support and comfort
Excellent durability
Available in a variety of sizes.
Not best at isolating motion
Non-removable cover
Expensive at full price.
Consider Simba Pillow if you are buying a Simba Hybrid mattress
Simba Hybrid pillow is a fully adjustable, memory foam pillow that if given a chance could probably change your life for the better. Instead of being filled with a single memory foam insert, the insides of this pillow are filled with soft Nanocubes – small, memory foam cubes that you add or remove from your new pillow to adjust its loft.
The cover of this one is also quite impressive. It is enriched with Simba active cooling technology called Stratos, so you won't have to worry about turning the pillow over to the cool side ever again.
Not only will you get extra Nanocubes once you purchase the pillow, but you'll also probably take a lot of Nanocubes out in the first place, leaving you with spares that you could use to keep your pillow perfect for a very long time.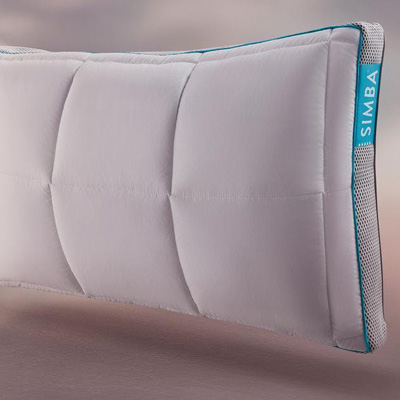 Cool and breathable
Long-lasting and durable
Very supportive and comfortable.
Too firm when entirely filled
Not ideal for stomach sleepers.
What makes this product better than some other similar ones?
Why should you replace your old mattress with this one? Well, for starters, Simba Hybrid is one of the mattresses that you are going to sleep on for a very long time. As long as you rotate your mattress regularly, you should have no problem outlasting a 10-year warranty you'll get once you purchase this mattress.
200-night trial with 10-year warranty
Also, even if by some chance you don't end up enjoying it, you will have over six months to decide that because not only will you get a 10-year warranty, you'll also get a 200-night trial to test this one out. If you don't like it – you'll get a full refund. In other words, this is an excellent, risk-free investment.
And, as far as risk-free investments go – we can't really say we know of a better one. You have absolutely nothing to lose. Except maybe a back ache, but we're willing to bet you'd be willing to do that.
How did we test the product?
As you know, before we write these reviews, we first have to test the product and that whole journey starts with placing an order. The good news is, UK standard delivery also means free delivery, which means we only had to wait for the delivery date and we could be on our way to writing this review.
Also, we can't forget to mention, but if you want to get rid of your existing mattress, Simba also offers a free collection, which we used on several occasions. Outside of UK, different delivery charges apply, and for further information on it, we suggest you check Simba's website.
Now, let's talk about the testing process. As you probably know this bed-in-a-box is delivered vacuum packed, so the first thing we do upon receiving our new mattress is open up the box and inspect the mattress for any defects. Fortunately, none were present in this case, so we could set up our bed and begin our tests.
Testing with different bases, positions and weights
The way we do these is by having all members of our team spend ten days with the mattress. During those ten days, we'd test the mattress in different conditions. For example, we'd test the mattress both on a solid and a slatted base, to see will it feel softer on either of them. We'd also adjust the room temperature, try out different sleeping positions, do the roller and the kettlebell test and so on.
All of this allows us to paint a very clear, objective picture of what can this mattress do, and we sure hope we manage to do that.
| | |
| --- | --- |
| Size | Dimensions |
| Small Single | 75 x 200 x 25 cm |
| Single | 90 x 190 x 25 cm |
| Small Double | 120 x 190 x 25 cm |
| Double | 135 x 190 x 25 cm |
| King Size | 150 x 200 x 25 cm |
| Super King Size | 180 x 200 x 25 cm |
| EU Small Single | 80 x 200 x 25 cm |
| EU Single | 90 x 200 x 25 cm |
| EU Double | 140 x 190 x 25 cm |
| EU Double L | 140 x 200 x 25 cm |
| EU Queen | 160 x 200 x 25 cm |
| Emperor | 200 x 200 x 25 cm |
Conclusion - Simba Hybrid mattress is a great choice if:

You have issues with back, shoulder or neck pain due to ill posture or injury
You enjoy soft and cossy sleeping surfaces
Your family member or you tend to co-sleep with partner, children or pets
Someone has issues with allergies
You're a fan of sleek design and easy shopping experiences
You tend to change sleeping positions
Want to buy a relaxing sleeping surface – people with insomnia problems, elderly, people whose jobs include a lot of physical activity and athletes
You have problems with snoring.
FAQs about your new Simba Hybrid mattress
In the end, let's try and answer some FAQs about this UK-made bed-in-a-box called Simba Hybrid.
Is a Simba Hybrid mattress suitable for side sleepers?
Yes. Simba Hybrid should provide great support and pressure relief for side sleepers.
Should back sleepers use Simba Hybrid mattresses?
Back sleepers could sleep on pretty much any bed, and Simba Hybrid mattresses are no exception to that.
What base is suitable for a Simba Hybrid mattress?
Any bed base would be suitable for this mattress, as long as that base isn't the floor.
How firm is the Simba Hybrid mattress?
Simba Hybrid is a medium-firm mattress, rated 6.5 out of 10 on the firmness rating scale.
Will the Simba Hybrid mattress work for me if I have back pain?
Yes. This mattress should be able to help you get rid of the pain.