Simba Hybrid Pro Mattress Review - A Budget Pick Among the Best Simba Mattresses
If you are in the market for a high-end, hybrid mattress, Simba Hybrid Pro might be a good choice. 7 layers of comfort promise to bring an ultimate sleeping experience, but is that really the case? We'll find out in our Hybrid Pro mattress review of one of the best Simba mattresses!
Features you should know about the Simba Hybrid Pro mattress
Like any other mattress, Simba Hybrid Pro has its own set of defining features and characteristics. So, before you go out and buy this pocket sprung mattress, we thought you should probably know a bit more about this mattress.
Who is this mattress for?
Simba Hybrid Pro is a medium-firm mattress designed to be an adequate fit for everyone, regardless of their sleeping position or bodyweight. It is the mid-tier mattress from Simba, although, with its price tag, it is hard to look at this one as anything but a luxury option.
Apart from the price tag, this Simba mattress is most definitely one of the most well-rounded mattresses on the UK market that has a patent that takes the quality of sleep to the whole next level.
As we've mentioned in the beginning, Simba Hybrid Pro has seven different layers that make up the body of the mattress, with the seventh layer being the non-removable cover. All in all, the mattress consists of (in the top to bottom order) of super soft & breathable sleep surface, natural wool layer, Open-cell Simba-Pure layer, two titanium Aerocoil spring-comfort layers, high definition Simba-Pure with Simba Pure edge support layer and a zoned Simba-Pure support base. Each individual layer serves its purpose, which you're about to see in the following of this section.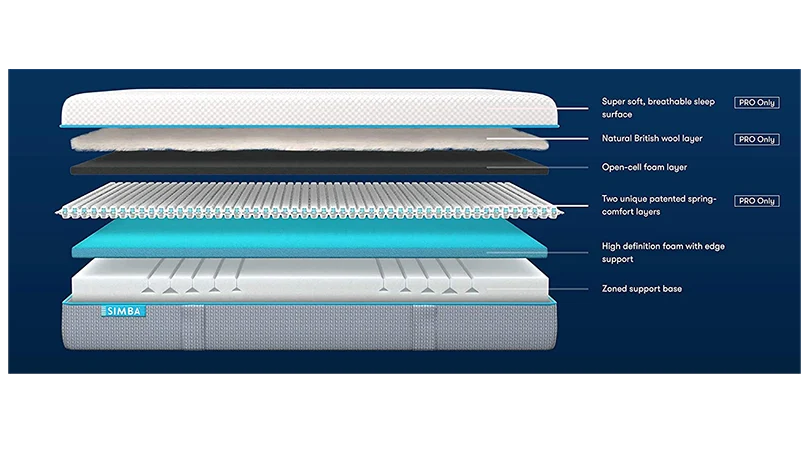 CertiPUR and TCPP Free Certificates
Before we move on to each individual layer and its purpose, it is important to note that this mattress is perfectly safe for human use. Simba mattresses are known for their chemical-free products. All of the foams and materials that are used in the manufacturing of this mattress are CertiPUR certified. What this means is, all of the foams and the materials used are TCPP-free, which means that they're free of any potentially harmful chemicals and heavy metals.
You won't find any traces of phosphates, parabens, biocides or any other organic pollutant in this mattress.
5,000 25 mm conical pocket Aerocoil springs
As we've mentioned, unlike the majority of traditional mattresses, Simba Hybrid Pro contains two layers of titanium Aerocoil spring-comfort layers.
As you could tell from the name and the number of coils – Aerocoil pocket springs aren't regular pocket springs. They are much smaller than the typical pocket spring, with each being only 25 mm tall. This makes them quite a bit softer and not as supportive as the regular pocket springs. That is precisely why these two layers are called spring-comfort.
While they do provide a certain level of support, these two layers of pocket springs are mostly there for comfort. As you could guess, the great amount of springs helps evenly distribute weight, improves contouring but reduces the chance of sinking. While we're on the subject of the amount of the springs, it is important to note that the number will be dependent on the size of the mattress, meaning the bigger the mattress – the more Aerocoil springs.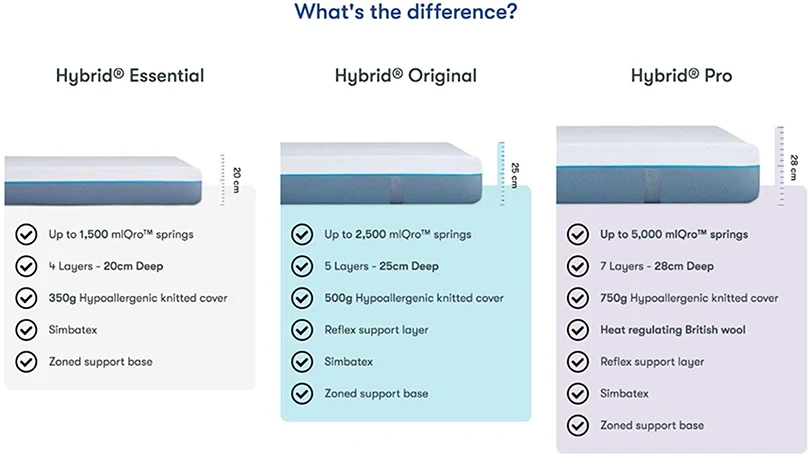 Temperature regulation wool layer
Underneath the super soft, breathable sleep surface lies a temperature regulating natural wool layer. As you know, memory foam mattresses can get very hot, which is precisely why Simba has added a natural material into their Pro model. Apart from being super soft and quite comfortable, wool is also naturally moisture-absorbing and temperature-regulating.
Now, it is important to note that the luxurious natural wool layer won't cool you. Temperature regulating does not mean cooling – it just means that it does a great job of dispersing body temperature and adapting to temperature conditions. This translates to a heat regulating sleep surface layer that is going to keep you warm during the winter and pleasantly cool during the summer.
Another thing that sets Simba mattresses apart from other brands is the memory foam foam layer.  Beneath the temperature-regulating wool layer is the Open-cell Simba-Pure foam layer. This is a high definition foam layer specially designed by Simba. They've done their fair share of research to make this specially designed this foam to keep their mattresses more comfortable, and possibly even more important – improve the airflow and temperature regulation.
Unlike Simba Hybrid Luxe, this one is not infused with graphite for improved cooling, but it is still quite good at doing what it needs to be doing. It is a medium firm mattress that won't disappoint you in any way!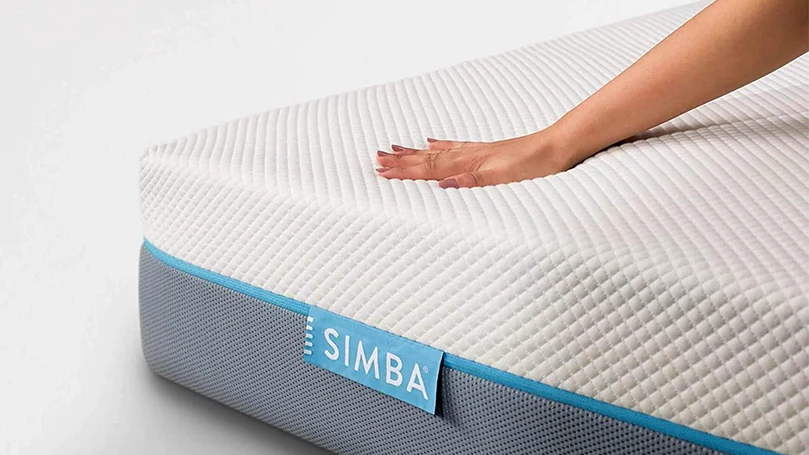 750 hypoallergenic knitted cover
This Pro mattress comes with a high-quality, hypoallergenic, knitted cover.
This top cover weighs 750 grams, but that isn't something that should be of a great deal to you, because unfortunately, the cover on Simba Hybrid Pro isn't removable; therefore, it is also not machine washable. This is quite disappointing for such an expensive mattress, and if that is something that's important to you – you will have to upgrade to Simba Hybrid Luxe.
Apart from that, the cover is exceptionally made. It is made from high-quality polyester and elastane. It is very soft and pleasant to the touch and is lovely to lie on. With that being said, we'd still suggest using a sheet or a mattress protector with this mattress.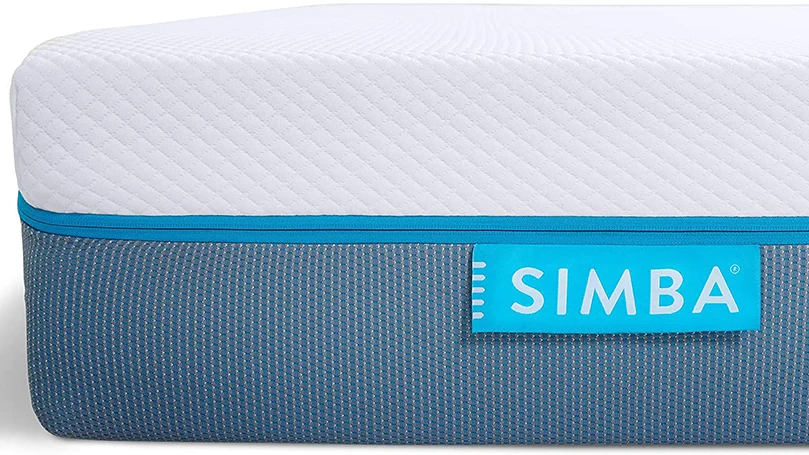 Simba advises you to rotate your mattress once a month for the first three months and then continue rotating it after every three to six months. You don't have to flip the mattress, as it is not double-sided, but you do have to rotate it – unless you want to void your 10-year warranty.
However, Simba Hybrid Pro can be quite heavy. The king-sized mattress weighs over 30 kg, and when you factor in that this is a 28 cm deep mattress, it is easy to imagine rotating it would be quite tasking.
Fortunately, this Simba mattress comes with four handles for easier manoeuvring. That is if you get a mattress that's larger than a Small Double. Single and Small Double mattresses do not come with handles, but they're more compact and easier to move around.
Review of Simba Hybrid Pro mattress
Simba Hybrid Pro is not your regular bed-in-a-box hybrid mattress – it is a lot more than that. This is, by all means, a premium mattress, and we will judge it as such. First of all, this is one of the best Simba hybrid mattress picks, a very durable product, which you can tell from the 10-year warranty you get from Simba. Apart from that, you also get a 200-night trial period to test out the mattress so you can test it before you are satisfied with your sleep quality. 
The main key aspects of this new Simba mattress are comfort and support. As far as comfort is concerned, this is a remarkably comfortable mattress. It contours quite well, it offers just the right amount of support, and it's neither too firm nor too soft. However, we did notice that the zoned support base does not do much for lightweight sleepers, but that was kind of expected. All in all – this is a well-rounded medium-firm Simba mattress that uses high definition foam material, ensure you nothing but a comfy night's sleep!
On the other hand, one problem you might run into is motion isolation or lack thereof. If you're sharing a bed with a restless sleeper, you will probably feel their movement during the night. This is not a major issue whatsoever, but it is one worth noting.
Also, the lack of removable cover is really not something that should be happening at this price point.
Type: Hybrid
Firmness: 6.5/10
Thickness: 28cm
Size: Single, Small Double, Double, King, Super King + EU Double, EU Queen.
It offers excellent full-body support and comfort
Good for side sleepers
200 nights free trial
28cm deep
10 year guarantee
High quality memory foam
Natural British wool layer
It comes in a variety of sizes
It is very durable
Good motion transfer
Great value for money.
Motion isolation could be better
No removable or washable cover
You need to buy a separate Simba mattress cover
More expensive than some similar mattresses.
What we like about this mattress
One of the most durable mattresses we've ever reviewed
A true medium-firm mattress that should be supportive and comfortable for a majority of sleepers
Good for slatted bed frame
Premium option for less money
Great temperature regulation capabilities 
Good for couples due to good motion transfer 
HD Simba Pure edge support
Open cell foam layer
10 year guarantee
200 night trial period
Titanium Aerocoil springs
Unlike many other hybrid mattresses, this does not get hot.
What we didn't like about this mattress
For such an expensive mattress, there should be a removable cover
Lack of removable or washable cover
A zoned support base does not really help the lightweight sleepers
Motion isolation definitely needs some improvement.
Check the alternatives to this mattress
If you don't find this mattress interesting or you don't like it your very first night, we might have something else in store for you. Here are the two alternative options to consider.
If you're not in the mood for the Pro, maybe the earlier version of product might be the one for you. This is a five-layered mattress, only missing an extra Aerocoil spring layer and a natural wool temperature regulating layer.
With that in mind, it is still quite comfortable and pleasant to sleep on, but it isn't as cool and breathable as the Pro.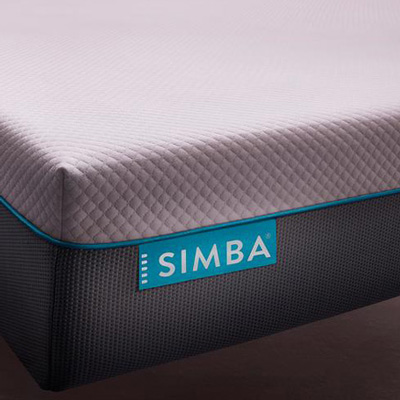 Very comfortable and pleasant to lie on
Extremely durable & high quality memory foam
200 night trial period.
Not as supportive as it should be
It does get quite a bit warm
No removable cover.
Eve Original Hybrid mattress
Eve Original Hybrid is another medium-firm mattress, somewhat similar to our reviewee. Eve is also known for good products and this one is among the top hybrid mattresses for those who don't want to spend a fortune on a new mattress.
Unlike Simba Pro, this one does come with a removable cover, it offers great motion isolation, but if we're being completely honest – it is not as comfortable as the one we reviewed today.
We have done a review on Eve Original Hybrid so you can take a look.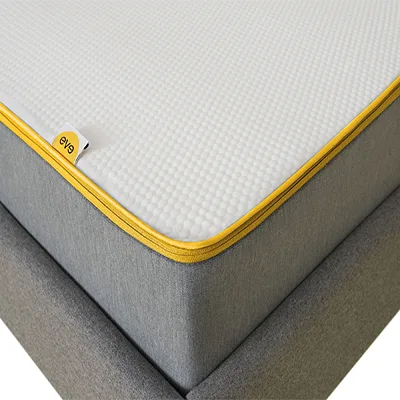 Suitable for all kinds of sleepers
Some sleepers praised it for treatment of back pain
Excellent comfort, support and durability
Removable, hypoallergenic cover.
Slight support issues
Limited sizing options
Pressure relief could be better.
Consider Simba Hybrid pillow if you are buying this mattress
If you do decide to get this Simba mattress, you might want to add another Simba family member to the mix. Simba Hybrid pillow is a great addition to any bed.
It is a fully customizable, fully adjustable pillow, designed in a way that you won't ever have to turn it to the cool side again. The pillowcase is "powered" by Simba Stratos technology for improved temperature regulation, and the inside of the pillow is stuffed with Nanocubes – small, open-cell memory foam cubes that you can add or remove to find the desired thickness and firmness of your pillow.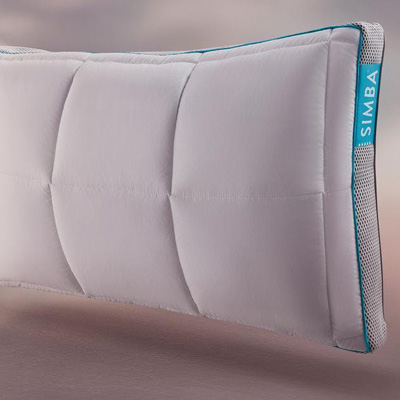 Cool and breathable
Great heat regulation
Very durable
It offers great neck support.
Too thick for stomach sleepers
Could be more comfortable
Too firm when fully filled.
What makes this product better than some other similar ones?
If we were to compare the Simba Hybrid Pro to the rest of the mattresses from the same category and that are similar to it, whether in price or in performance, we'd say that what makes our mattress special is its remarkable durability.
Simba Sleep is known for making very durable products, and once again – they did not disappoint. It is the perfect mattress that has a fantastic support layer, outstanding edge support, breathable sleep surface, titanium Aerocoil springs, great heat regulation and free trial period! The most advanced mattress ever with a unique patented structure!
How did we test the product?
Now, let us guide you through our testing process. We always start our reviews with two things in mind – being objective and detail-oriented. This was also the case when we reviewed our mattress that we are reviewing now. Considering that this is a luxury item, our expectations were set really high, but fortunately – they were met.
Naturally, the first thing we did was order the product off of Simba Sleep's website. The ordering process was easy and smooth. We had free delivery here in London, the package was at our doorstep within few days, and we were ready to begin.
Upon unpacking the layers and layers of plastic wrap, we allowed the mattress to fully expand, and we began our review.
The first thing we focused on was comfort. Upon first inspection, it was clear that we were dealing with a very comfortable, high-quality, luxurious product. Now, when it comes to comfort, there are usually two main contributing factors – support and firmness.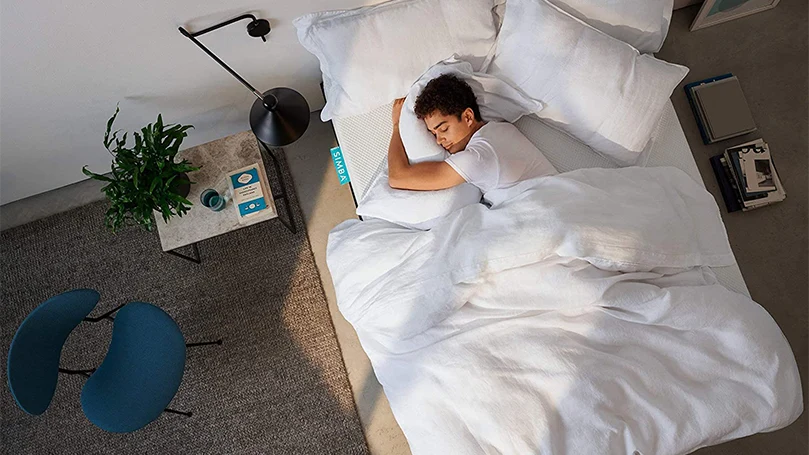 Support on this mattress is excellent. All of the layers work in perfect harmony with each other, and they truly provide adequate support for the whole body.
When it came to firmness, we've concluded after days of testing that Simba Hybrid Pro is indeed a medium-firm mattress, with a firmness rating of 6.5 out of 10, in our humble opinion. Keep in mind – this is not an opinion of a single person. Our team consists of several people, all differing in body weight and sleeping preferences, and with a combined effort, we've come up with that number.
In the end, we have also performed the roller test to simulate long-term use and test out the durability of the mattress, and as you already know – we were more than pleased with the results.
Naturally, each of our team members paid attention to intricate details, and they've made notes on things like edge support, pain and pressure relief, motion isolation, breathability and so on. All of this combined is what allowed us to present you with this review of one of the best mattresses from this company.
FAQs about your new Simba mattress
In the end, we thought we'd wrap things up by answering some questions about the Simba Hybrid Pro mattress.
What firmness is this mattress?
Simba Hybrid Pro is a medium-firm mattress rated at 6.5 out of 10 on the firmness scale.
What bed base can I use for this mattress?
You can use any bed base for Simba Hybrid Pro; although, we would recommend you use a solid base over the slatted one if you prefer a slightly firmer feel to your mattress.
Does this mattress come with a mattress protector?
No. This mattress does not come with a mattress protector. That is something you will have to buy separately if you wish to use it.
What type of sleepers should go for this mattress?
Simba Hybrid Pro should be a good fit for all types of sleepers, though we noticed that a lot of people suffering from back pain did praise this Simba mattress.
Does this mattress have the CertiPUR label?
Yes. it is CertiPUR certified so can be sure that this premium hybrid mattress has all 7 layers free of any chemicals that might ruin your night's sleep.
Does this mattress get softer over time?
Like every other mattress, Simba Hybrid Pro will degrade over time, but considering the quality of the mattress – this shouldn't happen for a very long time, especially considering  the quality of memory foam layers.
How do I clean my mattress?
You may clean your mattress with a damp cloth and some warm water if you happen to stain it. Just make sure to keep your mattress dry at all times.
Does Simba offer non contact delivery?
Yes, you can order your product with no contact delivery. The product will be delivered to your door.
Do I get a full refund if I don't like the product?
Yes, you do get the full refund in case you are not satisfied with the product.