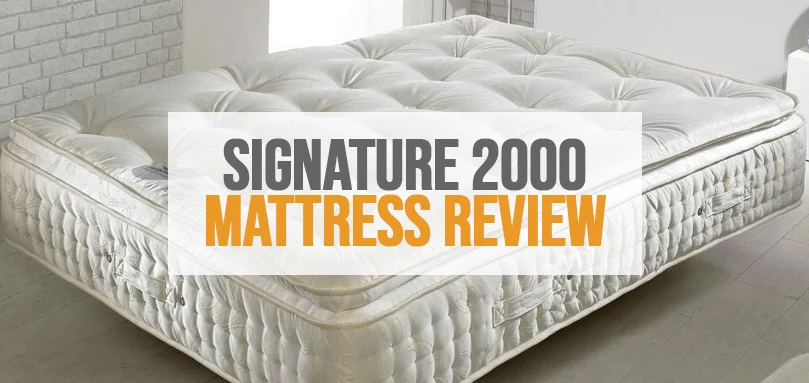 Happy Beds Signature 2000 Mattress - Our 2022 review
If you're in the market for an affordable, yet quality pocket sprung mattress, you may be interested in a Signature 2000 pocket sprung mattress from Happy Beds. 
If you are, you may want to know whether investing in this mattress is a good idea or not and we want to help you with that. We're tried and tested the Signature 2000 so you don't have to and here's what we've found out.
We guarantee you will like this mode as it comes with the high quality craftmanship. As well as it comes from the branded company, Happy Beds. Let's dive in a bit deeper and find out more! 
Add a header to begin generating the table of contents
Who is the Signature 2000 mattress for?
When we're dealing with this type of a mattress such as this one, the orthopaedic strengths and features really come in the light. Over 2000 individual pocketed springs deliver the outstanding support and make this one a solid option for anyone in need of a  great orthopedic mattress.
How did we test the product?
We feel like it is safe to assume you realize just how difficult it is to find the perfect mattress for yourself. With so many options to choose from, we're amazed that some people even manage to decide on a single product. The possibilities and options are vast and that can make it hard for anyone to choose the right mattress. Fortunately, we are here to help!
We take pride in our reviews because we give it our all to test the products in the best possible way and provide you with the most objective, all-around review of the product at hand. We have made it our mission to focus on all the important features, as well as pay attention to minor details, in order for us to be able to paint a clear picture for you.
Since we understand that we can't really put into words how a mattress feels and performs, we do our best to find its strengths and disadvantages. Furthermore, we understand that some features hold more merit than others, so we put special attention to features like comfort, support, firmness, edge support, pain relief, pressure relief, motion isolation, weight distribution, breathability, hypoallergenic properties, durability, longevity and so on.
In order for us to do all that, we need to look at the product from various perspectives and that's exactly what we do. Our team consists of several experts with extensive knowledge in this niche, so we can hear everyone's opinion and deliver a well-rounded review of a product to you.
What do we use this product for?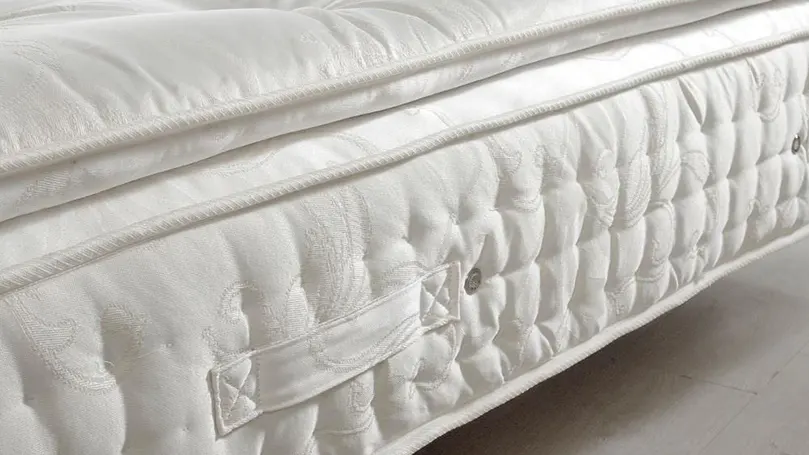 The Signature 2000 mattress is most often used by people that need a mattress for orthopaedic purposes. This particular mattress is quite firm and supportive, which is exactly what many people require. However, that is not to say that anyone shouldn't give this mattress a try. You can sleep on it even if you don't have any orthopaedic issues.
Is Signature 2000 mattress an upgraded version of a previous product?
The Signature 2000 pocket sprung mattress is one of the high-end models in the Happy Beds' "Signature" series of pocket sprung mattresses. Unlike some of the low-end models, this mattress comes with 2000 individually nested pocket springs, which is 200 and 600 more than the previous ones. That alone, makes Signature 2000 mattress an upgraded version of the previous product, although those aren't the only differences between them.
Features you should know about the Signature 2000 mattress
Just like any other mattress, the Signature 2000 mattress comes with its own set of defining features. These are also some of the most important features we've taken into consideration when we reviewed this product.
Inarguably, the most important feature of Signature 2000 pocket sprung mattress is the spring system that comfortably lies between the hand-tufted wool, amongst the other natural fillings and materials used to make this mattress.
The sheer number of individual pocket spring coils is what makes this one great. 2000 individual pocket spring coils make it so that every inch of your body is properly supported once you lie down. Furthermore, all of these springs make it so that you don't feel any unnecessary movement or motion if you sleep with a partner, make this one ideal both for solo sleepers and couples.
Hand-tufted mattresses have always been a staple of excellence, as it's the case with this one as well. Amongst many other natural materials used to create this mattress, wool is arguably the most important one.
The wool tufts make up for the comfort layer of this mattress. Not only is wool naturally great at being cosy and comfortable, but it is also quite great at dissipating heat and keeping the body nice and cool. We've found that this mattress performed really well, even in the hottest conditions, which speaks volumes of the quality of this mattress.
Just like we've previously said, there are several natural fillings that make up this mattress. We've mentioned wool, but we haven't mentioned that it is lamb wool. Lamb wool is not as fine as merino wool, but it still offers a splendid sleeping experience.
On top of all that, the Signature 2000 mattress from Happy Beds is also filled with luxury silk and cashmere. All of these make up for a wonderfully soft comfort layer, encompassed by hand-tufted, moisture-absorbing cotton. 
The only drawback of so many natural fillings mattress has is the fact that this mattress isn't hypoallergenic, but that's nothing proper care and quality sheets can't make up for. 
As is often the case with this type of mattresses, they are more than useful for people in need of some additional support. What makes a mattress orthopaedic is the added level of firmness and support, especially in the core areas such as your lower back and joints.
With over 2000 individual pocketed coils, Signature 2000 mattress offers all of that and a lot more. The difference between this mattress and some other ones in the price range is immediately noticeable. This mattress will offer substantially more support for your whole body than any other, say, memory foam or latex mattress could.
Finally, one of the greatest features of the Signature 2000 mattress is its durability. We've done our fair share of testing and we have to say, it's remarkable how great this mattress feels even after simulated years of use. With proper maintenance, meaning flipping and rotating once every six weeks, you're easily looking at 8 years of comfort with this mattress.
The spring system and high-quality natural materials really make up for a long-lasting product.
Review of Signature 2000 mattress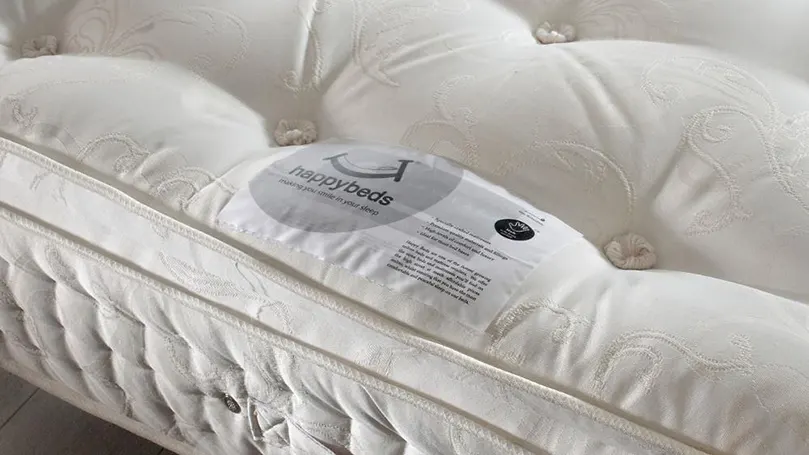 All in all, we're looking at a very well-rounded product from a well known Happy Beds company. This handcrafted mattress really brings a lot to the table. It's very durable, it's made from high-quality natural materials, the spring system is great and so on. The surface of the Signature 2000 mattress is very pleasant to sleep on, even if some may find it to be too firm. The mattress is very well aired, so you won't have any problems as far as temperature is concerned.
On the other hand, the Signature 2000 mattress is not hypoallergenic, which may pose a problem for quite a lot of people. Also, if you're a side sleeper, you might want to look into getting a mattress topper to achieve a comfortable night's sleep.
Excellent full-body support for a comfortable night's sleep
High quality memory foam
Good pocket springs
Very cool and breathable
A great choice for heavy sleepers
It's not hypoallergenic
If you're looking for pressure relief – look further
Not the best option for lightweight and side sleepers
What we like about Signature 2000 mattress
Great build quality and craftsmanship
High pocket spring count
Comes from the recognized company, Happy Beds
Remarkable durability and longevity
Ideal for stomach sleepers
What we didn't like about Signature 2000 mattress
Not suitable for people suffering from allergies
Sub-par pain and pressure relief in core areas
It will be too firm for lightweight sleepers
Check the alternatives to Signature 2000 mattress
If you feel like Signature 2000 mattress from Happy Beds isn't the right choice for you, we suggest that you take a look at some of the alternatives we feel you might like. Eve Hybrid and Natural Mattress by Made bring to the table what Signature 2000 mattress is missing, therefore, we feel they might be a good choice for you.
If you want to stay at the firmer side of the spectrum, but add hypoallergenic properties to the mix, you should consider Eve Hybrid. This mattress offers great support and comfort, all while being hypoallergenic and well-ventilated. It is a bit softer than the Signature 2000 mattress, but it should still offer more than enough support even for heavy sleepers.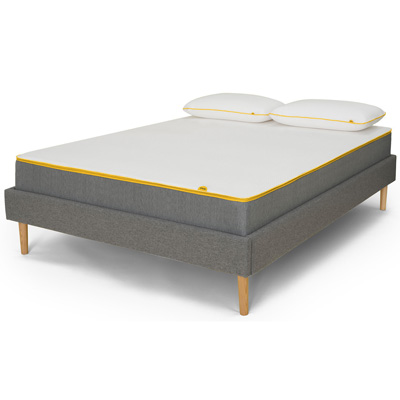 Great value for money
Perfect mattress for heavy sleepers
Very durable
Supportive and comfortable
Might be too firm for some
Not the most motion isolating
Some off-gassing in the first few days
Here we have a hybrid mattress that is slightly less firm than both Eve Hybrid and Signature 2000. However, what it lacks in firmness, it makes up for in layers. In spite of it being medium-firm, it still offers great support, regardless of the sleeping position and body weight.
Supportive and comfortable
7 support layers
Hypoallergenic cover
It does get warm
Lightweight side sleepers might find it too firm
It has some bounce to it
Consider Rejuvopedic Microfiber mattress topper if you are buying Signature 2000 mattress
Since we're talking about a mattress that's quite firm, we might suggest you obtain a mattress topper for some added comfort, especially if you weigh under 70 kilos. This microfiber mattress topper from Rejuvopedic is a great match for our mattress, as it is soft, lightweight and hypoallergenic – all of the things our mattress isn't. Combine it with our mattress from the review and you'll achieve the perfect night's sleep.
Our detailed review of Rejuvopedic Microfiber mattress topper can be found here!
Soft and lightweight
Hypoallergenic
Easily washable
Some durability concerns
More expensive than some other products of similar quality
It does get quite hot; not ideal for summer
What makes this Happy Beds product better than some other similar ones?
Unlike some other mattresses with the same system at this price range, the Signature 2000 mattress offers great support and comfort. High spring count not only allows this mattress to properly support your body, but it also allows for great motion isolation, making it a great pick for couples. Furthermore, the durability of this mattress really makes this one great, long-term investment, on par with some much more expensive mattresses. If you wan to search for the additional mattresses, we highly suggest you checking our best sprung mattress guide to find the alternative models for your needs.
FAQs about your new Signature 2000 mattress
Finally, we wanted to wrap things up by answering some of the most commonly asked questions about Signature 2000 mattress – one of the best Happy Beds picks. We sincerely believe that sometimes, answering a simple question can make a world of difference.
Is the Signature 2000 mattress made of natural materials?
Yes. The Signature 2000 Pocket Sprung Mattress is made from a variety of natural materials such as wool, cotton and cashmere.
How long will my Signature 2000 mattress last?
With proper care and maintenance, you could use this mattress for over 8 years without any sign of decay.
How do I wash my Signature 2000 mattress?
There are several methods of removing different stains, but in general, you should clean your mattress by vacuuming it or gently washing it with a mixture of warm water and mild detergent. Baking soda and vinegar could also come in handy.
Is the Signature 200 mattress good for back sleepers?
Yes. The Signature 2000 Pocket Sprung Mattress is good for back sleepers for many reasons.
Is the Signature 2000 mattress good for stomach sleepers?
Yes. The Signature 2000 Pocket Sprung Mattress is good for stomach sleepers due to its firmness.
Is the Signatur mattress good for side sleepers?
Not quite. Many side sleepers find Signature 2000 Pocket Sprung Mattress to be too firm.
Is the Signature 2000 mattress good for back pain?
In general, yes. This mattress will provide you with proper alignment and support which should soothe your back pain. On the other hand, if pressure is what's causing your back pain, then no, this mattress isn't a good fit for your back.