Sleepeezee Jessica Mattress 2200 Pocket Gel Mattress Review
Jessica is a great mattress collection offered by the Sleepeezee mattress company, and endorsed by Dame Jessica Ennis-Hill, the famous Olympic medal winner from the UK, after whom the collection is named. It is great to know that the former Olympian uses these mattresses, because it is a well-known fact how important good night's sleep is for professional athletes. We tested all three mattresses from this collection and these are our impressions.
Who is Sleepeezee Jessica mattress for?
Sleepeezee Jessica 2200 Pocket Plush mattress is of main interest for this review, so we will talk about it in the biggest part of the review. The firmness of this mattress is suitable for side and back sleepers. Softer feel and gentle support will not be enough for stomach sleepers.
It is great for people with allergies, as well as for vegans, because this is a 100% vegan friendly product. In addition, it offers great cooling properties which means you will enjoy optimal sleep even during the hottest summer months. 
Add a header to begin generating the table of contents
What do we use this product for?
We use Sleepeezee Jessica 2200 Pocket Plush mattress for more comfortable night's sleep and gentle support. This mattress is so soft and comfy, yet supportive, that side and back sleepers will enjoy every minute they spend on it. 
We use it for comfort
We use it for support
We use it for ultimate body temperature regulation
We use it for pressure relief
We use it for hypoallergenic properties.
Does Sleepeezee Jessica mattress come in different versions?
As we said at the beginning, in this review we will not only talk about the 2200 Pocket Plush mattress, but also about other mattresses from the Jessica mattress collection, inspired by the famous UK athlete. Unlike some other mattress collections available in the UK market where the mattresses are practically the same, and usually only the depth is different, the mattresses from the Jessica collection are very different from each other. What they have in common is a 10-year warranty and a 60-night trial.
1800 pocket gel mattress is 27 cm deep and inside the mattress there are 1800 pocket springs that provide pressure sensitive support and firmness. Layers of two different types of foam have been added over the pocket spring system. Memory foam moulds towards your body shape, which gives pressure relief, and gel layer which is also pressure relieving and cooling. Thanks to the gel foam, this mattress is also suitable for hot sleepers, because the gel foam neutralizes the heat retention of memory foam. It is a medium firm, more suitable for back and side sleepers than for front sleepers.
Cooling
Pressure relief
Hypoallergenic.
Not the cheapest one
Single-sided
Not the best for stomach sleepers.
This is firmest mattress from the Jessica collection. On a firmness scale from 1 to 10, it is around 7, which means that it is not very firm, like orthopaedic mattresses, but it has firmer mattress tension than a medium mattress. It is therefore extra supportive and ideal for stomach and back sleepers. It has a significantly smaller number of pocket springs – 800 but the depth is the same as with the 1800 pocket gel mattress. The Platinum Breathable layer is common to all mattresses from this collection, so hot sleepers need not worry.
Supportive
Hypoallergenic
Next day delivery.
A bit more expensive
Too firm for most side sleepers
Single-sided.
Features you should know about Sleepeezee Jessica mattress
Following are the most important features of the Sleepeezee Jessica 2200 Pocket Plush mattress, and some of these features, such as the Platinum Breathable layer we will talk about first, are common to all mattresses in this collection.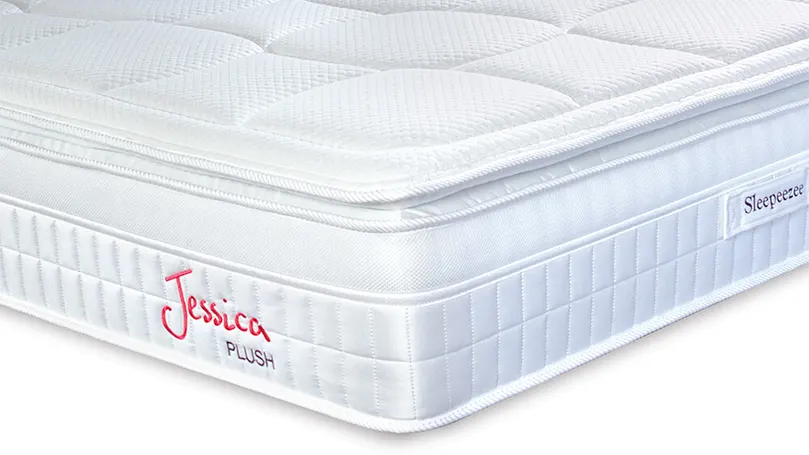 Platinum Breathable Layer for temperature regulation
We have already mentioned the Platinum Breathable layer which is implemented in all three mattresses and helps regulate body temperature. That is why each of them is suitable for hot sleepers as well as for all seasons. It is an innovative layer that perfectly regulates the temperature according to the current needs. So during the same night it can heat and cool you, depending on the room temperature and excess body heat.
There is one more layer in addition to the Platinum Breathable layer and that is the Soft Comfort layer, another trademark of the Sleepeezee company. That layer is in charge of giving you extra comfort and extra luxury.
1000 SoftTech pocket springs and 1200 pocket springs
This mattress has 2200 pocket springs in total, but it is not 2200 of the same pocket springs. Mattress has 1000 SoftTech pocket springs and 1200 traditional pocket springs.
SoftTech pocket springs are Sleepeezee trademark springs that provide comfort and support, while 1200 traditional pocket springs are there to provide firmness and additional support. What is important to know is that all 2200 pocket springs are individually wrapped in fabric pockets, which means that they work individually and providing personalized support. That's why motion insulation is great too.
Reinforced edges may not seem like such an important feature, but let us explain. Thanks to reinforced edges you have more sleep space available. While many mattresses do not provide good enough support and stability at the edges, which reduces your sleeping space, here on the entire surface you get equal support and comfort. And how was that achieved? By adding foam encapsulation around the entire border. The only downside is that there are no air vents, but this mattress is breathable enough even without air vents.
It is somewhat difficult to rank this mattress on a firm scale from 1 to 10, because due to excellent support it can seem to be a firmer than it is, and due to SoftTech pocket springs and generally soft feeling it can seem softer than it really is. Both are praiseworthy for this mattress, and we will rank it around 4.5 on the firmness scale, which puts it among the soft to medium mattresses ideal for side sleepers.
Hypoallergenic, sustainably-made & vegan-friendly
The most important thing for allergy suffers is that the product is hypoallergenic. This mattress is 100% hypoallergenic because it is made of hypoallergenic material and is also not a suitable environment for dust mites and other allergens.
Vegans can also use it. Soft microquited knitted cover, like the rest of the mattress does not contain animal-derived components so the mattress is vegan-friendly.
Sleepeezee Jessica 2200 Pocket Plush mattress is 33 cm deep which makes it a deepest mattress from the Jessica collection. It is not only deepest from this collection but generally belongs to a group of very deep mattresses as the industrial average is 25 cm for pocket sprung mattresses. This is great news for all heavier customers for whom it can't be too thin, but also for everyone else because this is a very comfortable mattress.
60 days trial & 10-year warranty
A 60 day trial is more than enough to determine if this mattress suits you and if you want to keep or replace it. It takes the body 3 to 4 weeks to fully get used to the mattress, and you have twice as much time available so that's enough, although mattresses in this price range sometimes come with a 100 or 200-day trial.
A 10-year warranty is there to guarantee you peace of mind for a decade. You need to be careful not to damage it, and in any other case the company will repair the defect or give you a new mattress, making your investment totally safe.
20 GBPs of donation for every sold mattress
It is important to be in solidarity and help each other whenever we can. Jessica Ennis-Hill, in addition to being a famous Olympian, is also someone who is known for her charity work. She has been a patron for The Children's Hospital Charity since April 2006. So when you buy the Sleepeezee Jessica 2200 Pocket Plush mattress you donate £ 20 to the Children's Hospital Charity. Every donation is welcome to help them work and exist.
Review of Sleepeezee Jessica mattress
Sleepeezee Jessica 2200 Pocket Plush mattress is the softest from the Jessica collection. It is soft to medium, so we recommend it for side and back sleepers, while stomach sleepers will probably want one of the two other mattresses from this collection. It is 33 cm deep, which means that it is above average deep and that it is suitable for people of different BMI. There are a total of 2,200 individual pocket springs, of which 1,200 are SoftTech pocket springs and 1,000 are classic pocket springs.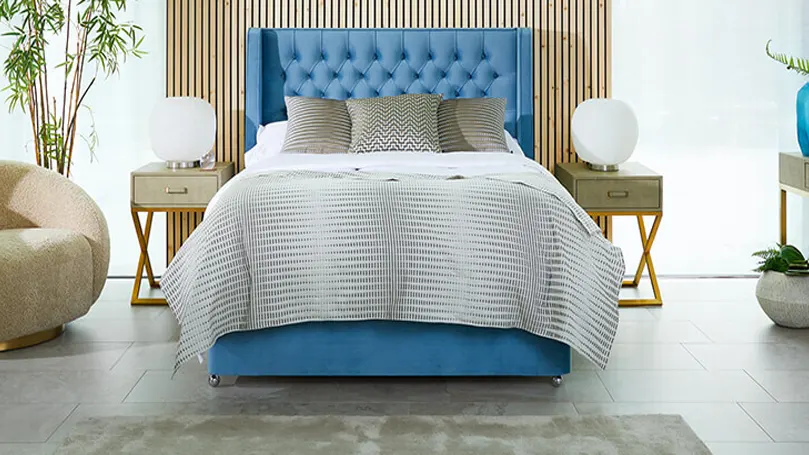 The combination of two different types of spring gives a medium-soft mattress that is very comfortable and pressure relieving, but not at the expense of support, on the contrary, the support is really great. Thanks to foam encapsulation even edge support is great. We recommend it to couples since it does not transfer motion.
The Platinum Breathable layer will regulate body temperature, making you cool even in the middle of summer, and the Soft Comfort layer is implemented for a cloud-like feeling. Soft knitted cover is breathable and durable.
This mattress is hypoallergenic and vegan-friendly. It comes with a 10-year warranty and you have 60 days to try it.
Type:

Pocket spring

Size

: Single, Small Double, Double, King, Super King

Mattress depth

: 33 cm

Support

: 9/10

Firmness

: 7/10

Removable cover

: No

Care instructions

: Vacuum or wipe clean with a damp cloth.

Hypoallergenic

: Yes

Warranty

: 10-year warranty

Trial: 60-night.
What we like about Sleepeezee Jessica mattress
Superior body support and luxurious softness make this mattress one of the most comfortable on the market for side sleepers
Thanks to the Platinum Breathable layer, the temperature regulation of this mattress is at a very high level
For every mattress sold The Children's Hospital Charity receives 20 GBP donation.
What we didn't like about Sleepeezee Jessica mattress
This product is certainly not the right choice for those who are in the market for an affordable mattress
It is too soft for stomach sleepers, which will sink too much and then they will not get the necessary support
A cover that is not removable complicates maintenance.
What makes this product better than some other similar ones?
Sleepeezee Jessica mattress is very supportive for such a soft and comfortable mattress and it is the primary thing that makes it better than some other similar ones. Alongside a fantastic balance between support and comfort, pressure relief is excellent, as is motion insulation. We like breathability and temperature regulation, we think that even hot sleepers will have no complaints. The warranty period is great and the trial period is satisfactory. This mattress is hypoallergenic and vegan-friendly. Last, but not least, knowing that you are participating in charity when you buy this mattress is truly heartwarming.
How did we test the product?
Free next day delivery is available, and you can also choose for free which day the mattress will be delivered to you, that will be delivered within a two-hour delivery window. Unless you choose a weekend, then you have to pay an extra 17.5 pounds. Mattress recycling is charged £ 28 and two man delivery to the room of your choice £ 20.
Slight off-gassing is present, both because it is a new product and because of the presence of foam. But since there is very little foam, the off-gassing will disappear within a few hours and you will be able to use the mattress the same day.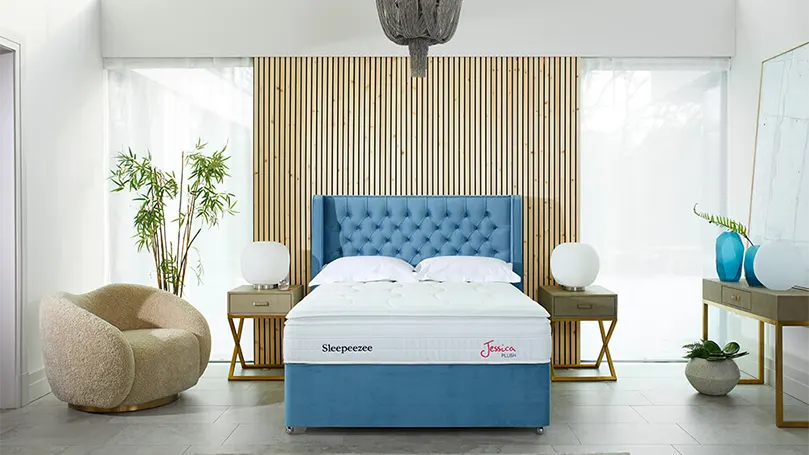 We first checked for defects, as well as craftsmanship which is at a very high level. Then we conducted a durability test, and we skipped the maintenance test, as always when the product does not have a removable cover.
Due to the specific firmness, testing this mattress took even longer than testing other mattresses. Although we assumed it is for side and back sleepers, we could not disqualify it for stomach sleepers because it provides a good level of support. So we tested it for a whole month in all sleep positions until we came to the final verdict.
FAQs about your Sleepeezee Jessica mattress
To end this very extensive review, we will give you answers to some of the frequently asked questions about your new Sleepeezee Jessica mattress and thus complete this review.
Is Sleepeezee Jessica mattress good for people who prefer side sleeping?
Yes, Sleepeezee Jessica 2200 Pocket Plush mattress is very good for people who prefer side sleeping, since it gives ideal balance between softness and support.
Should stomach sleepers use Sleepeezee Jessica mattress?
We consider 2200 Pocket Plush mattress way too soft for stomach sleepers, but stomach sleepers can choose another mattress we mentioned from Jessica collection - 800 Pocket Support mattress.
Should back sleepers go for Sleepeezee Jessica mattress?
Back sleepers should go with this mattress which is very comfortable for that sleeping position and will keep spine aligned.
How to clean my Sleepeezee Jessica mattress?
Since the cover is not removable, you have no way to clean it other than spot cleaning, so you should use bed sheets.
Does Sleepeezee Jessica mattress come with edge support?
Edge to edge support is one of the main features of this mattress thanks to the reinforced mattress edge.