Dormeo Wellsleep Hybrid Mattress Review
It is time to buy a new mattress, and since you are probably not too familiar with the sleep industry, you can't believe how many different types of mattresses and manufacturers there are on the UK market. Dormeo is one of the fastest growing mattress brands, and we put Dormeo Wellsleep Hybrid mattress to the test. In front of you is everything we noticed during testing which will significantly help you in deciding whether to buy this product.
Who is Dormeo Wellsleep Hybrid mattress for?
On the mattress firmness scale from 1 to 10, where 1 is like sleeping on a cloud and 10 is like sleeping on a mattress made of steel, Dormeo Wellsleep Hybrid mattress has a rating of around 7. This implies that it is for stomach and back sleepers. 
However, 2.5cm deep memory foam layer makes this mattress suitable for some side sleepers as well, as the memory foam layer allows what is most important for side sleepers, and that is partial sinkage. It is highly breathable and hypoallergenic, so it is also for allergy sufferers and back sleepers.
Add a header to begin generating the table of contents
What do we use this product for?
We use it for what we generally use firmer hybrid mattresses and that is, above all, support. Also, we use it to have a comfortable night's sleep and to sleep on an allergen-free mattress.
We use it for additional support
We use it for hypoallergenic properties
We use it for increased breathability
We use it for motion isolation.
Does Dormeo Wellsleep Hybrid come in different versions?
Dormeo Hybrid mattress is one of the two mattresses from the Wellsleep collection, so we'll tell you a thing or two about another model from the Wellsleep collection.
Dormeo Wellsleep Memory Foam Mattress
On Dormeo site you can read that Dormeo Wellsleep Memory Foam mattress is an entry-level memory foam mattress which is the right choice if you have a smaller budget. Its price does not fall into the entry-level category at all, so that is a bit strange.
To put that aside, this is a 100% memory foam mattress that is 16.5 cm thick which is bellow industry standard and it is medium firm. Unlike our reviewee, this mattress is for side and back sleepers, while for stomach sleepers it can be too soft. Ecocell foam, the next generation foam that is highly breathable, as well as Airmesh sides make it a good choice for hot sleepers, but it is certainly less breathable than Hybrid model.
Pressure relief
Non-slip base
Free delivery.
1-year warranty
Not an entry-level mattress
Too thin for heavier people; too soft for stomach sleepers.
Features you should know about Dormeo Wellsleep Hybrid mattress
Now let's get back to the main star of our review, and that is Dormeo Hybrid mattress. In this section, we will analyze the most important features.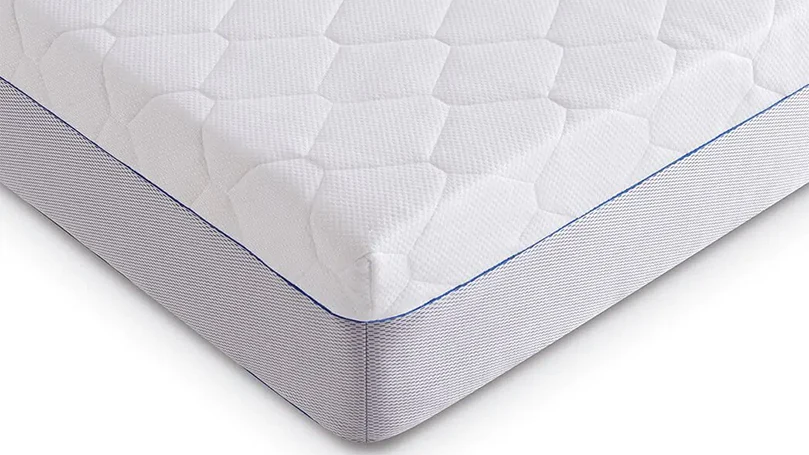 NASA-Inspired memory foam
We have been using pillows and mattresses made of memory foam for decades. And do you know that memory foam is originally designed for NASA, to reduce the pressure that astronauts are exposed to at the time of takeoff and landing?
This mattress has a 2.5 cm thick memory foam layer located just below the cover and which molds to every contour of your body, thus giving you support and pressure relief. Also, there is another layer of foam, a 3 cm thick layer of Ecocell foam. Ecocell foam is a firm, gives stability and above all improves breathability due to its 3D structure.
Like every hybrid mattress,  Dormeo Wellsleep Hybrid mattress features a pocket spring system. Depending on which size you choose, it can be up to 728 pocket springs, each one is 8 cm tall. It is very important that they are individually wrapped because they adapt to each part of your body. And they neutralize your partner's movements so you can sleep peacefully even if your partner is a restless sleeper. Also, the difference in body weight between partners has no effect on support, which is another essential characteristic for a mattress used by couples.
In addition to motion insulation and enhancing constant air circulation, pocket springs are very important for firmness and bounce.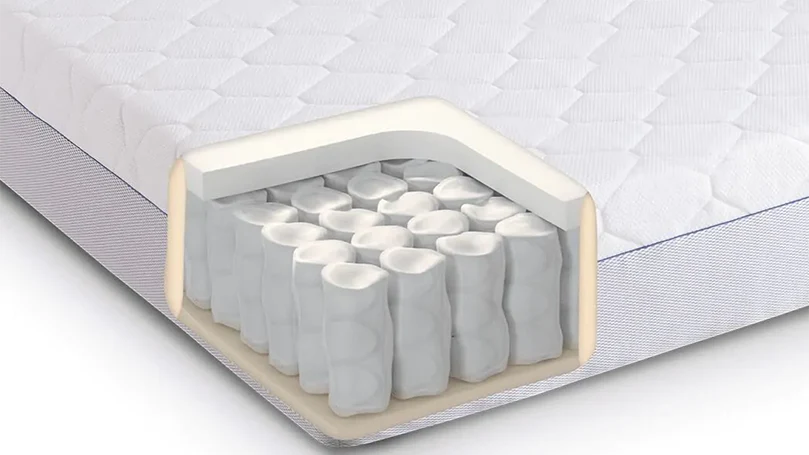 Airmesh sides & air vents
Sleep companies know that there are a lot of hot sleepers, so they are always working on improving breathability and temperature regulation. Also, it's not just the hot sleepers that matter, but everyone, because no one can sleep in the summer when it's too hot. Dormeo Hybrid mattress has Airmesh sides and Air vents, so that together with pocket springs and Ecocell foam makes it a mattress that is cool and breathable.
It doesn't retain heat and breathability is also essential to sleep in a hygienic environment since humid air can be ideal ambience for dust mites, bacteria and other allergens..
Base with anti-slip feature
It is super annoying when your mattress is not stable on the bed base but you feel it moving. That can even wake you up and ruin your night's sleep.
You will not have that problem when you buy this mattress because a special non-slip material is implemented on the base of the mattress which will secures the mattress on the bed and also will not allow the sheets to move, which is another very annoying phenomenon.
Review of Dormeo Wellsleep Hybrid mattress
Dormeo Wellsleep Hybrid mattress is a 23 cm thick mattress which is just a bellow of an industrial average of 25 cm for hybrid mattresses. It is a medium firm, but closer to firm, so we recommend it to those who sleep on their back or stomach. However, it is not completely unsuitable for side sleepers, as it has a 2.5 cm memory foam body molding layer. Also, there is a 3 cm layer of highly breathable Ecocell foam. If you buy a Super King size, your mattress will have 728 pocket springs or a slightly smaller number, in proportion to the size. Springs are individually wrapped in own fabric pockets and therefore work independently, which affects the support and motion isolation.
Breathability is great due to Ecocell foam, Air vents and Airmesh sides, so hot sleepers will have a great night's sleep, as will those with allergies. It comes with a risk free 60 night trial period and a 1-year warranty, both are very short and that is one of the main objections we have.
Type: Hybrid
Firmness: 7/10
Spring count: 728 (King size)
Mattress depth: 23cm
Size: Single, Double, King, Super King
Warranty: 1 year
Trial period: 60 days.
Good support
Anti-slip base
Highly breathable.
Not an ideal choice for side sleepers
1-year warranty
Slight durability concerns.
What we like about Dormeo Wellsleep Hybrid mattress
Pocket springs that function completely independently make it ideal for couples due to motion isolation and because both partners will receive the necessary support
Very breathable thanks to hybrid construction, Ecocell foam, Airmesh sides and Air vents    
It is hypoallergenic, free of dust mites and other allergens.
What we didn't like about Dormeo Wellsleep Hybrid mattress
Most likely too firm for side sleepers and for people with lower BMI
1-year warranty is way too short for a mattress of this price
There are durability concerns because many customers say it lasts between 5 and 7 years, and similar mattresses often last over 10 years.
What makes this product better than some other similar ones?
We would single out breathability, support, motion insulation and anti-slip base as the main features that make Dormeo Wellsleep Hybrid mattress better than some other similar ones. This mattress is very airy, so you will enjoy sleeping on it even during the hottest days of the year. Support is fantastic for back and front sleepers. Couples will adore it for motion isolation, so there will be no quarrel with a partner in the morning about who woke up who during the night due to twisting and turning.
How did we test the product?
It will be delivered to you in 5 to 7 days for free. You can choose the option to pay the full price immediately or choose to pay in installments.
It is quite heavy, so when you move the box and unpack it, keep that in mind, to avoid injury. When you take it out of the box, you have to leave it for a while to regain its full size. This will probably happen during the same day, much faster than many other mattresses in the box that you have to leave for 48 or 72 hours.
If you have no experience with the mattress in the box, the first impression will be very disappointing, but know that it will last a short time. Our quality inspection went great and there were no problems, as well as during the durability test. Although there are durability concerns, we did not notice any red flags during the roller test.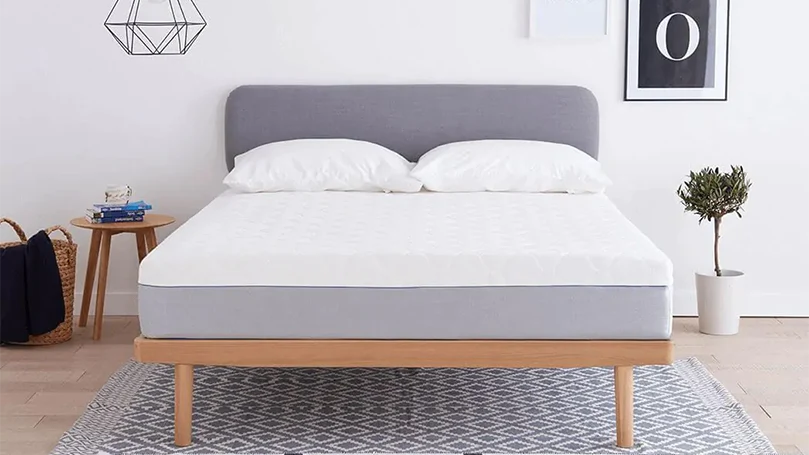 We tested it for exactly two weeks, so that different types of sleepers would have time to adapt and convey their impressions. As expected, back and front sleepers were very satisfied, while side sleepers complained it is too firm. Also, the tests were conducted in a cold room and a room with central heating, people with allergies slept on it, as well as people with back and hip pain. This is the only way to present you with an authoritative review.
FAQs about your Dormeo Wellsleep Hybrid mattress
We thought best way to complete the review is to give you answers to some of FAQs.
What is the firmness rating of Dormeo Wellsleep Hybrid mattress?
On firmness scale from 1 to 10, it is somewhere between 7 and 7.5, but that also depends on your body weight.
Is Dormeo Wellsleep Hybrid mattress suitable for people with back, hip and shoulder pain?
We are not saying it is 100% unsuitable for people with back and shoulder pain, but it is quite firm, so maybe you want to look for some softer, more pressure relieving mattress.
Will Dormeo Wellsleep Hybrid mattress be good if I am a side sleeper?
If you are a side sleeper, it is best to try it and conclude it yourself, but we think it will probably be too firm for you.
Should back sleepers use Dormeo Wellsleep Hybrid mattress?
Yes, back sleepers should definitely use Dormeo Hybrid mattress since it will provide them with necessary support.
Will the front sleepers sleep well on Dormeo Wellsleep Hybrid mattress?
Front sleepers will sleep great on it, because it is ideally firm for that sleep position.