Novo Natural 2000 Pocket Ortho Mattress Review
Although the manufacturer puts this mattress in the category of pocket sprung mattresses, we certainly believe that there is a case for it to be classified among hybrid mattresses. But whether it is pocket sprung or hybrid is certainly not that important for the customer as it is important to know all the features before ordering a mattress online. This is Novo Natural 2000 Pocket Ortho mattress review by The Sleep Advisors.
Who is Novo Natural 2000 Pocket Ortho mattress for?
This pocket sprung medium firm mattress is for back and front sleepers, as well as for all those who need orthopaedic support because they suffer from back pain. Depending on your BMI, this is either a medium-firm or a firm mattress, which is too firm for side sleepers, but ideal for front and back sleepers. 
Maybe some side sleepers with a very high BMI will be able to use it, but it is generally not suitable for that sleep position that prefer memory foam mattress.
It has a breathable construction and air vents further improve air circulation, so it is good for hot sleepers. Allergy sufferer can use it, except those who are allergic to wool.
Add a header to begin generating the table of contents
What do we use this product for?
We use Novo Natural 2000 Pocket Ortho mattress for orthopaedic firm support. Whether you need this type of support because of your preferred sleep position or because you have problems and pain in your back and other parts of the body, this mattress will definitely give you that. It will not allow you to sink and will keep your spine aligned.
We use it for support
We use it for orthopaedic issues and pain
We use it for breathability
We use it for hypoallergenic features
We use it for blissful night's sleep.
Features you should know about Novo Natural 2000 Pocket Ortho mattress
Let's find out more about the most important New Natural 2000 Pocket Ortho mattress features. This will help you decide if this mattress will suit you perfectly or if it has certain yellow/red flags.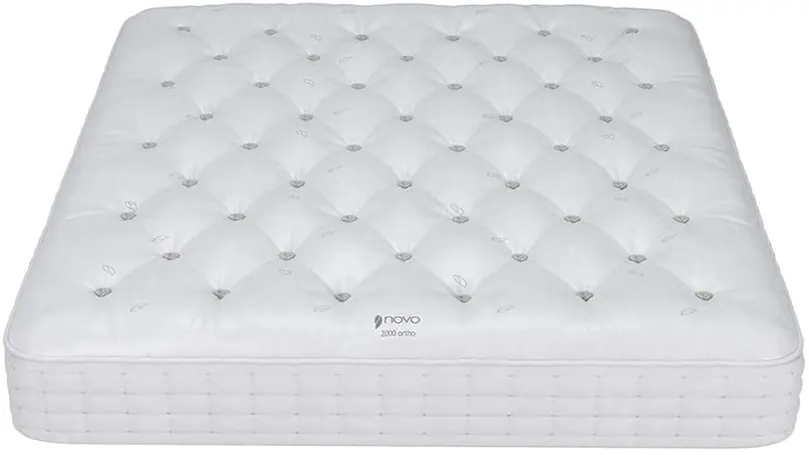 Orthopaedic mattresses are firm mattresses that are designed to support the whole body, especially the shoulders, back and pelvis area. They are recommended for those people who suffer from joint pain, spinal problems and similar problems. They are also recommended for the general population because the use of orthopaedic mattresses is great prevention of problems with different parts of the body.
Novo Natural 2000 Pocket Ortho mattress offers you firm support and even weight distribution, and it is essential that the weight be evenly spread to prevent build-up of pressure points. Maintain a healthy posture all night long.
2000 pocket springs for firm feel and support
Certainly the most important part of this mattress is the base layer consisting of the 2000 pocket springs, which are mostly deserved for a firm feel and support. The number of pocket springs does not vary according to the size of the mattress, but is always the same whether it is single or king size mattress. Some other pocket spring mattresses from this price range have more pocket springs than this model, but in this case it does not affect performance.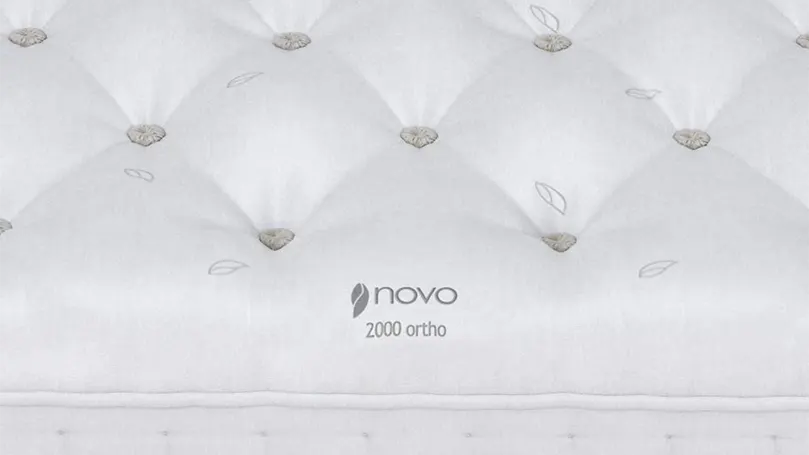 You will get a very firm and supportive feeling when you lie down on this mattress that will provide you with unique support throughout the night. Since each spring is wrapped in a pocket made of fabric, the mattress is completely quiet. Also, the springs move independently, so each spring will provide as much support as needed at that point.
Zero transfer-movement is a direct consequence of individually wrapped pocket springs. Since one spring acts independently of the other, it doesn't matter if your partner toss and turn in sleep, you will have a completely stable sleep surface because the pocket springs in charge of you will not move when your partner moves.
So you can be sure that you will not experience roll-together or roll-off multiple times each night. That is especially important for light sleepers who can even have problems with insomnia if partner is restless sleeper.
Layers made of wool and cotton
On top of the pocket sprung base, you will find layers of natural materials – cotton and wool. The addition of these materials has numerous benefits to those who will sleep on this mattress. Cotton and wool are very comfortable materials and it is healthy to have natural materials close to you. Also, they are very breathable so you would never be too hot.
Wool and cotton are often used in high-end mattresses such as this one. Wool is the best natural temperature regulator, and cotton removes moisture, so it will give you all cool and dry sleep environments for a perfect night's sleep. Both cotton and wool are not considered allergens.
Hand tufted damask cover & hand stitching
Damask is more of a pattern formed by weaving than a particular material, as it can be made of cotton or silk, but in any case high-quality Damask is used to make the cover. The cover is very nice and has small, repeated designs.
A hand-tufted mattress is much durable than mattresses that are glued, for example. Also, stability is improved in this way. Four rows of hand side-stitching further enhance stability as well as edge support. Side-stitching involves attaching the side panel to the spring layer and thus improving edge support.
Air vents for improved air flow
This mattress is already highly breathable, as pocket sprung mattresses are much more breathable than memory foam ones due to construction. Also, wool and cotton further improve breathability and temperature regulation, so we recommend it for hot sleepers.
Air vents further improve air circulation. They are located on the side and completely eliminate any heat build-up. So you will feel fresh all night long throughout the year, even during the summer.
Strong built-in turning handles allow you to regularly flip your Novo Natural 2000 Pocket Ortho mattress without difficulty. Double sided mattresses have a lot of benefits, because it allows you to rotate and flip the mattress and thus constantly change the sleep surface.
In addition to the fact that you will always have a very comfortable mattress that will be like new, you will also prolong its service life, because that way you reduce wear and tear, both on springs and on the cover.
5 years of warranty gives you a piece of mind for two reasons. The first reason is that you know that your investment will be protected for 5 years, although we believe that this mattress will last twice as long especially if you use mattress protector.
Another reason is that it tells you that both the manufacturer and the retailer are confident in this product or they probably wouldn't offer you 5 year warranty.
Review of Novo Natural 2000 Pocket Ortho mattress
Novo Natural 2000 Pocket Ortho mattress is a pocket spring mattress that contains multiple layers of wool and cotton. It is 28 cm thick and it is firmer mattress. This makes it very comfortable for back and stomach sleepers, as well as for all those who need an orthopaedic mattress. However, for side sleepers it is too firm, so it can cause shoulder pain and hip pain. Side sleepers should consider soft mattress topper. Pockets springs are individually wrapped so that each works for itself.
This guarantees unique support as well as complete motion isolation. Over 2000 pocket springs several layers of wool and cotton are located. These two natural materials are great at temperature control, and are also breathable and wicks moisture away.
It comes with a 5 year warranty, and we consider this to be a very durable product due to the hand tufted damask cover and hand stitching as well as the overall quality. The cover is not removable.
Type: Pocket sprung
Firmness: 6/10
Mattress depth: 28 cm
Warranty: 5 years
Size: Single, Small Double, Double, King, Super King.
What we like about Novo Natural 2000 Pocket Ortho mattress
Provides equally good support on the entire surface, and especially support most important points for spinal alignment such as hips and shoulders
It is a fantastic choice for hot sleepers because it is breathable and cooling
Since it is double sided, you can reduce wear and tear.
What we didn't like about Novo Natural 2000 Pocket Ortho mattress
Way too form for side sleepers who will feel discomfort in pressure points immediately
Although there is no evidence that wool is an allergen, there are people who have allergy symptoms when in contact with wool and then this mattress is not for them
It is more expensive than the average mattress, but also of superior quality.
What makes this product better than some other similar ones?
Novo Natural 2000 Pocket Ortho pocket sprung mattress stands out for its firm, orthopaedic support. Whether you have problems with your joints and spine or you just want your spine to be in a neutral position and you sleep on your back and stomach, this is the right mattress for you. Also, breathability and temperature regulation are top notch. And other features make it a smart purchase, although it is expensive if we look at the market average. You get a 5-year warranty, and since it is very durable, we expect that you will not have to buy a new mattress even in the years after the warranty expires.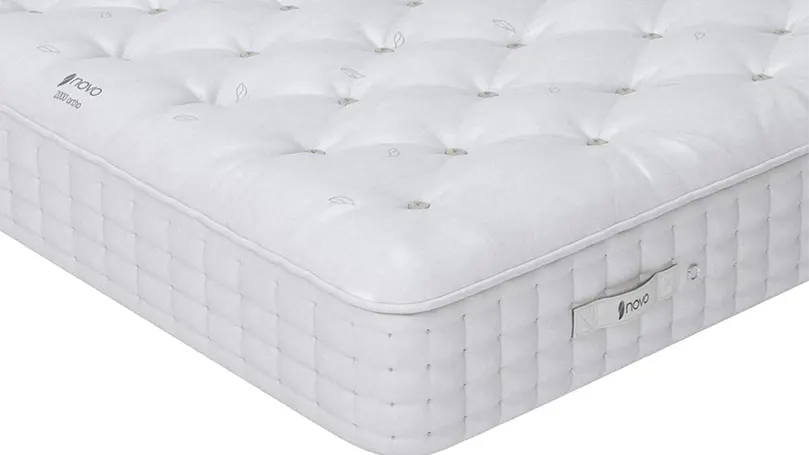 How did we test the product?
If you opt for a Double or Superking size, you will be able to choose when you want the mattress to be delivered to you. Delivery on weekdays is free, while on weekends there is an extra charge of £ 17.5. If you choose one of the other sizes, free delivery will take place within 10 to 14 days.
We did not notice off-gassing, other than the usual smell of new products that were packaged in plastic. But since there is no memory foam, and the wool is treated in a special way, there is no unpleasant odour.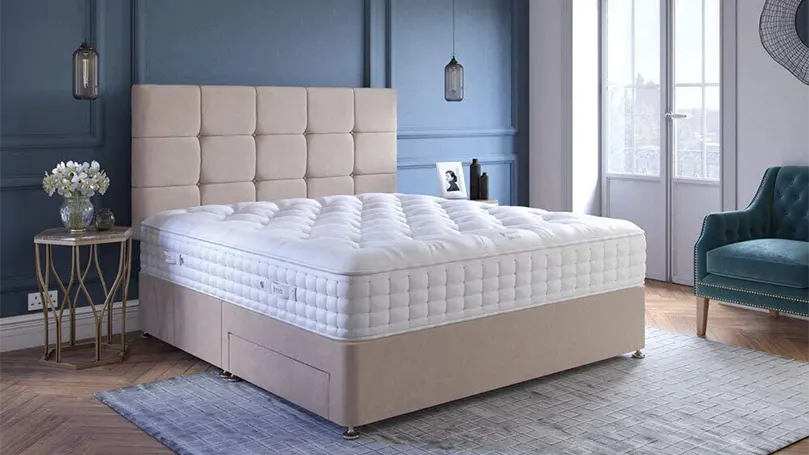 During the durability test, there were no durability concerns, and the maintenance test was very short, because we spot clean it with lukewarm water and detergent, since there is no other way to maintain it.
Our test team then tested it for weeks so we could tell you with certainty which type of sleepers are going to like it most, whether it is suitable for hot sleepers as well as allergy sufferers. All this requires many more days than just one overnight test, so you can be sure that we have tested it in every important way.
FAQs about your Novo Natural 2000 Pocket Ortho mattress
In the final part of our review, find out the answers to frequently asked questions about your new Novo Natural 2000 Pocket Ortho mattress.
Is Novo Natural 2000 Pocket Ortho mattress good for orthopaedic support?
Yes, it is great example of orthopaedic mattress that will support your whole body.
Should sleepers with hip pain use Novo Natural 2000 Pocket Ortho mattress?
Depends on the sleeping position of the sleeper with hip pain, but if sleeper with hip pain is sleeping on the side, than it should definitely avoid it and go with one of the memory foam mattresses.
Is Novo Natural 2000 Pocket Ortho mattress suitable for side sleepers?
No, it is not suitable for side sleepers since it is too firm for that sleep position and thus won't allow any sinkage which is necessary in order for side sleeper to avoid shoulder and hip pain.
Should stomach and back sleepers use Novo Natural 2000 Pocket Ortho mattress?
Stomach and back sleepers should use Novo Natural 2000 Pocket Ortho mattress because it will give them great support, comfortable night's sleep and pain-free mornings.
How do I clean my Novo Natural 2000 Pocket Ortho mattress?
Cover is not removable, so you can spot clean it and we suggest using bed sheets for hygienic reasons.
Can I buy Sleep Soul Space 2000 mattress only, without the divan?
Yes, this mattress is available both alone and together with divan bed frame.