Sleepsoul Wish 3000 Series Pocket Cool Gel Mattress Review
It is not easy to choose the suitable mattress. You have probably used the previous one for 10 or more years, and it was fully adapted to your body. But the mattress has a limited service life and when it comes time to buy new ones, you have to pay attention to many features. Here is your Sleepsoul Wish 3000 Series Pocket Cool Gel mattress review by The Sleep Advisors.
Who is Sleepsoul Wish 3000 Series Pocket Cool Gel mattress for?
The manufacturer thought that it is important to indicate in the name of the product that mattress is "cool", so we will start with that too. Sleepsoul Wish 3000 Series Pocket Cool Gel mattress is fantastic for hot sleepers.
Breathability is great thanks to pocket springs and cover. Two layers of cool gel foam solve any potential heat retention problem so this is the perfect choice for hot sleepers and generally anyone who has to keep a fan or air conditioner on all night during the summer.
Add a header to begin generating the table of contents
What do we use this product for?
It provides orthopeadic support since it has medium to firm rating. This means it is perfect for back and stomach sleepers. Spine alignment will not be a problem at any time. However, it is not ideal for side sleepers, but we will talk more about that later. Couples won't have any complaints about motion transfer.
The mattress is recommended for:
Orhopaedic support
Hot sleepers
Reducing allergies
Sleeping without motion transfer
Sleeping on stomach or back.
Features you should know about Sleepsoul Wish 3000 Series Pocket Cool Gel mattress
Sleepsoul mattress is a complex sleep product consisting of many different parts. That's why we have singled out eight features that you should pay special attention to when deciding whether to buy this mattress. We will start with the inner structure, before moving on to the cover, warranty and other important things.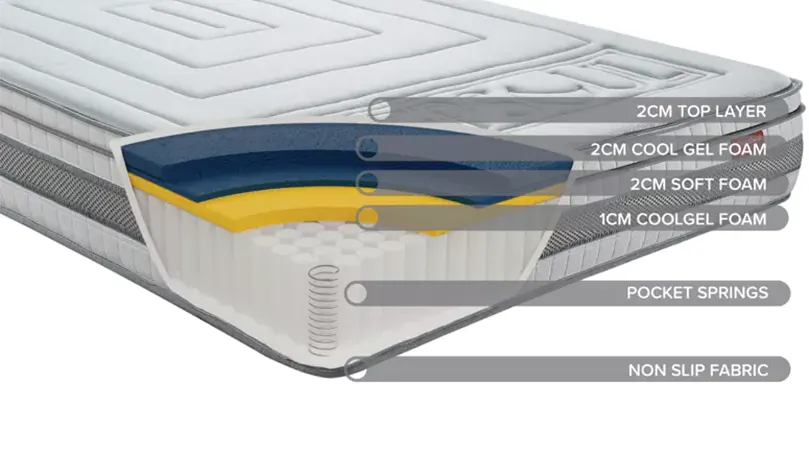 Pocket springs are a popular choice for the mattress core because springs are supportive and do not obstruct airflow. The difference between pocket springs and other types of springs is that pocket springs act individually.
Each spring is housed in a fabric pocket and adapts to your movements. Therefore, there is no motion transfer, and support is tailored to different parts of the body. Also individually pocketed springs are completely silent because the fabric absorbs sound. This mattress has 3000 pocket springs which is a feature of the premium mattress. Usually mattresses in this price range have fewer springs.
In the cross section of Sleepsoul Wish 3000 Series Pocket Cool Gel mattress you would find three memory foam layers, a total of 6 cm thick plus 2 cm of foam enclosed side walls. Every layer is 2 cm thick.
Below the top layer 2 cm of cool gel foam is located which plays a key role in preventing heat retention and lowering your body temperature while you sleep. There is another innovative cool gel layer, and between these two layers of cool gel foam is a layer of classic foam for pressure relief and weight distribution. Without foam it would not be comfortable sleeping on pocket springs.
Motion-free & edge to edge support
In the previous paragraph we mentioned that this mattress has foam enclosed side walls. You have probably wondered why the manufacturer decided to implement such side walls. The reason is very obvious – to improve edge to edge support. Thanks to the foam enclosed side walls you can use the entire surface of the mattress and expect all the support you need.
Foam enclosed walls plus a few layers of memory foam design minimises roll together. If your partner is a restless sleeper, you don't have to worry, because you won't feel his or her tossing and turning. That is beneficial during intercourse too.
You will find Sleepsoul Wish mattress categorized both as a pocket spring and as a hybrid mattress. Our opinion is that this is a hybrid mattress because it is a combination of pocket springs and foam. Either way, depth is great.
Hybrid mattresses are on average thicker than pocket spring mattresses and foam ones. This mattress is 30 cm deep which is more than the average for hybrid mattresses. This thickness guarantees comfortable sleep even for those who weigh more than 90 kg.
Knitted & breathable cover
Polyester cover gives a luxurious feeling because it is very soft. This kind of material is not always popular because it is sometimes uncomfortable for the skin, but this is not the case here. It is soft and cosy, yet durable. We liked breathability too which is very important because when the cover is not breathable, then pocket springs and cool foam would significantly lose on importance. Also we have to mention material is 100% hypoallergenic. Only downside of the cover that it is non-removable.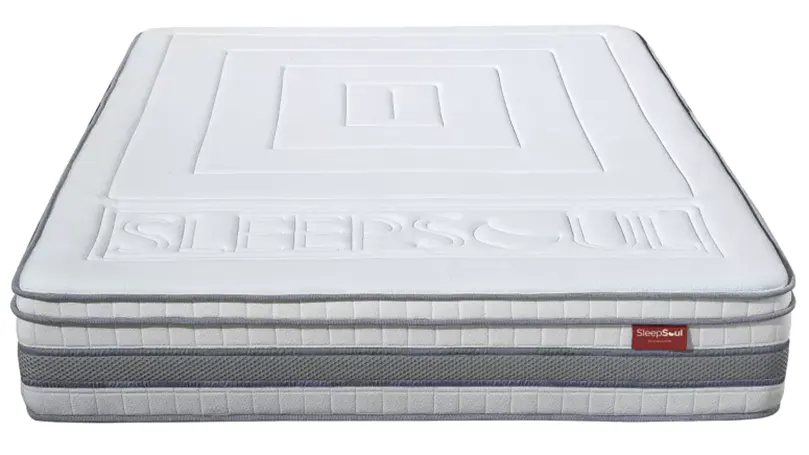 Exactly how firm a mattress is depends on the body weight of the sleeper. Firmness is certainly not the same for someone who weighs 45 kg and for someone with 90 kg. If we analyze firmness from the perspective of a person who has an average body weight, this mattress is around 7.5 on a firmness scale from 1 to 10.
That implies Sleepsoul Wish mattress is medium to firm. Most customers say it is closer to firm than medium. After all, that was the goal of the manufacturer who wanted to offer orthopedic support.
If it is not for the pillow top, this mattress would be even firmer. Our assumption is that it would be over 8 on a firm scale from 1 to 10 which would significantly reduce the number of potential customers. But because of the pillow top it is significantly softer and more comfortable.
Pillow top is actually an extra layer that is soft and plush, and is located closest to you. Between you and the pillow top is the cover. The pillow top is just as breathable as the rest of the mattress.
Warranty is often overlooked because customers think that the service life of the mattress is very long especially compared to other sleep products. While this is certainly true because the average mattress lasts at least 5 years, and premium ones more than 10 years, you need to check if the mattress comes with a warranty and for how long the warranty is valid.
This product comes with a 10-year warranty which is longer than we expected when we checked the price. It would be expected that the warranty lasts 5 years, but obviously the manufacturer believes in the quality of its product and therefore offers a 10-year warranty.
Review of Sleepsoul Wish 3000 Series Pocket Cool Gel mattress
For hot sleepers, the Sleepsoul Wish 3000 Series Pocket Cool Gel mattress is a dream come true. Developed by Birlea Furniture, under the brand name SleepSoul mattresses, this mattress features two layers of cool gel foam. Gel foam plus breathable cover and pocket springs will help you forget the feeling when you can't sleep because it's too hot.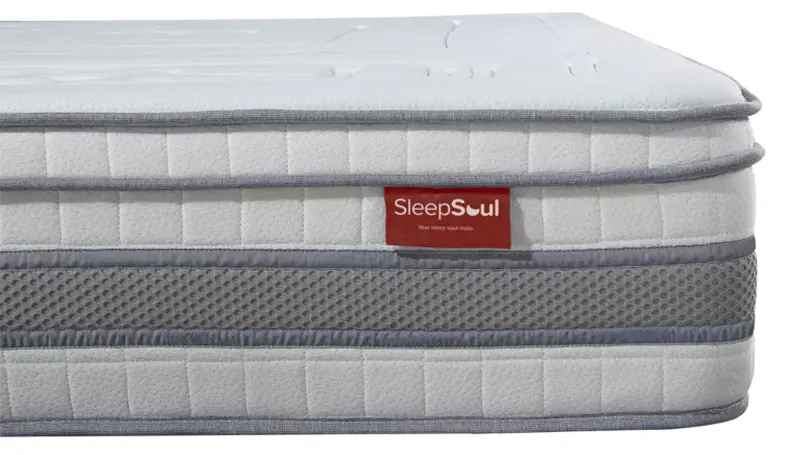 Three thousand individually nested pocket springs adapt to your every move, giving unique support. A total of six cm of foam makes the mattress more comfortable and pressure relieving. Foam plus pocket springs neutralize literally every movement, so it's great for light sleepers. It is reinforced on the side so you will not feel the difference in support between the middle and edge of the mattress. Although it has a soft pillow top, it is still quite firm, suitable for back and stomach sleepers. Depth of mattress is 30 cm. It comes with a 10-year warranty.
Type:

Hybrid

Size

: Single, Small Double, Double, King, Super King + EU Small Single, EU Single, EU Double, EU King

Mattress depth

: 30 cm

Support

: 9/10

Firmness

: 6.5/10

Removable cover

: No

Care instructions

: Vacuum or wipe clean with a damp cloth.

Hypoallergenic

: Yes

Warranty

: 10-year warranty

Trial: No.
What we like about Sleepsoul Wish 3000 Series Pocket Cool Gel mattress
This mattress is very supportive and is therefore ideal for those who have skeletal problems
Even hot sleepers will not have criticism towards cooling and breathability
It looks quite durable plus a 10-year warranty for a piece of mind.
What we didn't like about Sleepsoul Wish 3000 Series Pocket Cool Gel mattress
It is way too firm for most side sleepers and even for some back sleepers with lower BMI
The cover is not removable, so it is necessary to use a bed sheet
No trial period information is available, which is a major downside for a mattress.
The common problems with Sleepsoul Wish 3000 Series Pocket Cool Gel mattress & how to solve them
There is one common problem with Sleepsoul Wish 3000 Series Pocket Cool Gel mattress and that is firmness. This mattress is certainly not hard as stone, it is supportive and comfortable. But many side sleepers will have trouble finding the perfect position and it is very possible that they won't find it at all.
There is a way to solve this problem. If mattress is too firm, and you like other features and want to continue using it, you must buy a soft mattress topper. Then you will achieve perfect balance. That can be a bit expensive but it's worth.
What makes this product better than some other similar ones?
We have to start with cooling and breathability as the main things that make this product better than some other similar ones. Many mattresses are advertised as cool and breathable, but this is not really the case. When you buy this one, you can count on it to be fantastic in that category. Quality of craftsmanship is also something to mention as it is better than with over 90% of the products in this price range. Since the company plants a tree for every order, to offset CO2 footprint, that means you are buying an eco-friendly product which is very important too. We have to pay attention to preservation of the environment not just about our own comfort.
How did we test the product?
We have to admit that we were not very happy when we learned that it is necessary to wait 9-10 weeks for free delivery. Free delivery is the only delivery option, so it is not possible to get a mattress faster even if you pay more. However, we thought this mattress was worth the wait and so we ordered it.
Turns out we weren't wrong. It is vacuum packed and rolled, which is common for every bed in a box. It takes up less space during transport and it will be easier for you to take it to the upstairs bedroom. When unpacking it, be careful not to damage it, do not use sharp objects. Once you unroll mattress, give it at least two days to fully expand so you can sleep on it. While you wait for it to fully expand, off-gassing will also disappear. The chemical smell is not very strong, but the presence of memory foam is still felt.
After 48 hours we did a durability test. A maintenance test was not possible, as the cover is not removable.
Then came the central part of testing, and that is the overnight test. More precisely many overnight tests because we test the mattresses for at least two weeks, and it usually stretches to a 4 week span. Why does testing take so long? First, the body needs time to adjust to the new mattress. That's why our testers have to sleep for a few weeks on a mattress to be able to convey accurate impressions. Also, it is tested by hot sleepers, side, back and stomach sleepers and various other types of sleepers.
Overall impressions of the product after the testing
In our opinion this is a very good mattress. During testing, we were able to see most, if not all, of the features listed by the manufacturer. Medium firm support combined with a comfortable pillow top gives restful night's sleep.
What we've experienced is that it's too hard for most side sleepers as well as for those who generally like a softer mattress. We have certainly tested firmer mattresses compared to this one, so there is a possibility that some side sleepers will find it suitable. Although it is one sided, it seems durable, but for now no one can say for sure because this is a new product on the market, so it takes some time to know more about service life. This should not worry you as it is covered with a 10-year warranty.
FAQs about your Sleepsoul Wish 3000 Series Pocket Cool Gel mattress
Let's wrap up this review with the answers to some of the frequently asked questions about about your new Sleepsoul Wish 3000 Series Pocket Cool Gel mattress.
Should side sleepers sleep on Sleepsoul Wish 3000 Series Pocket Cool Gel mattress?
It is certainly not best possible option for side sleepers. We think most side sleepers won't find this mattress comfortable, since it is too firm for that sleeping position and can cause hip and shoulder pain.
Is Sleepsoul Wish 3000 Series Pocket Cool Gel mattress suitable for front sleepers?
Yes, Sleepsoul Wish 3000 Series Pocket Cool Gel mattress has all the necessary characteristics for front sleepers.
Will back sleepers find Sleepsoul Wish 3000 Series Pocket Cool Gel mattress comfortable?
In general, back sleepers can choose both softer and firmer mattresses, so there is no reason why this particular one won't suit most people sleeping on their backs.
How do I clean my Sleepsoul Wish 3000 Series Pocket Cool Gel mattress?
You can vacuum it for time to time, and change bedding regularly.
Does Sleepsoul Wish 3000 Series Pocket Cool Gel mattress have removable cover?
No, Sleepsoul Wish 3000 Series Pocket Cool Gel mattress does not have removable cover.