Silentnight 3 Zone Memory Foam Rolled Mattress Review
If your current mattress is making you wake up feeling sore and tired – maybe you should find another one. Today, we wanted to talk to you about Silentnight 3 Zone Memory Foam and whether you should consider buying this one. We've spent some time testing this one and here's what we have to say about it.
Who should use Silentnight 3 Zone Memory Foam?
First up, let's start with some basics. As you know, every mattress is different and this one, in particular, should be more than helpful to those struggling with back or hip pain. Silentnight 3 Zone Memory Foam mattress is specially designed to offer unparalleled support and comfort to those who might need it.
As you can tell from the name, this mattress has 3-zone support for much better pressure relief and comfort in the areas that need it the most, like hips, lower back and shoulders.
Add a header to begin generating the table of contents
What do we use this Silentnight mattress for?
Ideally, you'd use this mattress to try and get rid of the annoying, sleep-related pain. Miratex 3-zone support system is designed to disperse your weight in such a way that it won't build up pressure in the usual pressure-sensitive areas such as hips, lower back and shoulder. Furthermore, the 3-zone support will also make sure you sleep in the ideal position at all times, regardless of the sleeping position.
Is Silentnight 3 Zone Memory Foam an upgraded version of a previous product?
Silentnight 3 Zone memory foam mattress is the middle child of Silentnight's "Mattress-Now" lineup, which would make it an upgraded version of the previous model. The entry-level mattress in this lineup is a regular memory foam mattress, with a single, memory foam support layer, as opposed to the 3-zone support system that we see in the product we're reviewing.  
3 features you should know about Silentnight 3 Zone Memory Foam
Just like any other mattress, Silentnight 3 Zone Memory Foam mattress has its own set of defining features. As you can tell by the name, the main defining feature is the Miratex zoned support system, however, that's not all there is to this mattress.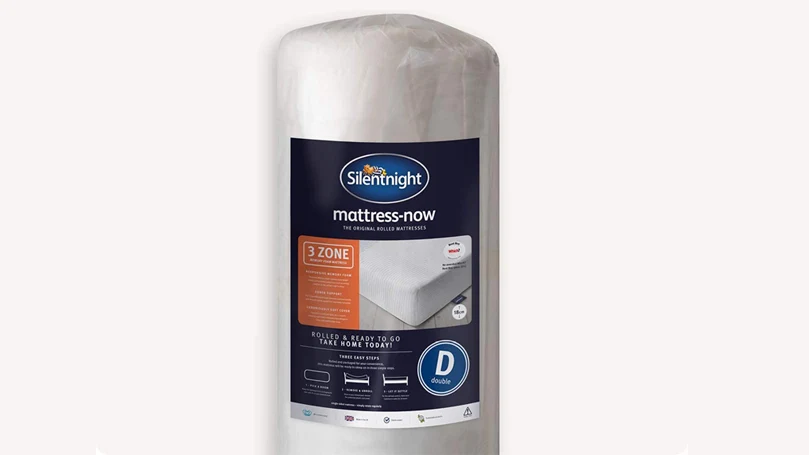 Miratex 3 zones support system
If we were to take Silentnight's word for it – the Miratex 3-zone support system would offer us unparalleled support and pressure relief across core zones, while simultaneously being luxurious and body moulding for the ultimate sense of comfort. Seeing how these are some mighty claims, we've paid special attention to this feature.
The contouring and pressure relief once you lie down on this mattress is immediately noticeable, which is always a plus. It feels good and comfortable, the difference from a regular mattress is definitely there, however, in some instances it does seem like there is too much sinkage, which could be a problem in the long run.
Purotex anti-bacterial cover
If you're familiar with Silentnight's mattresses you've certainly noticed a trend of non-removable mattress covers. Some would argue that a removable cover on a mattress is not important, seeing how you won't sleep directly on it, however, we do appreciate an easy-to-remove and easy-to-clean cover on our mattresses.
On the bright side of things, the cover feels really premium and soft. It isn't quilted or hand-tufted, but the thread count is decent and what's even more important is that the fibres from which the cover is made are hypoallergenic, which is a must-have feature in a mattress in our opinion.
Purotex fibres are Allergy UK approved, meaning you're guaranteed a dust-mite-free environment and if you're struggling with allergies, this one should help right away.
Just like any other memory foam mattress, this one comes in a roll – rolled & wrapped, regardless of the size you opt-out for. This also means you will have to give it some time to settle, but at least you won't have to worry about it fitting through the doors. So, as it is in a roll, it will need at least a couple of hours to retain its original shape.
There are 7 different sizes to choose from for your purchase in the shop and once the mattress has finally settled, it should be perfectly flat and 18cm deep.
As with every other rolled & wrapped mattress, off-gassing will be an issue in the first few weeks, but in our experience, the mattress should be odourless within 10 to 14 days.
Review of Silentnight 3 Zone Memory Foam
Now that we've covered the main features and told you a bit about them, it's time for us to let you know whether this mattress is as great in practice as it is in theory. First of all, the Miratex 3-zone support layer does what they claim it does – it relieves pressure off of core zones, that's without a doubt. Regardless of the body weight, this mattress uses a zoned foam support system and ensures you more sleep space that offers a medium support for the entire body.
As far as firmness goes, it is a bit on the softer side than advertised, but even the stomach sleepers should be able to enjoy it. We'd give it 4.5/5 out of 10. As far as enjoyment goes, the cover does feel really good on your skin and none of our testers had experienced any issues allergen-wise, so that's a plus.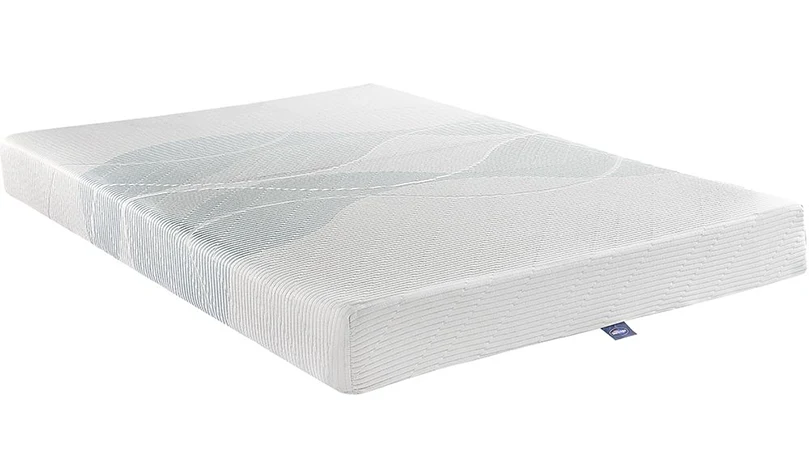 On the other side of the spectrum, we do feel like the sinkage could pose some longevity and durability issues. The mattress conforms to the body very well, but after prolonged use, it tends to retain the body shape, therefore, you'll have to rotate it quite frequently. In addition, there is no removable cover so getting a mattress protector is a must if you want to give it a longer lifespan. Off-gassing is an issue, but that's a standard procedure for any memory foam mattress, so we wouldn't really worry about it. 
Amazing pressure relief around core areas
Soft support for shoulders and firm for hips
A great option if you're a back or side sleeper
Perfect motion isolation for not so expensive payment.
Sinkage is a significant issue
Single sided mattress
Some longevity and durability concerns
Non-removable cover – you have to buy a mattress protector
Slight off-gassing that lasts for a few hours.
8 things we like about Silentnight 3 Zone Memory Foam
If you're struggling with sleep-related hip pain this mattress is almost guaranteed to help
Just roll it out, let it off gas a bit and it is ready for using
Lightweight & easy transportation
Motion isolation is something that couples would certainly enjoy all night long
Vacuum packed in the original packaging
Fire resistant
Silentnight warranty
Great money-quality ratio.
5 things we didn't like about Silentnight 3 Zone Memory Foam
Unless you rotate frequently, you're probably going to end up with a body imprint (still, it is sigle-sided)
The non-removable cover makes cleaning and maintenance harder than they should be 
Some sleepers with shoulder pain may not find as a firm mattress as it is presented
The delivery within the UK may be late sometimes
Some additional support on the very edge would be welcome.
The best alternatives to Silentnight 3 Zone Memory Foam mattress
As in all our bed/mattress reviews, we always have a couple of aces in our sleeves, just in case you don't like what we review. When finding the perfect mattress, it's important that you explore your options completely. Here are two solid alternatives to Silentnight 3 Zone memory foam mattress, so you can cross-compare the three and see which one is the most fitting.
EMMA Essential - 7 Zone Foam Mattress
With Emma Essential 7 Zone, you get 7, instead of 3 zones of support. Emma's HRX technology claims to provide perfect alignment and counter-pressure, which it does – to a certain extent.
If you have pressure points that need some reliving, we guarantee this pick will work out for you. We wouldn't call this one an upgrade over Silentnight 3-zone, but it does come with a removable cover. 
With a good comfort rating and the next day delivery, this purchase could give you a bit of healthier sleep, especially due to the removable cover that you wash easily.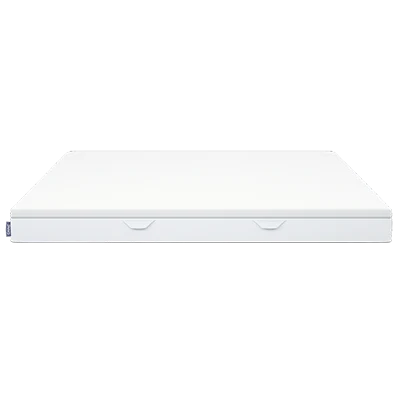 Comfortable and pressure relieving
Premium comfort layer
Solid breathability and temperature regulation
Has a removable, hypoallergenic cover.
Inadequate edge support
Sinkage could be a potential issue for heavy sleepers
Not a wide range of available payment options for the purchase.
INOFIA Memory Foam Essential Mattress
If you're in the market for something similar, but more substantial in terms of thickness, Inofia Essential might be a solid choice. Inofia has a problem-completing  reputation as it often serves the needs of sleepers who suffer from some kind of a pain. 
This one does not have a zoned memory foam support layer, but it does have 9 zones of pocket-coiled support that are just as good, if not even better, at dispersing weight and relieving pressure. It will give you a comfy feeling even though some of the online reviews may say it is not that comfortable. 
In addition, this mattress offers a decent temperature regulation so your body temperature won't make you hot and sweaty during the night.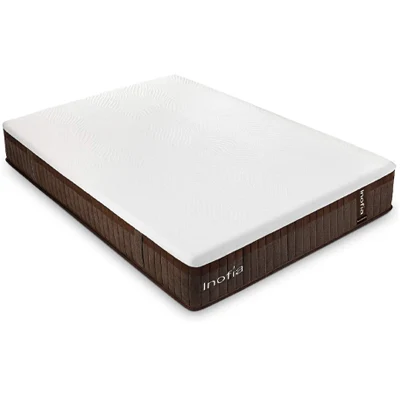 Zoned pocket-coil support
Very comfortable
Great breathability and temperature regulation.
Below average motion isolation
Below average edge support
Could be too soft for heavy sleepers.
Consider OTTY Adjustable Memory Foam pillow if you are buying Silentnight 3 Zone Memory Foam mattress
Paring a mattress with a pillow is always a good move. This soft and adjustable memory foam pillow from OTTY is a solid fit for anyone because you can easily adjust the thickness and firmness of the pillow to your liking by adding or removing the memory foam cubes within the pillowcase.
With its registered office and bunch of payment methods, this pillow is going to end up in your shopping basket very quickly, especially if you are considering to buy Silentnight mattress we are reviewing in this review.
Bottom line – it is high quality pillow that has a bit higher price, but if you are willing to make a payment for the comfort, not for the price, you will end up with the superb seep quality.
We have a double review of OTTY Adjustable pillow and Deluxe model so take a look.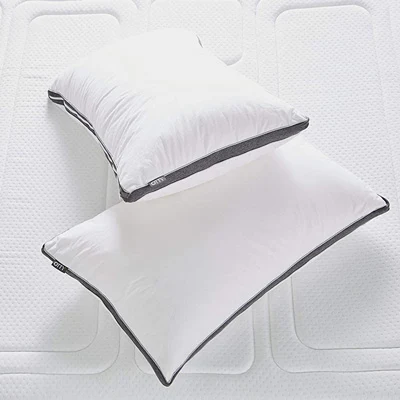 Easily adjustable to your liking
Hypoallergenic pillowcase
Full details on page & fully transparent company
A load of payment options
Two week trial period.
It can get warmer than the regular pillow
Only a one-year warranty
Price may be high when compared to similar items.
What makes this Silentnight mattress better than some other similar ones?
What Silentnight 3 Zone memory foam mattress does better than the rest is that it allows you to sink right in the middle and feel the pressure on your hips, lower back or shoulder leave your body. The 3-zones are ideally placed, meaning most people are easily going to find their perfect pain-relieving spot on the new mattress. This Silentnight mattress also comes vacuum packed, rolled in a box, which makes the delivery and overall transportation super easy and convenient. The delivery is fast and the purchase is worth your money and efforts. To wrap things up – here are 5 things that set it apart from other competitors:
Perfect at hip/lower back/shoulder pressure relieving 
Super lightweight 
Anti-bacterial 
Good motion isolation
Suitable for back and side sleepers.
How did we test this Silentnight mattress?
As you already know, finding the perfect mattress isn't as easy as it seems, otherwise, you wouldn't be with us right now. It's a tedious process and we understand that no one has time or money to go out and test all the different products until they find the perfect one, so we've decided to do it for you.
We ordered this Silentnight mattress and expected to be delivered one day after the purchase was made However, it did not arrive the very next day as they promised, but the delivery time may vary due to many reasons. So, we cannot give the company a bad grade because of this problem. But, check with the support the exact day of the delivery.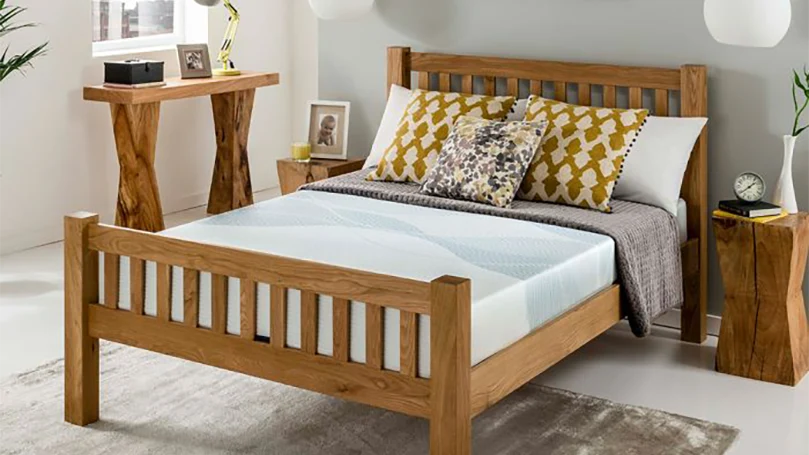 When we test this Silentnight mattress, we strive to stay as objective as possible. Our goal is to pay close attention to every single detail, as well as the defining features of a mattress so that we can deliver an objective review. Now, we're fully aware that whether a mattress is fitting or not is very subjective, but our goal is for you to see its pros and cons and understand what the mattress is like, so you'll have a general idea as to what you might expect.
As far as how did we test Silentnight 3 Zone Memory Foam – it's rather simple. First of all, we've done our best to test all the important and defining features of a mattress like firmness, support, edge support, pressure and pain relief, weight distribution, motion isolation, breathability, anti-allergen properties, longevity and durability and so on…
To make our review as objective as possible, our reviewing team consists of several people, each of them different from one another, so you can read the review from the perspective of a side sleeper, stomach sleeper, hot sleeper and so on. This is exactly what allows us to present you with an objective review. In case we missed some information to share with you, feel free to look for more information on Silentnight official website.
FAQs about your Silentnight 3 Zone Memory Foam mattress
Before we wrap things up, we wanted to alleviate some of purchasing anxieties and answer some of the most commonly asked questions that we haven't covered in the previous sections. Here are some of the questions we thought you might want to be answered regarding this Silentnight mattress. In case we haven't answered all the questions, you can look for more information on the official website of this comfy mattress.
Is Silentnight 3 Zone Memory Foam mattress good for back sleepers?
Silentnight 3 Zone memory foam mattress is very good for back sleepers due to the zoned support that will keep their spine properly aligned even when they sleep on their backs. Whether you choose a single or double size, this one is going to give a good nights sleep to all back sleepers.
How long will my Silentnight 3 Zone Memory Foam mattress last?
With proper care, you can expect your Silentnight 3 Zone memory foam mattress to last somewhere between 4 to 6 years on average.
How do I wash my Silentnight 3 Zone Memory Foam mattress?
You may wash your Silentnight 3 Zone memory foam mattress with a damp cloth by gently rubbing on the areas you wish to clean.
What sizes do this Silentnight mattress come in?
It comes in Euro single, Single, Euro Double and double mattress sizes. Every new mattress you order comes in a vacuum packed box.
Do I pay the delivery fee for this Silentnight mattress?
No, it is free next day delivery within the UK. However, this free next day delivery may depend on your location so check the exact delivery date with the company once you order the mattress. The delivery will be to your room of choice as well.
Can I recycle my old mattress with Silentnight company?