Dunlopillo Royal Sovereign Mattress Review
If you've stumbled upon Dunlopillo Royal Sovereign Mattress, you're probably in the market for a high-quality, premium mattress that's going to last you for years. On paper, Dunlopillo Royal Sovereign Mattress should do just that, but is that really the case? Well, let's find out together.
Who is Dunlopillo Royal Sovereign mattress for?
Dunlopillo Royal Sovereign mattress is for anyone in need of a high-quality latex mattress. The 210mm latex core is a natural-based product that is eco-friendly and enough-supportive to be a good pick for all types of sleepers. 
Dunlopillo Royal Sovereign Mattress is durable, resilient, responsive and completely noise free, allowing you to get a good night's sleep any time you lie down. Due to noise-free construction, it is the perfect match for couples as well.
Furthermore, if you're one of the many that suffer from allergies, an anti-allergenic mattress such as this one will go a long way for you.
Add a header to begin generating the table of contents
What do we use this product for?
This mattress has been expertly engineered to contour individual profiles and movements, encouraging ultimate pressure relief and comfort, so it is safe to say that we'll be using this mattress to get a good night's sleep. The natural properties of latex will also help you get rid of the back pain, regardless of the position you're sleeping in, as well as help prevent allergies from happening, allowing you to get a whole night of restful sleep. In a nutshell, this mattress is ideal for:
Sleepers who enjoy a latex-based mattresses
Sleepers who want a noise-free mattress
People who want zero-movement mattress
Sleepers who have problems with allergies
Sleepers who enjoy eco-friendly products
Sleepers who are seeking good pressure relieving properties.
Features you should know about Dunlopillo Royal Sovereign mattress
Latex mattresses have always been in the league of their own, and this one is not an exception to the rule. To better understand what this mattress brings to the table, let's go over some of the key features and characteristics of this one.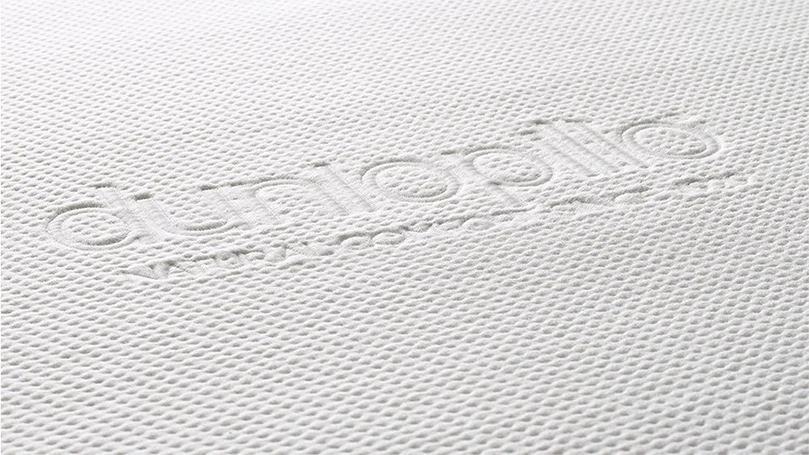 7 comfort zones for improved support
Latex mattresses are generally known for being supportive but sometimes too firm. However, to prevent that from happening, this mattress is designed with 7 comfort zones with progressive comfort- softer comfort zones cushion your shoulders, hips and heels, while the firmer zones offer adequate support, balance and alignment for your spine and whole body. Dunlopillo latex instantly responds and adapts to individual profiles and movements, which helps you get a good night's sleep every time you lie down.
This Dunlopillo mattress is certainly what you'd call a supportive mattress, offering a perfect balance of comfort and support in just the right areas.
Another impressive feature of this mattress is its ability to completely isolate motion, allowing you and your partner to sleep without disturbing each other during the night. Both you and your partner will be able to switch the position you sleep in during the night without disturbing one another.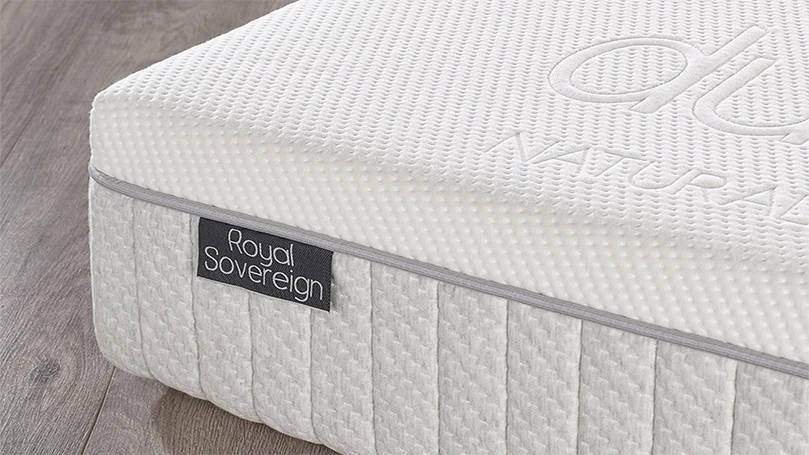 However, just because it's motion-isolating doesn't mean that it doesn't have a little bit of a bounce. A timeless classic such as this one wouldn't be as good as it is if it didn't provide just a little bit of a bounce to help you out with the extracurricular bed activities.
The 100% pure Dunlopillo latex core will also provide you with an absolutely quiet sleeping experience. Many pocket spring or open coil mattresses can make noise while you toss and turn during the night, but not this mattress. Dunlopillo Royal Sovereign Mattress is completely noise-free, which, once again, can come in pretty handy when you and your partner decide to put off sleeping for a little bit.
Dunlopillo Royal Sovereign Mattress comes with a 21cm deep 100% pure Dunlopillo latex core. This natural latex core is derived from the sap of rubber trees grown in managed sustainable plantations around the world, which makes this core not only supportive, comfortable, and pressure-relieving but also eco-friendly.
This 21cm deep natural latex core makes this a medium-firm mattress, providing a pleasant sleep environment for all kinds of sleepers and sleeping positions. It is both firm enough to adequately support stomach sleepers, as well as soft enough to cushion your shoulders and hips if you sleep on your side or back.
Breathable & hypoallergenic
Latex's open cell structure is made up of millions of interconnecting microscopic air bubbles, ensuring unparalleled temperature regulation and breathability. Millions of air bubbles will quickly absorb all the excess heat and have you sleeping cool in no time.
Furthermore, latex is naturally anti-allergenic, anti-microbial and anti-bacterial, and paired with Actipro technology – this mattress is made completely hypoallergenic and safe to use.
Knitted Actipro refreshing technology
Despite having a zipper, this mattress does not come with a removable, machine-washable cover. However, to make sure the 65% Polyester, 35% Viscose cover stays clean and allergen-free for a long time – we have Actipro technology.
While we don't know a lot about the actual science behind this technology, we do know that it helps remove all the bacteria and allergens from the fabric while also making it allergen-resistant.
Dunlopillo latex mattresses are designed to last long by utilising their natural resilience to hold their shape. That is precisely why this mattress is virtually maintenance-free.
This mattress doesn't require turning or flipping at all, which is quite good when you consider how heavy it is and that it doesn't come with any side handles that could assist you with flipping.
On the other hand, you should rotate it head to toe every three months, just to make sure you don't end up with any imprints from continuously lying in the exact same position.
Furthermore, Dunlopillo Royal Sovereign Mattress needs to be regularly and properly ventilated, so make sure you always use it on a slatted bed base.
Review of Dunlopillo Royal Sovereign mattress
Now for the main event – the review of Dunlopillo Royal Sovereign Mattress. This one is called a timeless classic – and we have to agree!
Dunlopillo Royal Sovereign Mattress is a medium-firm, 21cm deep latex mattress that will not be easy on your wallet, but will most certainly transform your sleep.
Made in the UK, this one was designed to make life better. This natural latex mattress will not only offer you unparalleled support and comfort but also incredible pressure relief, motion isolation, anti-bacterial properties and much, much more. As far as firmness is concerned, we'd give it a 7 out of 10.
The best thing about this Dunlopillo mattress, however, is its durability and longevity, which is something you'd expect from such a premium product. It won't sink or sag, and even if it does by some chance – you're protected with an 8-year guarantee.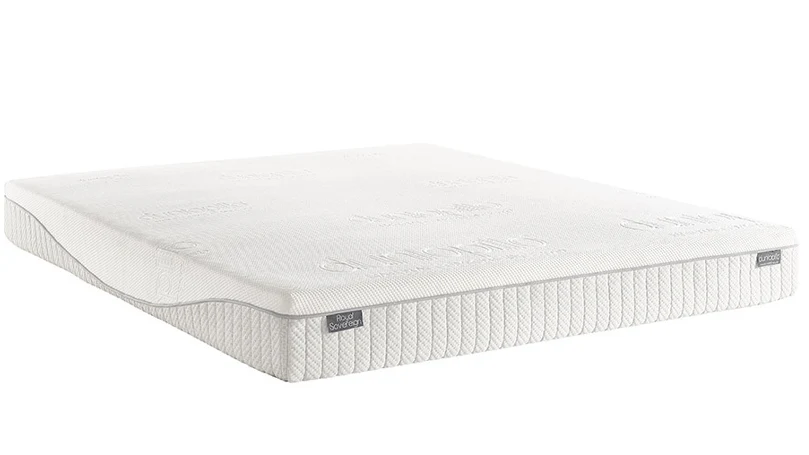 You can get this mattress in four sizes – a Single (90cm x 190cm), Small Double (120cm x 190cm), Double (135cm x 190cm), and King (150cm x 200cm).
The open cell structure does not only provide pressure relief and comfort but also a great level of breathability and temperature regulation.
On the other hand, just because this mattress doesn't require turning doesn't mean that taking care of it is easy. The mattress is quite heavy, with King size weighing in over 54kg, so even rotating it or simply lifting it to tuck in the sheets might be a bit of a problem. Also, not being able to use this one on a solid base means you will have to get a new bed frame with a slatted base if you don't own one.
Type: Latex
Firmness: 7/10
Mattress depth: 21cm
Size: Single, Small Double, Double, King.
Comfortable, supportive, pressure-relieving
Hypoallergenic
Very durable and long-lasting – doesn't require turning.
Only a 14-night trial
No removable cover
It can't be used on a solid bed base.
3 things we like especially about Dunlopillo Royal Sovereign mattress
Dunlopillo mattresses are generally very long-lasting and durable, and that's also the case with this one
It can be comfortable for both light and heavy, as well as back, stomach and side sleepers
An interest-free financing option comes in handy for such an expensive product.
3 things we didn't like about Dunlopillo Royal Sovereign mattress
Two weeks is not enough to fully break down and experience the mattress
Dunlopillo Royal Sovereign Mattress does not come with a removable, machine-washable cover
Dunlopillo Royal Sovereign Mattress cannot be used on a flat base because of ventilation needs, which could pose a problem for a lot of people.
Check the alternatives to Dunlopillo Royal Sovereign mattress
If this luxury mattress isn't for you, don't worry – we have a few alternative options for you.
Eve Premium Hybrid Mattress
If you're in the mood for a luxury memory foam mattress with perfect motion isolation, pressure-relieving properties, excellent temperature regulation and impeccable comfort – maybe you should try Eve Premium. If you are not on the budget, combine it with Eve Storage bed frame to achieve the best effects!
Eve is a well-known UK brand that does not require too much words – all we can say is that you will sleep without interruptions or becoming hot during the hot summer nights.
This one is certainly one of the best memory foam mattresses you can buy at the moment, especially if you are looking for a mattress that supports your entire body.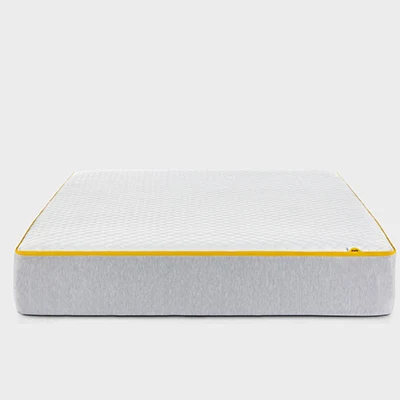 Very comfortable
Great motion isolation
Cool and breathable.
It might be too soft for heavier sleepers
Somewhat expensive
Lacks some additional edge support.
If you are looking for a cheaper version of high quality hybrid mattress, Simba Hybrid is definitely the pick you want to. With the Titanium Aerocoil comfort layer, you will feel as if you were sleeping in the clouds.
Simba Hybrid is one of the three hybrids that Simba Sleep makes, and it's the most affordable one. It is by no chance a budget mattress, however. It is a high-quality hybrid that will last you for a really long time and will make you sleep like a baby for as long as it lasts.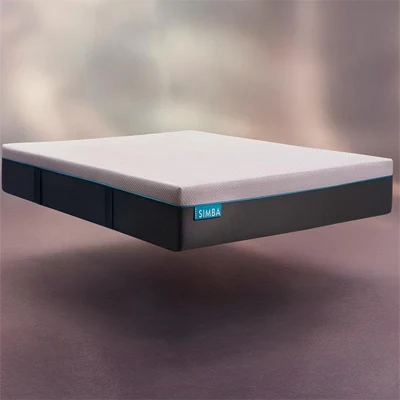 Very comfortable
Excellent durability
200-night trial period.
Below-average support
Not the coolest or the most breathable mattress
No removable cover, quite easy to stain and hard to clean.
Consider OTTY Adjustable pillow if you are buying Dunlopillo Royal Sovereign mattress
If you need a supportive, hypoallergenic pillow to go with your new mattress, OTTY Adjustable pillow might just be the one you're looking for.
This is a fully adjustable pillow filled with small memory foam cubes that you can effortlessly add or remove to construct the perfect pillow for yourself. Despite being filled with memory foam, this pillow won't have you sleeping hot, as it is quite breathable and cool.
Last, but not least, the pillow comes with a removable, machine-washable, hypoallergenic cover to make life free of any allergens or bacteria.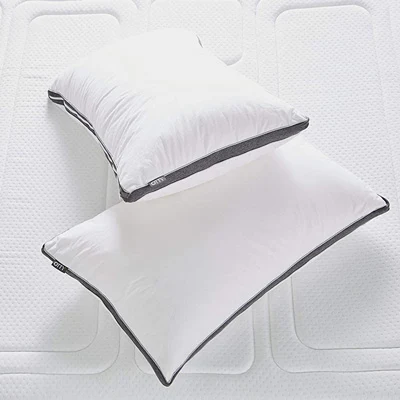 Offers great support for neck and head
Cool and breathable
Durable and long-lasting.
A bit on the expensive side
Some may find it a bit too firm.
What makes this product better than some other similar ones?
What makes this mattress exceptional and better than some of the other similar ones is the generous layer of latex. Most latex mattresses come only with a thin layer of latex mixed in with other materials. In this case, on the other hand, we're looking at a 21cm deep latex base, which is a lot more than you can find in some other similarly priced mattresses.
How did we test the product?
First up, we started by ordering this product online. Fortunately, this was easy. All we had to do is visit the shop, enter our details and that was it.
Surprisingly, the delivery costs were non-existent, even though this was a heavy package. The delivery was free, albeit very slow. It took almost two weeks for the mattress to arrive, but once it did – we began our tests.
As expected, the mattress came in perfect condition. It was evident that the attention to detail was high, but once again – for a mattress this expensive, that's kind of what you have to expect.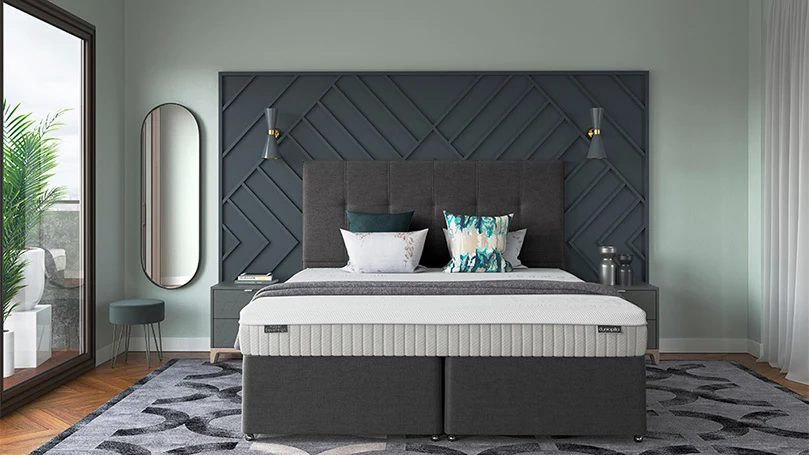 To provide you with an objective review, each of our team members spent ten nights sleeping on this mattress, writing down all their impressions and notes about the mattress.
The first thing we noticed is how pleasant the mattress felt. It wasn't firm or uncomfortable, yet it managed to provide perfect support for all of us, regardless of our sleeping position. It was both soft and comfortable and firm and supportive – a perfect balance.
It passed our roller and kettlebell test with flying colours, so you can expect it to last longer than 8 years, which is the period covered by the warranty.
All in all, we all agreed that this is a remarkable mattress, well deserving of its price tag and reputation.
FAQs about your Dunlopillo Royal Sovereign mattress
Finally, let's wrap things up by answering some of the FAQs we've found online.
Where are Dunlopillo mattresses made?
All of the Dunlopillo mattresses are made in the UK.
Does Dunlopillo Royal Sovereign mattress use natural latex?
Yes. The Royal Sovereign uses natural latex sourced from sustainable rubber tree plantations.
How do I wash my Dunlopillo Royal Sovereign Mattress?
You don't. However, in the event that you spill something, you can use a soak up the excess liquid.
Does Dunlopillo Royal Sovereign mattress come with a warranty?
Yes. This mattress comes with an 8-year guarantee.
Can I get a trial period for Dunlopillo Royal Sovereign mattress?
The trial period for this mattress is only two weeks long, which is something you can't really rely on.
How long will Dunlopillo Royal Sovereign mattress last?
The Dunlopillo Royal Sovereign mattress will last at least 8 years, possibly even more.
Do I need to flip my Dunlopillo Royal Sovereign mattress?
No. This mattress only requires rotating every three months.