Dunlopillo Orchid Mattress Review - Luxury & Hypoallergenic Comfort
Dunlopillo mattresses are known for being extra high-quality, premium products, and Dunlopillo Orchid mattress certainly fits the bill. Seeing how this is a luxurious item, we wanted to test it out, and see exactly what you get from this Dunlopillo mattress, so that we can tell you if this mattress is worth the investment, or not.
Who is Dunlopillo Orchid mattress for?
We have had a few Dunlopillo mattresses in our studio over the years, and from all our Dunlopillo mattresses, the Orchid seems to be the one most suitable for every sleeping position and every sleeper.
This one is rated as a firm latex mattress, but seeing how there are seven comfort zones with this one, it is hard not to recommend this one to every sleeper out there. 
We'll get to the comfort zones in a bit, but for now, just take us at our word – you're going to enjoy this one no matter your sleeping preferences.
Add a header to begin generating the table of contents
What do we use this product for?
Unless you really care about your guests and you have some money to spare, a guest room isn't an appropriate place for this mattress. Dunlopillo Orchid belongs in the master bedroom, so you can bask in all its glory.
But, that's not all there is to this mattress. If you have a bad back, this one will almost certainly make the pain go away. Also, if you struggle with allergies – this one should help. But still, that's not all you can expect from the Orchid mattress. Dunlopillo made sure of that by allowing you to:
Use this mattress to get a good night's sleep
Use it to alleviate back and joint pain
Use it to keep dust mites and other household allergens away from the bed
Use it to stay cool and dry during the night
Use it to minimize pressure on core areas like hips and shoulders
Use it to promote perfect posture and keep your spine correctly aligned
Use it to minimize motion transfer.
Features you should know about Dunlopillo Orchid mattress
Now that we are familiar with what this mattress is best used for, and who can benefit from it, let's take a look at some of the features and characteristics that make it special.
The entire body of this Dunlopillo mattress is made from 100% pure Dunlopillo latex. As you probably know, latex is often used to manufacture luxurious mattresses like this one due to its high-quality, sustainability, hypoallergenic properties, and so on.
With the Orchid mattress, Dunlopillo decided to include 3 separate layers of rubber-tree sourced latex. If we take a look at the heart of this mattress, Dunlopillo Orchid greets us with a 16 cm extra deep comfort core made from firm, breathable latex. On each side of the core, we have another 4 cm thick latex comfort layer for improved cosines, motion transfer, and contouring.
7 comfort zones with firm support
The Orchid mattress marries the Dunlopillo blueprint for firm comfort with an extra deep comfort core. The result is a fusion of intelligent design that characterises sublime comfort, subtle support and the very best in sleep innovation.
As we have mentioned earlier, despite being rated as firm, this mattress comes with 7 unique Dunlopillo comfort zones, developed to provide you with tailored support regardless of your sleeping position, body shape, body weight, or the bed base you're using the mattress on.
This innovative manufacturing process allows for Dunlopillo Latex Orchid mattress to specially target your core areas with softer support. Loosely translated, this means that you'll find the softer zones under your hips, shoulders, and feet, while the rest of your body will get to enjoy all the support from the firmer zones.
Pressure-relieving, hypoallergenic & breathable
Due to innovative cooling technology and the latex core filled with microscopic air bubbles, this is one of the most breathable Dunlopillo beds. Latex isn't generally known for retaining heat, but it always helps when you go the extra mile to ensure a fresher night's sleep for the hot sleepers.
In addition to maintaining a comfortable temperature for hot sleepers, this one also helps alleviate pain and pressure, due to its zoned Dunlopillo latex base and its unrivalled elasticity. Even if you're a heavyweight side sleeper, the Orchid offers significant relief around the pressure points.
Finally, as you probably already know, latex is naturally hypoallergenic, anti-bacterial, and anti-microbial, so if you're one of the people struggling with allergies or respiratory issues – this one will provide you with an allergy-free sleep experience and a healthy night's sleep every night of the week.
At 24 cm deep, this Dunlopillo mattress is pretty much ideally deep. It won't be too high or too low, regardless of the bed base you put it on, but more importantly, you won't have any issues finding a fitting mattress protector or a fitted sheet for this mattress.
Knitted cover with Actipro technology
Now, let's take a look at the mattress cover. Here we have a soft-touch cover, that has been treated with Actipro technology to keep the mattress cool and breathable, but that's not all.
Actipro technology used to treat this knitted cover eliminates unwanted allergens, reduces bacteria and unpleasant odours, and helps maintain a welcoming and refreshing sleep environment.
To make your life easier, this mattress isn't double-sided, so you won't have to turn or flip it in order to evenly break it in. The Orchid is single-sided, which means that the only thing you'll have to do, maintenance-wise, is to rotate the mattress head-to-toe once a month for the first three months. After that, just rotate your mattress every three months and you should be good.
Finally, Dunlopillo gives you an 8-year warranty on their Orchid mattress, so that you can sleep soundly, knowing that you are protected for quite a long time.
Review of Dunlopillo Orchid mattress
Let's start with the design. The mattress is 24 cm deep, which is pretty much ideal. The soft-touch cover is wonderfully designed and feels very premium. It almost looks too good to be covered with sheets. However, seeing how it is not removable, we don't suggest you do that.
As far as comfort and support are concerned – to say that we don't have any complaints would be a massive understatement. This is truly one of the most comfortable and supportive mattresses we've ever reviewed.
On that note, we did find that this one works best with a Dunlopillo base. Dunlopillo makes a bed frame with an adjustable slatted base, which means that you can alter the level of firmness and support at different points of the mattress by adjusting the gap between the slats, to create that perfect, tailored support and divine feel.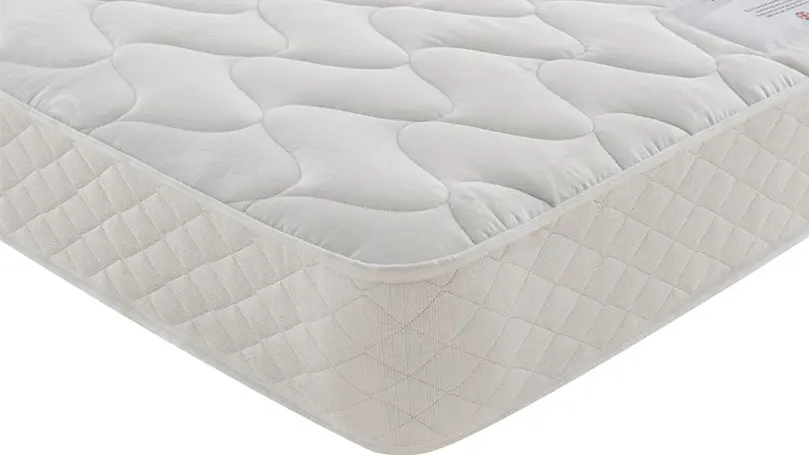 In addition to that, this one, like all other Dunlopillo mattresses, works wonders for sleep-related pain, blessing you with orthopaedic-like support.
We've already said it, but it is worth doubling down on the fact that with this one, you'd be getting an anti-bacterial and anti-microbial bed, that is also remarkably breathable, pressure-relieving and motion isolating. In fact, motion isolation and pressure relief are so good that you'd think you're sleeping on a latex foam mattress.
Finally, this is one of the most durable mattresses we've ever tested and reviewed. We can easily see this one outlasting the warranty by more than a few years.
As far as the negatives go – there really aren't many. The only thing that comes to mind is the lack of rotating handles and a removable cover. Other than that, there really aren't any.
All in all, this one is as close to a perfect mattress as one could be.
Type: Latex
Firmness: 7.5/10
Mattress depth: 24 cm
Warranty: 8 years
Size: Single, Small Double, Double, King size, Super King size + EU Small Single, EU Single.
What we like about Dunlopillo Orchid mattress
Truly one of the most supportive mattresses we've ever tested
Offers a significant relief around the common pressure points like hips and shoulders
Easily one of the longest-lasting mattresses on the UK market.
What we didn't like about Dunlopillo Orchid mattress
Latex mattresses are quite heavy, so we would've liked to see rotating handles on this one
A removable cover should be a feature at this price point
Even when discounted, the Orchid is still too expensive for an average shopper.
What makes this product better than some other similar ones?
This is hard to say. Not because there isn't anything that makes this mattress better than some similar ones, but because this one does pretty much everything exceptionally well.
This is a well-rounded mattress that excels at pretty much everything, and that is exactly what makes it better than the competition.
All in all, this is a mattress that will make your old bed feel like a bed of nails. So, it is definitely worth saving for.
How did we test the product?
If there is one thing we found out while testing this mattress it is that faulty materials and poor workmanship don't exist in Dunlopillo's dictionary. But, before we get to the testing, let's talk about shopping.
Ordering this one is easy, and so is the delivery. If the product's in stock, you'll get a free next day delivery right to your doorstep. For additional services, like delivery to the room of your choice or old mattress removal, you will have to pay an additional fee.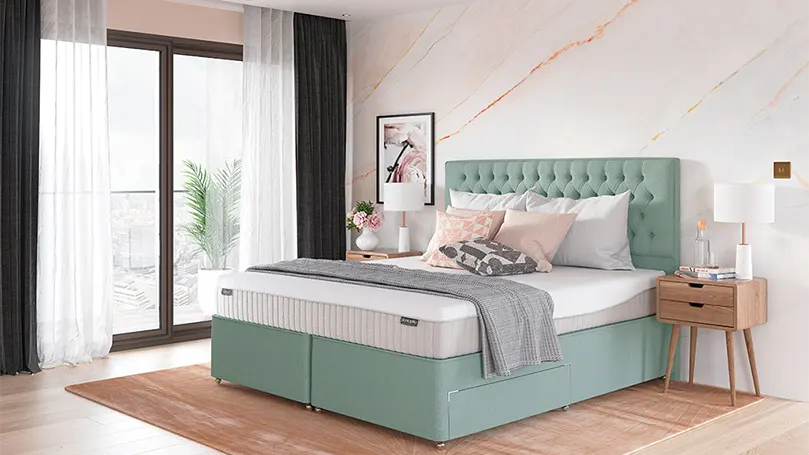 As for the testing itself, we did our best to stay as objective as possible, and not get swayed by our shiny, new bed. To do that, we all took turns testing this mattress in various conditions.
We've adjusted the room temperature, we've switched bed frames and bases, and we have even compared it to other, similar latex mattresses, just to get a clearer picture of what this one's capable of.
In addition to all of that, we've tested this one with a roller and a kettlebell, to check just how durable and sag-resilient this one is. And, as you have already seen, it did pretty well.
After the testing was done, we sat down, discussed our findings, and we wrote this review.
FAQs about your Dunlopillo Orchid mattress
Let's wrap things up by answering some FAQs.
Should side sleepers use Dunlopillo Orchid mattress?
Yes. Despite being rated as firm, this mattress is suitable for side sleepers.
Is Dunlopillo Orchid mattress suitable for stomach sleepers?
Yes. This mattress will offer sufficient support for stomach sleepers.
Is Dunlopillo Orchid mattress suitable for back sleepers?
Yes. Back sleepers will be able to enjoy this mattress.
How to clean Dunlopillo Orchid mattress?
You can either vacuum or spot clean this mattress with a damp cleaning cloth.
Is Dunlopillo Orchid mattress good for the post-surgical recovery period?
Yes. Patients recovering from surgery should find this mattress quite enjoyable and relaxing.