Dormeo S Plus Evolution Memory Foam Mattress Review - Unmatched Comfort & Support
Dormeo mattresses are one of the best-selling mattresses in the UK and Europe. This is not surprising to anyone in the niche, as Dormeo offers many different mattress types, and each mattress is a high-quality one. Also Dormeo offers pillows, duvets, protectors, etc. We have tested many of their products, and now it is our turn to test Dormeo S Plus Evolution Memory Foam mattress.
Who is the Dormeo S Plus Evolution Memory Foam mattress for?
Dormeo S Plus Evolution Memory Foam mattress is a softer than Dormeo S Plus Memory Foam mattress, so it is the preferred choice for side and back sleepers. However, some stomach sleepers will find it firm enough because it has two sides, one of which is the firm.
It is hypoallergenic so it is good for allergy sufferers. Breathability is fine for memory foam mattress, and while it won't suit every hot sleeper, it will suit most of them which cannot be said of other similar ones.
Add a header to begin generating the table of contents
What do we use this product for?
We use Dormeo S Plus Evolution Memory Foam mattress for a better night's sleep and support. Also, we use it to increase blood circulation and aid in muscle regeneration.
We use it for cradling memory foam sensation
We use it for support
We use it for motion isolation
We use it for cooling.
Is the Dormeo S Plus Evolution Memory Foam mattress an upgraded version of Dormeo Standard S Plus mattress?
We have already mentioned Dormeo Standard S Plus mattress, and our reviewee Dormeo S Plus Evolution Memory Foam mattress is an upgraded version. It is 3 cm deeper and has 50% more memory foam which makes it softer. Also, it adapts even better to your body because of more memory foam.
Features you should know about Dormeo S Plus Evolution Memory Foam mattress
To help you fully understand the complexity of this mattress, we have singled out the most important features that we will break down in this part of our review.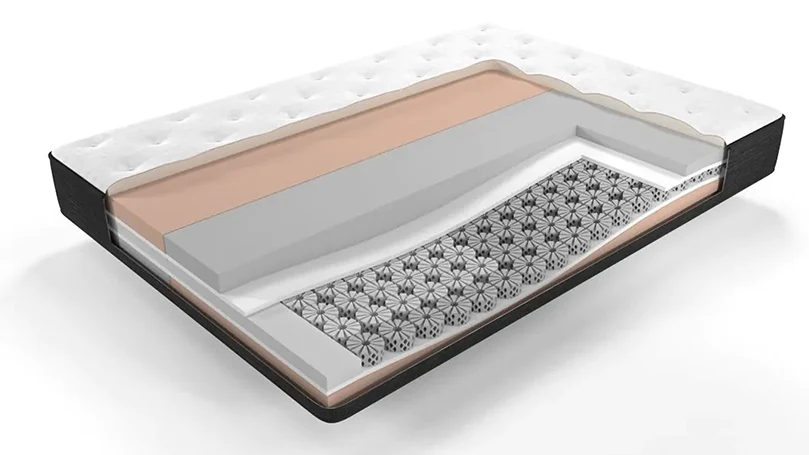 Body-zoned Octaspring technology
The biggest downside of memory foam is breathability and that is a well-known fact. Heat retention and lack of breathability are the reasons why hot sleepers used to avoid memory foam products, and even those who are not hot sleepers were reluctant to buy something containing memory foam. Many sleep companies have worked to overcome these problems and most have made progress, but Octaspring technology developed by Dormeo has gone a step further than all.
Springs are much more breathable than memory foam and then sleep experts came up with the idea to make memory foam springs, so we got Octaspring technology. Thanks to this technology we get 5 to 8x better breathability compared to classic foam. But that's not all, because Octaspring springs are also body zoned. This means that the foam springs of different firmness levels are implemented in the mattress, to provide unique support for every part of the body.
Octaspring technology would not be nowhere near as effective as it is, if it is encased in traditional memory foam which would again impair the circulation of the air. That is why Dormeo has launched another new type of foam on the market – Ecocell.
Ecocell foam has a 3D cellular structure so it is very breathable and encases Octaspring springs. Ecocell foam is not only made to be breathable, but it is very elastic, so it provides great support. According to the manufacturer, Ecocell is permanently elastic, so durability is topnotch.
Anti-dust mite & anti-bacterial
Memory foam mattresses are generally a great choice for allergy sufferers because memory foam is not a suitable environment for dust mites and other allergens. And this mattress is additionally treated, so Clean Effect treatment makes it anti-bacterial, anti-dust mite and anti-static. All in all, we don't expect you to have any allergy problems when sleeping on it.
We are sure that couples will give this mattress A + when it comes to motion isolation. They will experience zero movement for several reasons. Memory foam is great at motion insulation plus memory foam is sewn directly into the cover, so motion transfer is zero. Individual Octaspring springs also absorb motion and since both have their own part of the mattress, couples will sleep peacefully even if one of partners is restless sleeper.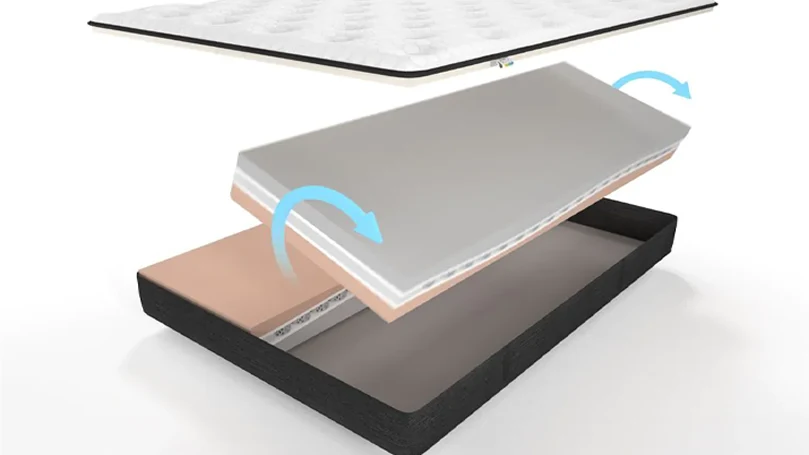 When you look at the spine, it has an S-shape. That's why this mattress has an S-shape foam layer that is designed to follow the natural curvature of the spine, to provide perfect support. This is something that most other mattresses do not have and it is especially important for back sleepers, who will find it easy to maintain spinal alignment throughout the night.
Personalized customization
Dormeo S Plus mattress was the first mattress on the UK market that you could personalize 100%, and you can do the same with Dormeo S Plus Evolution Memory Foam mattress. You have dozens of combinations available, more precisely, over 30 combinations, if you buy any size other than Single. The Single size offers slightly fewer combinations, but also more than enough.
The first thing you can do is have each of the partners in bed customize their side, independently of the other side. All you have to do is unzip the cover and choose which foam density you want. The choice will probably depend on your sleep position. Also, you can rotate the core and thus choose between more bounce or more support.
This mattress certainly does not belong to the group of extra deep mattresses, but it is not necessary for every mattress to be extra deep. Hybrid mattresses are usually deeper than memory foam ones, and the industrial average for memory foam mattresses is 20cm, so this model is a few cm deeper than average. That will be enough for people with higher BMI too and people of average weight usually can't even tell the difference between 23 and 28 cm for example.
If you are looking for a softer, plusher option then this is the right choice for you. It is a medium-soft firm, although due to Octaspring springs and other supportive layers you will have the feeling that it is closer to medium firm mattresses. On a firmness scale from 1 to 10, it is 4, but the feeling can be 5 as well. Because of this firmness, we recommend it to side and back sleepers. Side sleepers exactly need this firmness to be able to sink and thus avoid shoulder pain.
15 years warranty & 60 nights trial
We always advise customers to choose a mattress that has at least a 5 year warranty, because the mattress is not something that should be changed often. When a mattress comes with a 10-year warranty it's great, and when it comes with a 15-year warranty like this one, then you know you've bought your mattress for the next two decades.
We expected Dormeo to offer a 100-night trial, but a risk free 60-night trial is enough. It takes you about a month to get used to the mattress and after that you have another month to be 100% sure you want to keep it.
Review of Dormeo S Plus Evolution Memory Foam mattress
Dormeo S Plus Evolution Memory Foam mattress is a 23 cm medium-soft mattress. It is an upgraded version with 50% more memory foam, so it is even more comfortable and soft. Side sleepers will love it. We recommend it for back sleepers as well, especially because of the unique S-shape, which provides perfect support for the spine. This is one of the most breathable and cooling memory foam mattresses on the UK market. Hot sleepers and others can thank Octaspring memory foam springs and Ecocell foam for such features of this mattress.
This mattress gives you unparalleled customization options. Customization options as well as complete motion isolation make it a favorite choice of couples. You can choose where you want support, whether you want firmer or plush feel. It offers anti-bacterial, anti-dust mite and anti-static protection. It comes with a 15-year piece of mind warranty, and a 60-night trial is available.
Type: Memory foam
Size: Single, Double, King, Super King
Firmness: Medium-firm
Depth: 23 cm
Warranty: 15-year.
15-year warranty and 60 night comfort guarantee
Personalization
Hypoallergenic
Highly comfortable and supportive.
Not for every sleep position
High-priced
Off-gassing.
What we like about Dormeo S Plus Evolution Memory Foam mattress
The mattress is completely safe because it is hypoallergenic, anti-bacterial and anti-dust mite
The level of customization available to you is unprecedented
For memory foam mattress, it is very breathable and cooling giving hot sleepers best night's sleep.
What we didn't like about Dormeo S Plus Evolution Memory Foam mattress
An extra 50% of the foam makes it softer and more comfortable, but it also means it will be too soft for many stomach sleepers
Be prepared that off-gassing will be present for at least a few days, as the mattress contains a lot of memory foam
The price, although justified, will surely deter several customers from buying.
What makes this product better than some other similar ones?
Dormeo S Plus Evolution Memory Foam mattress is nothing short of revolutionary. It contains all the best that Dormeo company has to offer. Octaspring springs and Ecocell foam that are breathable and cooling like no other type of memory foam. 
Then the S-shape layer for spinal support. The ability for both partners to customize their sleep part and so both sleep equally comfortably without interfering with the latter, either with mattress features or due to motion transfer is fantastic. Anti-bacterial, anti-dust mites, anti-static protection and a 15-year warranty are just a few more things worth mentioning.
How did we test the product?
Delivery of all Dormeo mattresses is free, so Dormeo S Plus Evolution Memory Foam mattress is no exception. According to the information currently available on the website, you need to wait 5 to 7 days for the mattress to be delivered to you. There is a possibility that you will be charged for delivery if you live in the Highlands and Islands. Dormeo does not deliver to Gibraltar and Channel Islands.
It arrives at your home address vacuumed and packed in a box. Carefully unpack it and leave it for 24 to 48 hours to regain full size. Strong chemical odour will be present for the first few days, but you don't have to worry, it's not a consequence of toxic chemicals. By air it, off-gassing will disappear, and the manufacturer advises you to air it every day for 20 minutes.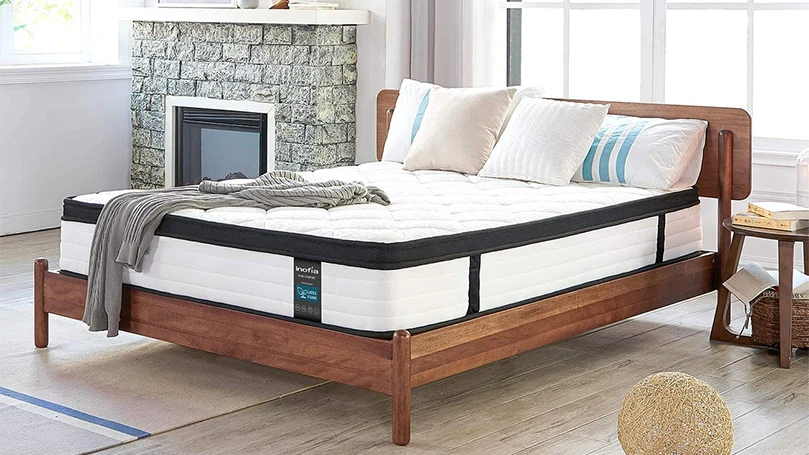 Although it is highly unlikely that a mattress from a respectable manufacturer such as Dormeo will be damaged, you should always check this, because mistakes occur both during production and delivery. We subjected it to a roller test to check durability.
After that, it remains for our test team to spend a month using this mattress every day. Specifically, we tested it for 35 nights, before we could write this review.
FAQs about your Dormeo S Plus Evolution Memory Foam mattress
In our final section you can find some more useful information about your new Dormeo S Plus Evolution Memory Foam mattress.
Should side sleepers sleep on Dormeo S Plus Evolution Memory Foam mattress?
Yes, side sleepers should sleep on this mattress, it is perfect for side sleeping because of the body contouring, support and pressure relief.
Is Dormeo S Plus Evolution Memory Foam mattress suitable for back and stomach sleepers?
Dormeo S Plus Evolution Memory Foam mattress is suitable for back sleepers who will have good night's sleep on it , while it can be too soft for stomach sleepers, especially heavier stomach slepers.
How to clean my Dormeo S Plus Evolution Memory Foam mattress properly?
We advise you to use a mattress protector, and you can remove stains with dishwashing liquid diluted with water and vacuum it occasionally to remove dust.
Is Dormeo S Plus Evolution Memory Foam mattress suitable for allergy sleepers?
It is recommended for allergy sufferers because it is made of hypoallergenic materials and it delivers anti-bacterial, anti-dust mite and anti-static protection.
How long does Dormeo S Plus Evolution Memory Foam mattress last on average?
Considering warranty duration and overall quality, we expect your new mattress to last at least 15 years, maybe even two decades.