Inofia Handcrafted 12 Inch Mattress Review
Orthopedists agree that shoes and mattress are things you should never skimp on. The reason is very simple, because we walk or stand for at least a third of the day and sleep for at least a third of the day. We think that the mattress is even more important, because you change your shoes often, while the mattress is an investment and you will use it for at least 5 years, and probably much longer. Inofia Handcrafted 12 Inch mattress has caught our attention, so here is your review by The Sleep Advisors.
Who is Inofia Handcrafted 12 Inch mattress for?
If we look at the overall characteristics of this memory foam and pocket sprung mattress, we can't see any characteristic that disqualifies it for a certain type of people, which implies that it could be for everyone.
Of course, there is no product that will suit every person on planet Earth, so, for example, this mattress may not be firm enough for heavier stomach sleepers. 
But overall, it is comfortable for all sleep positions, and it is also hypoallergenic making it suitable for allergy sufferers. Inofia Cloud memory foam is breathable, but hot sleepers may have problems during the summer though.
What do we use this product for?
We use this mattress to have a comfortable night's sleep and to keep our body in a healthy position. This mattress provides unparalleled support to your whole body, placing the spine in the correct position, which is the most important thing. Also, you will notice relief at pressure points and you you will wake up pain-free.
Features you should know about Inofia Handcrafted 12 Inch mattress
There are a lot of features you should know about the mattress, so now is the time for a closer examination of those features.
In the United Kingdom market, you can find mattresses that are 15 or 20 cm thick, and this mattress is 30 cm (12 inches) thick, which ranks it among thick, deep, or tall mattresses. Thicker mattresses have many advantages over thinner ones, and these are primarily comfort, support and pressure relief and are considered premium.
The mattress has 5 layers plus cover. 4 layers of different types of memory foam and pocket sprung layer. At the bottom of this mattress is a high density base foam, then comes a pocket sprung layer that adapts to your body, and the next three layers of memory foam reduce friction, improve bounce and give you comfort.
We especially wanted to single out L&Y Cloud Memory Foam because it is a very dense memory foam that will absorb body weight and adjust to it. In this way, you get the feeling that the mattress is hugging you, and at the same time it provides support to the whole body.
Tossing and turning during sleep is natural, but neither of us wants to be waked up by every movement of our partner in bed. The same goes for the noise we hear when we move in our sleep. Whether you are a light sleeper or not, motion insulation is very important when buying a mattress, as well as not being noisy.
Inofia mattress is great in both fields, as creative barrel type spring system is designed and sealed in a non woven fabric, to effectively absorb noise and movement. That's why you won't even feel someone sleeping next to you, and you won't hear your own movements.
This mattress has an OEKO-TEX certificate, which guarantees that it is completely safe for people as well as for our environment. This certificate is awarded to those products where no harmful chemicals and other harmful substances for humans and the environment have been used during all stages of production, which means from the processing of raw materials to the end product. OEKO-TEX certificate is one of the most respected certificates in the textile and sleep industry.
If you haven't heard of tufting by now, we'll explain what it is. As we have already said, this mattress has 5 layers. And these layers must be connected in some way, so that they do not move. There are several ways this can be done, and tufting is used for high-end sleep handcrafted mattresses.
Tufting gives us a uniform sleep surface, in a way that this cannot be achieved with, for example, adhesive, which is used with budget mattresses. For this mattress, handcrafted tufting was used, which is an even better option and something that tells you that this mattress will last a very long time.
On a firmness scale of 1 to 10, Infoia gives 6.5 to its Handcrafted 12 Inch mattress. This indicates to us that this is a medium firm feel mattress, which is close to being a firm. However, it depends on many factors.
The most important factor that affects this is your body weight. Someone who weighs 90 kg will not give a 6.5 firmness rating to this mattress, while someone who weighs 50 kg will find this mattress to be firm instead of medium firm. Anyway, medium firmness is the best choice for all sleep positions when we are talking about people of average body weight.
No one wants to change a mattress every 2 or 3 years for two reasons. The first reason is that mattresses are not cheap, and the second is that it takes some time to get used to a new mattress.
That is why it is important when buying a mattress, to make sure that it comes with a warranty. The mattress comes with a 10-year limited warranty which is really great and is a true indicator of the quality of this mattress and finest materials used, because it shows that the manufacturer is completely confident in durability.
It takes about a month for your body to adjust to the new mattress and that is why when you buy a mattress, you almost always have a trial period unlike when you buy duvets, weighted blankets and the like. When you buy this Inofia mattress, you have 100 nights to try it and determine if it suits you. Since 30 nights is more than enough, during 100 nights you will be completely sure if you like all the features, so this is a risk-free purchase.
Bed-in-a-box design has become the most popular design since online shopping has become so prevalent. As mattresses are bulky items, shipping would be expensive and complicated if the mattress is delivered to you in full size. But when it is rolled, compressed and put into a box and then delivered to your door, then it is a fast, cheap and convenient option.
Review of Inofia Handcrafted 12 Inch mattress
It is a hybrid mattress that has 5 layers and is 30 cm thick. 4 out of 5 layers are different types of memory foam, while creative barrel type spring system sealed in a non woven fabric has been added to make support even better. Comfort, pressure relief and motion insulation are also at a very high level. These 5 layers are encased in a soft cover with airy mesh on the side, which improves breathability, and this is very important for a mattress that contains memory foam. Handcraft tufting and premium jacquard fabric are added for luxurious comfort.
On a firmness scale of 1 to 10, it is ranked between 6 and 7, which makes it comfortable for all sleep positions, and especially for side and back sleepers. It is hypoallergenic and OEKO-TEX certified. It comes with a 10 year limited warranty, and the trial period lasts 100 nights.
Hypoallergenic
10-year warranty
100-night trial period.
Non-removable cover
Sometimes too hot
Off-gassing.
6 features we love about Inofia Sleep Handcrafted 12 Inch mattress
Thanks to the combination of memory foam of different densities as well as the pocket sprung layer, the support is extraordinary
Single point contact design spring system
Excellent shock absorption – no vibration caused
It is a very good choice for couples because motion transfer is almost non-existent and it is silent
Pressure relieving
It is hypoallergenic and OEKO-TEX certified.
3 fetures we didn't like about Inofia Sleep Handcrafted 12 Inch mattress
It can be too soft for heavier stomach sleepers or too firm for side sleepers with lower BMI.
Breathability is good for a memory foam mattress, but hot sleepers can find it too hot for summer months.
Off-gassing is present for the first few days.
Check the alternatives to Inofia Sleep Handcrafted 12 Inch mattress
To help you compare the mattress with other mattresses on the United Kingdom market, we have singled out the Emma Hybrid mattress and the Silentnight 7-Zone.
Emma Hybrid mattress is a high-end mattress with all its characteristics such as comfort, craftsmanship, support, pressure relief and also price.
 It is suitable for all sleep positions as it adapts to each one individually thanks to having characteristics of both memory foam mattress and hybrid one. It comes with a 10-year manufacturer warranty and a 200-night trial period. 
Emma Hybrid mattress significantly reduces motion transfer, and is available in 5 sizes – UK Single, UK Small Double, UK Double, UK King and UK Super King size, so couples will find what they need for a peaceful night.
Don't forget to read Emma Hybrid mattress review we have.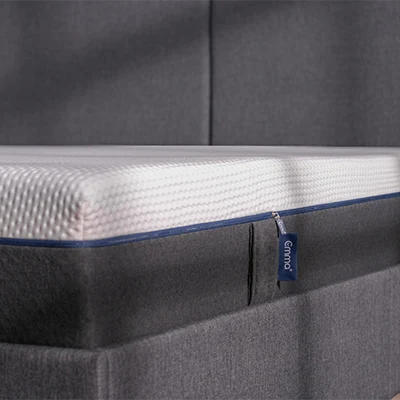 Pressure relief
Motion isolation
Removable, washable cover.
It does get warm when it is hot outside
Edge support
More expensive compared to some other hybrid mattresses.
If you want 100% memory foam double mattress, and you also do not want to spend too much money, our recommendation is Silentnight 7-Zone memory foam mattress. 
7-Zone from the name refers to the 7-zone support system, which means that it provides you with unique support on every part of the body and we really like that. 
On a firmness scale of 1 to 10, it's right there in the middle, between 5 and 6 and that is common for memory foam mattress.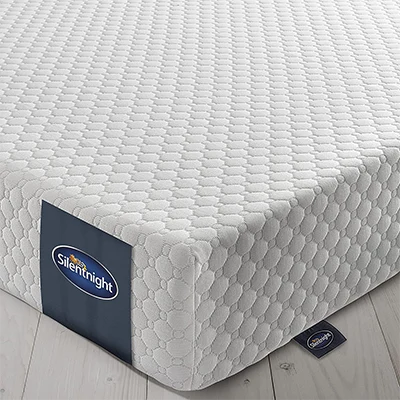 Support
Value for money
Motion isolation.
Sinkage
Durability concerns
Off-gassing.
Consider Simba Hybrid Topper if you are buying Inofia Handcrafted 12 Inch mattress
There aren't many hybrid toppers or many toppers that will transform your mattress like the Simba Hybrid topper.
 It has 3 layers for an ideal balance between softness and firmness. Anti-slip base and wriggle-free straps will perfectly stabilize this topper. It is TCPP free. 
This high-quality mattress topper is perfect for people who sweat a lot. Thanks to cooling open-cell Simba-pure layer, it makes it suitable for hot sleepers as well.
Check our detailed Simba Hybrid mattress topper review to learn more.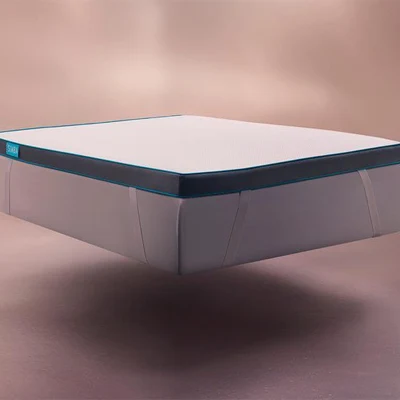 Hypoallergenic
Anti-slip base and straps
Great quality.
High-priced
Short warranty duration
Too firm for some side sleepers.
What makes this product better than some other similar ones?
There are a lot of things that make the mattress better than some other similar ones, but first we would single out the price. This is certainly not a cheap mattress, but it is affordable when you take a closer look at its features and quality.
You get a high-end hybrid mattress that provides great support, comfort and pressure relief. Many similar mattresses are twice as expensive as this one. When we consider the price, 10-year warranty and quality of this product, this one can be considered as best-buy.
How did we test this Silentnight mattress?
The first thing you need to do is choose one of the 6 available sizes. 4 UK sizes and 2 EU sizes are available. You get free delivery, and how long you will wait for the mattress to arrive depends on several factors, you will get more information about that when you complete the order. When your mattress arrives, you must first leave it for at least 72 hours to regain full shape. During this time, the off-gassing will disappear or be barely present, so you will be able to use your new mattress.
During the quality inspection, we noticed that each part was made with great care and effort. After that we started the overnight test. We tested it for all three sleep positions and it proved to be comfortable enough, supportive and pressure relieving for stomach, side, back as well as a combination of sleepers. As it takes time to completely get used to the new mattress, then it is certain that you will be even more satisfied, because we did not have time to sleep on it for a month until we get used to it. In any case, it is a very comfortable mattress, which can be used by hot sleepers for most of the year.
FAQs about your Inofia mattress
The answers to the frequently asked questions are the best way to bring this review to the end.
Do I pay for the delivery of my Inofia mattress?
No, you don't pay for the delivery since Inofia sleep provides free shipping for all products.
How do I clean my Inofia mattress?
You can spot clean it with cold water and diluted solution of washing liquid.
How long will my Inofia mattress last?
Since it is a high quality product and comes with a 10-year warranty, we expect it to last at least a decade, but that of course depends on maintenance and other factors too.
Is Inofia mattress suitable for all types of sleepers?
Generally speaking, the mattress is suitable for all types of sleepers.