Emma Original Mattress Review - Our Detailed Review
Emma original has been considered one of the best mattresses you can buy for quite some time now. This award-winning memory foam mattress has it all. Well, we wanted to test out these claims and determine, once and for all, is Emma Original really that good? Without further ado, here's our full, in-depth review and our final verdict.
Who is Emma Original mattress for?
Simply by looking at it, Emma Original is a medium-firm memory foam mattress designed to fit everyone's needs. However, as experience has taught us in every mattress review, that's rarely the case. On the other hand, judging by its strongest points, we'd say that Emma Original is best suited for those who switch their sleeping positions through the night, as well as those who prefer a relaxing, contouring feeling from their mattress.
Add a header to begin generating the table of contents
Is Emma Original mattress an upgraded version of a previous product?
Yes. Emma Original is an improved version of the previous Emma Original. The new and improved Emma Original was introduced in 2020, even though the previous version has gotten an award after award in 2019. However, the accolades kept coming even after the upgrade, so, it's safe to say Emma did a good job once again.
What do we use this product for?
Just like any other mattress, Emma Original is made to be slept on. With that being said, those of us who prefer a gentler feel of a mattress, with quite a lot of pressure relief, especially around the core areas – will significantly benefit from this regularly awarded mattress.
Features you should know about the Emma Original mattress
Every mattress has its own set of defining features which that's also the case with Emma Original. As you already know, this is an all-foam mattress with three separate memory foam layers, each strategically put into place to help you achieve a good night's sleep. Let's dive deeper into this mattress review!
Point Elastic Airgocell foam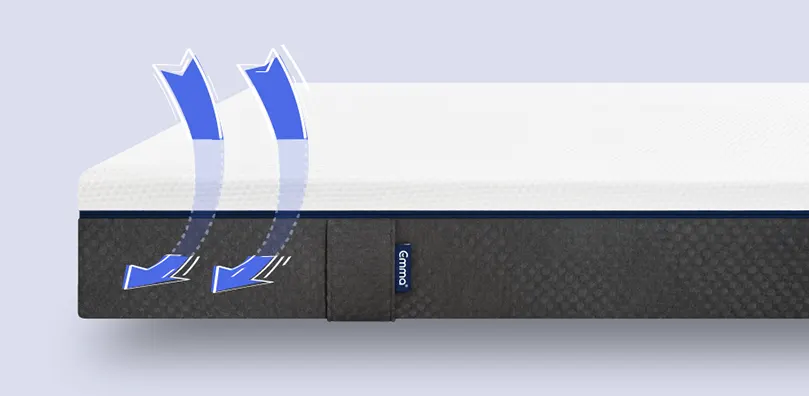 The breathable Point Elastic Airgocell foam layer is a moisture-wicking and temperature-regulating open-pored layer and it is located just under the Halo memory foam comfort layer. The Airgocell foam layer traps and moves the moisture away from your body while simultaneously improving the airflow within the mattress, making you both dry and cool during the night.
Compared to some other all-foam mattresses, this one does a reasonably good job at keeping things cool during the night, but still, you can only go so far with a memory foam mattress.
Polyester cover with temperature regulation
Emma Original comes with a removable and machine washable, temperature regulating cover, called the Emma UltraDry Original cover. The cover is very breathable and manages to do an excellent job of wicking away excess moisture.
The interesting part is, not every section of this mattress cover is made from the same material. The removable top cover is made from 99% polyester and 1% elastane. The side cover is made from 100% polyester and the bottom cover is a mixture of 87% polyester and 13% polypropylene.
The top cover is machine-washable at 40°C, and it is small enough that it can fit any washing machine you might have, even if you get the Super king size mattress.
Just underneath the ultra-breathable cover, we can see the newest innovation from Emma called Halo memory foam.
This memory foam layer has been specially designed to adapt to your body's shape and curves. This design allows for better pressure relief and body-hugging comfort, as Emma likes to call it. What it actually does is it distributes pressure evenly across the entire mattress, allowing your body to experience tailored support all throughout.
In return, you end up with perfect spinal alignment all through the night.
HRX foam for additional support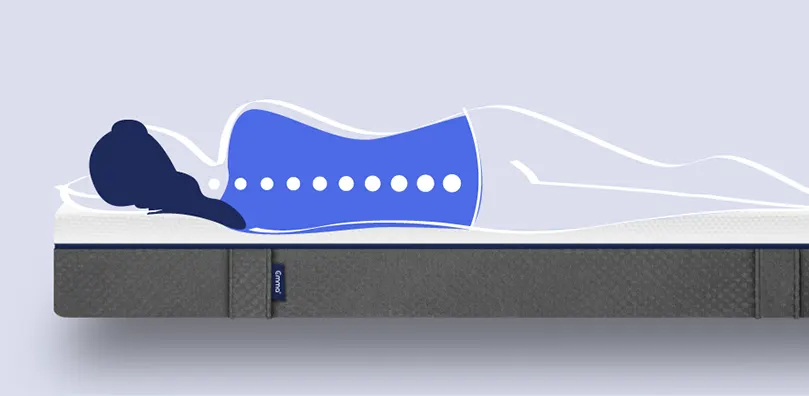 The base of this mattress is an HRX foam support layer with counter-pressure properties to help you sleep in a perfectly aligned position all night long.
As is often the case with a memory foam base, it contours to your body in such a way that it keeps your spine perfectly aligned regardless of whether you sleep on your side, back or stomach.
Furthermore, the all-foam supportive base is excellent for couples, as it offers excellent motion isolation but still retains a little bit of a bounce for those extracurricular bed activities.
The HRX Supreme base contains five strategically placed cut-out zones for improved bodyweight distribution and pressure relief. Zones are placed underneath the pressure point core areas like hips and shoulders, allowing for a much more pleasant sleeping experience.
Finally, the new HRX foam base has been additionally improved to last even longer, so you can expect your new mattress to easily last you a full decade, or possibly even more.
Review of Emma Original mattress
Before we move on to our mattress review, Emma Original we're reviewing is made in the UK, which is important to note because Emma does manufacture in other countries, as well, which means that there could be some subtle differences between the mattresses based on the country of origin.
All in all, it is easy to see why this is an awarded mattress. Emma Original is a wonderfully balanced memory foam mattress. It is remarkably comfortable, without compromising the firmness and support. Regardless of your sleeping position, you can expect to be properly aligned and wake up feeling rested.
The quality of this mattress is remarkable. This is easily one of the most durable mattresses we've ever reviewed. It doesn't sink, it doesn't sag and it doesn't need to be rotated due to its unique design. Although rotating wouldn't harm, there just doesn't seem to be the need for it.
What is also great about this mattress is a 200-night trial (upped from 100-night), so even if you don't end up loving it – you can always return it and get your money back.
On the other side of things, you will probably find it too soft if you're packing some weight. Now, if you sleep on your back, that shouldn't cause much of an issue, but if you're a heavy, stomach sleeper – you'll probably need to add a firm mattress topper.
Also, while some improvements have been made in the temperature-regulating department, Emma Original does still get quite warm on a hot summer night. Furthermore, there will be some off-gassing, but as with any other memory foam bed-in-a-box – that's just something you'll have to accept.
KEY FEATURES:
Type: Memory Foam
Firmness: 6/10
Thickness: 25cm
Size: UK Single, UK Small Double, UK Double, UK King Size, Super King Size
Good support and excellent motion transfer
Incredible price-to-value ratio
Risk-free 200-night trial, 10-year warranty and a money-back guarantee
Heavy sleepers will find it too soft
It still gets quite warm on a hot summer night
Slight off-gassing issues
What we like about Emma Original mattress
One of the most comfortable all-foam mattresses on the market
Great support, both in the middle and around the edges 
A 200-night trial leaves more than enough time to test out the mattress.
What we didn't like about Emma Original mattress
Too soft for heavy sleepers
Despite the Airgocell foam – it still gets kind of warm during a hot night.
The smell tends to linger for a few days.
Check the alternatives to Emma Original mattress
Now, if Emma Original doesn't cut it for you, don't worry – we got your back. Here are the two alternative picks that you might find interesting.
Eve Premium Hybrid mattress
Inarguably the best hybrid mattress Eve has to offer. Eve Premium Hybrid is a luxurious mattress that does all that Emma Original does, only with pocket springs. It's durable, comfortable, provides excellent support and sleeps quite a bit cooler than Emma Original.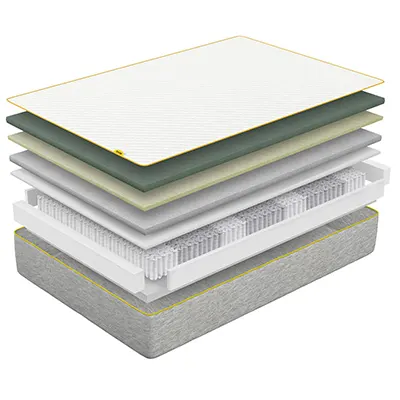 Excellent support and comfort
Very cool and breathable
Excellent durability and longevity
It only comes in three different sizes
Edge support and motion transfer could be improved on
One of the more expensive mattresses when at full price
Simba Hybrid is another alternative we have for you, once again – with pocket springs. This is a hybrid mattress that's slightly less expensive than Emma Original. Overall, it's not as quite as good as our reviewee, but if you need a solid mattress that will fit your bed frame perfectly – this one comes in 9 different sizes!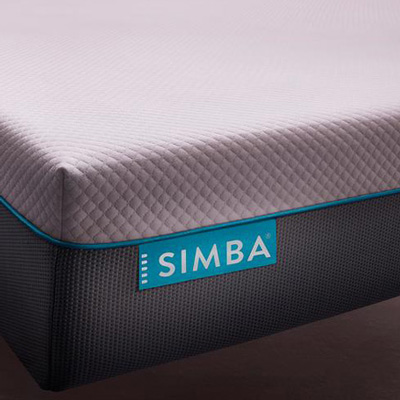 Very comfortable
Excellent durability
200-night trial period
Below-average support
Not the coolest or the most breathable mattress
No removable cover
Consider Panda mattress topper if you are buying Emma Original mattress
If you want to make your new mattress cooler and more breathable, maybe try out this mattress topper from Panda. Hydro-foam technology used in this topper is both hypoallergenic and very breathable, which is what Emma Orignal lacks the most. Now, it won't add much to the as far as firmness is concerned, but still, unless you're over 130 kg – you won't need any extra help.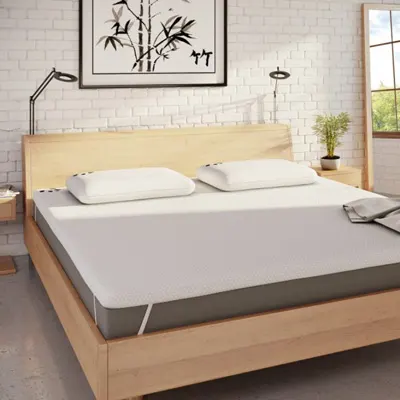 Removable, machine-washable bamboo cover
Vegan, sustainable and eco-friendly
10-year warranty
Great price for value
30 cm thick when paired with Emma Original
What makes Emma Original mattress better than some other similar ones?
What really makes this Emma mattress shine amongst all other similar mattresses is its remarkable durability. High-quality foams and excellent engineering make this one of the most durable and long-lasting memory foam mattresses on the market.
How did we test the product?
Just like with any other product or mattress review, our goal is to stay objective, providing you with a detailed and descriptive overview of a product. In the case of this particular Emma mattress, we paid special attention to the defining features such as comfort, firmness and durability, as those are the ones that are generally the most important when shopping for a mattress.
As far as the ordering process goes – it was buttery smooth. We entered our info and our bed-in-a-box arrived in three days – in perfect condition. Naturally, Emma offers free delivery, so, no worries there.
We tested the comfort, firmness, pressure relief, and other aspects of this mattress by having each of our team members spend ten nights sleeping on this mattress, taking notes and sharing their experiences amongst each other.
Now, comfort and firmness are fairly subjective and you can only be as objective as possible. With that in mind, all of our team members found the mattress to be perfectly comfortable, regardless of their sleeping positions and body types. As far as the firmness is concerned, when all is put together, we found this to be a medium-firm mattress, leaning slightly towards a medium, rather than firm.
As you might know, every Emma mattress comes with a 10-year guarantee and we're pleased to say that after our roller test, we found this one to be remarkably durable. You should have no problems using this mattress for the whole duration of the warranty.
FAQs about your new Emma Original mattress
Like it is the case with every mattress review or a product review, we wanted to answer some of the most frequently asked questions about Emma Original.
What's the difference between Emma Original and Emma Essential mattresses?
Emma Original and Emma Essential are quite similar, although Emma Essential is significantly more affordable.
Is the Emma Original mattress suitable for hot sleepers?
Not quite. As is often the case with memory foam mattresses, Emma Original also gets warm during hot summer nights and is therefore not the most suitable choice for hot sleepers.
Is the Emma Original mattress suitable for side sleepers?
Yes. Emma Original is pretty great for side sleepers.
Is Eve Lighter Hybrid mattress good for neck pain?
As far as neck pain is concerned, we'd recommend switching to a more comfortable pillow, as a pillow is more likely to cause neck problems. However, Eve Lighter hybrid mattress will not cause any issues with your neck whatsoever.
Is the Emma Original mattress suitable for stomach sleepers?
Yes and no. If you're a bit on the heavier side, you won't be comfortable sleeping on your stomach.
Is the Emma Original mattress good for back sleepers?
While not being the first-pick mattress for back sleepers, it is certainly a good choice for back sleepers.
If properly taken care of - no. Every Emma mattress will slightly adapt to your body over time, but that is not the same as sagging.
How do I care for my Emma Original mattress?
The top cover of the Emma Original mattress is removable and machine-washable at 40°C.