Panda Mattress Topper Review - High Quality Foam Bamboo Topper
Want to know just how much of a difference 5 cm of memory foam make can? Well, according to what we've just experienced with the Panda Mattress Topper – quite a lot, actually. If that sounds intriguing, maybe you'll want to stay for the rest of this review.
Who is Panda mattress topper for?
If you have a mattress that is very supportive, but also quite firm, the best way to make it more comfortable for you is to make it softer, and that is exactly what you can do with the Panda topper. In addition, if you a type of sleeper that has problems with allergies, this is the right type of product that you need. Bamboo is a natural material that is naturally hypoallergenic, soft and moisture-wicking.  
5 cm of third-generation open-cell memory foam guarantees to provide you with a cradling, soft comfort that will take your old mattress from a firm and uncomfortable one to a soft and cosy one. Let's dive in a bit more and find out more information about this fantastic topper that will change your night's sleep! 
What do we use this bamboo mattress topper?
Just like any other memory foam topper, the Panda mattress topper can be used to make your mattress better. This one, in particular, does this by being soft and pressure-relieving and also quite pleasant on your neck, shoulders and hips.
Even though 5 cm might not seem like quite a lot when it comes to pressure and pain relief, when coupled with a good mattress, the Panda topper can help you get rid of the annoying pain.
Not only that, due to its hypoallergenic nature, the Panda mattress topper can also help you battle allergies and help you sleep better.
Features you should know about the Panda mattress topper
To better understand why you should go with the Panda foam bamboo mattress topper instead of some other memory foam topper, we've decided to introduce you to all the great features that come with it.
Anti-bacterial and hypoallergenic & breathable removable bamboo cover
Unlike many other toppers, the Panda topper comes with a removable bamboo topper cover. And, unlike with many others where you'd only find bamboo in traces, Panda's cover is actually made from bamboo.
This naturally hypoallergenic bamboo cover is made from 40% bamboo fibre outer layer and 60% polyester support, which means you're not only getting quality, but you're also getting velvety softness, comfort, breathability, and most importantly – anti-bacterial properties and a dust mite-free environment. In addition, you can order a separate Panda bamboo cover.
Bamboo has amazing natural properties. It is naturally resistant to dust mites, bed bugs and other common household allergens, and when you pair that up with a cover that is also machine-washable at 40°C – you get a topper that is not only easy to keep clean and healthy but the one that can also prevent skin irritation or other allergen-caused issues.
Hydro-foam orthopaedic support
The memory foam that makes the Panda topper is not your regular, everyday foam. What you're looking at here is a 3rd generation, gel-infused memory foam. Called Hydro-foam, this open-cell structured memory foam is not only comfortable and cosy, but it is also quite contouring, and when coupled with the right mattress – it also offers much needed orthopaedic support exactly where you need it. No more pain and discomfort in your lower back, shoulders, hips or neck – and that's not something many toppers can do.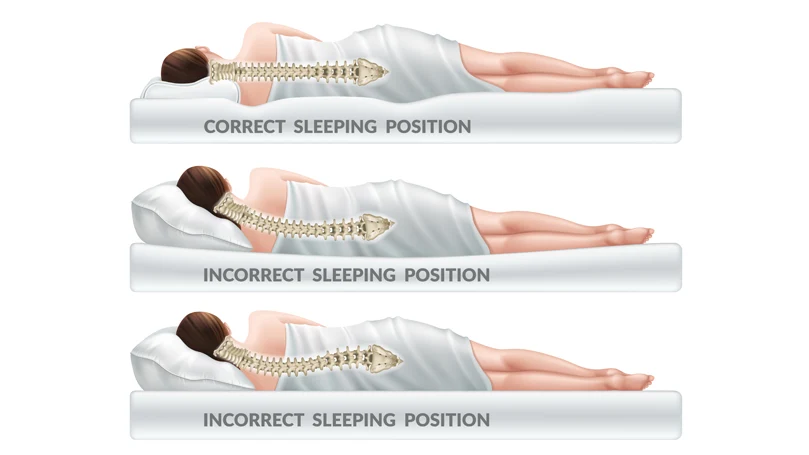 Gel-infused technology for increased cooling
We've said that the Hydro foam inside this topper is gel-infused, soft and supportive. However, what we didn't tell you is that it is gel-infused to become more breathable.
Thanks to the open-cell cooling technology, tiny heat-sensitive capsules react to your body temperature and expand when the memory foam warms up. The extra space between the cells releases heat, ensuring that you stay cool night after night.
Neck, pain and hip pain treatment
As we've said, Hydro foam is great for helping you get and helping you stay pain-free. The open-cell structure of Hydro foam isn't just here to help you keep cool during the night, but its open-cell structure also allows for much better pressure and pain relief.
As this memory foam bamboo mattress topper gently cradles you to sleep, it will make sure that it offers you pressure in the right areas and alleviate the said pressure from the areas where it is often bottled up.
This should result in almost immediate back pain, neck pain, hip pain and shoulder pain relief.
Eco-friendly and sustainable
One thing about Panda is that they care for the environment. Every single material used in the manufacturing of this product is ethically, eco-friendly and socially friendly-sourced.
For starters, Panda makes sure that their bamboo's eco-credentials stay in place by only souring their bamboo from reliable, sustainable and approved forests. They demand the highest standard of eco-friendliness at every step of the way, which is why they only use ethically sourced organic bamboo that is frown pesticide-free.
Also, none of their products are tested on animals and are vegan-friendly, and all of them arrive at your doorstep in recycled and recyclable boxes.
Their bamboo isn't the only thing that is held up to the highest standards. In addition to that, their Hydro foam memory foam also is. All of the foam used in the manufacturing of this mattress topper complies with the UK's fire safety regulations and is also OEKO-TEX 100 certified.
This doesn't only mean that the foam has been tested for its resilience to flames, but it also means that it has been tested for any potentially harmful chemicals like arsenic, lead, pesticides, phthalates and many others. Loosely translated, this means that this mattress topper is perfectly safe and healthy for anyone to use.
It is not often that you get a trial period on a mattress topper, but Panda offers a month-long trial period for theirs. You will get a 30-night trial period to test out the Panda mattress topper, and if you don't happen to like or enjoy it, for whatever reason, you will be able to return it for a full refund without even having to cover the postage costs.
Mattress toppers are notoriously known for being short-lived. Well, this Panda topper isn't. This foam stays supportive. Not only did this topper prove to be durable and long-lasting during our testing, which you're about to find out in a minute, but to guarantee customer's satisfaction, Panda offers a 10-year warranty on this topper.
Essentially, this means that your new Panda mattress topper will be covered for ten years for any manufacturing defects. In case something goes wrong with it – you will be able to get your money's worth out of it.
Review of Panda mattress topper
Now, let's take a look at the Panda mattress topper review. For starters, we have to say that, as far as mattress toppers go – the Panda mattress topper is one best ones we've ever tested.
From the moment we've laid our hands on it, we knew that this one was going to be special. Right from the start, it was obvious that attention to detail is one of Panda's strongest suits. The breathable bamboo cover was wonderfully designed. It sports a honeycomb pattern with a subtle panda logo in the upper left corner. We can only assume that the honeycomb pattern wasn't only a design choice, but it had to do something with improved cooling. The bottom side of the cover is a dotted silicone anti-slip layer, but just to be sure, the Panda mattress topper also comes with four elastic straps. Meaning, you'll get the anti-slip bottom and elastic straps all in one, so keeping this topper firmly secured won't be an issue.
As far as comfort and support go – we're quite surprised. And, honestly, comfort wasn't the reason we were. The topper is a bit on the softer side, and if we had to rate it, we'd say it's 5 out of 10, at best. However, support is not lacking, and that is why we're surprised. Even though this topper is soft-ish, when coupled with a good mattress, Panda topper still manages to provide you with just the right amount of support wherever you need it.
As far as drawbacks go, we didn't have any real complaints other than the common memory foam ones. Off-gassing will be an issue within the first 24 to 48 hours, but the smell isn't pungent, which makes it a lot more bearable. However, despite cooling gel infusing, this is still 5 cm of memory foam, so it will retain some heat if it's really hot outside. And finally, even though it is supportive where it has to be, this topper might be soft for some of you.
All in all – this is an excellent product.
Type: Memory foam
Thickness: 5 cm
Size: UK Single, UK Small Double, UK Double, UK King Size, UK Super King Size, EU Single, EU Double, EU King Size, EU Emperor.
Very well-designed, with special attention to intricate details
Hypoallergenic and resistant to dust mites
Very comfortable and surprisingly supportive.
Initial off-gassing
It might be too soft for some sleepers
Slight overheating issues.
What we like about the Panda mattress topper
One of the most beautiful and also comfortable mattress toppers on the market
With nine different sizes available, this is one of the most size-compatible toppers on the market that will provide you with instant supportive comfort
Panda mattress topper deals with allergies like no other because it comes with an anti-bacterial, hypoallergenic, removable, machine-washable bamboo cover
Each corner has a durable elastic strap, making the topper suitable for all types of mattresses
Naturally breathable cover is sumptuously soft and keen on sensitive skin.
What we didn't like about the Panda mattress topper
You will notice the memory foam smell within the first day or two upon unpacking
Even though it is supportive, some sleepers might find this topper to be too soft
Despite open-cell and gel-infused memory foam, the topper still retains some heat.
Check the best alternatives to Panda mattress topper
Since the Panda mattress topper isn't the only topper on the market, we thought we'd present you with some additional alternative options.
Soft Feel 7500 Orthopaedic mattress topper
Soft Feel 7500 is another memory foam topper; only this one is 2 cm thicker than the one we are reviewing today. As such, this topper is a bit firmer than your regular memory foam topper, however, it is also more supportive and better at relieving pressure than most of its competitors.
It is one of the best toppers you can find on the UK market, so we highly recommend it to anyone who is looking for a good topper without hurting their budget too much. 
Check our review on this mattress topper to learn more about it before deciding to invest money.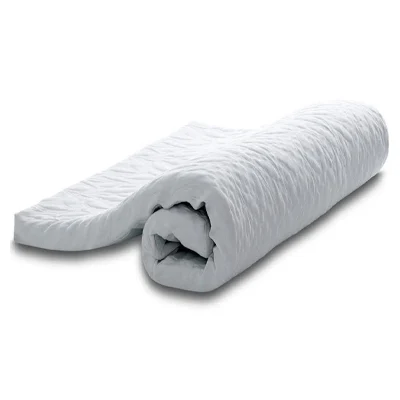 Supportive
Pressure-reliving
Removable, hypoallergenic cover.
It can't be firmly secured
Retains some heat.
Silentnight Airmax Topper
If you'd like something thinner, softer and more breathable than Panda topper – Silentnight Airmax might just cut it. It comes from a well-known brand so you don't need to worry about the overall quality and price-quality ratio. With the air mesh pockets, you can be sure that you will stay cozy under it, without getting hot. 
This polyester hollowfibre topper is fluffy and breathable, naturally antibacterial, and if you're just looking to make your matters softer and cozier – this is the one for you. It is available in 4 different sizes and it is 100% machine washable.
We have reviewed this Silentnight's mattress topper so check it out for more information.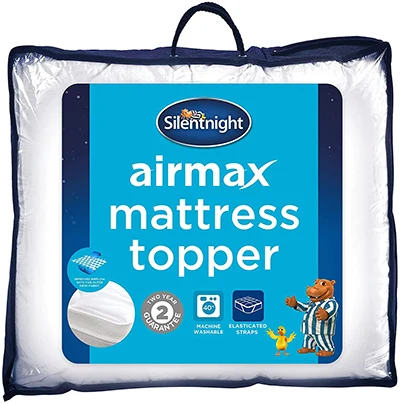 Fluffy and cosy
Breathable
Hypoallergenic.
No money-back guarantee
Not that supportive as presented.
Consider Panda Luxury Memory Foam Bamboo pillow if you are buying Panda mattress topper
It's always good to stay in the family, so if you are getting the Panda mattress topper, may we suggest looking into Panda Luxury Memory Foam Bamboo Pillow? Made from the same 3rd generation memory foam, this pillow is not only soft and comfortable, but also quite breathable. Now, we can't guarantee you won't turn it over to the cool side once the summer hits, but as far as memory foam pillows go – this one is as cool as it gets.
Additionally, the pillowcase on this one is made from a breathable, hypoallergenic mix of bamboo and polyester, under which you'll be able to find a protective mesh, ensuring that this pillow stays clean and in great shape for years to come. Check our Panda bamboo pillow review.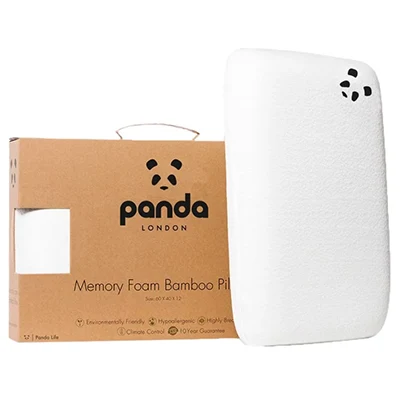 Supportive and comfortable
Hypoallergenic and anti-bacterial
30-night trial and 10-year warranty.
Non-removable cover
Not ideal for stomach sleepers.
What makes this product better than some other similar ones?
If we had to compare the Panda mattress topper to the other similar ones – we wouldn't. It wouldn't be fair to the others.
All jokes aside, the Panda mattress topper is one of the best products on the market. Not only are you getting a soft, comfortable and supportive product with this one, but you also get an eco-friendly and sustainable one.
Other than that, there are two things that really separate this topper from the rest of the herd – warranty and sizing.
First of all, a 10-year warranty for a topper is pretty much unprecedented, which on its own speaks volumes on the quality and durability of this product. And secondly, having the ability to choose from 9 different sizes is not something you see every day. It pretty much doesn't matter which mattress you have – you'll be able to get the matching topper for it.
All in all, if there was ever a worthy investment – it's this topper.
How did we test the product?
As you're probably aware, testing toppers isn't as simple as testing mattresses or pillows because toppers aren't really standalone products. So, before we could even order this product off of Panda's website and enjoy our free UK delivery, we first had to pull out the mattresses to test this topper on.
To begin our Panda mattress topper review, we've chosen five different mattresses to test this topper on. Some of them were softer, some firmer – but no two were the same. Not even in type. We had latex, hybrid, open coil, pocket sprung, and memory foam mattresses ready before the topper even arrived.
Before we did our tests, the first thing we did upon its arrival was leave the topper in a well-ventilated room to expand and vent out because it came vacuum-sealed in a box, and it smelled a little bit. Aside from that, everything else about it was perfect.
Once everything was ready, each of our team members spent five days sleeping on this topper, noting down everything that they had found relevant. Once the testing was done, we got together, and we compared our notes on comfort, firmness, or in this case, softness, support, breathability, bamboo cover, pressure and pain relief and so on, and that's how this review came to be.
FAQs about your new Panda mattress toppers
To end our Panda mattress topper review, we wanted to wrap things up by answering some questions about the Panda mattress topper.
Is Panda mattress topper waterproof?
Unfortunately, no, it's not. However, Panda Bamboo Mattress Protector is.
How do I clean my Panda mattress topper?
This memory foam mattress topper comes with an easily removable machine-washable cover, so all you need to do is toss it in a washing machine at 40°C, and that's it.
What is the ideal mattress for a Panda mattress topper?
Ideally, you'd want to place this topper on a medium-firm or a firm mattress, preferably a hybrid or a pocket sprung one.
Can I sleep on a Panda mattress topper only?
Not really. Unless you can sleep directly on the floor, you're going to need an existing mattress under this memory foam mattress topper.