Simba Mattress Topper Reviewed in 2022
After a while, the mattress starts to lose its shape and other characteristics and then you wonder whether to buy a new mattress or topper. Both choices have their pros and cons, but if you opt for a topper it must be a great one like the Simba mattress topper. Simba is a company that has been producing topnotch products for two decades, so we will analyze their hybrid topper in detail in this Simba mattress topper review.
Who is Simba Hybrid Topper for?
Simba mattress topper is a high quality mattress topper that is primarily intended for all those who are not satisfied with the performance of their mattress. This may be because the mattress is deteriorating after many years of use or simply because the unsuitable mattress was purchased. And it is much cheaper to buy a topper than a mattress. 
Simba mattress topper will improve the comfort and support of every mattress, and many also choose it because of the cooling properties it has thanks to the air-flow layer. So it is a great choice for hot sleepers who want to get a high level of breathability of mattress.
Add a header to begin generating the table of contents
What do we use Simba topper for?
It is used for what its primary purpose is, and that is to give you a much more comfortable sleep. Suitable for all sleeping positions, we believe that it will suit everyone equally. In addition, you will have the feeling that it cools you down during sleep, and since it is very easy to roll, you can take it anywhere with you.
Features you should know about the Simba Hybrid Topper
When you buy one such essential thing as a mattress topper, you surely want to know more details about the main features of the mattress toppers. That is why we have singled out for you four features of Simba mattress topper that we consider to be the most important and to set this product apart from others on the market. Let's dive deeper into our Simba mattress topper review!
2,500 aerocoil spring layer
The Simba mattress topper consists of three inner layers, and one of these layers is the 2,500 aerocoil spring layer. This layer of springs is completely different from what you used to sleeping on. Instead of classic springs, this topper has 2,500 micro springs that provide comfort and support similar to memory foam, but with one big advantage, and that is breathability.
Due to their shape, micro springs do not negatively affect the airflow. 2,500 aerocoil spring layer is most deserving for the feeling of sleeping on a new mattress. The 2,500 aerocoil spring layer is the middle layer that gives you comfort, and the other two layers that we will also talk about are primarily in charge of cooling and support.
Cooling open-cell Simba-pure layer
The reason why many hot sleepers and generally all people, especially in summer, avoid buying and using a mattress topper is that in many cases it is not breathable and it is very hot to sleep on it. This problem was solved by Simba, a company known for cooling products, by using the cooling open-cell Simba-pure layer as the top layer for this topper.
The Simbatex material is actually synthetic latex with graphite infused into it to produce a cooling layer by filtering the heat. Synthetic latex is used to make the topper hypoallergenic. In addition to its cooling properties, this layer also contributes to comfort, as it is located closest to our body.
Deep in this topper is buried a high-density support base made of high resilience foam which is there to support both you and the other layers of this topper. Since foam is best for reducing motion transfer, and springs are there to give bounce, then Simba decided to make this topper a hybrid, because it is a combination of foam and springs.
Thanks to the support base, the Simba mattress topper is medium-firm, although we can say that it is on a scale of one to ten, closer to firmness of 10 than when compared to other mattress toppers 1. Still, it is soft enough for all sleeping positions, you don't have to worry about that.
TCPP is a flame retardant commonly used in polyurethane foam in consumer products and in home insulation. TCPP has often been used for foam products in the United Kingdom, but since 2019 the government has recommended that TCPP no longer be used as it escapes over time from the foam and contaminates indoor air.
That is why it is very important that you buy TCPP-free products, such as the Simba mattress topper. Simba is very proud of its TCPP-free foam because it is eco-friendly and will not expose you to chemicals while you sleep. They use innovative foam that is TCPP-free and at the same time compliant with United Kingdom fire safety regulations.
Review of Simba Hybrid Topper
Simba mattress topper is one of only a few hybrid toppers on the United Kingdom market that you can find. It consists of a breathable sleeping surface, underneath which are three layers, which give you support, comfort and breathability. Thanks to these three layers, an ideal balance between softness and firmness is achieved.
It adapts very well to your body while you sleep, giving you comfort but also support, so it is great for all sleeping positions. In addition, it lowers your temperature while you sleep, which is a feature that everyone adores. Like all the products that Simba offers, it is very high quality and will last you a long time. You also have a one year guarantee. All sizes are available, from single to UK king size, and even super king size, so you will find the right size, and the topper will fit perfectly on the bed thanks to anti-slip technology.
 5 sizes available
Hypoallergenic cover
No TCPP
Pricey compared to other toppers
Guarantee can be longer for a brand new mattress 
Some users may find it too firm.
What we like about Simba Hybrid Topper
It has 3 layers and each one of them is really great, contributing to the overall sleeping experience
Wriggle free sleep straps
Thanks to anti-slip base and wriggle-free straps, it will never move while you sleep
Topnotch quality like the rest of SImba's products.
What we didn't like about Simba Hybrid Topper
You can buy a mattress at the price of Simba mattress topper
The one-year warranty is OK, but it could be longer if we consider the price tag
Although it is suitable for all sleeping positions, some side sleepers may find it too hard.
Check the alternative mattress toppers to Simba Hybrid Topper
Whenever you are buying something, it is advisable to compare the product you want with at least a few other similar products to know if you are making the right decision. While the Simba Hybrid mattress topper is undoubtedly a great product, we will also briefly analyze the two toppers offered by Rejuvopedic and Panda, as we consider those two toppers of equal or similar quality.
Rejuvopedic Microfibre Mattress Topper
Rejuvopedic is a company that focuses on making covers, toppers and pads, so their topper is great. It is very comfortable due to the microfibre which is the main material used to make the Rejuvopedic New Microfibre Mattress Topper. It bounces back in the initial shape very quickly, which is also positive. You won't have hard time maintaining it.
Comfortable
Lightweight
No smell issues.
Can be too hot
Durability is questionable
 Some users don't like microfibre.
Panda is a well-known company that produces eco-friendly pillows, duvets, toppers and beddings made of bamboo. As well as from a combination of bamboo and other materials. We really liked the support that this topper gives, and also the fact that it is hypoallergenic thanks to the bamboo's natural characteristics. Breathability is fantastic, perhaps the best of all toppers. Learn more about it here!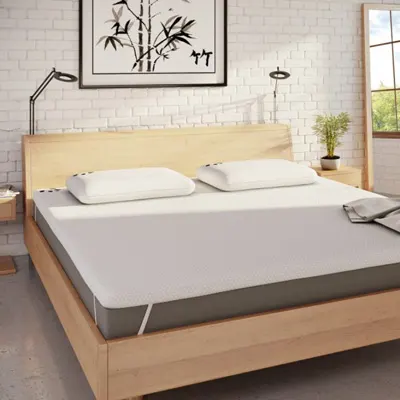 Hypoallergenic
Breathable
Support
Bamboo smell
A bit more expensive compared to other toppers
Heavier people may sink in it too much
Consider Simba Hybrid Mattress if you are buying Simba topper
If you want the perfect sleeping experience, it is ideal to consider a Simba Hybrid Mattress if you are buying a Simba Hybrid mattress topper. This multi-layer mattress is one of the most comfortable on the market, and just like the topper it is TCPP free, offers cooling properties with Simba Open Cell foam, so you can be sure that harmful chemicals will not be around you. These Simba mattresses have 5 layers, and Simba also offers mattresses with 7 and 10 layers, for even better comfort. If you don't have money for both, consider buying this Simba mattress instead of a topper because the difference in price is not that big.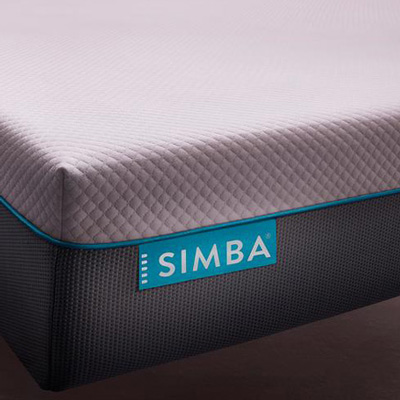 Multi-layer
Simba Open-Cell foam 
Comfortable
TCPP free.
One of the most expensive on the market
No handles for rotating
Some people just don't like hybrid mattresses.
What makes Simba mattress topper better than some other similar ones?
Simba topper is better than most competitors for many reasons. Above all, it is the comfort and support provided by three layers, as well as breathability that will make sleeping pleasant even hot sleepers. Also, you know that you are buying a product from a company with a long reputation of making the highest quality mattresses, toppers and more. Therefore, if you are on the hunt for the new topper, we highly recommend you this excellent mattress topper! 
How did we test the product?
You can find many reviews on the internet for a wide variety of mattress toppers that have no credibility because those who wrote the review did not test the product at all. To let you know that our Simba mattress topper review is credible, we will tell you how we tested the Simba topper. Simba hybrid mattress topper is available in 5 different sizes, so you can be sure that one of these sizes will be right for your mattress.
When we got the product, we first checked the quality of workmanship and generally the impression it leaves, and as expected, we were very satisfied. Simba Sleep is a company that never disappoints with quality. We then install the topper on the mattress to check how stable it is. We can tell you that it is so stable that we did not even feel that we were not lying on a mattress, but on a topper. 
All Simba mattress toppers have an anti-slip base and wriggle-free straps that will keep the topper in place. There is a breathable cover with zip which you can wash in the machine to keep it clean. We washed it on 40 degrees and everything went fine. You can vacuum this Simba topper itself occasionally.
For the end, we left the overnight test. We conducted the overnight test over two nights because we wanted to try this topper on both a relatively new mattress and one that is much older. The Simba hybrid mattress topper showed great performances in both cases, giving us comfort, support and breathability much better than just a mattress could.
FAQs about your new Simba mattress topper
If there's anything else we haven't told you about the product, we'll answer that in the FAQs section. Questions about Simba topper, maintenance and off-gassing are once we encountered most often.
Do I need a hybrid mattress with a Simba mattress topper?
No, you don't need hybrid mattress with a Simba Hybrid topper, you can use it with any mattress.
How do I wash my Simba mattress topper?
You can machine wash removable cover and vacuum your Simba hybrid topper.
Does the Simba mattress topper have off-gassing?
Even if you smell something at the beginning, there is no reason to worry because it is TCPP free so no harmful chemicals will be around you.