Dormeo Octasmart Mattress Topper Review
Are you waking up feeling tired and sore? If that's the case, you may need to do something about your mattress. However, instead of throwing your old mattress out, maybe you should look into getting a mattress topper. If that sounds like a plan, take a look at our review of Dormeo Octasmart Mattress Topper and whether this one fits your needs.
Who is Dormeo Octasmart Plus mattress topper for?
Dormeo Octasmart Mattress Topper is designed to provide much-needed support and comfort to a bed that isn't providing you with those same things. With that being said, Dormeo Octasmart Mattress Topper is for pretty much everyone who suffers from a problem like that. 
It offers medium-firm support, and due to its unique structure and design, it guarantees to provide you with a lot more than your average foam topper ever could. 
Furthermore, Dormeo Octasmart Mattress Topper comes in four different sizes, so it'll also fit on most beds and mattresses, which is another point for this topper's versatility.
Add a header to begin generating the table of contents
What do we use this product for?
As is often the case with a mattress topper, most of us would use Dormeo Octasmart Mattress Topper to improve our old mattress. As we're all aware, mattresses break down over time, simply due to wear and tear and constant use, and when you add a 7 cm deep mattress topper on top of it – it manages to restore some of its long-lost glory. 
However, you don't have to wait for your mattress to break in order to use a topper. You can just as easily use Dormeo Octasmart Mattress Topper from day one, and not only improve the feel of your old mattress but also extend its lifespan.      
Features you should know about Dormeo Octasmart Plus mattress topper
As we've said earlier, Dormeo Octasmart Mattress Topper is not your regular foam mattress topper. You don't think so? Well, then, take a look at these features as well as some of the latest innovation features.
The luxurious memory foam used in this mattress topper is not your everyday, regular polyurethane foam. Dormeo has used specially crafted Aerocell foam to construct this product. This 7 cm deep topper is two-layered. We have a 4 cm deep Octaspring layer as well as the additional 3 cm deep layer of Aerocell foam for improved comfort and breathability.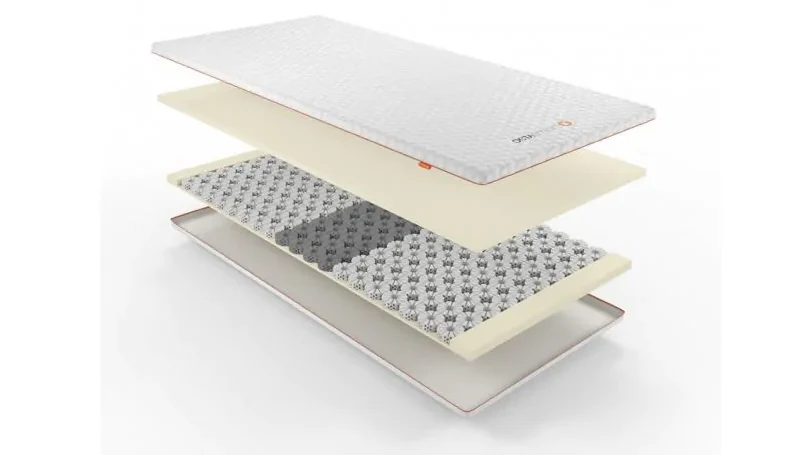 The Aerocell foam provides you with a firmer level of support, unlike regular foam, despite being open-cell structured. 
As for Octasprings, they are Dormeo's own patented memory foam springs they've used across various products, eliminating the need for coil pocketed springs and crafting their Octasmart products exclusively from memory foam.
Octasmart mattress toppers are powered by patented multi-award-winning Octaspring aerospace technology as well as Octavent Air System.
So, thanks to its unique structure – Octasprings, Aerocell foam and Smart performance cover, this mattress topper is eight times more breathable compared to an average foam mattress topper. While we are not so sure about those numbers, this unique structure allows this topper to retain much less heat and do a better job of regulating temperature. All of this leads us to a product that is both warm enough for the winter and breathable enough for summer.
Hypoallergenic & Breathable
You want your bed to be the place of comfort, health and relaxation, but you can't really do that if your bed is filled with dust mites. Due to the polyester cover and the polyurethane Aerocell foam used in this one, this mattress topper will be a hostile environment for allergens, bacteria and dust mites, providing you with a healthy, allergen-free sleeping environment, with extra freshness.
As you know, common household allergens love damp, warm environments, such as your bed. Therefore, the hypoallergenic properties also benefit from the topper's unique breathable structure, which allows for better heat dissipation and moisture absorption. It won't transform your mattress into the coolest bed ever, but it will help.
Dormeo will offer you an 8-year warranty if you purchase Dormeo Octasmart Mattress Topper. An 8-year warranty for a topper isn't unprecedented, but then again – it is a pretty long warranty.
An 8-year warranty speaks volumes on how confident Dormeo is in their topper's durability and quality, and we tend to agree with them.
Polyester outer layer & 100% PU foam core
As far as the materials go, Dormeo Octasmart Mattress Topper is made from polyester, elastane and polyurethane foam. 
As you can imagine, polyester and elastane are the materials from which the high-quality cover is made from. If you like to get technical, the cover's 99% polyester and 1% elastane for added flexibility and durability. 
As far as the core of the topper is concerned, it's made from 100% polyurethane foam, as we've already discussed. 
Review of Dormeo Octasmart Plus mattress topper
Now, let's take a look at the review of Dormeo Octasmart Mattress Topper.
If we had to rank this topper against all others that we've tested, we'd probably rank it top ten, possibly even top 5.
There really aren't many things wrong with this one. The topper is well-made and designed, and standing at 7 cm tall; we'd say it's ideally deep for a memory foam mattress topper.
The outer cover has this unique honeycomb structure that's supposedly made to make the topper even more comfortable, but as far as we're concerned – this was nothing more but a design choice. However, the cover is very soft and pleasant to the touch, so whatever it is that they were aiming to do – they've seemingly done it. Whether that was intentional or not, it doesn't matter.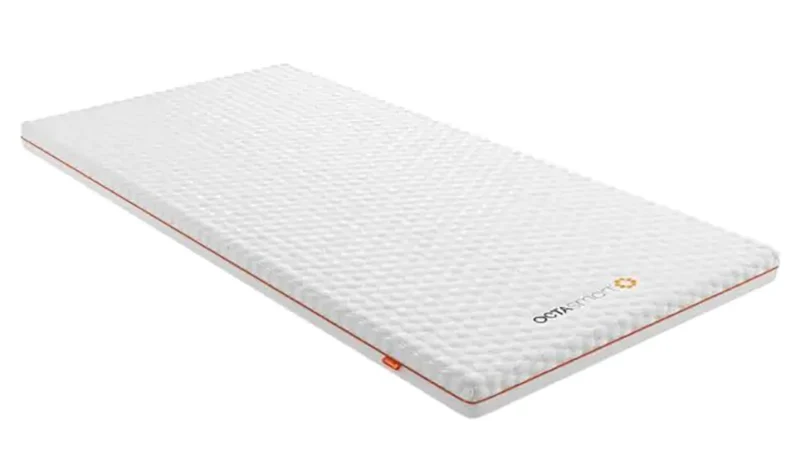 On the support side of things, we were actually pleasantly surprised just how supportive this topper is. Even though the overall support will primarily depend on your mattress, this topper will bring some significant changes to it. It will provide firmer, optimal support. You will be adequately supported, but you'll also be gently cradled, as the topper will follow your body's contours perfectly whilst you get the best night's sleep in a while.
In addition to all of that, this topper is also breathable and hypoallergenic.
On the other side, one thing we found quite annoying is the lack of anti-slip coating on the bottom. We would've even appreciated the elastic bands. Without any of those, it is kind of hard to keep this topper on the bed if you're a restless sleeper.
Supportive and comfortable
Hypoallergenic and breathable
Very durable
Smart performance cover
Award winning Octaspring Aerospace technology
Octaspring technology
Octavent air system.
Very hard to keep secured in one place
Expensive when compared to similar products.
Things that we like about Dormeo Octasmart Plus mattress topper
Smart comfort engineering and innovative sleep technologies make this one of the most supportive memory foam toppers on the market
Smart performance cover & aero-inspired technology
It keeps bacteria, dust mites and other household allergens at bay
Full refund available
It's quite durable, which is to be expected from a product with an 8-year warranty.
Things that we didn't like about Dormeo Octasmart Plus mattress topper
Virtually impossible to keep in one place if you move around a lot during the night
You could buy a new mattress for the price of the Super King-sized Dormeo Octasmart mattress topper.
Check the best alternatives to Dormeo Octasmart Plus mattress topper
If you'd like to explore your options further, allow us to present you with a couple of alternatives.
Panda is a well-known UK brand with an average rating value above 9. With an average customer ratings above 9, you can be sure that you are getting the right thing.
The secret of Panda Mattress Topper lies in the Hydro-foam, specially designed gel-infused memory foam created in an effort to make memory foam more supportive, more breathable and even more comfortable.
Pair that up with a soft, hypoallergenic bamboo cover, and you'll have yourself the coolest bed, a solid product and a great night's sleep!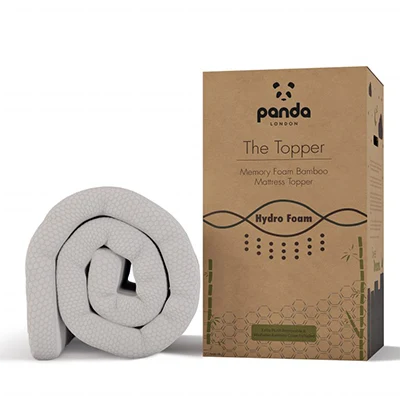 A durable, well-made product
Optimal support
Equally supportive and comfortable
10-year warranty.
Some initial off-gassing
A bit pricey when compared to similar toppers
Not ideal for softer mattresses.
Silentnight Airmax Mattress Topper
If you'd like something softer and more along the lines of a feather and down topper, the Silentnight Airmax topper might just be the product for you.
Made from hypoallergenic polyester hollowfibre, this topper offers soft, plush support, if you could even call it that.
It will make a firm mattress a bit softer, and possibly a bit cooler – but that's just about it.
As this is one of the most popular mattress toppers, we have reviewed Airmax mattress topper by Silentnight so take a look at our review to learn more.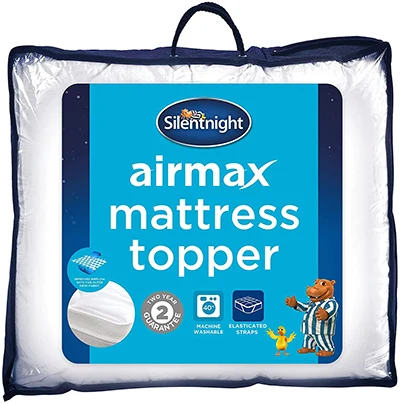 Hypoallergenic
Fluffy and comfortable
Very breathable.
A bit expensive when compared to similar toppers.
Consider Dormeo Memory Classic Mattress if you are buying Dormeo Octasmart Plus mattress topper
A Dormeo Memory Classic is a budget-friendly mattress that could really benefit from the Octasmart mattress toppers. 
This mattress is quite thin, and as such, it doesn't offer enough support for most sleepers, so pairing it with the Octasmart topper would be a good idea. 
These two would be less expensive than most mid-range Dormeo mattresses, but would provide you with essentially the same thing. Still, Dormeo Classic mattress is a great choice so you can't go wrong with it.
Don't forget to check our Dormeo Memory Classic mattress review to learn more about it.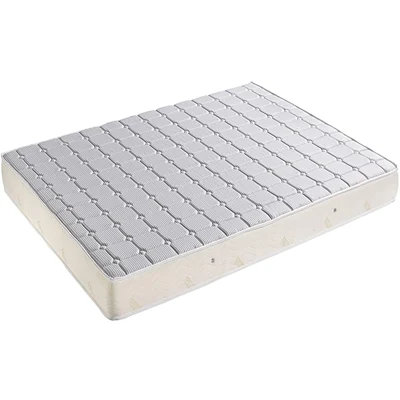 Good price-to-value ratio
Solid breathability and temperature control
Thin
Lack of non-removable cover
Often sold-out.
What makes this product better than some other similar ones?
There are so many things that make this product better compared to the other ones. First of all, it's equally as supportive as it is comfortable, which is not something you see too often in toppers.
Next up, all the foams used in this one are high-quality, and the overall topper is as durable as they come, so even if you do spend a little bit extra on this one – at least you'll get a product that will outlive its competition by years. It is the patented multi award winning product so you can be sure the individual Octasprings bring extremely comfortable sleep.
Finally, it is not often that you come across a foam topper that doesn't transform your bed into an oven. Overall, this is an excellent product and a worthy investment, even better than its big brother, the Octasmart Plus Mattress Topper.
How did we test the product?
Testing mattress toppers is quite different from testing other sleeping products. You have to consider some variables that don't apply in other cases, for instance, what kind of a mattress the customer will use it on, will the mattress be in a decent condition and so on.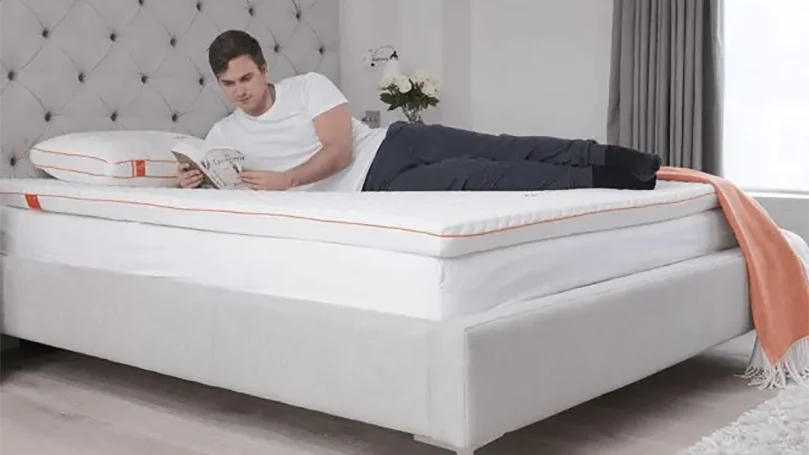 This makes testing a bit harder if we want to come up with objective truth in the end, but fortunately, it is not impossible. We do have quite a few mattresses lying around our office, so playing around with different scenarios isn't that hard.
We've tested this topper with several mattresses, including Dormeo Octasmart Plus Mattress, several Octaspring mattresses, and a few other ones, as well.
Breathability, pressure relief, durability and motion isolation
Some of the things we pay most attention to are support and comfort, as those are the main reasons people buy a mattress topper. Naturally, we never forget to inspect breathability, bed temperature, motion isolation, pressure and pain relief, durability and so on. All of these are important criteria that you should be informed about before you make a purchase, so we make it our mission to do it for you.
Overall impressions and personal thoughts
Finally, when we plan it all out, all that is left to do is for every member of our team to spend more than a few days testing the topper in various, but controlled conditions. We've focused on temperature regulation, quite a bit, because we wanted to put this Aerospace technology to the test. Once everyone's done with that, we all gather around and discuss our findings. That allows us to compare opinions, impressions and experiences, which then ultimately leads us to an objective overview of the product.
FAQs about your Dormeo Octasmart Plus mattress toppers
Finally, let's wrap this review up by answering some FAQs.
How do I wash/clean my Dormeo Octasmart mattress topper?
The only way to clean your Dormeo Octasmart mattress topper is to vacuum it or wipe it with a damp cloth in case you spill something.
Does Dormeo Octasmart Plus mattress topper come with a trial period?
Unfortunately, you don't get a trial period with this one.
Is Dormeo Octasmart mattress topper good for all types of sleepers?
Yes. When coupled with the right mattress, this topper will be suitable for all kinds of sleepers.