Silentnight Eco Comfort Mattress Topper Review
We need to preserve our living environment so that we and future generations can live on the planet Earth as we know it today. We need to do this in every possible way, by taking a part in recycling, reducing carbon footprint and the like. So whenever we come across an eco-friendly product from trusted sleep brand, like Silentnight Eco Comfort mattress topper, we at The Sleep Advisors make it a priority for review.
Why do you need Silentnight Eco Comfort mattress topper for?
If you have a mattress that does not fully meet your needs, then Silentnight Eco Comfort mattress topper may be for you. Especially in case your mattress is firm and supportive enough, but not comfortable enough, then this topper is a good choice.
Also, it is for all those for whom the most important thing is that the product is eco-friendly and hypoallergenic, and this type of customer is becoming more common, and this is accompanied by an increasing number of such products on the United Kingdom market.
Add a header to begin generating the table of contents
What does this product offer to us?
We use it primarily for incredible comfort. It is a soft and light topper that will make your mattress even more comfortable, and will also reduce wear and tear. As soon as you install it on your mattress, you will immediately feel an extra comfort layer that will improve your night's sleep and make you sleep soundly.
What features does Silentnight Eco Comfort mattress topper have?
In this part of our review we will talk in more detail about the most important features of Silentnight Eco Comfort mattress topper, and that will significantly help you in deciding whether this is the right choice for you.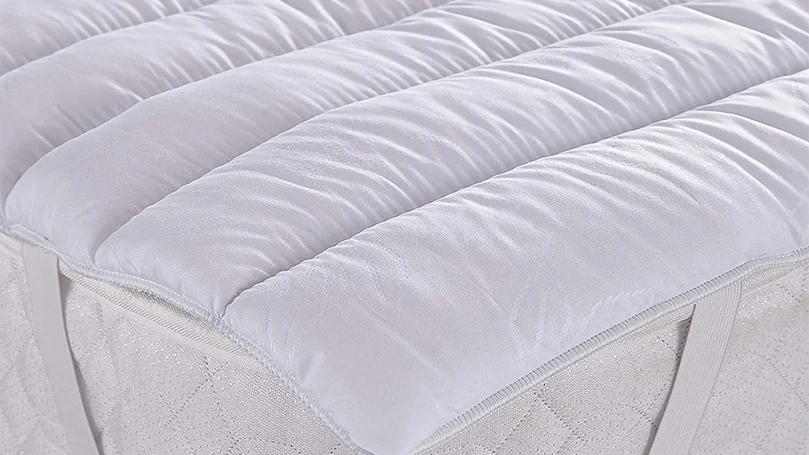 100% recycled bottles manufacturing
Plastic pollution has become one of the biggest, if not the biggest, environmental issues we have been facing in recent years. Pollutants most often include plastic bottles, bags and microbeads, and whether they are micro, or macro debris, they have a negative impact on all living beings as well as habitat.
This problem is especially present due to bottled water and disposable plastic packaging being used. As it is very difficult to reduce the use of plastic, then we need to recycle it. This is how we come to the material from which Silentnight Eco Comfort topper is made. If you buy Silentnight Eco Comfort mattress topper, you should know that you have prevented at least 30 plastic bottles from further polluting our living environment.
Fluffy fibre filling of this topper that is obtained by recycling plastic bottles are called Eco Comfort fibres. They are luxuriously soft, light and fluffy. Performance Eco Comfort fibres offer can totally transform your night's sleep as they are breathable and durable too. Well, primarily thanks to these fibers, this topper will be so comfortable for great night's sleep and has a fantastic heat and moisture control.
You will immediately notice how the cover includes an Eco Comfort embossed leaf print. It's a great reminder of how this is an eco-friendly product. Also, the cover feels incredibly soft. It will be very pleasant for your skin if you sleep directly on it, without a topper cover.
The cover is made of embossed fabric which is chemical treatment free and the cover is excellent in temperature regulation. It is highly breathable and moisture control is great.
It is desirable that the topper cover be removable for easy maintenance, but although Silentnight Eco Comfort mattress topper does not have a removable cover, it will not be a problem for easy maintenance. Topper is fully machine washable, so it will always be clean and fresh. Wash it in the washing machine at 40 degrees Celsius, and a gentle cycle is recommended.
Silentnight Eco Comfort mattress topper comes with a two year manufacturer's guarantee which is the standard in the UK sleep industry and will provide you with peace of mind during that period. And we believe that you will be able to use this topper for much longer than 2 years. Any problem that you might have during this period, two-year manufacturer's guarantee will cover.
Review of Silentnight Eco Comfort mattress topper
Silentnight Eco Comfort mattress topper is an eco-friendly, vegan-friendly, sustainable sourced sleep product. It is filled with Eco Comfort fibres that are made from recycled plastic bottles and are luxuriously soft. At least 30 plastic bottles were used to fill one topper. Both cover and filling are very soft and light, so this topper will add an extra layer of comfort to your mattress. It has straps that will keep it firmly attached to the mattress so that it does not move during the night.
It is fully machine washable at 40 degrees C. It comes with a 2 year manufacturer's warranty.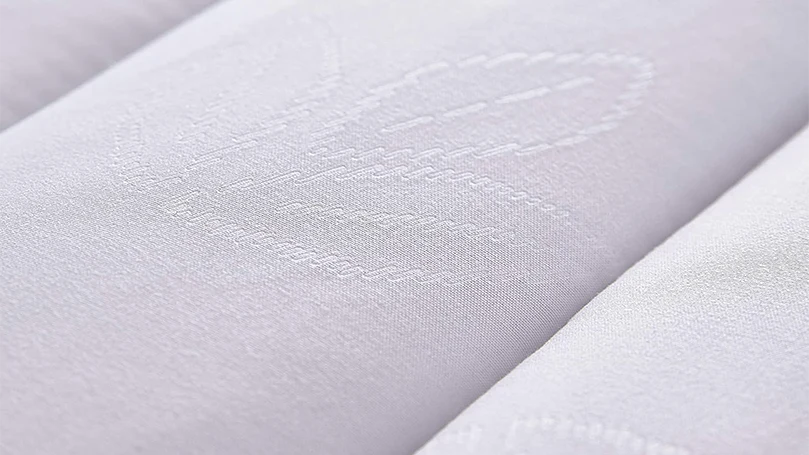 Moisture control cover
Incredible & the ultimate comfort
Fluffy fibre filling
Retains its original shape, no matter what
Machine washable.
Too soft for stomach sleepers
Non-removable cover
Some will find it too thin.
6 things we do like about mattress topper Silentnight Eco
Eco Comfort Fibers made from at least 30 recycled plastic bottles
Ensures fresher night's sleep
No chemical treatment
High performance eco comfort fibres
Silentnight Eco Comfort mattress topper significantly improves the comfort of your mattress
Elasticated straps prevent the topper from moving no matter how restless you sleep.
3 things we don't like about Silentnight Eco Comfort mattress topper
This topper is very soft, so it probably won't be a great fit for stomach sleepers
It is necessary to wash the entire topper every time, because there is no removable cover
Some customers complain that it is as thick as a mattress pad and not a mattress topper.
We recommend these alternatives to Silentnight Eco Comfort Mattress Topper
Let's say a little more about the two mattress toppers we have singled out for you as an alternative to the this mattress topper.
Silentnight Airmax 600 Mattress Topper is 6 cm deep which means you can expect it to completely change the feeling you have while sleeping on your mattress. That is why it is a great choice for all those whose mattress needs rejuvenation. 
Breathability is great and it is hypoallergenic both because of breathability and because of hypoallergenic fibres that it contains. This is probably one of the best mattress  toppers in the UK market so if you are having doubts on buying the right one, do not hesitate to get it.
Feel free to check our Silentnight Airmax mattress topper review to learn more about it.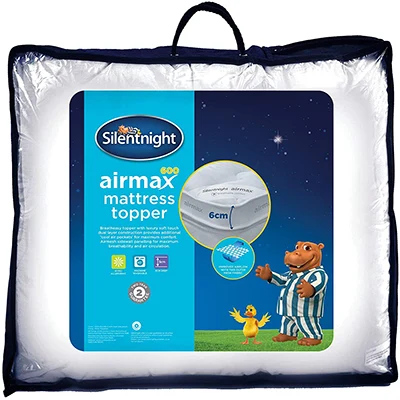 Breathable
6cm deep
2 year warranty.
Non-removable cover
Soft for stomach sleepers
No trial period.
Silentnight Airmax 300 Mattress Topper
Silentnight Airmax 300 Mattress Topper is twice as thin as the Airmax 600 model. It is, therefore, more often chosen by those who need a little improvement in the comfort of the mattress they already have, but are satisfied with the support and other features of mattress.
It is made of high quality materials so you can be sure you are buying a premium product. Breathability is great, though the previous 600 model has the superb breathability. It is machine washable so in terms of maintenance, you will love how easy is to keep it clean and fresh all the time.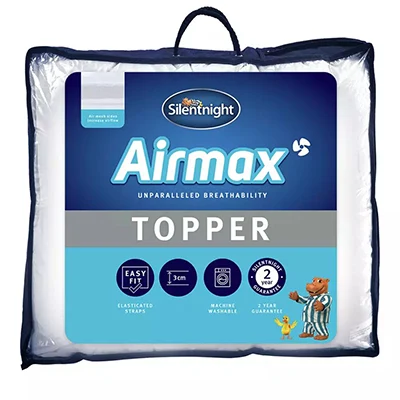 Hypoallergenic
Breathable
Machine washable.
Thin for heavier people
Cover is not removable
Delivery is not free for all sizes.
Do not forget to consider Silentnight 7-Zone Mattress if you are buying Silentnight Eco Comfort mattress topper
Silentnight 7-Zone Mattress is a great memory foam mattress that provides excellent support and pressure relief. Since it is a medium-firm mattress, it is ideal for side sleepers. However, many stomach and back sleepers did find it comfortable as well so you should consider it if you are a back/stomach sleeper.
It is hypoallergenic because Purotex fibres actively protect against dust-mites. It is handmade in the UK as well so it comes from the domestic production.
We also have a full review on 7-Zone Silentnight mattress so check it out to learn more.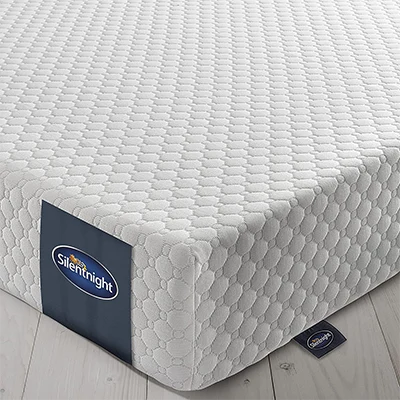 Supportive and comfortable
Hypoallergenic and anti-bacterial
30-night trial and 10-year warranty.
Non-removable cover
Not ideal for stomach sleepers.
What sets apart this mattress topper from other similar ones?
You can find a lot of toppers that are soft, comfortable, supportive, breathable and have any other feature you need. But what makes the our product from review better than many other toppers is what it is made of.
While other mattress toppers are made of variety of synthetic materials, as well as many natural ones, some of which are not vegan-friendly, this mattress topper is 100% made from recycled plastic bottles. In this way you contribute to the preservation of our environment, and as the fibres obtained in this way are very well processed and super-soft, you do not sacrifice your comfort at all. Quite the opposite, because this is a very comfortable topper that will give you a great night's sleep.
How did we test the product?
Silentnight Eco Comfort topper can also be used on mattresses that are not Silentnight's product, but be sure to buy the right size. It is available in 4 sizes – Single, Double, King and Super King, but don't just choose from that. We advise you to measure your mattress and compare it with the dimensions of the topper to make sure it will be a perfect fit. Otherwise you will not be comfortable.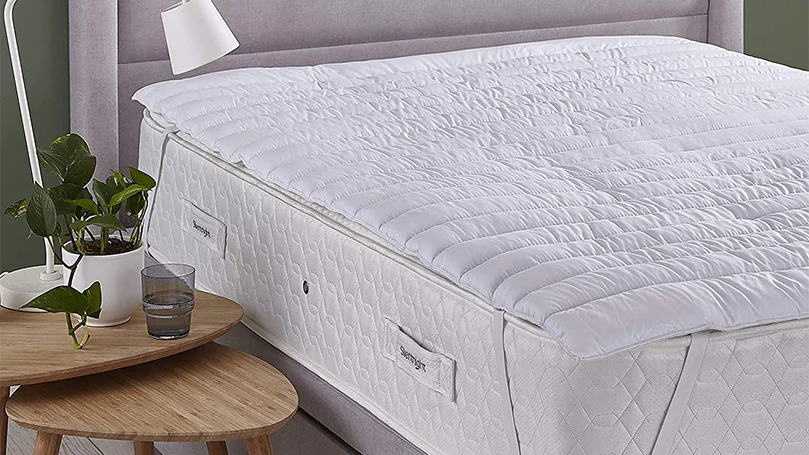 When the mattress topper was delivered to us, we immediately noticed that there was no off-gassing since there is no foam and chemical treatment, although of course it has a recognizable scent that all new products have. A few hours of airing and that odour will disappear, and you can start using it. The quality of workmanship is at a high level, we noticed that during the quality inspection, and it is very soft to the touch.
During the overnight test, we noticed how comfortable it is. It's thinner than you'd expect for a topper, so you won't feel like you're sleeping on a new mattress, but on your own that is significantly more comfortable. So if you have a firm and supportive mattress, this topper is a great choice. It can be too thin for stomach sleepers, as well as for heavier people, because the barley will feel its characteristics.
In the end, we washed it in the washing machine, and it dried very quickly, you will probably be able to use it the same day after washing.
FAQs about your Silentnight Eco Comfort mattress topper
In our frequently asked questions section we will give you some more important information related to Silentnight Eco Comfort mattress topper so you could get a great night's sleep.
Is this Silentnight mattress topper suitable for all types of sleepers?
We consider this mattress topper unsuitable for stomach sleepers since it is too soft for these sleeping positions, but if mattress is very firm, then stomach sleepers may find this topper comfortable.
How do I wash my Silentnight Eco Comfort topper?
You wash it in the washing machine using gentle cycle at 40 degrees C.
Is Silentnight Eco Comfort topper suitable for hot sleepers as well?
Yes, Silentnight Eco Comfort mattress topper is good for hot sleepers because of good heat and moisture control.
Do I pay for the delivery of this topper?
The standard delivery is free of charge as long as this standard delivery service is within the UK and Northern Ireland. Just don't forget to enter the valid email address to get a confirmation of your order.