Silentnight 7-Zone Memory Foam Mattress 2022 Review
Are you waking up feeling tired? Is your lower back hurting? If that's a yes – maybe you need a new mattress. Silentnight 7-Zone Memory Foam Mattress Double is a solid choice for alleviating back pain – or is it? Well, we've tested it and we have to say – the results are very interesting…
Who is Silentnight 7-Zone Memory Foam Mattress for?
As you can tell by the name, Silentnight 7-Zone Memory Foam Mattress Double is a mattress with zoned support, designed to strategically provide support and comfort in much-needed areas. Therefore, we feel like it's safe to say that the people suffering from some sleep-related aches are probably the best suited to enjoy this product.
Now, that doesn't mean that anyone in the market for a proper mattress isn't a good candidate, because, we still haven't met anyone who couldn't benefit from a good night's sleep.
Add a header to begin generating the table of contents
How did we test the product?
Finding a mattress that perfectly fits your needs isn't easy by any means. You've undoubtedly witnessed and/or heard people rave about a particular mattress, only to have someone else say the complete opposite. It's not that one of them is telling a lie; finding the ideal mattress is a pretty subjective process. What works for one person will not work for another, and vice versa.
As a result, when we review these mattresses, we try our hardest to pay very close attention to them. And though we understand that we can't possibly predict whether you'll like it or not, we do know that we can carefully test the mattress and paint you a clear picture.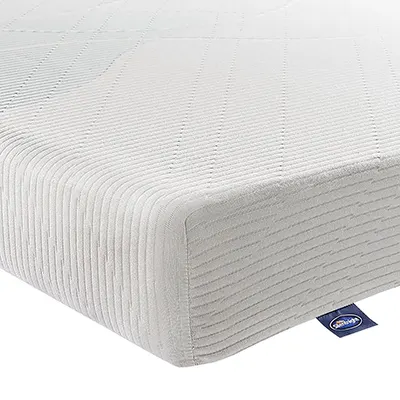 Every mattress has different attributes, and it is these characteristics that define it.
We strive to be as thorough as possible in our evaluation, making sure to cover all of the important aspects including firmness, support, edge support, pressure and pain relief, weight distribution, motion transfer and bounciness, breathability and airflow, hypoallergenic properties, longevity, reliability, trial period, warranty, and so on.
Additionally, we pride ourselves on having a diverse team of experts that test these products. By diverse, we mean we have a team of individuals that differ in height and weight and sleep in different positions. That allows us to paint a broader picture and take a look at a mattress from all kinds of different perspectives, which ultimately leads us to the objective, all-around evaluation of the product.
What do we use this product for?
Just like any other mattress, we use this one to sleep on, only this one is special. With this 7-Zone support system, we can use this mattress to help ease the pain in our lower back, shoulder, neck, hips and so on. As you know, proper alignment is key to alleviating sleep-related pain and that's exactly what this mattress claims to do.
Is Silentnight 7-Zone Memory Foam Mattress an upgraded version of a previous model?
Silentnight 7-Zone Memory Foam Mattress Double is one of the 3 mattresses in Silentnight's "Mattress-Now" lineup of memory foam mattresses and it is, in fact, an upgraded version of a previous model, 3-Zone Memory Foam mattress. As you can tell from the name, the one we're reviewing has a much more detailed support system, which makes it a lot more supportive and comfortable than the previous model, at least in theory.
Features you should know about the Silentnight 7-Zone Memory Foam Mattress
As we've mentioned earlier, every mattress has its own set of distinguishing features and elements and it is no different with Silentnight 7-Zone Memory Foam Mattress Double. To better understand what this mattress brings to the table, or better yet to the bedframe, here's a brief overview of the key features.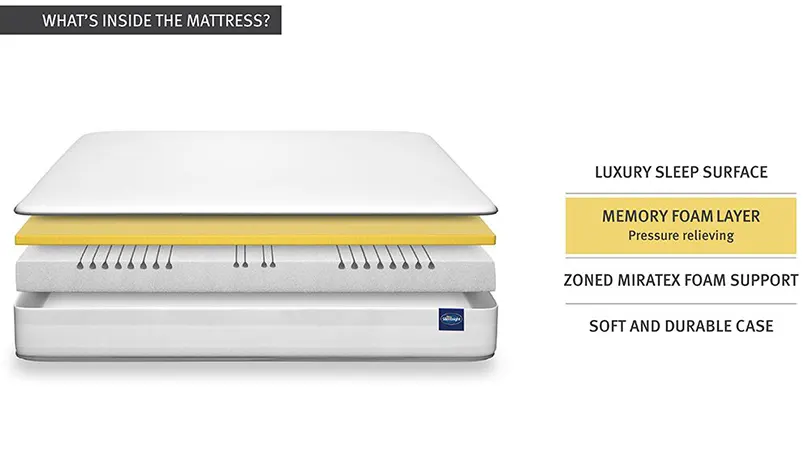 According to Silentnight, the 8-zone support system provides unparalleled support and pressure relief across core zones from head-to-toe, while also being luxurious and body moulding for the ultimate sense of comfort. Those are some very big words and from the looks of it, it just might be close to that.
At first glance, the 7-zone support system should be fool-proof. It's strategically designed and made to alleviate pressure off of main pressure points like hips, shoulders and back, while still providing you with enough support and proper alignment, but more importantly, comfort. Sure enough, it did just that, but not as nearly as well as we had thought it might.
Just as is often the case with Silentnight's mattresses, we're met with a non-removable cover. Some find that to be good, some find it to be annoying. If you're someone that enjoys washing both your sheets and the mattress cover, you're out of luck. The cover does not come off of this mattress, but then again, it's not all bad.
The cover itself feels very premium and luxurious. It's very well-made, it looks decent and is very soft to the touch. You could easily sleep on it without any sheets without having to worry about comfort. It's not quilted, but the fabric is high-quality.
Purotex anti-allergy fibres
As is often the case with a quality mattress, the Silentnight 7-Zone Memory Foam Mattress Double is also hypoallergenic. We wouldn't expect anything less if we're being honest, because that's a fairly standard feature these days and you can't really expect to sell a mattress that's not hypoallergenic.
Due to Purotex anti-allergy fibres, this mattress is actively protected from all kinds of allergens, including dust mites. This is not just a claim, Allergy UK backs this claim up and we can also attest that we haven't had any problems with allergens during our testing.
Due to the 7-Zone support system, this mattress feels very good on your lower back. Regardless of your sleeping position, the zoned support will keep your back straight and aligned during the night, which means that your chances of living pain-free will increase significantly.
We've experienced proper support in the lower back area and the memory foam contours nicely around the edges. Now, we don't claim that the lower back support will make the existing pain go away, but it certainly won't make it worse and if you haven't had any problems so far – you won't start having them now.
Review of Silentnight 7-Zone Memory Foam Mattress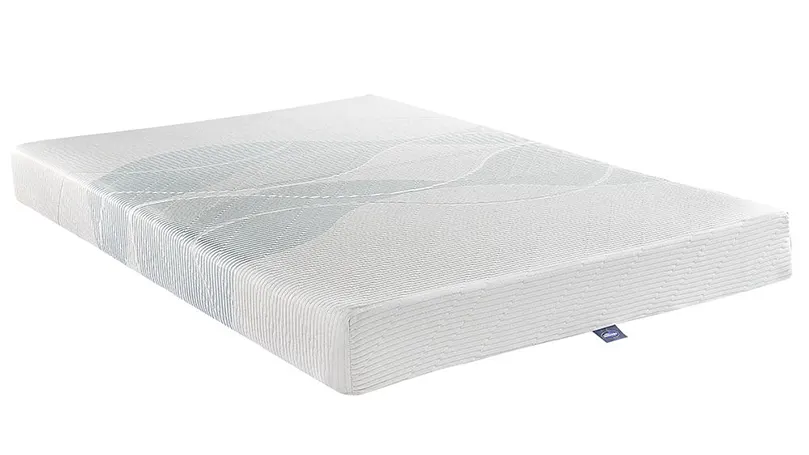 Now that we've gotten the main features out of the way, it's time for our final verdict. What this mattress does exceptionally well is keeping your body in a nice, proper position if you lay on your back or side. The memory foam reacts really nicely, contouring along your body and the 7-zone support system really shows its colours around the hips and shoulders.
As far as firmness is concerned, it's right there in the middle, around 5.5 out of 10 in our opinion, but the feeling varies due to zoned support.
On the other hand, off-gassing with this one is kind of an issue. It took a while for this one to vent out, so keep that in mind. Furthermore, we found that sinkage could pose a significant issue with this mattress if you're a bit on the heavier side.
All in all – we'd give this mattress a solid 3.5 out of 5. It does some things fairly well, but there are some things that worry us.
Great at alleviating pressure around hips and shoulders
Very comfortable
A solid fit for all sleeping positions
Sinkage is an issue with this one
A strong memory foam smell in the first few weeks
Some durability concerns
What we like about Silentnight 7-Zone Memory Foam Mattress
It does what it claims it does – offers great support and alignment
Motion isolation shouldn't be a problem with this one which makes it great for couples
It is a solid value-for-money
What we didn't like about Silentnight 7-Zone Memory Foam Mattress
Sinkage indicates some durability and longevity issues
Not the best at keeping things cool even for a memory foam mattress
Not having a removable cover makes it harder to keep clean
Check the alternatives to Silentnight 7-Zone Memory Foam Mattress
If you have doubts about Silentnight 7-Zone Memory Foam Mattress Double, maybe we could recommend you an alternative option. Here's what we feel might be interesting to you, if Silentnight 7-Zone Memory Foam Mattress Double isn't the right choice.
Simba Premium is another 7-zone support memory foam mattress. It is quite similar to the one from Silentnight, being hypoallergenic, comfortable and without a removable cover, but with the exception of it doing a slightly better job at keeping things cool and breathable, due to the Simbatex layer.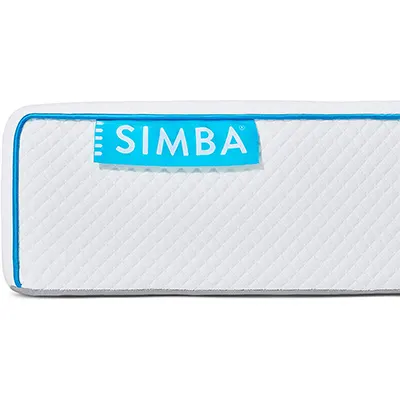 Great zoned support system
Very comfortable
Cool for a memory foam mattress
No removable cover
Some sinkage is possible
It's more expensive than the Silentnight 7-Zone mattress
Silentnight 3 Zone Memory Foam Rolled Mattress
For our second alternative, we have a B model from the same line-up as our reviewed product. The main difference, as you can tell from the name, lies in the support layer, as this one only has 3 zones. However, this mattress is only 18 cm thick, making it 6 cm thinner than the 7-Zone mattress.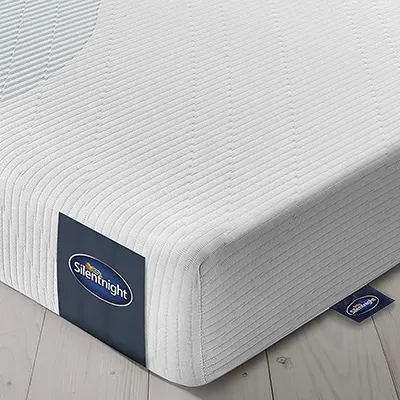 Good price-to-value ratio
Solid pressure relief
Great motion isolation
It gets hot
Non-removable cover
Some longevity concerns
Consider Panda bamboo mattress topper if you are buying Silentnight 7-Zone memory foam mattress
Considering that the main drawback of this mattress is some sinkage, not the greatest temperature regulation and the lack of a removable cover, you should probably consider pairing it up with a Panda Bamboo Memory Foam Mattress Topper. This added layer of comfort should solve the sinkage and breathability issues right away and you won't have to worry about staining your mattress with a topper lying over it.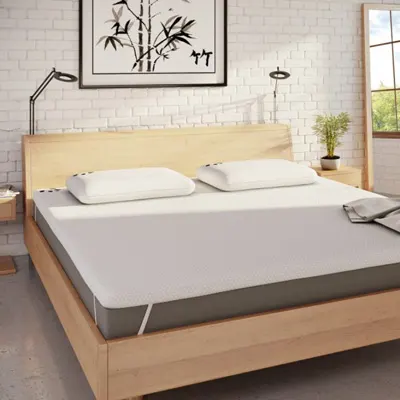 Sustainable, eco-friendly and removable bamboo cover
Very comfortable
10-year guarantee
Somewhat heavy at over 7kg
Might be too soft for some
Almost as expensive as the mattress
What makes this product better than some other similar ones?
What Silentnight 7-Zone Memory Foam Mattress does better than the others are, it really keeps you locked in place once you lie down. Far from it being restrictive to movement, it's just that it contours and supports your body in such a good way – you're almost guaranteed to stop tossing and turning.
FAQs about your new Silentnight 7-Zone Memory Foam Mattress
Finally, we thought we'd answer some FAQs that might be of importance to you. We couldn't possibly answer all your questions, but we can at least answer some of them, so you can make your decision when it is time to buy.
What is a 7-zone memory foam mattress?
It is a memory foam mattress, with a support layer divided into 7 zones for improved, whole-body support.
Are there differences between 3-zone and 7-zone memory foam mattresses?
Yes. The 7-zone memory foam mattresses offer noticeably more support and comfort in the key body areas such as the back, hips and shoulders.
Is there off-gassing upon unpacking the Silentnight 7-Zone Memory Foam mattress?
Yes. With this particular mattress, there are some off-gassing issues in the beginning.
How long does the Silentnight 7-Zone Memory Foam mattress last?
This one does seem to have some sinkage and longevity issues; therefore, we'd say you can expect this one to last somewhere between 3 to 6 years.