Vesgantti Pro Hybrid Mattress Review - Top Affordable Hybrid Pick
Vesganttipro Hybrid mattress is among the most famous mattress brands in the United Kingdom because they offer a large number of hybrid and memory foam mattresses that are affordable. Here is Vesgantti Pro Hybrid mattress review!
Who is Vesgantti Pro Hybrid mattress for?
The general requirements of every customer who buys a mattress is to be comfortable, high quality and durable. But price also plays a big role in decision making.
That is why Vesgantti Pro Hybrid mattress is a great choice for all those who want a great mattress without spending a fortune on it because you can find it at affordable price.
Also, according to the Vesgantti company, this mattress is comfortable for all sleep positions, and it is also hypoallergenic, so Vesgantti Pro Hybrid mattress can be ranked among the most versatile mattresses on the market in the United Kingdom.
Add a header to begin generating the table of contents
What do we use this product for?
We use Vesgantti Pro Hybrid mattress for comfort and support it can gives us and thus enable a good night's sleep. Due to the many layers that are in this mattress and have different roles, this mattress is:
Equally soft
Firm
Supportive
Cooling
Pressure relieving and
Ergonomic.
It is suitable for all sleeping positions, though we've seen some complaints by heavier sleepers as well as those who sleep on their stomachs. 
Is Vesgantti Pro Hybrid mattress an upgraded version Vesgantti Original Hybrid mattress?
Vesgantti Pro Hybrid mattress and Vesgantti Original Hybrid mattress are relatively similar mattresses, but the Pro Hybrid version has several layers more that primarily improve support and breathability and is therefore 2 cm thicker. If you want a firmer mattress, then go with Pro Hybrid, because on the firmness scale Pro Hybrid is rated 5.5 wwhile Original Hybrid sits at 4.5.
Features you should know about Vesgantti Pro Hybrid mattress
This Vesgantti mattress has a lot of different layers and features you should know more about, so let's dive into it.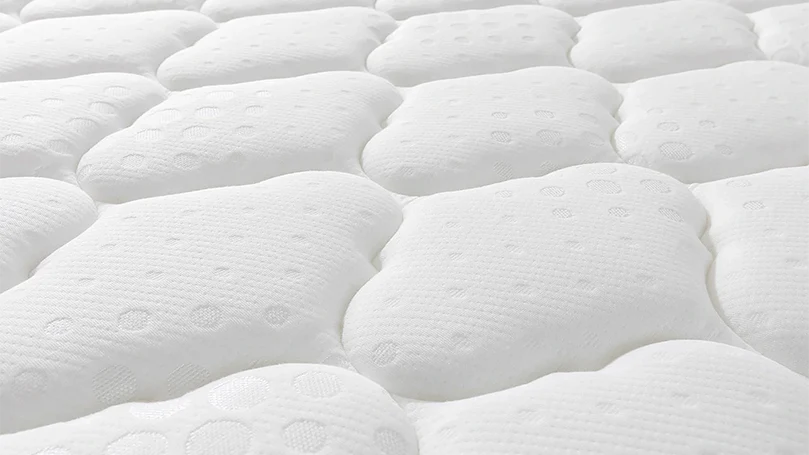 Individually-wrapped springs (Vesgnatti comfort foam)
Individually wrapped pocket springs are superior to springs that are wrapped all together because they provide better support as they move separately, adapting to your body and movements. The Vesgnatti comfort foam from which the springs are made has proven to be very good for pressure relieving and you will feel it in as many as 7 pressure points on your body – feet, legs, hips, waist, shoulders, neck, head.
The Vesgnatti Icoils layer is the core foam layer of this mattress and the layer that is the thickest, so even though it is not close to your body you will very much feel its role during sleep. It improves top to toe support, pressure relief, and also shapes towards your body. Another important function of this layer is motion isolation and thanks to the Vesgnatti Icoils layer you will not feel any movement of your partner or pet.
Multilayer breathable & hypoallergenic foam layer
Breathability is one of the most important features of any sleep product, especially a mattress, which is why Vesgantti company has implemented several layers of breathability. Also, in addition to the fact that all the materials used for Vesgantti Pro Hybrid mattress are hypoallergenic, great breathability also helps to make this mattress hypoallergenic because due to good air circulation, mites do not accumulate.
Shock-absorption and vibration-free system
Almost all the layers found in Vesgantti Pro Hybrid mattress together affect the shock-absorption and form a vibration-free system, which is especially important for those who are sharing bed with their partners, kids or pets. Edge support layer further stabilizes the entire mattress and gives you peaceful night's sleep.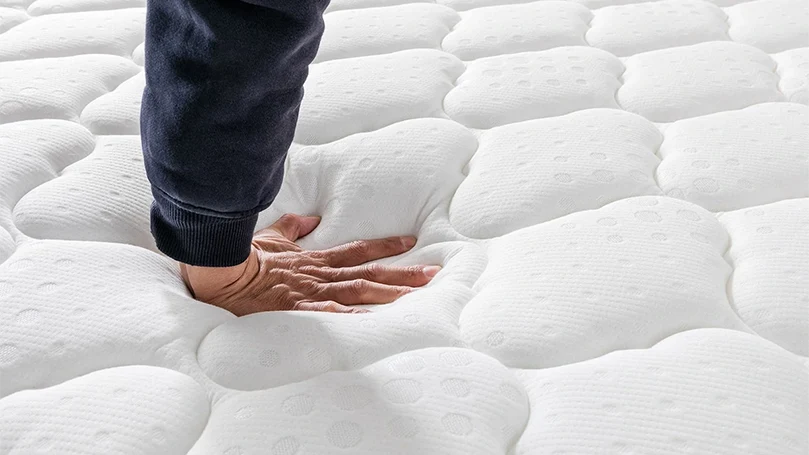 Mattress-in-a-box delivery
Mattress-in-a-box delivery has become the most popular way to deliver mattresses especially since online shopping has become widespread. Vesgantti mattresses will arrive at your address vacuumed and rolled in a box, in a box significantly smaller than the dimensions of the mattress to take up less space in transport and once it arrives at your home. When you take it out of the box, it will take 2 to 3 days to fully expand and you can't roll it again after that.
Review of Vesgantti Pro Hybrid mattress
This hybrid mattress consists of a large number of layers, which gives it a thickness of as much as 26 cm. From the breathable cooling cover all the way to the last layer, each layer is carefully made of the appropriate materials to give you support, comfort and pressure relief. Vesgantti Pro Hybrid mattress is suitable for any sleep position, so no matter wheter you are stomach or side sleeper, or back sleeper, you will be comfortable.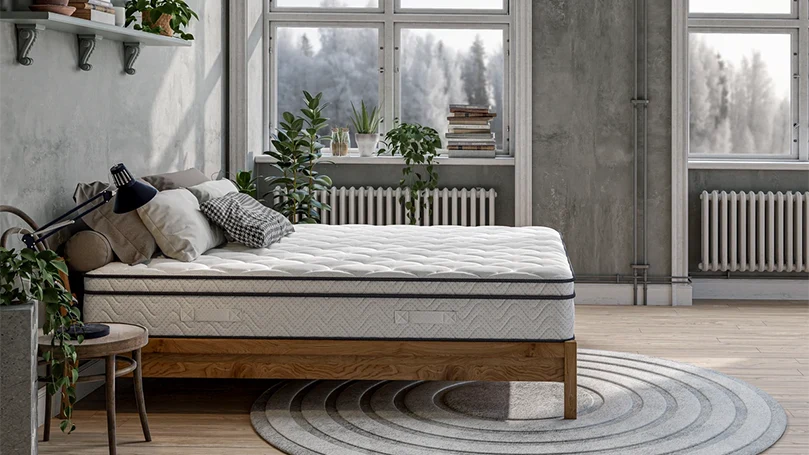 This 10.3 inch Euro box top mattress is available in 6 UK sizes and 6 EU sizes. It is also affordable and hypoallergenic. You have 100 nights to test it, and a 10 year warranty means you will be using it for a long time.
Type: Hybrid
Firmness: 7/10
Mattress depth: 26 cm
Size: Single, Small Single, Double, Small Double, UK King, Super King, EU (90×200 cm), EU (120 x 200 cm), EU (140 x200 cm), EU (160 x 200 cm), EU (100 x 200 cm), EU (80 x 200 cm).
Price to quality ratio
Huge selection of sizes
Free delivery and 100 nights trial.
Off-gassing 
Cover is not removable
Some customers will want firmer mattress.
What we like about Vesgantti Pro Hybrid mattress
When we compare price, quality, comfort and pressure relief, this is one of the best mattresses on the UK market
CertiPUR certified which means that PBDE flame retardants, heavy metals or other harmful substances are not present in the product
One of the best box top mattress series
Great value for money ratio
Works great with any bed foundation or bed frame.
What we didn't like about Vesgantti Pro Hybrid mattress
You cannot remove and wash the cover
While it can be suitable for all sleeping positions, heavier stomach sleepers may want to find a firmer mattress
10-year warranty is limited, so make sure you know what is covered by this limited warranty.
What makes this product better than some other similar ones?
There are numerous features that make Vesgantti Pro Hybrid mattress better than some other similar ones, but the primary is price to quality ratio. It is several times cheaper than many other hybrid mattresses of similar or the same quality that you can find on the UK market.
How did we test the product?
You won't have to wait long for your Vesgantti Pro Hybrid mattress as it takes 3 to 5 business days to arrive. Our shipping was free, as shipping is free to the UK mainland, and if you live in the Scottish Highlands, Northern Ireland, Isle of Man, Isles of Wight or some similar remote destination, you will have to pay for shipping.
When the mattress packed in the box arrived, although it will expand 10 seconds after unpacking, we had to wait three days before we could conduct the overnight test, because it takes so long to fully expand.
As we usually do when testing mattresses, we stretched the overnight test over several nights. Every night another team member slept on it and each time a different sleeping position was taken. We can say that Vesgantti's claims are true, because it is really comfortable for back sleeper, stomach sleeper and side sleeper alike.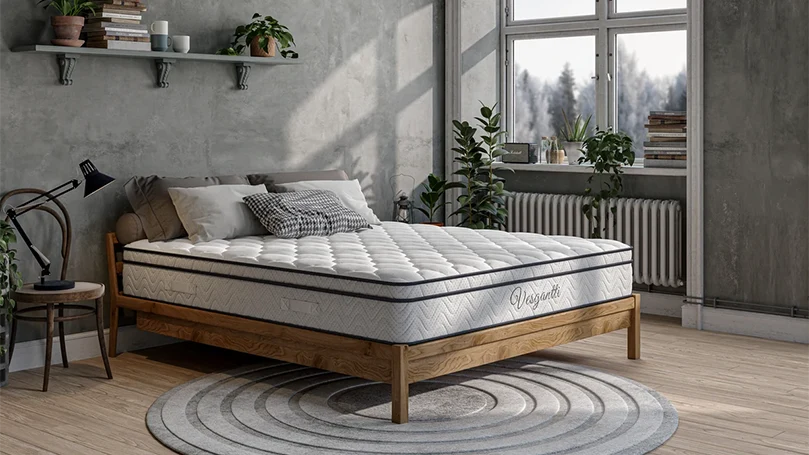 Overall, the mattress is very comfortable, supportive and breathable. We also tested how comfortable it is when a couple sleeps on it and we are very pleased with what we felt. Motion transfer is minimized, we can say that it is almost non-existent, so no matter how restless your partner sleeps, it will not disturb your sleep because this mattress isolates motion.
Off-gassing was present during the first night, but it was not a big problem and certainly off-gassing is not a consequence of toxic fumes, because toxic materials were not used in any part of the production of this mattress.
FAQs about your Vesgantti Pro Hybrid mattress
When you are buying a mattress, it is a big, and above all important investment and that is why it is natural for all customers to have additional questions about their new Vesgantti Pro Hybrid mattress. We hope that after reading our FAQs section you will know everything you want to know about this mattress.
Does Vesgantti Pro Hybrid mattress come with a warranty?
It comes with a 10-year limited warranty which you should find out more about as soon as you buy mattress.
Is the delivery for Vesgantti Pro Hybrid mattress free of charge?
Delivery is free of charge for UK mainland, and extra shipping cost will be charged for remote areas.
Do I get a trial period for Vesgantti Pro Hybrid mattress?
You get a 100-night free trial period after which you can request a full refund, and one thing that will not be refunded is shipping fee if you have paid it.
Does Vesgantti Pro Hybrid mattress have a maximum weight limit?
The suggested weight limit is 90 kg per person or 180 kg in total for this model of mattress Vesgantti.
Are there off-gassing issues with Vesgantti Pro Hybrid mattress?
You will encounter slight off-gassing which is normal for all mattresses containing foam.
Does Vesgantti Pro Hybrid mattress come with a removable/washable cover?
Vesgantti Pro Hybrid mattress does not come with the removable / washable
cover.