Dormeo Memory Fresh Mattress Review - Ensure Comfort & Freshness
Don't you just love the feeling you get when you slide between fresh, clean sheets? Well, according to Dormeo, that's what you get from their Dormeo Fresh Mattress – every single time you lie down. But is there more to it than just a fresh sleeping environment night in and night out? Well, let's find out together.
Who is Dormeo Memory Fresh mattress for?
Specially designed to bring you a cleaner and more refreshing night's sleep, Dormeo Memory Fresh is made to keep dust, bacteria and other common household allergens at bay. 
As such, Dormeo Fresh is ideal for people suffering from allergies or struggling with respiratory issues. 
In addition to that, Dormeo Fresh mattress is what you'd call a budget-oriented product. So, not only will this mattress be gentle to your skin and airways, but it will also be gentle to your wallet.
Add a header to begin generating the table of contents
What do we use this product for?
Dormeo Memory Fresh mattress is a 14 cm tall all-foam mattress. As such, it is tailored to people that prefer the gentle comfort and contouring that memory foam brings to the table. 
Also, the Memory Fresh is designed to combine the natural antibacterial and antibiotic benefits of silver with memory foam, therefore, the cover of Dormeo Fresh mattress is not only a casing for a foam body of the mattress, but it is also a shield protecting you from allergens, bacteria and dust particles.
With all that being said, we can: 
      Use it to get a refreshing, great night's sleep
      Use it to alleviate pain and pressure off of core areas
      Use it to help combat common household allergens and bacteria
      Use it to eliminate motion transfer during the night
Does Dormeo Memory Fresh mattress come in different versions?
As is often the case with Dormeo's mattresses, there are a few versions of the same product, with subtle changes between them. In the case of Dormeo Fresh, aside from the Classic, we have a Fresh Plus and Fresh Deluxe version, as well.
Dormeo Memory Fresh Plus mattress is a slight improvement over the standard Dormeo Fresh. The main difference between the two lies in the amount of memory foam used to make the mattress. Unlike the Classic, that's made out of a 12 cm tall base and an additional 2 cm of foam sewn directly into the cover, Dormeo Fresh Plus comes with a 14 cm tall Ecocell support base and an additional 3 cm of foam sewn into the Florentine stitched cover. All of this makes Dormeo Fresh plus a slightly softer mattress than the Fresh Classic.
Comfortable and contouring
Pressure and pain-relieving
Antibacterial and antimicrobial.
Non-removable cover
Minor overheating and off-gassing issues
Might be too soft for stomach sleepers.
Dormeo Fresh Deluxe Memory Foam mattress is the thickest of Dormeo Memory Fresh trio, standing at 20 cm deep. Just like the Fresh and Fresh Plus, the Deluxe comes with an Ecocell supportive base, as well as the memory foam layer sewn directly into the cover, only this time, the supportive base is 16 cm thick, and there is 4 cm of memory foam sewn into the cover. At 20 cm, the Deluxe offers a bit more contouring and sinkage and is noticeably softer than the Fresh and Fresh Plus.
Moisture-wicking and odourless
Pressure and pain-relieving
Antibacterial and antimicrobial.
Non-removable cover
Minor overheating and off-gassing issues
Not suitable for stomach sleepers.
Features you should know about Dormeo Memory Fresh mattress
Now, let's discuss Dormeo Fresh in a bit more detail by going over some of the main features this one brings to the table.
Antibacterial and anti-odour cover with silver fibres
As we've said, the Memory Fresh foam mattress is designed to combine the natural benefits of Silver, the world's oldest natural antibiotic, with next generation pressure relieving materials to create the best night's sleep possible.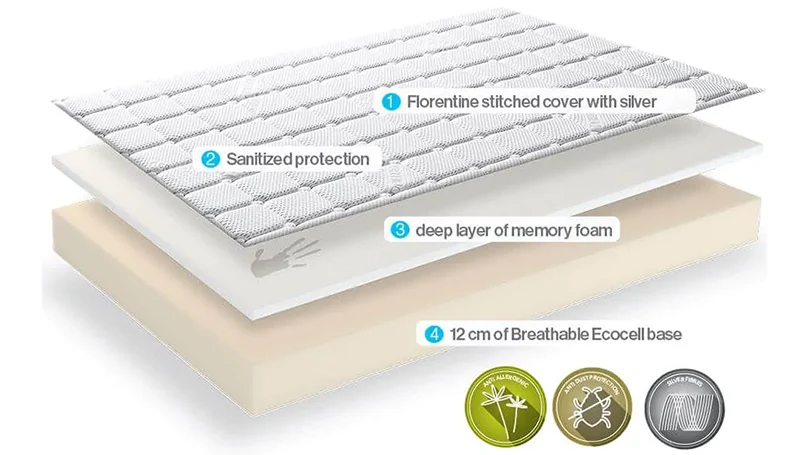 The luxury cover is enriched with silver fibres, which have natural anti-bacterial and anti-odour properties that help eliminate unpleasant odours caused by moisture absorption in the mattress. As you know, mattresses are known to absorb moisture and sweat, which makes them not only a breeding ground for dust mites and other allergens but also makes them smell foul. It also has the benefit of an anti-static shield to protect the mattress from dust particles that can cause allergies.
With Dormeo Fresh mattress – none of the two will be the issue.
A 12 cm tall supportive layer might not sound like a lot, but when you consider the fact that we are talking about Dormeo's breathable Ecocell foam – the one designed to be permanently lasting due to its three-dimensional cellular structure, you can see why this mattress manages to do quite a lot at only 14 cm height. 
Far from it that this will give you the most supportive night's sleep imaginable, however, we don't see why this one wouldn't be a solid fit for back and side sleepers – especially if they don't weigh a lot. 
At medium-firmness, this mattress should satisfy most sleepers' needs. 
Visco-Elastic memory foam for support and softness
Another thing that makes this mattress work at only 14 cm of depth is the visco-elastic memory foam developed by Dormeo after years and years of research. 
The visco-elastic memory foam responds to the position and shape of your body, not only adjusting to meet your body's needs but also making sure you are adequately supported and aligned, regardless of the position you're sleeping in.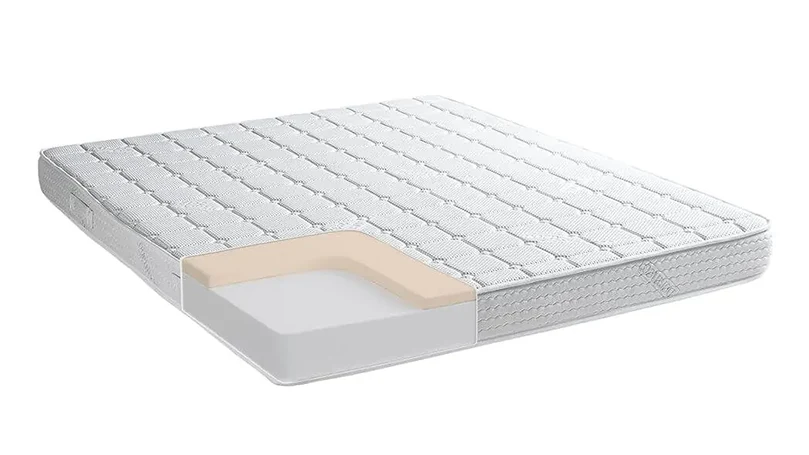 Furthermore, due to the high elasticity of Dormeo's memory foam – this mattress will be quite bouncy and responsive, which is why Dormeo says their Ecocell foam is "designed to be permanently elastic".
15 years warranty & trial period of 60 nights
Due to quality craftsmanship, use of only the best materials, and the visco-elastic nature of the memory foam used in this mattress, Dormeo offers you a 15-year warranty on the Fresh mattress. But, just to be sure you really want to spend your next 15 years sleeping on Dormeo Fresh, you will also get a 60-night comfort guarantee, or a trial period to test the mattress out. 
If you don't find it suitable, you can return the mattress for a full refund of the purchase price, or you can choose to exchange it for an alternative model, like Dormeo Fresh Plus or Deluxe, as long as you're still within the 60-night trial period.
Review of Dormeo Memory Fresh mattress
Considering it is only 14 cm deep, our expectations weren't all that high for the Fresh mattress. However, we were pleasantly surprised. Despite being thin, the Fresh is quite comfortable, but what's probably even more impressive – it is quite supportive, too. This is primarily due to the 12 cm tall Ecocell visco-elastic memory foam supportive base.
When used on a solid base, this is a true, medium-firm mattress. It will offer sound comfort, pleasant contouring, and just enough spinal support to keep you properly aligned through the night. As such, Dormeo Fresh is a solid choice for back and side sleepers. Stomach sleepers, on the other hand, might want to look for something a tad firmer, especially if they're a bit on the heavy side.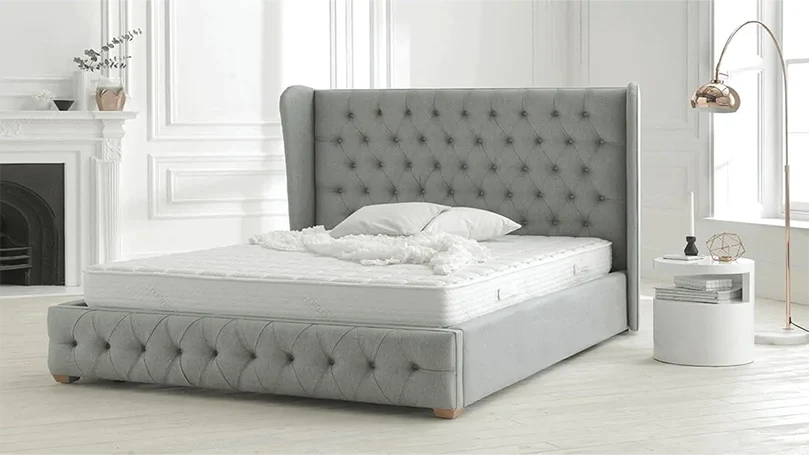 Dormeo Fresh Memory Foam mattress is also quite pressure and pain-relieving, as well as motion isolating – which is something you'd expect from an all-foam mattress. However, what you might not expect is an excellent bounce from a thin, memory foam mattress – but that's what you'd get here. 
Finally, the silver-enriched cover makes this budget-oriented mattress an excellent value-for-money product by not only making it hypoallergenic but actually antibacterial and antimicrobial.
Like in all other Dormeo Memory Fresh mattress reviews, we have to mention cons of this mattress. So, when it comes to negative sides, this mattress suffers from general memory foam problems like initial off-gassing and some minor overheating issues, but at this price point – we would necessarily deem these as drawbacks.
      Type: Memory foam
      Firmness: 6/10
      Mattress depth: 14 cm
      Size: Single, Small Double, Double, King, Super King.
Comfortable and contouring
Pressure and pain-relieving
Natural anti-bacterial, anti-dust mite and anti-microbial properties
Moisture-wicking and odourless
Budget-friendly.
Non-removable cover
Minor overheating issues
Initial off-gassing.
What we like about Dormeo Memory Fresh mattress
One of the best value-for-money mattresses on the UK market
Thanks to the CleanEffect treatment and the silver-enriched cover, the Fresh is both antibacterial and antimicrobial.
Despite not having a removable mattress cover, the Memory Fresh mattress does not absorb foul odours and will stay fresh for a long time
By gently contouring your body, this one offers more than satisfactory pressure and pain-relieving properties, as well as supportive sleep.
What we didn't like about Dormeo Memory Fresh mattress
Despite being high-quality, we still would've liked it if the cover were removable and machine-washable
Just like any other all-foam mattress, you'll experience some off-gassing and overheating
At only 14 cm, the Memory Fresh could probably benefit from a mattress topper.
What makes Dormeo Memory Classic better than other similar products?
A great number of mattresses on the UK market are hypoallergenic, but not a lot of them are actually antibacterial like Dormeo Fresh mattress. More importantly, none of them are antibacterial at this price point. Therefore, if you're struggling with allergies and you don't want to spend a lot of money on a mattress – feel free to just choose this one. Dormeo Fresh is an absolute value king, especially if the allergies are the pain of your existence.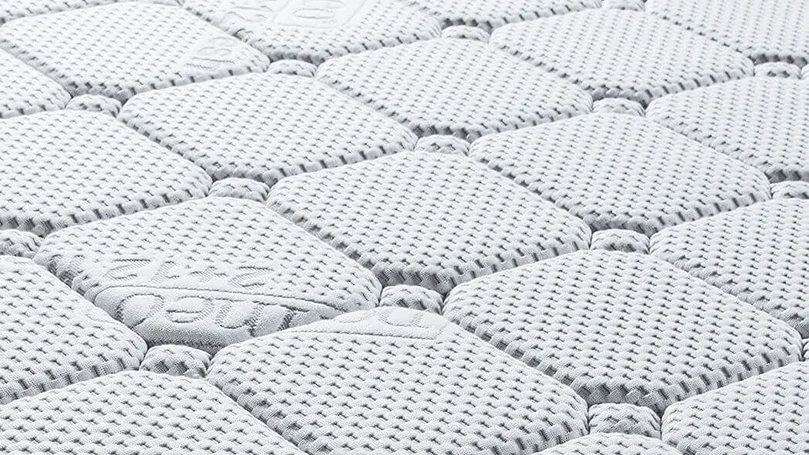 How did we test the product?
Every test starts with a simple order, and even though it took a while for this order to be delivered – we didn't mind waiting. You, on the other hand, might. So, keep in mind that it might take up to 14-28 days for your new mattress to arrive at your door. Ours arrived in 10.
Upon arrival, we've unpacked the mattress and we've left it in a well-ventilated room to expand and air out. There was some initial off-gassing present, but that's perfectly fine. After the mattress had fully expanded – we began our tests.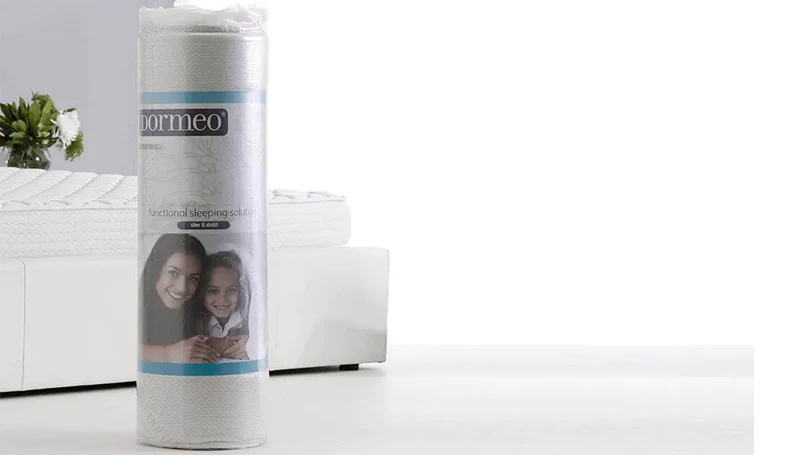 First, we've inspected the build and craftsmanship quality, upon which we've begun our hands-on testing. To get objective results, not only did we perform measurable tests like the roller test, kettlebell test and sinkage test, but we also involved a human element, too.
Each of our team members had spent more than a few days in controlled conditions testing every aspect of the mattress, from support and comfort, over responsiveness and breathability, all the way to motion isolation and pressure relief.
FAQs about your Dormeo Memory Fresh mattress
In the end, let's answer some FAQs.
Is Dormeo Fresh mattress good for all types of sleepers?
As a medium-firm mattress, the Fresh should be a good fit for all types of sleepers, although we would advise the stomach sleepers to look for something a tad further.
Should I use Dormeo Fresh mattress if I am recovering from surgery?
Considering this is an antibacterial and a pressure-relieving mattress, we don't see why you wouldn't want to use this one during post-op recovery.
How do I clean my Dormeo Fresh mattress?
The only way to clean the Dormeo Fresh is by vacuuming and/or spot-cleaning with a damp cloth. To prevent stains, you might want to use a mattress protector.
Do I pay for the delivery of Dormeo Fresh mattress?
The delivery of all Dormeo mattresses, including the Dormeo Fresh, inside of the UK, is completely free.