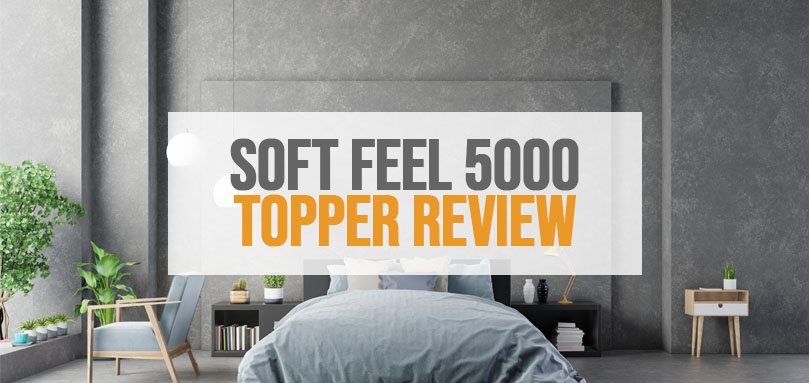 Soft Feel 5000 Memory Foam Orthopaedic Mattress Topper 2021 Review
It has never been easier to transform an old or unsuitable mattress. All you need is a mattress topper, of which there are many on the market in the United Kingdom. However, you need to choose carefully to get what you want. That is why we have reviewed Soft Feel 5000 Memory Foam Orthopedic Mattress Topper for you, so that you know what to expect from this product.
Who is Soft Feel 5000 mattress topper for?
Soft Feel 5000 Memory Foam Orthopedic mattress topper is an ideal choice for all those who want more comfort and extra cushioning than what the current mattress gives them. Whether you are considering buying a new mattress because the current mattress or just because it is too firm or too soft, even though it is new, a topper is the right solution.
While mattress pads can't change the feeling you have while sleeping on a mattress, but rather slightly contribute to comfort and serve as protection against bed bugs (if you don't want just mattress protector) and other things, toppers completely change your sleeping experience. Most Soft Feel 5000 Memory Foam Orthopedic Mattress Topper users say they felt like they bought a new mattress, and not just topper.
Add a header to begin generating the table of contents
What do we use this product for?
We use this product for several reasons. Main reasons are to improve the overall sleeping experience, to reduce back and neck pain, as well as to prolong the service life of the mattress. Whether it is a new mattress or a mattress that has been used for a long time, a topper is something that will prolong its service life. That is why this orthopedic topper has a multiple role, both to make you more comfortable and to save you money because you do not have to buy a new mattress, at least for some time.
Features you should know about the Soft Feel 5000 Memory Foam Orthopaedic mattress topper
On the Happy Beds website you will find very little information about Soft Feel 5000 Memory Foam Orthopedic Mattress Topper. You will see only some basic features like size, material and brief description without going into any details. So we will tell you more about the main features of this mattress topper such as memory foam layer, removable cover and so on.
Memory foam is certainly the most popular material when it comes to the production of mattress toppers, although you can also find on the market in the UK hybrid models, latex models and so on. Soft Feel 5000 Memory Foam Orthopedic Mattress Topper has a 45mm memory foam layer which in our opinion is the ideal thickness of memory foam to achieve a balance between comfort and support. Happy Beds also offers 2 other variations of this mattress topper, labeled 2500 and 7500, if someone wants a thinner or thicker layer of memory foam than 45mm.
We are very satisfied with the 45mm memory foam layer because it quickly and efficiently responds to the requests of people of different weights.
Zip-off removable hypoallergenic cover
On a pillow and mattress, and in this case instead of a mattress on a topper, you spend a minimum of 5 hours a day, and usually much more. During this time you sweat and in other ways dirt the topper and that is why you have to maintain it regularly. But topper is almost as big as mattress, so it is not possible to wash it in the washing machine.
That's why it's great that the Soft Feel 5000 Memory Foam Orthopedic Mattress Topper has a zip-off removable hypoallergenic cover that you will remove very quickly and then take it to dry clean. You know that what you sleep on is completely clean and that due to its hypoallergenic properties, even the most sensitive ones will not have any problems.
Perfect molding for relieving pressure and pain
The trouble for most people who have problems with pain in the spine, neck and other parts of the body is that they sleep on a mattress or topper that is too hard or too soft and then do not receive the necessary support. The most important thing is that topper mold towards your body and thus reduce the pressure which will lead to the cessation of pain.
Also, due to the perfect molding characteristics, Soft Feel 5000 Memory Foam Orthopedic Mattress Topper will not allow you to sink too much and thus leave your body in the wrong position during sleep, which will put you in a vicious circle of pain problems.
Are you one of those people who can't fall asleep as soon as they don't sleep in their bed? If so, then you've probably thought many times how it would be great if you could take your bed with you when you travel, but of course that's not possible.
But when you buy this topper, which is very easy to roll and pack, you will always be able to have it with you. The manufacturer guarantees that it is very easy to roll and pack and that it will not damage the topper. We tried and made sure that it is really very easy to roll and that no dents remain later.
The manufacturer advises that every 6 weeks approximately, you should flip and rotate this mattress topper to prolong its service life. Flip it to change the sleeping surface, and rotate it by replacing the end where your head was with the part where your feet are.
So you will make sure that it is equally comfortable everywhere. This may sound like tedious work to you, especially since you need to rotate it relatively often, but don't worry. It is very easy to flip and rotate it, because it is lightweight, so you will do it in just a few seconds.
Review of Soft Feel 5000 mattress topper
This orthopedic mattress topper with 45 mm of topnotch memory foam made by Happy Beds. Memory foam molds perfectly to your body and thus helps to get rid of persistent pain that you have after sleep. Also, memory foam is great for pressure relief. All you need to do to experience the benefits of using this topper is to put it on a mattress and start sleeping comfortably.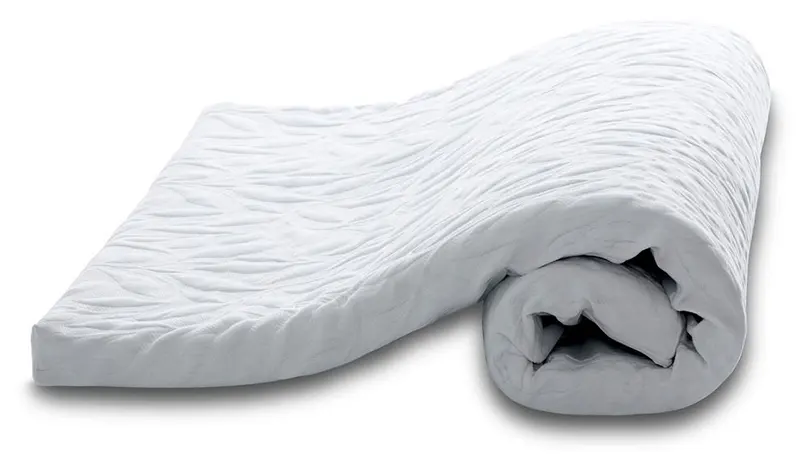 With the topper, you also get a zip-off cover, which is hypoallergenic and anit-dust mite, so you will be completely safe. It can be used by children, even if they have asthma. It also conforms to all British fire regulations, so safety comes first. It is made in the UK and you have a 5-year guarantee.
Orthopeadic
45mm of quality memory foam
Hypoallergenic cover
Memory foam is sometimes unsuitable for hot sleepers
Off-gassing
No straps
What we like about Soft Feel 5000 mattress topper
This mattress topper will help you wake up in the morning without pain, which is crucial for the rest of the day.
It is made in the UK, following all regulations.
Cover is hypoallergenic and anti-dust mite, so it is suitable even for people who have allergies or sensitive skin.
What we didn't like about Soft Feel 5000 mattress topper
Although heat sensitive, which is enough for most people, hot sleepers might want to look for some cooling topper.
As with 99% of products that contain memory foam, off-gassing will be present initially.
There are no straps to attach it to the mattress tighter.
Check the alternatives to Soft Feel 5000 Memory Foam Orthopaedic mattress topper
If while reading this review you have concluded that the Soft Feel 5000 Memory Foam Orthopedic Mattress Topper is not the right mattress topper for you, then it will be helpful to give you a few alternatives to consider. Rejuvopedic Microfibre mattress topper and Silentnight Airmax mattress topper are the best alternatives of our choice.
Rejuvopedic Microfibre Mattress Topper
We liked Rejuvopedic Microfibre mattress topper because of the 3D massage bubbles fabric that give you a massaging effect while you sleep. Also, support is very good for a microfibre topper. It bounces back in the initial shape very quickly. It also has elastic straps, to hold the mattress topper firmly attached. Overall, it is one mattress topper that will satisfy most users.
Comfortable
Lightweight
No smell.
Can be too hot
Durability is questionable
Some users don't like microfibre.
Silentnight Airmax mattress topper
Silentnight Company has existed since 1946, which says a lot about the quality of their products, as soon as they managed to survive on the market for so long. Silentnight Airmax Mattress Topper is made of polyester and is hypoallergenic. It is very soft, so it is an ideal choice for those who cannot use down because they are allergic. This is a long-lasting quality product, so you can count on it to last you for years with proper maintenance.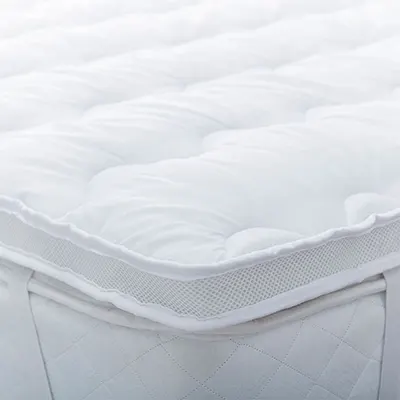 Bounce
Long-lasting
No off-gassing
Too soft for side sleepers
Hot sleepers complained
Some find it thin like it is a pad and not topper
Consider EVE pillow if you are buying Soft Feel 5000 mattress topper
If you want to completely get rid of all the problems with pain after sleeping, then with the purchase of an orthopedic topper, you should also consider buying an EVE pillow. If the pillow is unsuitable, the topper itself cannot solve all your problems. The EVE pillow is also made of memory foam and it will provide you with both comfort and support. EVE products are durable, so it will last for a long time.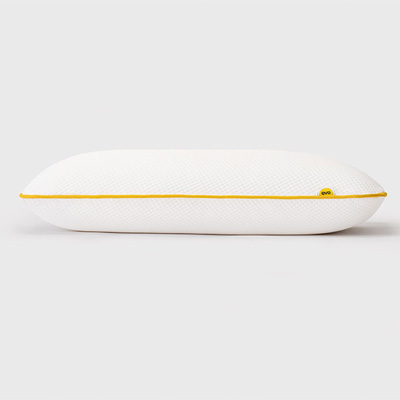 14-night trial
Comfortable
Washable cover
Not the coolest pillow on the market
Off-gassing
Not great for stomach sleepers
What makes Soft Feel 5000 better than some other similar ones?
What primarily makes the Soft Feel 5000 Memory Foam Orthopedic mattress topper better than the competition are the orthopedic features. This topper will not only give you instant comfort, but will have a positive effect on your spine, neck and other parts of the body in the long run. So you can count on it improving your condition.
How did we test the product?
Since this Happy Beds mattress topper is advertised as an orthopedic which means that its primary role is to relieve pain and reduce pressure on pressure points, which are the neck, shoulders and hips, these are the main features we analyzed and tested. After getting this product for testing, we first unpacked it and checked the overall quality, which met our criteria, as expected. Happy beds products are generally of good quality.
We also checked the situation with off-gassing and although you will smell a certain odor after unpacking, it is nothing very noticeable and will not bother or irritate your skin and airways. After that we lay down on this topper and we really liked the feeling. At the same time it is soft, and yet supportive. So the first impression was very positive and we immediately noticed the orthopedic features. After the overnight test, our opinion did not change. This mattress topper is very comfortable and provides the right balance between support and softness. We didn't feel any pressure on the wrists, and we also didn't sink too much either, so the overnight test went great. It is heat sensitive so we weren't hot while lying on it, although, of course, a certain retention of heat must be present when it comes to memory foam.
You will easily remove the cover you get with it, because it has a zip-off design, but it is not machine washable. Dry clean is necessary. We vacuumed the Soft Feel 5000 Memory Foam Orthopedic Mattress Topper and that was all it took to maintain it.
FAQs about your new Soft Feel 5000 Memory Foam Orthopaedic mattress topper
In our FAQs section, we will answer some questions that we may have failed to answer so far, and we will also put everything that customers are usually interested in in one place so that you can have it at your fingertips.
Is Soft Feel 5000 memory foam orthopaedic mattress topper completely made of memory foam?
Yes, Soft Feel 5000 Memory Foam Orthopedic Mattress Topper is completely made of memory foam, it is not hybrid one.
How thick Soft Feel 5000 memory foam orthopaedic mattress topper is?
Soft Feel 5000 Memory Foam Orthopedic Mattress Topper is 45mm thick which can be considered average thickness recommended.
How do I maintain/wash my Soft Feel 5000 mattress topper?
You can remove cover and dry clean it, while topper itself needs to be vacuumed.
Is Soft Feel 5000 orthopaedic mattress topper available in different dimensions?
Yes, you can find single, small double, double, king size and super king size.