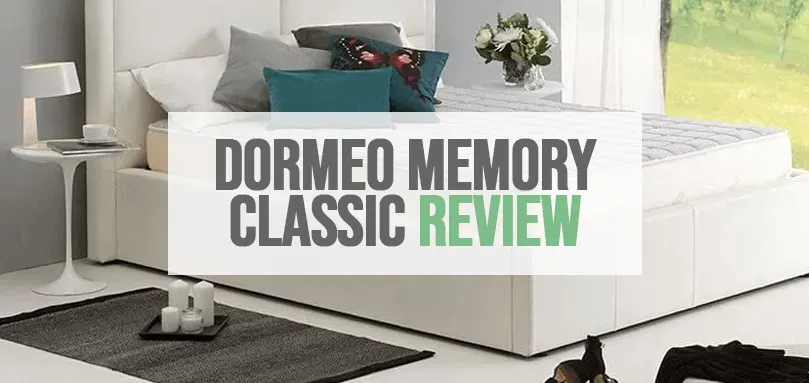 Dormeo Memory Classic Mattress Review
Most people spend almost a third of their lives in their beds, so it's easy to see how a quality mattress would be beneficial to them. Dormeo Memory Classic seemed to be a fair candidate, so we've decided to test it out and let you know whether this product is worth it or not.
On that note, we've decided to take a deep dive into their catalogue and do our best to
find a worthy candidate to test and review. And, would you have it, Dormeo Memory
Classic seemed to be the perfect match. After all, it is one of their most popular
mattresses, and everyone loves a good "Classic", so we thought to ourselves – why
not?
So, here we are. We've spend more than a few days with this mattress, examining and
testing it, and the final results are in. To find out the results – enjoy the rest of our
review of the Dormeo Memory Classic. Let's begin!
Add a header to begin generating the table of contents
Anyone who has trouble waking up rested and pain-free should be in the market for a new mattress. Dormeo Memory Classic is designed in such a way, that pretty much anyone can get a good night's sleep out of it. This mattress hits the sweet spot as far as firmness is concerned, which many find to be the determining factor when choosing their mattress. However, we've considered other factors, as well…
Recommended reading: 5 Top Rated Mattresses in the UK
How did we test the Dormeo Memory Classic?
Whether a mattress is good or not is fairly subjective because what seems to be perfectly comfortable for one person, might be off-putting to another. That's why we try to be as objective when we write our reviews and we test the products based on several different features.
The quality of a mattress is determined by a lot of different factors and the ones we spend most of our time focusing on is firmness, support, edge support, pressure relief, alignment, ease of movement and motion transfer, durability, breathability and cooling properties, trial period, shipping and return policy, customer service and warranty.
Dormeo Memory Classic was no different. A team of individuals of different height and weight and personal preferences spent a lot of time testing and examining all of the above-mentioned features, so we could present you with the best, most objective review of the product, in this case, Dormeo Memory Classic.
Testing and examining some of these features was pretty straightforward but some of them required additional effort on our part, like durability, for instance.
Finally, even though our team of testers is rather extensive, we've had to take into consideration the user feedback and reviews to try and find similarities between both the good and the bad stuff people were commenting on.
What do we use Dormeo Memory Classic for?
Anyone in need of a better mattress can benefit from this one, especially those looking to alleviate some back pain. Dormeo Memory Classic is a medium-firm mattress, meaning it will provide much-needed support and alignment for your spine when you sleep, thus alleviating your back pain.
Is Dormeo Memory Classic an upgraded version of the previous model?
It's one of the three mattresses in Dormeo's Memory lineup. It is the thinnest, yet the firmest of the three. That makes this one more suited for those of you sleeping on your stomach. It is the cheapest out of the three but does not make it any less good – only different. All three of them are made from the exact same material and in the exact same fashion with the only difference being the thickness of the memory foam layer.
Features you should know about
As you already know, we've deliberately tested the Dormeo Memory Classic before writing our review and in the process, we've paid special attention to these four key features, as they were the ones that defined this mattress.
When originally designed for NASA, no one could've suspected how much of a major role will memory foam play in the mattress industry. Nowadays, memory foam is the most popular material for mattresses and other sleep-related products and for a very good reason. It perfectly contours your body, delivering you with a calming, restful sensation all through your body.
That feeling is exactly what you can expect from the top layer of memory foam found in this mattress. Dormeo's team has spent years working on and perfecting the visco-elastic memory foam that strikes a perfect balance between softness and pressure relief and support for your whole body. In this case, the balance is slightly shifted towards support, rather than softness, but we don't necessarily deem that to be a bad thing.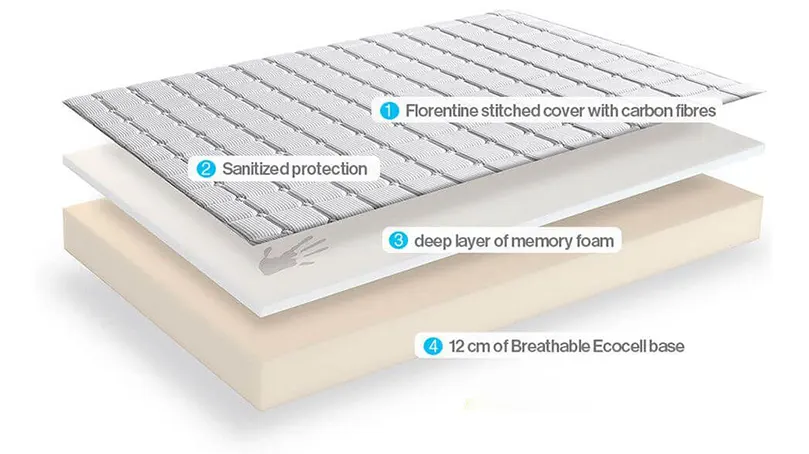 Dormeo's ultimate goal was always to create a mattress that provides the perfect environment for healthy and comfortable rest. To say they've managed to strike perfection with this product wouldn't be true, but the Ecocell layer does manage to get pretty close if we do say so ourselves.
The Ecocell has been worked on for years and the ultimate goal was to design a next-generation foam that could sustain years of use and still remain as elastic as it was the first day. So-called, 3-dimensional cellular structure, is what separates this specially designed memory foam from the rest and through our testing, we've found it to be pretty resilient, supportive and adaptable.
When we talk about Dormeo Memory Classic, we can't look past the cover. This mattress offers anti-bacterial, anti-fungal and anti-dust protection, which is always nice to see. Many people are struggling with allergies, therefore, having a mattress that can help you fight against all kinds of allergens is always a welcome addition.
This is made possible by Dormeo's team of researchers and designers that have found a way to incorporate carbon fibre directly into the cover. This hypoallergenic sleeping experience is one of the defining features of this mattress.
On the other hand, the cover is non-removable, which is never a good thing. You do need to take care of your mattress and not being able to remove the cover and wash it makes it unnecessarily harder for you to do so.
We can all agree that one of the most defining features of a mattress is firmness. What's tricky about this is that firmness, even though it can be measured and assessed, is still somewhat of a subjective experience.
We'd say this one is a medium-firm mattress, giving it a 6.5 out of 10 on the firmness scale. 6.5 is universally thought to be the best firmness rating a mattress could get, as it is just firm enough for stomach sleepers, but still allows for proper contouring for those that like to sleep on their side.
Review of Dormeo Memory Classic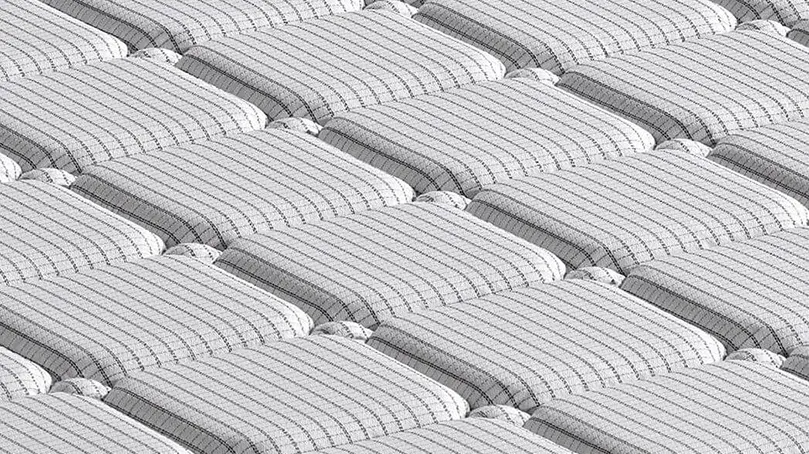 Our overall impression is that it is a very good mattress. Naturally, it's not the best or the perfect mattress we've ever tested, but it did good in pretty much every category. The firmness of this one is just in the sweet spot, it breathes well and it's hypoallergenic, as well.
Most of the things we didn't like weren't really mattress related, aside from a few exceptions, but were more directed towards the customer service and some of the warranty issues.
All in all, we have found this to be a very well-rounded mattress, with arguably the best feature being the price-to-value ratio of this one. Compared to some other mattresses, Dormeo Memory Classic is a great value pick.
Great price-to-value ratio
Solid breathability and temperature control
Hypoallergenic properties.
It's only 14cm thick
Unclear warranty conditions
Non-removable cover.
What we like about Dormeo Memory Classic
For a memory foam mattress, this one makes it pretty easy for you to turn and move around
Ecocell technology has made this a fairly breathable memory foam mattress and we didn't have any problems with getting hot
You have a 60-day trial period, which is more than enough to determine whether you enjoy a mattress or not.
What we didn't like about Dormeo Memory Classic
Non-removable cover is always a drawback as it makes the cleaning process much harder than it has to be
The mattress has been known to be quite uncomfortable for heavy sleepers due to the lack of thickness
The 15-year warranty drops in value over time and in year 15 you can be reimbursed for only 5% of the total value of the mattress.
Check these alternatives to Dormeo Memory Classic
If you're looking for an alternative to the Dormeo Memory Classic, you might want to consider some of the following.
Unlike Dormeo Memory Classic, Silentnight 2000 is a pocket sprung mattress with 2000 individual springs. It's significantly thicker than DMC, at 27 cm and it offers fairly similar experience comfort and support-wise, although some claim it is too soft for a pocket sprung mattress.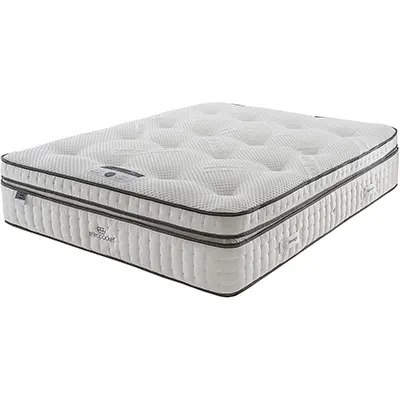 Very supportive
Very adaptive
More breathable than Dormeo Memory Classic.
There are some durability concerns
Some have found it to be too soft
Heavier sleepers reported sagging after few months of use.
Eve Premium is a hybrid mattress is another solid all-around mattress that you could consider instead of Dormeo Memory Classic. As far as comfort, quality materials and craftsmanship go, Eve Premium is as good as it gets.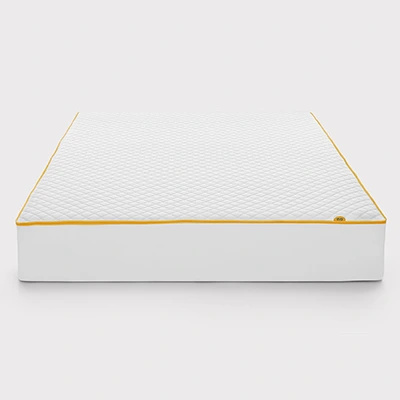 Very comfortable
Great motion transfer
Very cool and breathable.
Might be too soft for heavier and stomach sleepers
Not the best value for money
Edge support could be better.
Consider John Lewis Synthetic Cluster Memory Foam pillow If You Are Buying Dormeo Memory Classic mattress
Combining a memory foam pillow with a solid mattress could make a massive difference. We'd recommend trying out with this pillow in pair with Dormeo Memory Classic if you don't already have a pillow that you use. It's hypoallergenic, comfortable and very breathable, which are three of the arguably most important features of a pillow.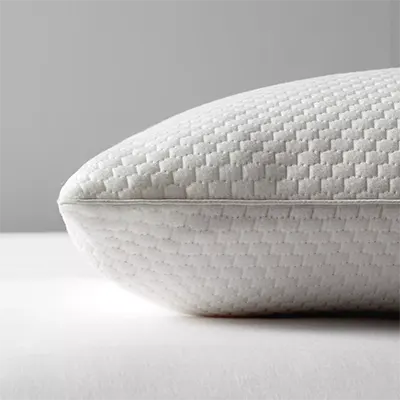 Hypoallergenic, removable cover
Very comfortable
Great breathability.
Some durability concerns
An average price-to-value ratio
Lacking proper support for side sleepers.
What makes Dormeo Memory Classic better than other similar products?
If we had to put Dormeo Memory Classic in a category we'd say it's a budget-oriented model. With that in mind, it's easy to see how this one strives compared to its competition, simply based on the fact that it's durable, made from quality materials and will offer a great deal of support and comfort.
FAQs about your Dormeo Memory Classic
It is very important to us that you don't waste your time trying to figure out whether your mattress will last as long as the warranty lasts or how to take care of it. For that reason, we've decided to answer some frequently asked questions we thought would be the most important to you.
How long does a Dormeo Memory Classic mattress last on average?
On average, you could expect your Dormeo Memory Classic to last around 8 years.
Is the Dormeo Memory Classic mattress good for hot sleepers?
Dormeo Memory Classic is known to be fairly breathable, due to Ecocell foam, so it would be a wise choice for anyone that sleeps hot.
How do I wash my Dormeo Memory Classic mattress?
You may clean your mattress by using lukewarm water mixed with laundry detergent. Lightly spray the solution onto the mattress and dab it with a damp cloth.