Signature 3000 Crystal Pocket Sprung Mattress Reviewed for 2022
Firmer, pocket sprung mattresses are quite popular with heavier sleepers and one of the most popular mattresses amongst them is the Signature 3000 Crystal Pocket Sprung Mattress. Considering its popularity, we wanted to test the Signature 3000 and find out whether this is a good mattress or not. Let's check it out!
Who is Happy Beds Signature 3000 Mattress for?
A pocket sprung mattress could be a great fit for anyone that prefers a slightly firmer feel when they lie down. Furthermore, a mattress like this would be especially useful for heavier sleepers, such as the ones that prefer to sleep on their stomach.
The support and firmness you get from this mattress can be more than useful on plenty of occasions, so we'd say that this is a fairly well-rounded mattress that can pretty much fit anyone's needs.
How did we test the product?
As you probably already know, it can be a pretty tedious task to find the perfect mattress. There are so many different options out there, that the average consumer is pretty much overwhelmed with various possibilities and it would be ludicrous to expect anyone to easily find the right mattress for themselves right away. Luckily, that's why we are here!
We start all of our reviews the same way. We begin by testing the mattress and during the testing process, we try and pay close attention to every single detail, no matter how minor or insignificant it may seem. Also, we focus on the key, defining features more than anything else, because after all, they are called defining features for a reason. Given the fact that all of this is a fairly subjective process, we try to be as objective as possible and look at things from a different perspective. We try to outline the pros and cons and assess the features like firmness, support, edge support, pressure and pain relief, weight distribution, motion isolation, breathability, hypoallergenic properties, durability, longevity, warranty and more.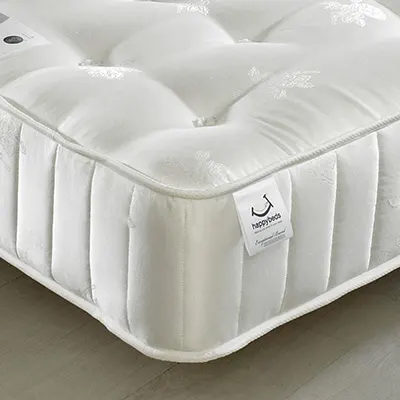 As we've said, we like to keep our review objective and the only way to do so is by having a diverse, testing and reviewing team and we do. All of our team members differ in body weight, sleeping position, age and gender and that's exactly what allows us to offer a unique, broad perspective of every product we review, including the Signature 3000 Crystal Pocket Sprung Mattress.
What do we use this product for?
Just like any other mattress, we use the Signature 3000 Crystal Pocket Sprung Mattress to sleep on it. However, the added level of firmness this mattress brings to the table offers additional orthopaedic properties, especially useful to those in need of proper support and alignment. Just so we're clear, we're not talking about pain and pressure relief, just proper, full-body support.
Is Happy Beds Signature 3000 an upgraded version of a previous product
Signature 3000 Crystal Pocket Sprung Mattress the top-tier option in the Happy Beds' Signature line of pocket sprung mattresses. Compared to the other models in the series, Signature 3000 Crystal comes with the most individual springs, which makes this one the best, as well as the firmest, out of the line-up of 5.
Features you should know about the Signature 3000 Crystal Pocket Sprung Mattress
Just like every other mattress, the Signature 3000 has its own set of defining features. As you could probably guess, for a pocket sprung mattress it's the quality of individual springs and the outer comfort layers, including the mattress cover. Here are a few words on some of them.
Happy Beds' is known for using the finest materials in the production of their mattresses. With Signature 3000 Crystal in question, we have a mixture of various high-quality, natural materials such as horse hair, lamb wool, natural mohair and more.
All of these when combined, add up to one of the finest materials on the market, offering you the utmost comfort and cosiness. We've paid special attention to this feature and we have to say the impressions are great, to say the least. You can really tell the difference between all-natural materials and synthetic fibres used in some other products.
Moisture-absorbent cotton
As you know, it is very important for a mattress to be breathable and temperature regulating. The last thing you'd want is to sweat and be uncomfortable because your mattress traps all the heat. Fortunately, the pocket sprung mattresses are known, in general, as good at this. Well, this one takes it a step further with a moisture-absorbent cotton cover.
Cotton is well-known for its moisture-absorbing properties, but when it is paired with the rest of the natural materials in this mattress, you end up with a great cover, that is guaranteed to keep you cool and comfortable all night long. Furthermore, this will keep the mattress dry and fresh for a longer period of time.
Easily the main and the most important feature of Signature 3000 Crystal Pocket Sprung Mattress is the pocket sprung system that is nestled between the layers of soft, natural materials. 3000 individual coils are what make this mattress the best in the Signature series.
The pocket springs allow for impeccable support, great motion isolation and of course, a great level of comfort as they wrap around your body perfectly. Furthermore, 3000 individual springs are just about as high as you should go when it comes to pocket sprung mattresses. Above that and it's only for the show. All in all, this is a great pocket spring system.
A handmade mattress wouldn't be complete without a hand-tufted cover. For a finishing touch, our moisture-absorbent cotton is enriched with durable wool and hand-tufted for a premium feel and added element of durability and longevity.
When it comes to covers, you should always look for a hand-tufted one, as they tend to last the longest, keep the wool evenly spread and they're also a clear indicator of a handmade product.
Review of Signature 3000 Crystal Pocket Sprung Mattress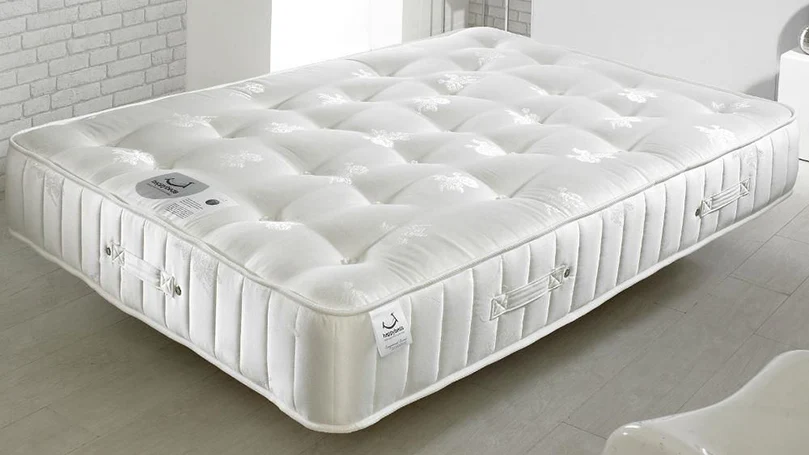 There aren't a lot of things not to like about this mattress. It is compactly filled with natural materials such as horse hair and lamb wool. The finishing is remarkable, the pocket sprung system is as good as it gets and according to our findings, you don't need to flip or rotate it as nearly as often as some other pocket sprung mattresses. But even if you did, side handles make that job easy.
The mattress is very cool and breathable, cotton cover easily absorbs all the excess moisture and while we're on the subject of absorbing stuff – if you sleep with a partner, the pocket sprung base will absorb all the movement resulting in a peaceful night of sleep.
On the flip side, this might not be ideal for you if you're lightweight or you prefer sleeping on your side. At that point, you're probably better off looking at some of the other product from the Signature line-up.
Excellent choice of natural materials
Great motion isolation
Top-of-the-line support, even for some of the heaviest sleepers
Fairly firm and uncomfortable for side and lightweight sleepers
It's not hypoallergenic
Not the greatest and pain and pressure relief
What we like about Signature 3000 Mattress
Excellent full-body support and alignment
Great breathability and temperature regulation
Much better motion isolation compared to the other pocket sprung mattresses
What we didn't like about Signature 3000 Mattress
Not good at pressure and pain relief around the core areas
It's not hypoallergenic
Sleeping on the side could cause some neck and shoulder discomfort
Check the alternatives to Signature 3000 Crystal Pocket Sprung Mattress
If it seems like the Signature 3000 Crystal Pocket Sprung Mattress might not be the right fit for you, take a look at these two alternatives.
Simba Hybrid Luxe Mattress
A Simba Luxe is a hybrid mattress is a great alternative to Signature 3000, as it offers almost all of the features, alongside a few of the others, as well. Unlike our reviewee, this one is hypoallergenic and it should be great for those that like to sleep on their side.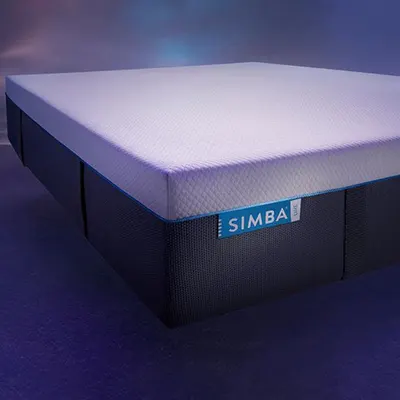 Great support and comfort
A solid choice for all sleeping positions
Hypoallergenic
Some heat retention issues
Could be too soft for some heavy stomach sleepers
Very expensive
If you're looking at something softer and lighter, Eve Light might just be the right choice for you. A memory foam mattress that is great at pain and pressure relief, unlike our reviewee. This would be a good choice for side and lightweight sleepers.
Read our detailed review of Eve Light Mattress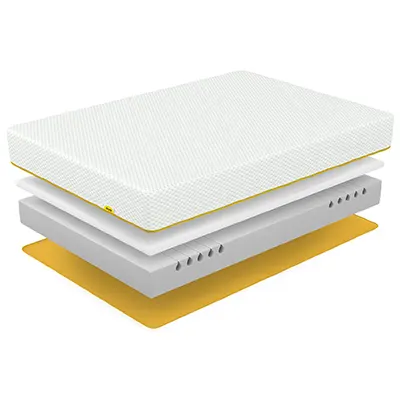 Good price to value ratio
Great design
Comfortable and supportive
Off-gassing
Not the most breathable memory foam mattress
Too soft for heavy sleepers
Consider Panda Memory Foam Bamboo pillow if you are buying Signature 3000 Crystal Pocket Sprung Mattress
A good mattress can be wasted without an accompanying pillow; therefore, we feel you should pair these two together. Panda Memory Foam Bamboo pillow will provide you with all the necessary support and comfort for your neck and head, while also keeping you quite cool during the night. Furthermore, this is a hypoallergenic pillow, which means you won't have to worry about dust mites or other allergens at any point.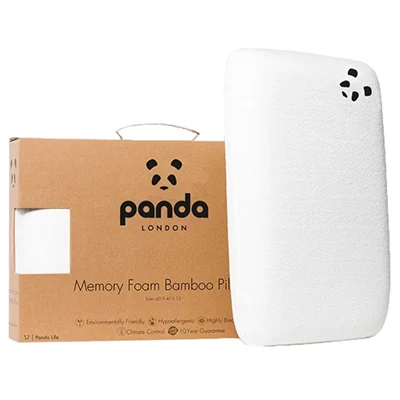 Great neck support
Hypoallergenic
Feels great against the skin
Could benefit from an additional pillowcase
Not as cool as a regular feather pillow
Some may find it to be too firm
What makes this product better than some other similar ones?
Signature 3000 Crystal Pocket Sprung Mattress is one of the best pocket sprung mattresses on the market. High spring count allows it to be better at motion isolation, support and overall comfort. Furthermore, the higher the spring count, the more durable and long-lasting mattress becomes. Finally, the price of this mattress really puts it in the great value category, which is not something we can say about some other high-count pocket sprung mattresses.
FAQs about your new Signature 3000 Crystal Pocket Sprung mattress
Finally, we've wanted to end things off by answering several frequently asked questions. We firmly believe that sometimes the best way to describe a product is to answer a few straightforward questions, instead of just highlighting the key features because at the end of the day – there's only so much you can talk about a product based on a description.
Is the Signature 3000 Crystal Pocket Sprung mattress made entirely from natural materials?
In a word, yes. The comfort layers and the cover of a Signature 3000 Crystal Pocket Sprung Mattress are all made of natural materials.
How do I wash my Signature 3000 Crystal Pocket Sprung mattress?
There are various methods of removing various stains, but in general, you'd clean your mattress either by vacuuming or with a mixture of warm water and mild detergent. Baking soda and vinegar could also come in handy.
Is Signature 3000 Crystal Pocket Sprung mattress hypoallergenic?
No. Even though wool and cotton are naturally hypoallergenic, the Signature 3000 Crystal Pocket Sprung Mattress is not hypoallergenic as a whole.