Vesgantti Lavender Mattress Review
Vesgantti is a sleep company that has become famous for offering high quality hybrid and memory foam mattresses at affordable prices. We have already done a review of several of Vesgantti mattresses, and Vesgantti Lavender mattress caught our attention because of the addition of lavender. To what extent lavender is present, for whom this mattress is suitable and everything else about Vesgantti Lavender mattress you can find in the review by The Sleep Advisors.
Who is Vesgantti Lavender mattress for?
Since this is a medium firm mattress that has few layers of memory foam and hundreds of individual pocket springs, it fits all sleep positions. The side sleepers will sink as needed, and it is firm enough for stomach and back sleepers.
It is also great for allergy sufferers because it is made of hypoallergenic materials. And we highly recommend it for couples.
What do we use this product for?
We use Vesgantti mattress for support, comfort and pressure relief. It has 3 different zones, so the support is targeted and the pressure relief will be felt all over the body, especially at the pressure points. Couples also use it because it minimizes motion transfer, so you won't be woken up by your partner who is tossing and turning in sleep all the time.
Due to the lavender-infused cover, this mattress will help you sleep in a pleasant, romantic atmosphere. We also use it because of its breathability, which, although not the main feature of this mattress, is certainly satisfactory since it contains a lot of memory foam.
We use it for good night's sleep
We use it for support
We use it for pressure relief
We use it for breathability.
Features you should know about Vesgantti Lavender mattress
In this part of our review, we will address features you should know about Vesgantti mattress. Thickness, firmness, cover are just some of the features we will tell you more about.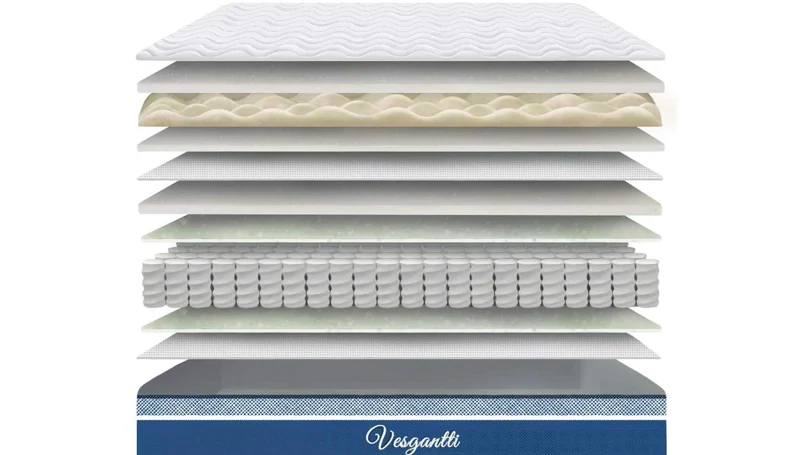 3-zoned lavender stretch knit cover
The first thing you'll notice when you see your new Vesgantti Lavender mattress is the 3-zoned lavender stretch knit cover. This cover is made of polyester and has lavender patterns that look very nice and contribute to the romantic atmosphere in the bedroom.
This cover is much more important than just visual appeal, because it also affects softness, bounce, absorbs vibrations and noise.
Zoned support with pressure relief
Support and pressure relief are among the 5 most important functions of any mattress, no matter what position you sleep in or what your overall expectations of the mattress are. It is necessary for the mattress to support you so that your spine is in a neutral position and to alleviate pressure in pressure points.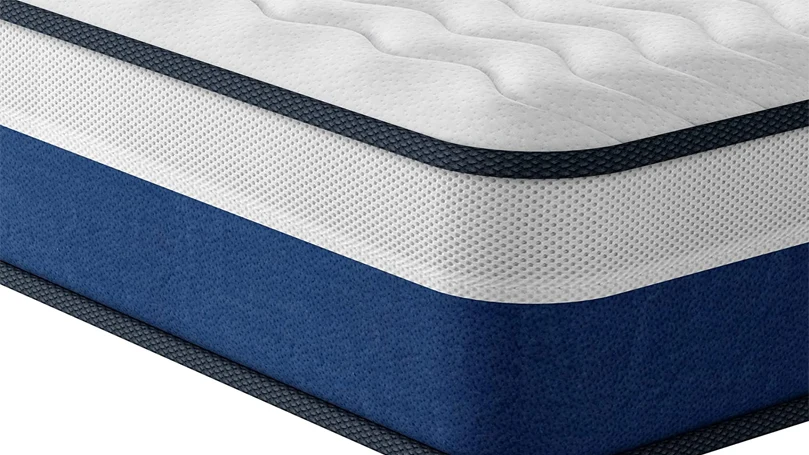 This mattress will succeed in that thanks to triple-zoned support and pressure relief. 3 different zones are there to provide unique support to every part of the body, because as we know, not every part of the body is equally heavy. Pressure points are located in several places. When you wake up in the morning after a night of sleeping on Vesgantti Lavender mattress, all the pain will go away.
Vesgantti Lavender mattress is 25 cm thick which is the average thickness for a hybrid mattress and some customers think that the foam layers should be thicker. Still, we think this is the ideal thickness, because Vesgantti company strived to make the mattress suitable for all sleep positions.
If the mattress is thicker, it would not fit stomach sleepers, and if it is thinner, it would be too thin for side sleepers. There is a possibility that people who weigh over 90 kg will find the memory foam layers of this mattress thinner than they should, but everyone else will be satisfied.
Pocketed coils are most important for isolating your partner's movements while you sleep. Since separate pocket springs are used, then each of the springs act independently and so they are able to make small adjustments to your every move and provide you with targeted support. Also, since they are individually wrapped, they do not transfer motion from one spring to another and thus make you completely independent of your partner's movements. Forget the moments when your partner woke you up because he or she is restless sleeper. You will not have those problems anymore thanks to this mattress.
If you've ever had a mattress or pillow that contains foam, you know that breathability and heat retention are probably the biggest problems of this material. That is why this mattress has a mesh border that improves ventilation.
Thanks to this type of border, the airflow is undisturbed and you will not be too warm during the night. This is especially important for hot sleepers who often can stand memory foam. If you buy this mattress during summer, you will instantly notice better breathability.
It is always difficult to objectively rank a mattress on a firmness scale from 1 to 10, because it very much depends on preferences and body weight. Nevertheless, we can say with considerable certainty that this is a medium firm mattress and that 99% of customers will agree with us. It is soft enough to be comfortable and firm enough to provide support.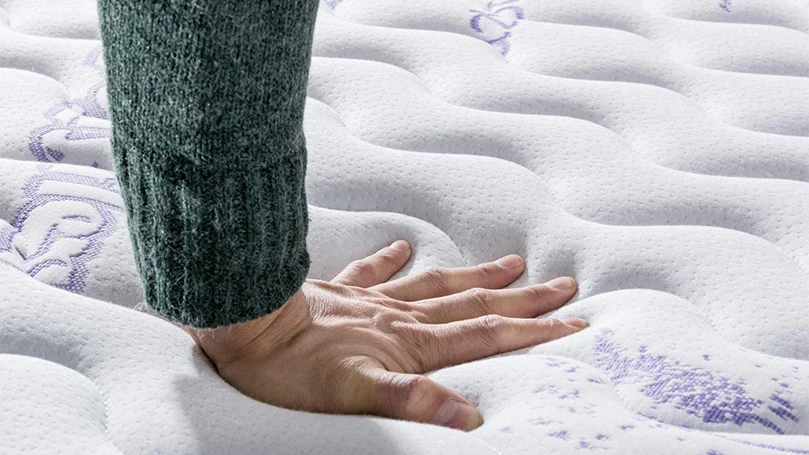 10 year warranty & 100 nights trial
If someone made a custom mattress for you, respecting your every request, again, even such a mattress could not be 100% comfortable and suitable for the first few nights. Vesgantti company knows this and therefore gives you the opportunity to try this mattress for 100 nights and return it if it does not suit you, which means that this is a risk-free purchase.
Also, Vesgantti Lavender mattress comes with a 10 year warranty so you can be sure you are going to use it over the next decade.
Review of Vesgantti Lavender mattress
Vesgantti Lavender mattress is 25 cm / 10 inch pocket sprung memory foam medium firm mattress. Because of these features, it is suitable for all sleep positions, so whether you sleep on your side, stomach or back, you can buy it. It is available in as many as 11 sizes – 5 UK sizes and 6 EU sizes so you will find the right size for each bed.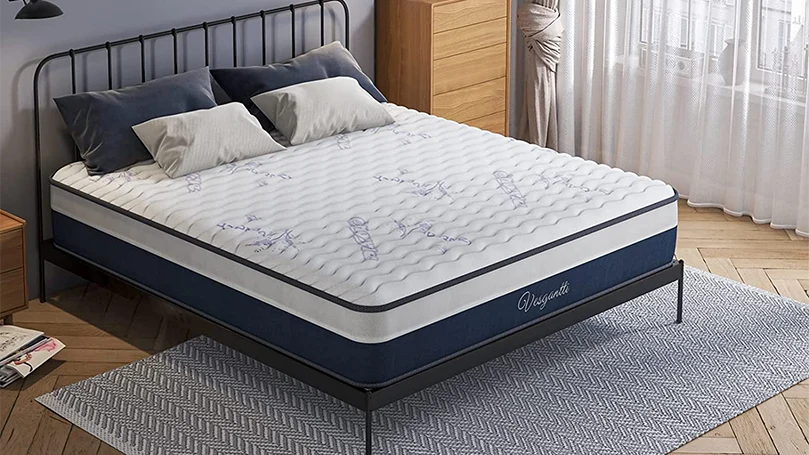 It has a ventilated mesh border for improved breathability, which is essential for hot sleepers as well as for allergy sufferers. Due to good air circulation, dust mites and other allergens do not accumulate. Also, it is hypoallergenic. You have 100 nights to try it and you are covered by a 10 year warranty.
Type: Hybrid
Depth: 25 cm
Warranty: 10-year
Hypoallergenic: Yes.
10 year warranty
Silent
Ventilated borders.
Off-gassing
Durability concerns
Not for pain relief.
What we like about Vesgantti Lavender mattress
Value for money is really great
Suitable for all sleep positions and for couples
It is hypoallergenic and CertiPUR-US certified.
What we didn't like about Vesgantti Lavender mattress
Some customers have complained of back and rib pain, so while pressure is relieving, it is not best for those with chronic pain
There are some durability concerns, although it comes with a 10-year warranty so you don't have to worry.
Heavier people would like the memory foam layer to be thicker.
What makes this product better than some other similar ones?
Value for money is what makes Vesgantti Lavender mattress better than some other similar products. At an affordable price you get a high quality hybrid mattress that is comfortable, supportive and pressure relieving. Also, breathability is very good as well as hypoallergenic characteristics. The 3 zoned lavender stretch knit cover is worth mentioning too. We would expect the mattress of this price to come with a 5 year warranty, but in this case you get a 10 year warranty which is great.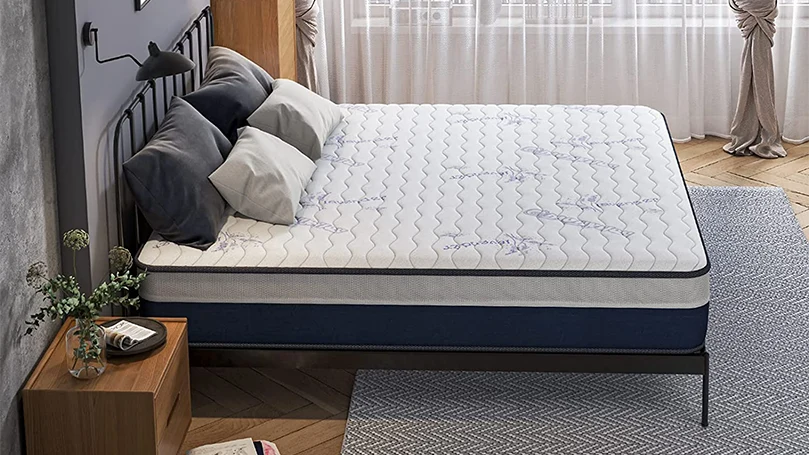 How did we test the product?
Choose the appropriate size, enter the address and just a few clicks separate you from ordering this mattress.
Your new mattress arrives vacuum packed directly to your door, in 3 to 5 working days. When it arrives, know that you will not be able to use it right away because even though it only takes a few minutes to expand, it takes about 3 days to reach full size. During those three days, we expect the memory foam odour to disappear.
After those three days, we started testing it and the testing lasted all week. As the mattress is a big investment and something that is of utmost importance for the quality of your night's sleep, we had to check every detail.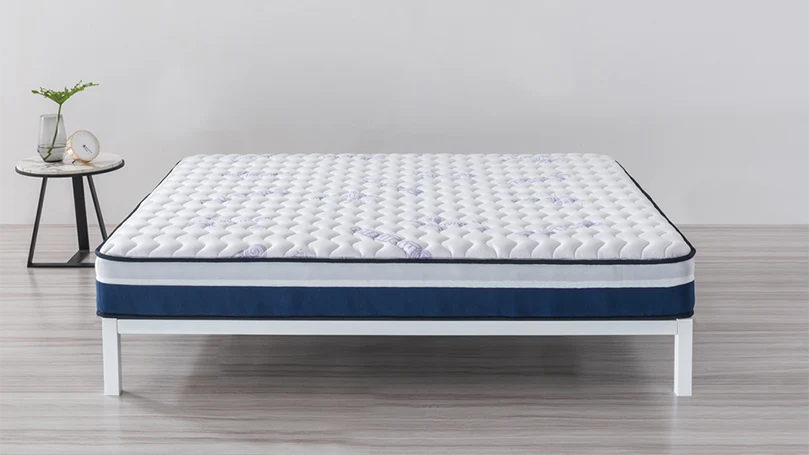 Testing has shown that it is really suitable for all sleep positions, as well as for hot sleepers and allergy sufferers, so this is a very versatile product. During the durability test it did not get the highest marks, but the warranty is valid for 10 years, so that is not a cause for major concern.
FAQs about your Vesgantti Lavender mattress
We wanted to wrap up things by giving you answers to some of the frequently asked questions about your new Vesgantti Lavender mattress.
How long does Vesgantti take to deliver?
If the delivery address is somewhere in the UK Mainland, then you can expect the mattress to be delivered to you in 3 to 5 working days, and if you live outside of UK Mainland then it takes 5 to 10 working days.
Do I pay for the delivery of Vesgantti Lavender mattress?
No, you don't have to pay for Vesgantti Lavender mattress, free delivery is included.
Is Vesgantti Lavender mattress good for all types of sleepers?
Yes, it is equally suitable for side, back, stomach and combination sleepers because it is medium firm and supportive so it is best mattress in terms of versatility.
How do I clean my Vesgantti Lavender mattress?
Yes. Stomach sleepers can enjoy a good night's sleep on this mattress.