Silentnight Essentials Pocket 600 Mattress Review
If you are in the market for an affordable pocket sprung mattress that will give you a great night's sleep, and you want pocket springs instead of memory foam, then Silentnight Essentials Pocket 600 mattress looks like a potentially good choice. In this in-depth review by The Sleep Advisors you will find out more about this mattress.
Who is Silentnight Essentials Pocket 600 mattress for?
It's not uncommon for sleep companies to notify customers which sleeping positions their product is suitable for, but this time Silentnight didn't give us that information. 
Generally, this means it can be suitable for all sleep positions. In our opinion, Silentnight Essentials Pocket 600 mattress is best for back and side sleepers, whereas some stomach sleepers might find not an ideal choice for their sleep.
Add a header to begin generating the table of contents
What do we use this product for?
We use Silentnight Essentials Pocket 600 mattress to provide ourselves with a comfortable and hypoallergenic sleeping environment. It provides a medium level of support to the body, so we use it for both support and comfort. It is hypoallergenic, so you can be sure that you will not find dust mites and bud bugs nowhere near your bed. Therefore, it is great for:
Back sleepers
Side sleepers
Some of the stomach sleepers
Sleepers on the budget who want a good pocket sprung mattress
Sleepers who want a double sided mattress.
Features you should know about Silentnight Essentials Pocket 600 mattress
As buying a mattress is crucial for a good night's sleep, we will break down the most important features you should know about Silentnight Essentials Pocket 600 mattress. Once you know more about these features, it will make your decision whether to buy this product much easier.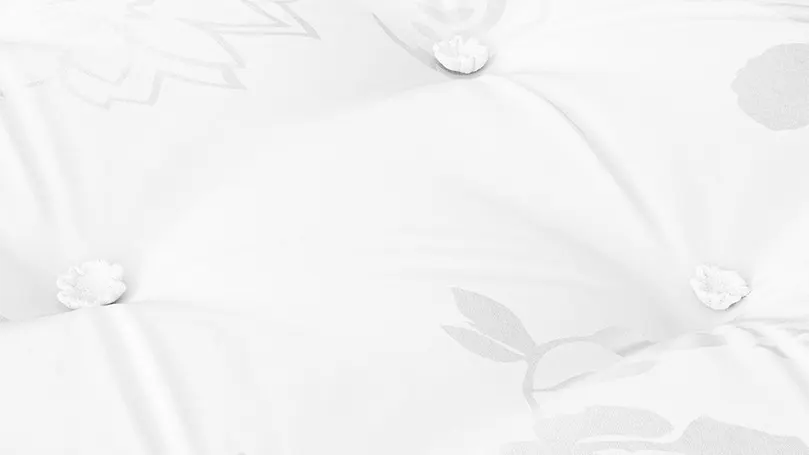 One layer of 600 pocket springs
The heart and soul of this mattress are 600 individual pocket springs and they are located on the bottom of Silentnight Essentials Pocket 600 mattress. Each of these 600 pocket springs works individually, all of which result in providing you with a comfortable and supportive mattress. Every single one of these springs will take on the contours of your body and then you will get personalized support across your whole body.
Also, each of 600 individual pocket springs absorbs the movements, in order to reduce the motion transfer and make the mattress suitable for two people to sleep on it, without disturbing each other.
The market in the United Kingdom is dominated by medium firm mattresses, and this one also falls into that category. It is completely logical that manufacturers generally opt for medium tension mattress, because in this way they create a balance between comfort and support, and make the mattress suitable for all sleep positions.
If you are of average build, the firmness of this mattress will suit you. It's firm enough not to sink too much, and soft enough to be comfortable. However, if you are a side sleeper who has a lower body weight, then you will probably need a softer mattress, while heavier stomach sleepers will want to buy a bit firmer mattress.
Gel-infused comfort filling for breathability
Instead of regular memory foam, Silentnight Geltex Ultra 3000 mattress comes with a gel-infused comfort filling layer for improved breathability and airflow, as well as additional comfort.
Appropriately named Geltex, this 11 cm deep layer is designed to achieve optimal airflow and active cooling, all while being responsive and flexible at the same time. So, not only will you sleep cool, but you'll also sleep comfy and cosy.
Hypoallergenic Ecocomfort fibres
The more and more UK sleep companies join Panda, as the leading UK eco-friendly sleep company, and they are starting to pay more attention to being environmentally conscious. Silentnight company has therefore created Eco Comfort fibre, that are made entirely of recycled plastic bottles, which has a very positive impact on the living environment and our budget, since fibres gained from recycling are cheaper compared to some other types.
Silent Night Eco Comfort fibres form a layer located above 600 pocket springs and it is a highly breathable layer that has the task of cooling you. Eco Comfort fibres are hypoallergenic as well.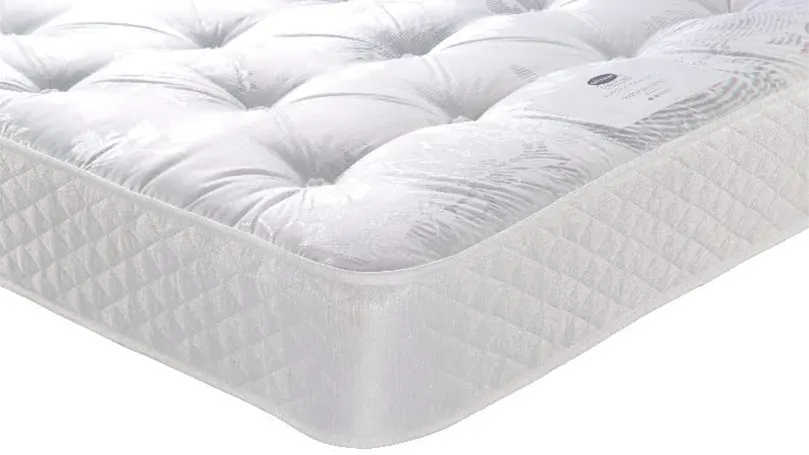 Woven & durable Damask cover
Damask is a luxurious type of fabric that has existed since the Middle Ages. Damask used to be made exclusively of silk, but today Damask is the name for material that has such a design, and in addition to silk, it can also be made of cotton, polyester, wool and other materials. If you see pattern visible on both sides of upholstery, that is probably Damask.
Damask is often used for mattress covers. This finely woven fabric is of great quality so the Damask cover on Silentnight Essentials Pocket 600 mattress is very durable.
Silentnight offers two types of Essentials Pocket 600 mattress, single sided and double sided. Double-sided is, of course, more expensive, but the difference in price is very small, so it is better choice to buy double-sided. Then you will be able to flip your mattress every couple of months and thus significantly reduce wear and tear, and we especially mean the appearance of dents. If you buy a single-sided model, then you will only be able to rotate it, but you will not be able to flip it and get a completely fresh sleep surface.
If you opt for a single side Silentnight Essentials 600 mirapocket mattress the depth will be 24 cm, and if you go with the double-sided option then it is 26 cm. We definitely recommend that you choose 26 cm, because it is desirable that the mattress is at least 25 cm thick, although it depends on the material too.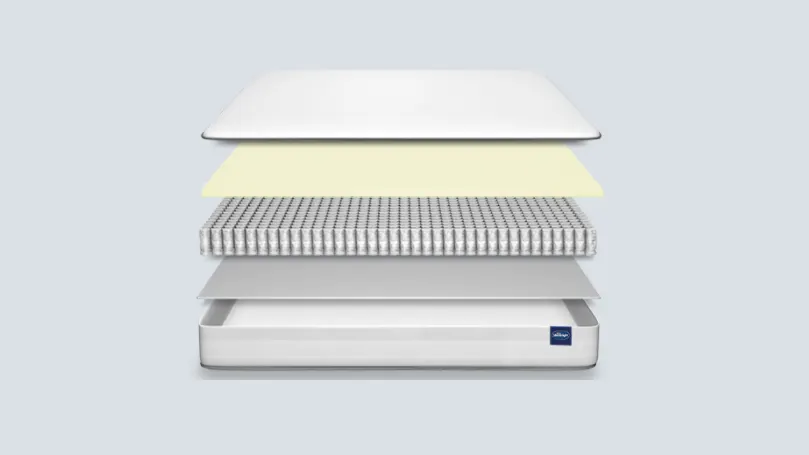 The higher your body weight, the thicker the mattress should be. Also, if you are lighter, then a very thick mattress can be too firm for you. That is why this 26 cm thick is a great choice for different types of people.
Chemical-free and foam-free
Eco Comfort fibers are not the only thing that makes this mattress eco-friendly. Throughout the manufacturing process of this product, it is not treated with additional foam and chemical treatments to avoid polluting the environment and exposing you to harmful chemicals. This means that there are no toxic chemicals in it. It is even foam-free, and we know that foam is one of the most widely used materials in the sleep industry, but Silentnight wants to offer you one foam-free mattress.
A 3 year guarantee is a satisfactory duration of the guarantee, when we consider that it is a very affordable and a new mattress. Although the 3 year warranty is not even close to the 10 year warranty that some high-end mattresses come with, when you compare the prices it will be clear to you that this is a great offer. Enjoy sleeping soundly as the warranty covers you for 3 years!
Review of Silentnight Essentials Pocket 600 mattress
Silentnight Essentials Pocket 600 mattress consists of three layers. The first layer, furthest from you, consists of 600 individual pocket springs that give you support, shape towards your body and reduce motion transfer. The next layer is made of Eco Comfort fibers that are breathable and hypoallergenic, obtained from recycled plastic bottles. All this is encased in a very durable woven Damask cover. It is suitable for all three sleep positions if we talk about average built people.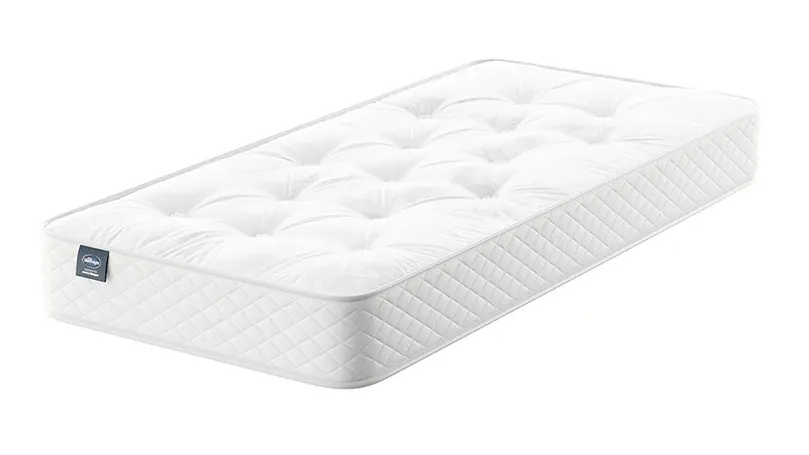 The mattress is 24 cm thick if you buy the single-sided version, and the 26 cm thick  when you opt for double-sided version. It is completely free of all chemicals so you don't have to worry whether your sleep will be natural and free of chemical treatments. As we said – the majority of sleepers will enjoy it, whereas some stomach sleepers might find it to be a soft mattress. All in all – it is a good price for such a high-quality mattress.
Type: Hybrid
Firmness: 7.5/10
Mattress depth: 26 cm
Warranty: 3 years
Size: Single, Small Double, Double, King.
What we like about Silentnight Essentials Pocket 600 mattress
It is eco-friendly, vegan-friendly and cruelty-friendly
A luxurious Damask cover is high quality and durable
Suitable for all bed frames
It is approved by the National Bed Federation.
What we didn't like about Silentnight Essentials Pocket 600 mattress
Pressure relief could be better, so it's not an ideal choice for those who have neck and back pain
The cover is not removable, so you have to use bedding
3 year warranty is not bad, but customers would definitely like to be covered for at least 5 years.
What makes this product better than some other similar ones?
We like Silentnight Essentials Pocket 600 mattress overall, but what we think makes it better than some other similar ones is eco friendliness. Fibres obtained by recycling plastic bottles are used for one layer so the company thinks of the nature and environmental preservation. It is also vegan-friendly. The zoned support with Mirapocket springs, eco friendly materials, hypoallergenic Silentnight Eco Comfort fibres, medium support, a good spinal alignment and less partner disturbance are the strong sides of this quality product which will be more than enough to convince you to go for this excellent mattress.
How did we test the product?
Free delivery to your room of choice is included, and you will probably wait 14 days, depending on location and availability. Delivery service is limited to the UK mainland and Northern Ireland.
It would certainly be desirable for your mattress to arrive faster than this, but it is worth the wait. When you receive Silentnight Essentials Pocket 600 mattress, you will need to leave it for a while to regain its full size, as it arrives rolled. Kudos to Siletnight company, because off-gassing is not present, except for the usual smell of new products.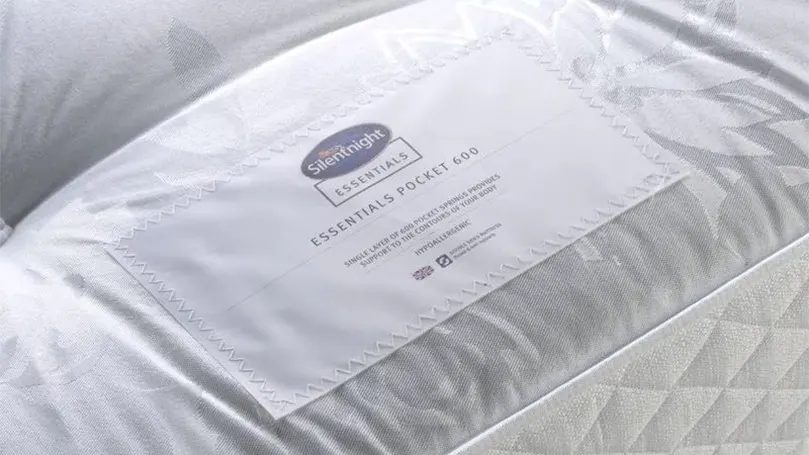 When the mattress was completely straightened, we first did a quality inspection. All seams are well done, and the Damask cover gives it a luxurious look. Overall, the workman ship is at a high level, far higher than the price would suggest. The overnight test confirmed to us that generally all sleep positions can sleep on it. Of course, the level of comfort and support that an individual customer will receive depends on many factors, not just the sleep position. Breathability is fine, hot sleepers are unlikely to complain.
Since the cover is not removable, we had no way to conduct a maintenance test.
FAQs about your Silentnight Essentials Pocket 600 mattress
If there is anything else you are interested in about the Silentnight Essentials Pocket 600 mattress and something that can help you decide whether to buy it, we will do our best to wrap up this review with answers to frequently asking questions.
Is Silentnight Essentials Pocket 600 mattress vegan-friendly?
Yes, all the materials as well as the process of making this mattress are vegan-friendly.
What type of sleepers should opt for Silentnight Essentials Pocket 600 mattress?
If we are talking about people of average build, then Silentnight Essentials Pocket 600 mattress will suit them regardless of the sleeping position.
How do I clean my Silentnight Essentials Pocket 600 mattress?
The cover is not removable, so you can vacuum it and spot clean, and it is recommended to use machine washable bedding.
Does Silentnight Essentials Pocket 600 mattress have a trial period?
Yes, you have 60 nights to try it and return it if you are not satisfied.
What's the difference between Miracoil and Mirapocket?
The Miracoil system keeps all springs together, by forming a sort of a link. On the other hand, the Mirapocket system keeps all the springs separated and ensures that each spring is nested individually.