Silentnight Geltex Ultra 3000 Mattress Review
If you're struggling with a bad case of backaches, you've probably stumbled upon Silentnight Geltex Ultra 3000 mattress that seems to be just the mattress to help you wake up pain-free. Well, if you want to know if that's really the case, stick around with us for a few more minutes and read our in-depth review.
Who is Silentnight Geltex Ultra 3000 mattress for?
Silentnight Geltex Ultra 3000 is a medium-firm hybrid mattress that is slightly closer to being firm than it is to medium. On that note, we guess you could call this one an orthopaedic mattress to some extent.
As such, Silentnight Geltex Ultra 3000 Mattress is ideal for everyone that struggles with sleep-related pain in the back, hip or shoulder area. The substantial level of support this hybrid mattress will provide you with should be more than enough to eliminate the persistent aches.
Add a header to begin generating the table of contents
What do we use this product for?
Silentnight Geltex Ultra 3000 mattress can be used as your main sleeping surface or your go-to master bedroom mattress. It is quite an imposing mattress standing almost 40 cm deep, and as such, it is able to provide you with long-lasting comfort and support.
Furthermore, as we've already mentioned, due to its medium-firm(er) feel, this hybrid mattress will also be able to assist you with alleviating chronic pains caused by a faulty, bad mattress. Therfore, this premium mattress is perfect for people looking for:
A soothing pressure relief
A high level of comfort
Medium soft to firm level of firmness
Hip, shoulder or back pain relief.
Features you should know about Silentnight Geltex Ultra 3000 mattress
This is by no means a cheap product. Quite the opposite, in fact. On that note, you should really know more about Silentnight Geltex Ultra 3000 Mattress before you decide to drain your bank account. Here are some features and characteristics you should be aware of.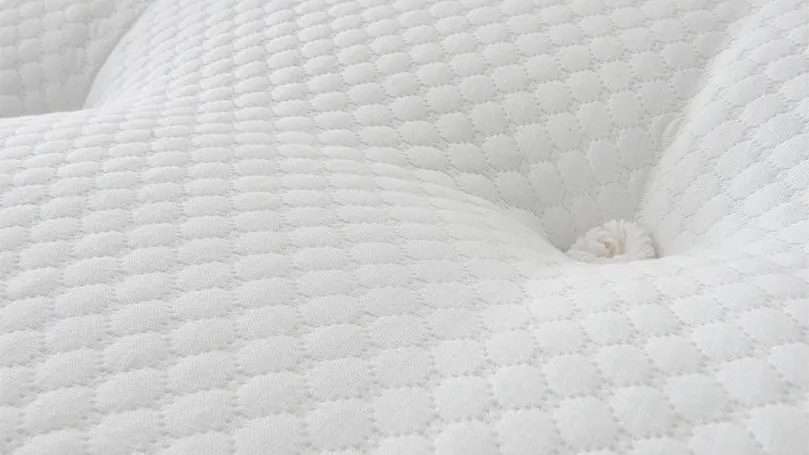 2000 individual Geltex Mirapocket springs
The main feature of this hybrid mattress have to be 2000 individually nested, full-sized Mirapocket pocket springs.
The Mirapocket support system offers excellent and tailored support, weight distribution, and supports adequate spinal alignment, regardless of your sleeping position. Therefore, the Mirapocket zoned springs adjust to your body and therefore offer the ultimate comfort.
As every pocket spring is able to move independently from one another, you can expect tailored and personalized support and comfort at any given position. There is no need to get a mattress topper to make sure you get more support – as this memory foam mattress in combination with springs gives everything you need for a good sleep.
Ultraflex 1000 mini springs for additional support and lack of motion transfer
On top of the Mirapocket pocket spring support system layer, we can see another layer of individually nested pocket springs, only this time in a smaller form factor.
The Ultraflex layer is composed out of 1000 mini pocket springs that provide you with additional support and contribute to creating a motion-free sleeping surface.
The fact that these pocket springs are so small is their biggest advantage. Due to their small size, they are only able to shrink and expand so much, and that is precisely what makes motion isolation so good with this mattress. Therefore, a good night's sleep is guaranteed.
Gel-infused comfort filling for breathability
Instead of regular memory foam, Silentnight Geltex Ultra 3000 mattress comes with a gel-infused comfort filling layer for improved breathability and airflow, as well as additional comfort.
Appropriately named Geltex, this 11 cm deep layer is designed to achieve optimal airflow and active cooling, all while being responsive and flexible at the same time. So, not only will you sleep cool, but you'll also sleep comfy and cosy.
Anti-dust-mite & anti-allergens knitted Purotex cover
Silentnight Geltex Ultra 3000 mattress comes with a non-removable cover, but for a very good reason.
The cover of Silentnight Geltex Ultra 3000 Mattress is a hand-tufted sleep surface that contributes to a to firmer feel and adds some extra support. But that's not all there is to it.
The entirety of this cover has been treated with Purotex, which is what makes this mattress hypoallergenic. Since this cover is anti-allergenic, anti-bacterial and anti-dust-mite, you won't have to worry about losing your precious sleep if you're one of the people struggling with allergies. Fresher night's sleep is exactly what you get!
This is a massive mattress, to say the least. It is 37 cm deep, and depending on the size, it can weigh over 55 kg. It's safe to say that rotating this mattress would be pretty much impossible without the side handles. Fortunately, Silentnight Geltex Ultra 3000 Mattress does come with side handles, but still – don't expect to be able to rotate this mattress single-handedly. You will most definitely need an extra pair of hands, even with these nifty side handles.
Fortunately for you and your back, this giant of a mattress is single-sided. You won't ever have to flip or turn it. The only maintenance you'll ever have to do is rotate the mattress heat-to-toe once every three months, and that's it.
If you want, you can rotate the mattress once a month for the first three or four months, just to ensure even break-in.
To be perfectly candid, rotating isn't optional – it's required. If you want to keep your warranty and your mattress in good shape – you will have to do it.
The blessing and the curse of this mattress is its giant form factor. Weighing in over 55 kilos and standing at 37 cm tall, this deep mattress might be a problem if you don't have a sturdy bed frame, to begin with.
Also, if you have bad knees or you're a senior citizen, keep the height in mind, as it might prove to be quite difficult to climb on and off the mattress if you place it on a tall bed frame.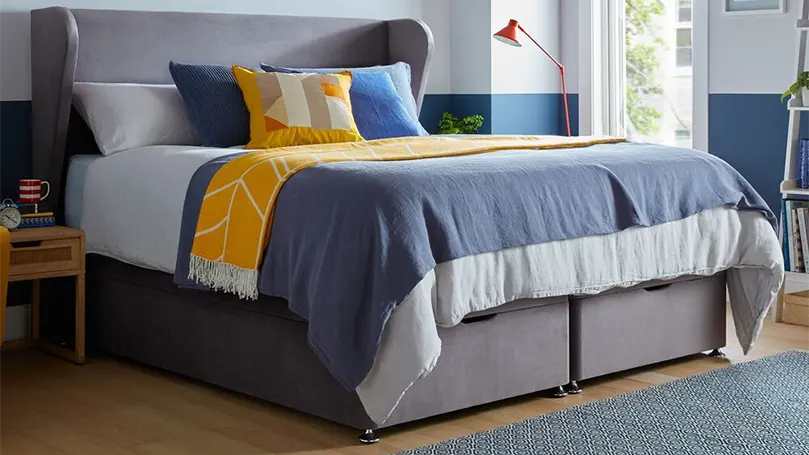 Also, most fitted sheets or mattress protectors won't fit, so that's another thing to keep in mind. you'll have to go with deep-fit sheets.
On the bright side of things, the mattress looks really imposing, and this level of depth certainly contributes to its durability and longevity. Just consider some deep fitted sheets tp make everything luxurious and elegant.
Finally, if you are eco-conscious and vegan, you'll be pleased to know that not one bit of this mattress or its materials have been tested on animals or have come from an animal source. Silentnight Geltex Ultra 3000 Mattress is as vegan as a mattress can be.
Review of Silentnight Geltex Ultra 3000 mattress
And now, for the review of Silentnight Geltex Ultra 3000 Mattress.
First things first, this is a massive mattress. Silentnight Geltex Ultra 3000 Mattress might just be too big of a mattress for some bed frames, but then again, it will look majestically powerful in your bedroom.
Obviously, the main feature of this hybrid mattress are the 3000 individual pocket springs divided into two layers – 2000 full-sized Mirapocket pocket springs and an additional 1000 Ultraflex mini-springs. These, coupled with an 11 cm deep layer of Geltex, gel-infused memory foam, bring forth a substantial amount of support.
This is a medium-firm mattress, leaning towards the firm, so you can expect it to be quite efficient when it comes to alleviating back and joint pain. Furthermore, the cradling feeling of Geltex and Ultraflex springs will make sure the mattress doesn't feel firm around your core areas by providing you with more than good pressure relief.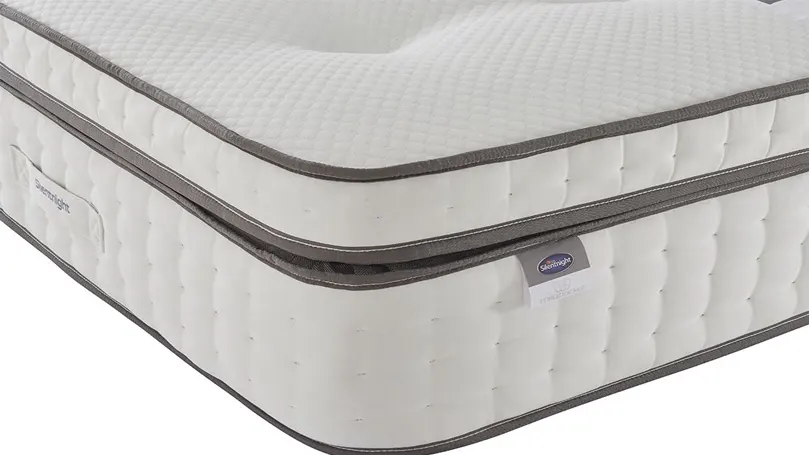 On the other side of the spectrum, you will have some overheating issues with this one, but nothing too drastic. 11 cm of foam is still 11 cm of foam – gel-infused or not. However, the bigger problem is the size of this mattress. It's quite hard to find proper sheets for this one, but more importantly, a bed frame that can easily support both your and the weight of your new hybrid mattress. Therefore, consider the old mattress you used on your bed frame and calculate the weight of this new mattress. Combine it with your body weight so you could get an approximate total weight that your bed frame needs to carry and choose accordingly.
Finally, this one also suffers from inadequate edge support, which is a common problem for spring-supported mattresses such as this one.
Type: Hybrid
Firmness: 7.5/10
Mattress depth: 37 cm
Warranty: 5 years
Size: Single, Double, King Size, Super King Size.
Excellent support
Good pressure and pain-relieving properties
Excellent average customer ratings
Durable and long-lasting.
Sup-par edge support
Not the most breathable mattress
It might be too firm for some customers.
What we like about Silentnight Geltex Ultra 3000 mattress
Just as advertised, Silentnight Geltex Ultra 3000 Mattress offers a great level of support
Despite being pretty firm, Silentnight Geltex Ultra 3000 Mattress is more than good at alleviating pressure around the core areas
It will last you well beyond the 5-year warranty that comes with it
An average rating value above 9.
What we didn't like about Silentnight Geltex Ultra 3000 mattress
Silentnight Geltex Ultra 3000 Mattress is impossible to single-handedly move or rotate
Noticeable sinking around the edge of the mattress, both when sitting and lying next to it
If you prefer sinking into the mattress – this one is definitely not for you. It will be too firm for some sleepers.
What makes this product better than some other similar ones?
What makes Silentnight Geltex Ultra 3000 mattress better than some other similar mattresses is its excellent full-body support. Unless you're sleeping near the edge of this mattress, you will be sleeping in a perfectly aligned posture all night long – especially if you prefer sleeping on your stomach.
How did we test the product?
To bring you this review, we first had to order Silentnight Geltex Ultra 3000 mattress. As is always the case with Silentnight's mattresses, we've had free delivery to the room of our choice, which is usually not something we find particularly useful around the office, but considering how heavy this mattress is, delivery to the room of your choice is more than welcome.
For such a massive mattress, we're pleased to say that it had fully expanded relatively quickly. We've noticed some off-gassing once mattress delivered, but that's to be expected when you have an 11 cm thick layer of memory foam.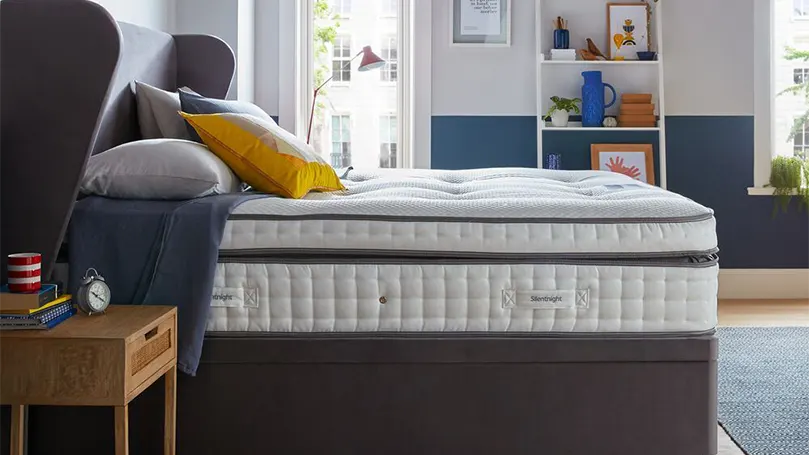 As per usual, we've all spend ten nights sleeping on this mattress, in various conditions, so we could write an objective review. All in all, as you read a while ago, this mattress was quite good. It was supportive, objectively comfortable, and apart from some edge support issues and being a nuisance to rotate and move around – nothing was severely wrong with this one.
It passed the roller and kettlebell test with flying colours, which is always nice to see. We're confident this one will easily outlive its 5-year warranty period.
FAQs about your Silentnight Geltex Ultra 3000 mattresses
In the end, we thought it would be best if we were to finish our review by answering some of the questions potential customers have asked about this mattress.
What type of sleepers should use Silentnight Geltex Ultra 3000 mattress?
Inarguably, stomach and back sleepers will get the most out of this mattress, but heavyweight side sleepers will also find this mattress comfortable.
How do I clean my Silentnight Geltex Ultra 3000 mattress?
The only way to clean Silentnight Geltex Ultra 3000 mattress is by vacuuming or wiping it with a damp cloth.
Does Silentnight Geltex Ultra 3000 mattress have a removable cover?
No. Silentnight Geltex Ultra 3000 mattress does not come with a removable cover, which means it could benefit from a mattress protector if you can find the one that fits.
How is firm Silentnight Geltex Ultra 3000 mattress?
Silentnight Geltex Ultra 3000 mattress is just a smidge above a medium-firm mattress, with a firmness rating of 7.5 out of 10 on the firmness scale.