Simba Hybrid Kids Bunk Bed Mattress Review
Simba's mattresses are among the most comfortable and highest quality mattresses you can find on the UK sleep market. If you've ever used them, you already know that. When time comes to buy your child a mattress, you definitely want to give him or her the perfect night's sleep. We have tested the only mattress for kids Simba has to offer and here is our review.
Who is Simba Bunk Bed mattress for?
It is for kids aged three and up. Due to its versatile characteristics, the mattress is suitable for all sleep positions. Most children at this age are combination sleepers, and even if the child always sleeps in the same position, this mattress will be comfortable and supportive.
It is suitable for both single bed and bunk bed, since it is slim enough even for most bunk beds. Simba Bunk Bed mattress is a great choice if the child has allergies or asthma.
Add a header to begin generating the table of contents
What do we use this product for?
We use Simba Bunk Bed mattress to make the perfect sleeping environment for our child. And the mattress is certainly of utmost importance for every person. We use it for support, comfort and pressure relief it provides. Simba offers a wide range of pros for this product and therefore, it is great for:
A comfortable night's sleep
An additional level of support
The hypoallergenic properties
An improved breathability & temperature regulation.
Features you should know about Simba Bunk Bed mattress
Simba Bunk Bed mattress is a complex mattress and that is why we have singled out as many as 8 features you should know about. In this part of our review you will be able to learn more about each of the features individually.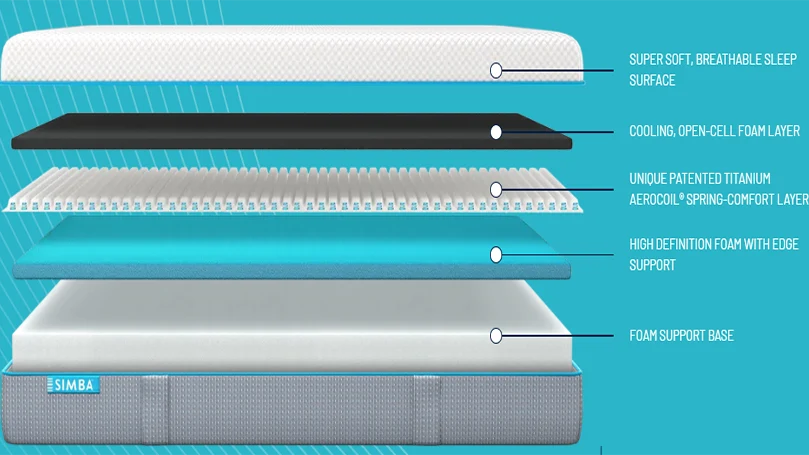 Same as the Simba Hybrid mattress for adults, Simba Bunk Bed mattress has 5 layers. Unlike the adult version which is 25 cm thick, kids model is 16 cm thick. Children weigh incomparably less, so 16 cm is more than enough, while 25 cm would be unnecessary.
The first layer is the sleep surface, followed by 4 layers in charge of support, pressure relief and comfort. The closest to the child is open-cell foam, then spring layer, HD foam and at the bottom there is a foam support base. We will dedicate a separate paragraph to each of the layers.
Hypoallergenic knitted cover
You don't have to worry in this case, since the Simba Bunk Bed mattress has a hypoallergenic cover. In addition to being hypoallergenic, the cover is also very soft and comfortable. Breathability is at the highest level, and also cover wicks moisture away, so the child will always be comfortable and the sleeping surface will be dry.
Mattresses which have foam layers are often hot, because foam is a material that retains heat, which is very uncomfortable, especially during the summer months. That is why Simba implemented, instead of a classic Visco foam, an open-cell foam in this mattress. Open-cell foam layer is up to 30 times more breathable compared to traditional memory foam.
Unobstructed air flow is one advantage and the other advantage of open-cell foam is the addition of graphite which makes this layer not only breathable but also cooling. That is why your child will not sweat during the night, but will rather have sound sleep as there is no excess foam nor materials that will make him/her hot.  Read a bedtime story for a good night's sleep and let your kid enjoy the top bunk bed for kids!
HD Foam with reinforced edge support
Edge support is important for two reasons. The first reason is that edge support is necessary in order to be able to use the entire surface of the mattress. And the second reason is motion isolation. In the case of Simba Bunk Bed mattress motion isolation is irrelevant, but edge support is very important.
Children toss and turn even more than adults and that is why you will often notice that your child sleeps on the edge of the bed. If the edge support is insufficient, then the child will be uncomfortable. High definition foam aims to solve this problem because it has reinforced edges.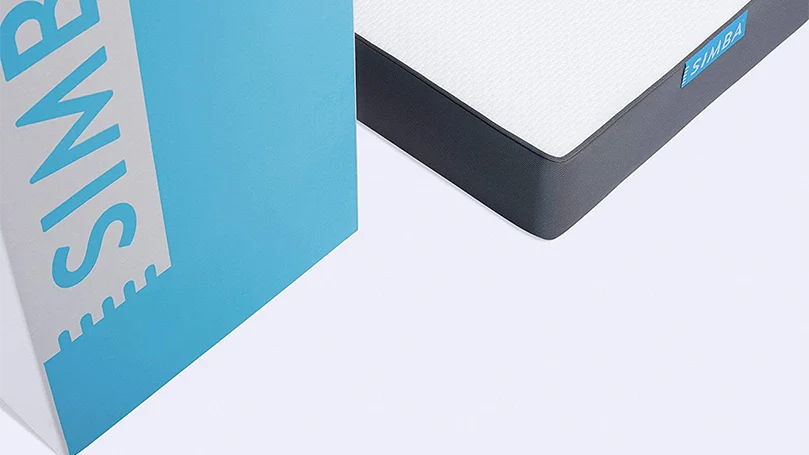 Titanium Aerocoil pocket springs
Titanium Aerocoil pocket spring layer is located in the middle of this mattress, if we take a look at the cross section. The primary role of this layers is even body weight distribution but also support. Although titanium probably associates you with something very firm, this mattress is not too firm. It is medium-firm, ideal for all sleep positions.
Titanium springs are essential for durability and pocket sprung mattresses usually have significantly longer lifespan. They are practically indestructible, especially since a child who probably weighs less than 30 kg will sleep on the mattress.
The support base is the thickest of 5 layers and is made of high density foam. High density foam is long-lasting, and this is especially important for the base layer, which must provide stability to the entire mattress. High-density foam is firm, but as we already said, overall mattress is medium firm because other layers are much softer compared to support base. Over years, support base won't lose its characteristics.
Simba Bunk Bed mattress is CertiPur certified, which guarantees that the foam used is safe for both your child and the environment. CertiPUR is a respectable organization that voluntarily test and analyze the properties of foam used for sleep products. CertiPUR certification is the main certificate of this type both in Europe and USA.
Combustion of fossil fuels is the main way in which carbon dioxide is emitted. Carbon dioxide is very harmful to humans, especially to the respiratory organs, and also creates a greenhouse effect that affects global warming. That's why it's important to buy products that are carbon neutral, such as this mattress and other Simba's products. This means that the company takes carbon emissions into account during the production process and it is something you can confirm for yourself by visiting Simba website.
The Simba Bunk Bed mattress is not for babies and toddlers. This mattress is suitable for children aged three and older. Due to its dimensions, it will be suitable for your three-year-old child, all the way to teenage period and even later, because this mattress is the size of many adult mattresses. With proper care, this will be one of your best investments, since you kid can use for many years.
Review of Simba Hybrid Bunk Bed mattress
Simba Bunk Bed mattress, often called Simba Hybrid kids mattress, is a 5-layer construction, 16 cm thick mattress designed for children from 3 years of age. Due to its dimensions (190 x 90 cm), it can be used by teenagers and even adults. The first layer is hypoallergenic, breathable cover. This cover is very soft and durable, and the only downside is that it is not removable.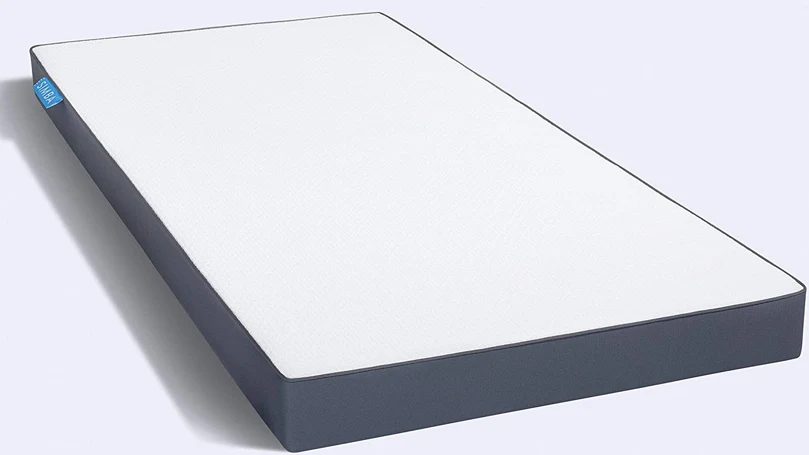 The layer under the cover is open-cell foam, which is breathable due to the construction and also cooling because of the addition of graphite. Titanium Aerocoil springs provide support and distribute body weight evenly. Beneath the springs are two layers that provide support and stability. The HD foam layer has edge reinforcement, and the base layer is made of firm, ultra-durable high density foam.
Your child can try this Simba mattress for 200 nights and decide if he wants to keep it. It is CertiPUT certified so it is safe. Also, this mattress is eco-friendly since it is carbon neutral.
Type: Hybrid
Firmness: 7/10
Spring count: N/A (Titanium Aerocoil pocket springs)
Mattress depth: 16 cm
Size: 90x 190 x 16 cm (only this size is available)
Warranty: N/A
Trial period: 200 nights.
A fantastic support
High level of durability
CertiPUR certified.
High-price when compared to similar products
A slight off-gassing
A waterproof mattress protector not included
Not for cot bed.
What we like about Simba Bunk Bed mattress
This mattress provides the ideal balance between support and comfort
Fantastic comfort back to front and side to side
Craftsmanship and durability are truly fantastic
Simba Bunk Bed mattress is 190 cm long, so the child will be able to use it for a very long time.
What we didn't like about Simba Bunk Bed mattress
This is one of the most expensive mattresses for kids on the UK market
Slight off-gassing will be present 24 to 48 hours, but the mattress is completely safe to use.
What makes this product better than some other similar ones?
Simba mattresses are well known on the sleep industry and it is clear that this is a bit more expensive Simba product. If you want a premium mattress for your child, then you will not go wrong in case you choose Simba Bunk Bed mattress. This mattress has all the features of a premium mattress for adults, and this is not often the case with kids mattresses.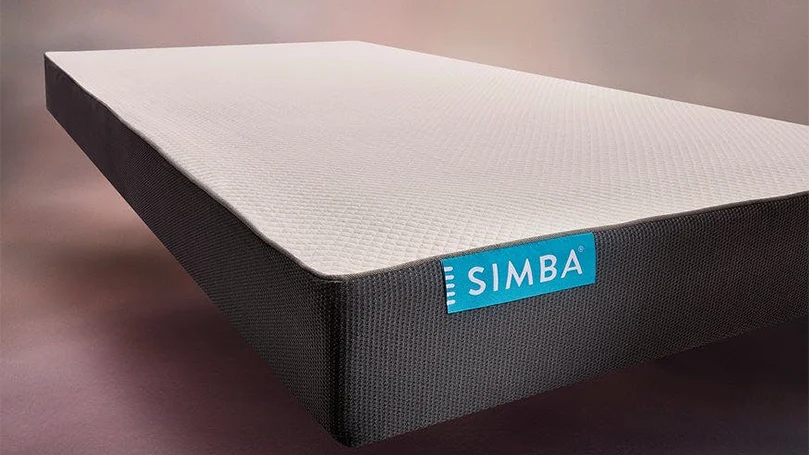 Kids mattresses are very often basic, while this model has 5 layers, both comfy foam and springs, so it is a hybrid. The supportive springs are high quality titanium springs that will ensure healthy posture for your kid while sleeping. Breathability is great so your child will find it comfortable all year round. It is very durable and a 200-night trial is more than enough, as it takes about 30 days for the body to get used to the new mattress.
How did we test the product?
Since the Simba Bunk Bed mattress is available in only one size, ordering is very easy. All you have to do is leave your details and wait for the mattress to be delivered to you.
When it arrived, we first checked for damage and the level of workmanship. As expected, workmanship is at the highest level. Then we did durability tests, and during the first two days we waited for the off-gassing to go away.
Although this is a mattress for kids, it was easy for us to test it, because the size is also suitable for adults. Our test team, at least those members of the test team who are shorter than 185 cm, tested it for several weeks. They came to very similar conclusions as when they tested the Simba Hybrid Mattress for adults. Although there is a slight difference since the model for children is 9 cm thinner, all performances are almost the same.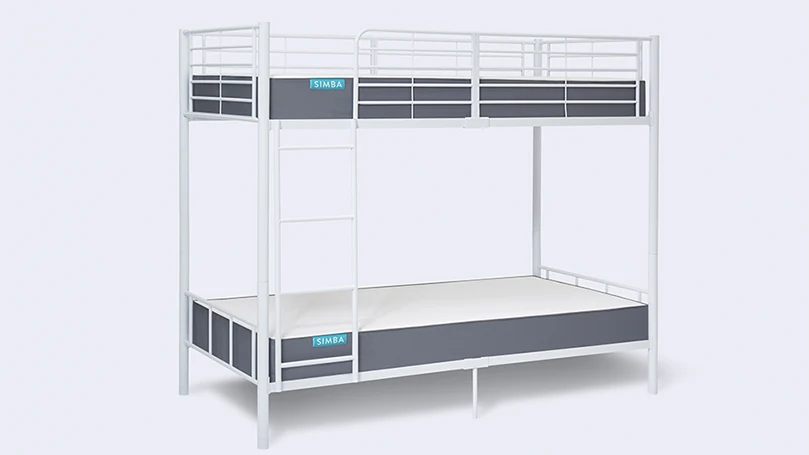 We expect that your child will be very satisfied, because if the mattress is so comfortable and supportive for adults, it will certainly be for children. Several members of the test team gave the mattress to their children to test it and although the children cannot give such a detailed review, they told us they had slept great.
FAQs about your Simba Bunk Bed mattress
Following are frequently asked questions about your new Simba Bunk Bed mattress and the answers to these questions will wrap up this review.
Is there a special mattress for bunk beds?
There are mattresses specially adapted for bunk beds, but also every mattress can be suitable for bunk bed if the size of mattress matches size of bunk bed.
Can I put Simba Bunk Bed mattress on a slatted base?
Yes, slats will give stable and supportive base for mattress.
How long will Simba Bunk Bed mattress last on average?
Simba Bunk Bed mattress is very durable, thanks to Simba engineering so it will last at least 5 years, but we expect it to last even over 10 years.
How do I clean Simba Bunk Bed mattress?
Cover is not removable, so you can't clean this mattress other than vacuuming and you should use bed sheets, which won't negatively affect breathability.