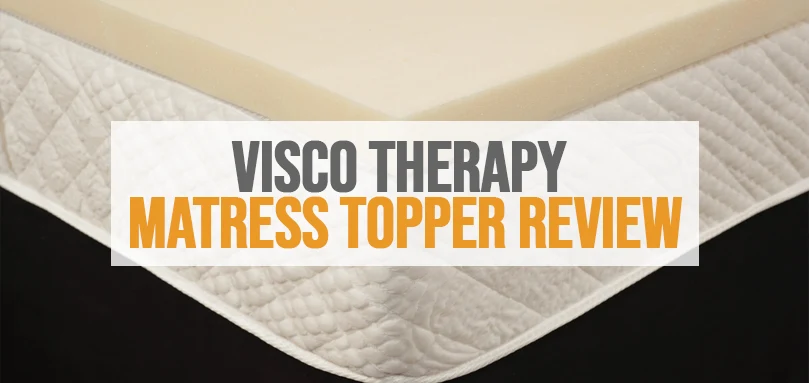 Visco Therapy Mattress Topper Review by The Sleep Advisors
Could Visco Therapy mattress topper be the move if you are looking to breathe in some new life into your old mattress or simply make your existing mattress a little bit better! The features that offers, body support and overall ratings make this brand and this product a worthy purchase.  Well, let's find out in our review more about it, as well as whether an average customer is going to be satisfied with the price, delivery and overall quality of this product.
Who is Visco Therapy Mattress topper for?
As is often the case with memory foam mattress toppers, the brand Visco Therapy topper is for those in need of some extra pressure relief and contouring from their mattress. With nothing but 7 cm of memory foam, Visco Therapy promises to deliver a lot more than just that, but for now – let's just say it's for those needing a little bit more comfort in their life.
Add a header to begin generating the table of contents
What do we use this product for?
To put it simply, we would use a mattress topper such as this one to rejuvenate our existing mattress. Whether the mattress we own is lacking softness, support or something else – the brand Visco Therapy  can probably help you deal with those issues unless they're too severe. At that point – you need a new mattress, not a topper.
Features you should know about Visco Therapy Mattress topper
Now, let us take a look at some helpful information about the features of this memory foam mattress topper. We prepared three features, which made this topper distinguishable among others that you can find on some of the shop or stores.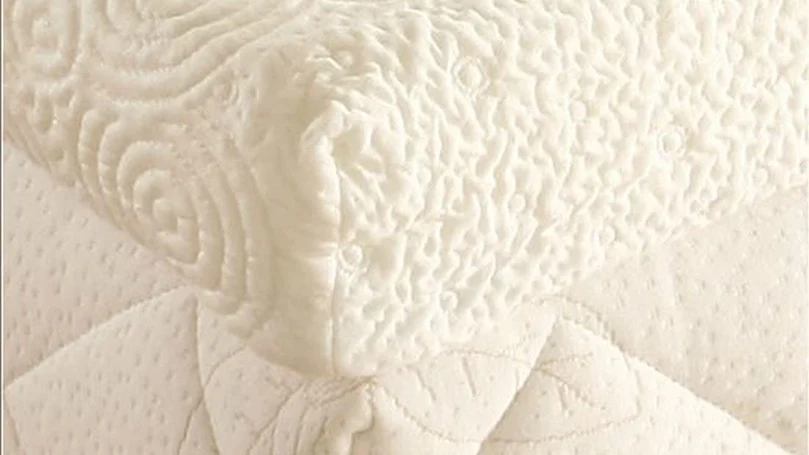 At 7 cm thick, this one falls into the category of ideally deep mattress toppers. Some of them are thinner, some of them could be even thicker, but at 7 cm, you get just the right amount of support, comfort, contouring and all the other nice things.
Also, with a memory foam layer this thick, you and your partner can expect to sleep as soundly as possible, as most of the movements will be absorbed by the memory foam, so this one could prove to be particularly useful to couples.
Removable & washable cover
The entire body of this topper is encased in a removable and washable jersey cover, which is always great to see.
Jersey fabric is a mixture of wool, cotton and synthetic fibres, which means it will be pretty decent and keeping things cool and dry, as well as fighting off the dust mites and other allergens. However, despite this cover being easily removable, it is not machine washable.
If you want to wash it, you'll have to have it dry cleaned.
Also, if you don't care about a mattress topper with cover, you can get this exact one without it. We don't know why would you, but you do have the option to do so.
Finally, the entirety of this mattress topper is made from 100% memory foam.
This memory foam topper was made in the UK, to British standards, so you can expect it to be free of any harmful chemicals and also be fire retardant. But most importantly, this memory foam topper enhances your sleep in more ways than one.
It's orthopaedic, in a way, so it will keep you both properly aligned and pressure-free. The foam is neither too soft nor too firm, which means you'll be sleeping on it in any position.
Review of Visco Therapy Mattress topper
When it comes to breathing in new life into your old mattress, Visco therapy memory foam topper really does manage to do so. At 7 cm deep, this mattress topper with cover can really transform the way your mattress feels.
It's medium-firm, we'd say, but that will greatly depend on the mattress you're using it with, so take that with a grain of salt. However, what won't change regardless of the mattress you're using it with is the fact that it is a high-quality, durable memory foam topper. It doesn't sink or dip, which is very important.
Now, as far as comfort and support go, that will also vary depending on the bed, but if the mattress is somewhat decent – this topper should feel pretty good, and you should get a good night's sleep.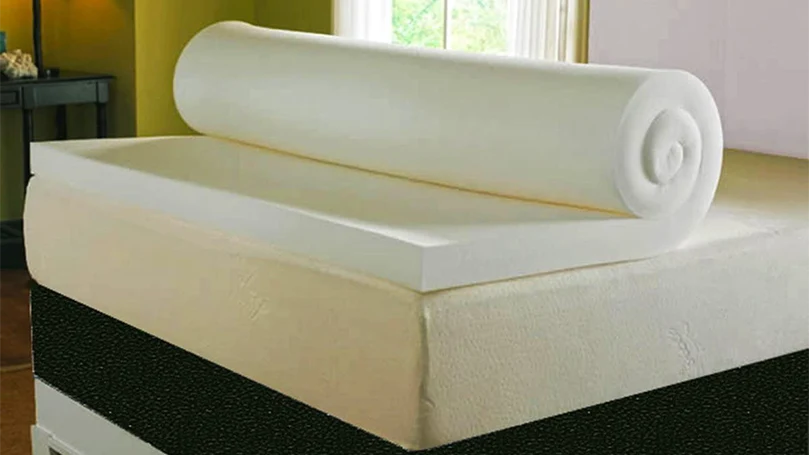 As we've already said, this is a mattress topper with cover, meaning you'll get to pull on a zip, remove the cover and have it dry cleaned whenever you like.
On the other hand, this is essentially a block of memory foam, so you will get hot during summer; there is just no way around it. Alternatively, if you are on the hunt for the summer mattress toppers, you can check our cooling mattress toppers to find your ideal one.
Arguably the biggest drawback is that this one won't fit most mattresses, as it only comes in one size. It is 135 x 190 cm, which is a standard Double, so you won't be pairing this one with a lot of mattresses, unless you don't want it to fit loosely.
Deep and comfortable
Free delivery and a 5-year warranty
Hypoallergenic.
It can get hot on a warm night
It only comes in Double size
The cover is not machine-washable.
What we like about Visco Therapy Mattress topper
A hypoallergenic mattress topper with cover that you remove
7 cm is the ideal depth for a mattress topper
Fast delivery
Simple design and colour.
What we didn't like about Visco Therapy Mattress topper
The cover can only be dry cleaned, which is quite inconvenient
Memory foam retains a lot of heat, making the topper too hot to sleep on during the summer
It is only available in one size, limiting its compatibility range.
Check the alternatives to Visco Therapy Mattress topper
Now, if you're in the mood for another mattress topper, here we have a few alternatives for you.
Panda is a known UK manufacturer, and their products usually sit really well with the majority of customers, and that's also the case for this mattress topper. This award-winning topper is remarkably comfortable and supportive, hypoallergenic, orthopedically approved, and will justify its high ratings and stars. Especially if you consider the price range and what other products you can get for the same amount of money .
This model is one of the biggest trademarks of Panda company so we higihly suggest to shop for this model. You're almost guaranteed to love it! Don't search anymore to buy a topper as we have a deal with high-stars rating!
Check our Panda Mattress Topper review to learn more.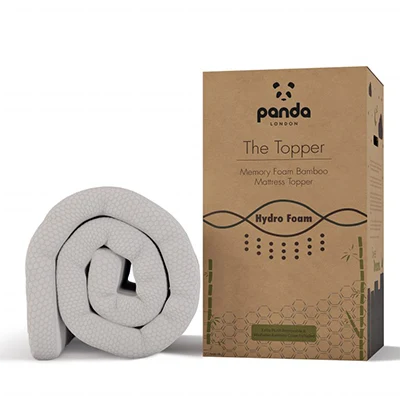 Very comfortable and supportive
Sustainable and hypoallergenic
It comes with a 10-year manufacturer warranty.
It might be too tall for stomach sleepers
Minor off-gassing issues
It may be more expensive than similar products.
Rejuvopedic Microfiber Mattress Topper
If you want to shop for a good topper that is not that expensive but still has a lot of stars and high ratings, this suggestion is going to be super helpful! If you're in the market for something extra soft and fluffy – then this is the right choice for you.
Unlike the high density memory foam toppers, this mattress topper with cover is more focused on bringing comfort rather than support. You get a warranty, improved comfort, it is made in the UK, it is UK to British standards and free delivery! You shouldn't miss this deal.
If you want to learn more about, we have a full review on Rejuvopedic Microfiber mattress topper.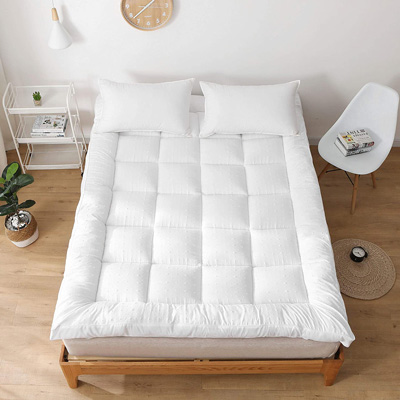 Fluffy and comfortable
Soft cotton cover
Affordable.
It is not hypoallergenic
Too hot for some sleepers
It doesn't add support for sleeping.
Consider Panda Luxury Bamboo Memory Foam pillow if you are buying Visco Therapy Mattress topper
If you get a memory foam mattress topper, you just have to pair it with a memory foam pillow, and we have just the right one for you. Panda Luxury Bamboo Memory Foam pillow is 12 cm tall and is made from 3rd generation supportive foam.
The foam is perfected to adequately support your neck and head while you sleep. Furthermore, this one is also antibacterial, sustainable, breathable and will last you a really long time.
We have an in-depth review on Panda Luxury Bamboo Memory Foam pillow so take a look and learn more about this amazing product!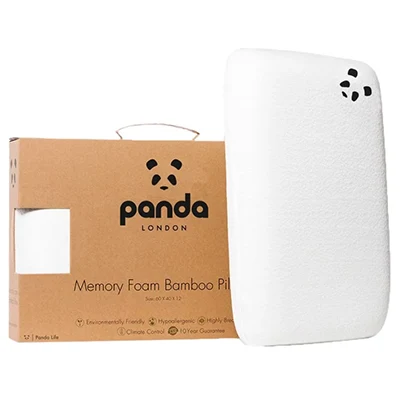 Hypoallergenic and antibacterial
Very supportive and comfortable
10-year guarantee, 30-day trial and a free delivery.
Not good for stomach sleepers
No removable cover.
What makes this product better than some other similar ones?
If we had to pinpoint a single thing that makes Visco Therapy mattress topper better than some others, we'd say that it has to be durability. Toppers don't usually come with 5-year warranties, which in itself speaks volumes of the quality of this product. An average customer would say that he is able to find cheaper products of the same category, but this purchase will definitely improve your nights sleep, thanks to its structure, technology that uses and overall quality. While it may not get the highest ratings in this review, this brand and this product will meet the highest requests of almost every customer. Although we will not give it 10 stars, we can be sure that we will not make a mistake if we give it 9 stars!
How did we test Eve mattress protector?
Naturally, the first thing we had to do is purchase the product. We've ordered our product off of Amazon, and in few days, we've received our rolled-up topper.
The first thing that struck us upon unpacking is the non-flattering colour of this cover. It's white, but not quite. Unfortunately, this off-white-kind-of-cream colour makes this topper look cheap and dirty, so we'd definitely recommend using a separate cover. However, this is not something that should lower the ratings and make you shop for something else, as this is only an aesthetic issue.
We've used this one on a range of mattresses. We've used it with memory foam, pocket spring and a hybrid mattress, and this one fared pretty well with all of them. Therefore, we could say that this particular model is very versatile as you can use it on all types of mattresses.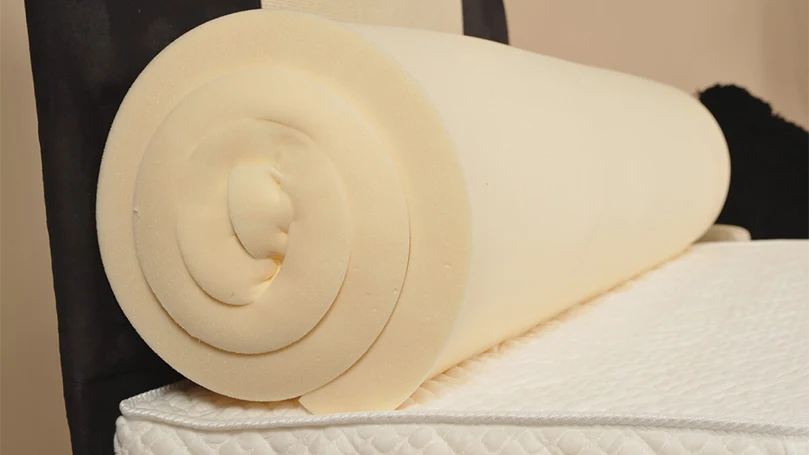 As far as the quality of the product goes – we don't have any complaints. It was quite pleasant to test this one out, and for our final review – we'd say this one is definitely worth the money. You should definitely buy it to give your bed another layer of comfort!
Far from it being that this is a perfect product, it does improve night sleep and deserves the top ratings. And when you factor in the cost of this thing – it's hard to say that this is not a bad deal.
FAQs about your Visco Therapy Mattress topper
Finally, let's wrap things up by answering some FAQs.
How do I clean my Visco Therapy Mattress topper?
To clean this product, you just have to unzip the cover and have it dry cleaned.
Do I need a fitted sheet over Visco Therapy Mattress topper?
No. Any sheet would do the trick, although a fitted sheet might be the best option if you don't want everything sliding around.
What mattress should I use for my Visco Therapy Mattress topper?
The best mattress to use with this one would be a firm mattress in need of some extra comfort.