Silentnight Squishy Mattress Topper Review
If you want to transform your old mattress into a soft, squishy, squidgy-feeling sleeping surface – you should probably check out Silentnight Squishy mattress topper on top of it. To understand why you should check it out – read the rest of our review!
Who is Silentnight Squishy mattress topper for?
Just like any other soft, squishy mattress topper, Silentnight Squishy mattress topper is for everyone that likes to sleep on a soft, cloud-like surface. 
This mattress topper could just offer you that small bit of comfort you lacked for quite some time, mainly because you couldn't afford more comfort due to your tight budget.
It won't transform your mattress into something completely different, but it will make it a lot more comfortable if ultimate softness is what you consider comfortable.
Add a header to begin generating the table of contents
What do we use this product for?
Well, there are two options.
Option number one is to use this mattress topper to breathe in some new life into your old mattress, although we wouldn't really advise doing that if your mattress is in really bad shape. 
The other, arguably better way to use this product is to simply change your mattress for the better by adding this super comfortable, soft layer on top of your mattress. These soft polyester fillings promise to deliver that extra bit of softness your mattress is lacking.
Features you should know about Silentnight Squishy mattress topper
What makes this mattress different? Well, just like any other topper, Silentnight Squishy mattress topper can also be defined by its unique features and characteristics.
The softness of this topper does not only come from within. Even though this topper is filled with soft, polyester fibre, that wouldn't mean much without an effortlessly smooth cover.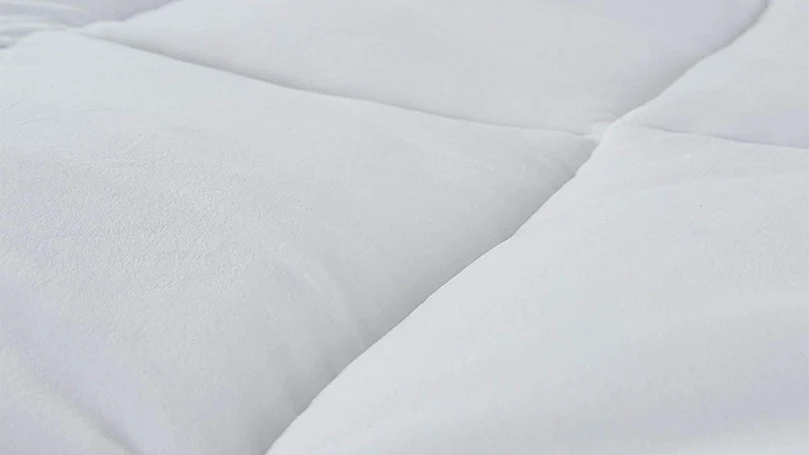 This velvet-touch cover promises to deliver incredible comfort whilst providing your skin with a soft, velvety touch. So much so, you might even begin contemplating throwing out your sheet and just sleeping on it. However, we wouldn't really advise doing that.
Air mesh walls for improved breathability and cooling properties
Even though polyester fillings aren't known for retaining heat, Silentnight didn't stop there when they were thinking about the breathability of their Squishy topper. Instead, they've added air mesh walls surround, around all four sides of this topper so that you can enjoy uninterrupted airflow during the entire night.
Side straps for a secure placing
Although we would prefer a non-slip base purely for aesthetic reasons, the Squishy topper comes with elasticated corner straps for secure placing. Even though the elasticated straps aren't a sight to behold, they do what needs to be done, and that is keep the topper securely in place, no matter how much you toss and turn during the night. And, at the end of the day, that is the only thing that you should care about.
One of the best things about this topper is that once it gets dirty, you just have to take it off and toss it in a washing machine. Due to the fact that this topper is both filled and encased in 100% polyester fibres, it can be safely washed in a washing machine at 30 degrees Celsius. On top of that, you can also tumble dry it on a slow cycle if you're in a hurry. However, we would advise against tumble trying – for the sake of durability and longevity. If you can, leave it out to air dry.
Another neat thing about the polyester nature of this topper is the fact that it is hypoallergenic. Simply by placing this topper on your mattress, whilst providing yourself with ultimate peace and comfort,  you could also lower your chances of allergies and forget about bacteria, mould or dust mites for as long as you're using it.
But they're not only that. These fluffy fibres also make up an irresistible squishy comfort layer for you to sleep soundly on. So, not only will your mattress topper, Silentnight Squishy keep you allergy-free, it will also keep you comfortable.
Finally, when you purchase this topper, you will also become entitled to a two-year manufacturer's guarantee. This warranty protects you from all the manufacturing defects that might happen during the first two years, but judging from the quality of this product – you probably won't have to rely on it.
Review of Silentnight Squishy mattress topper
Now, for the main event – the review of Silentnight Squishy mattress topper.
This topper does just what you'd expect from it – it makes your mattress feel softer and cosier. Is that enough for you? Well, we can't know that. That's entirely up to you. However, as far as what this topper is supposed to bring to the table, well, it does that in a pretty decent fashion.
As advertised, this topper is incredibly soft, cosy and hypoallergenic. It makes your sleeping surface feel softer, it stays in place during the whole night, and it doesn't attract mould and dust mites. It's easily washable in any washing machine, and if you were worried about overheating – don't be, because the air mesh walls surround offers excellent airflow.
All in all, whatever this topper claims to do – it does. There are no false promises made here, and we are happy about it.
Does that make this topper perfect? No. Absolutely not. This topper brings some level of support, though it is not the perfect at all. It won't offer any significant improvements as far as pressure relief, motion isolation, or any other important features go, so, if you want – you can hold that against it.
However, just remember – it also does not claim to do any of those.
Soft and cosy
Hypoallergenic
Machine washable.
Not that supportive as advertised
It could be a bit thicker
Pretty one-dimensional.
3 cool things we like about Silentnight Squishy mattress topper
It offers sinking, cosy comfort just like it promises
It is hypoallergenic
Machine-washable at 40°C.
Things we didn't like about Silentnight Squishy mattress topper
Offers no significant support 
It needs to be a bit thicker
We would've preferred an anti-slip base instead of elastic straps.
Check the alternatives to Silentnight Squishy mattress topper
Who says you have to choose Silentnight Squishy? If you don't like it – take a look at one of these alternatives.
Silentnight Impress 5cm Memory Foam Mattress Topper
Another topper from Silentnight, only this time it's not polyester we're talking about – it's memory foam. Memory foam is known for its softness, though you can expect noticing some off-gassing once you unpack it. 
Made from 5cm deep, soft and reactive memory foam, this is a topper you'd look for if you were after comfort, contouring, pressure relief and pain relief.
It is basically suitable for all sleeping positions, so you don't need to worry whether it will suit your sleeping position.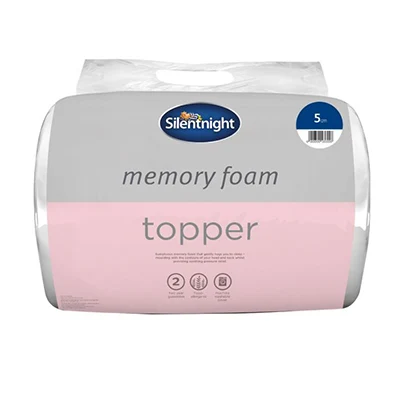 Comfortable
Pressure-relieving
Hypoallergenic. 
Expensive
Heat-retaining
Some minor off-gassing.
Silentnight Eco Comfort Mattress Topper
Now, if you'd like a more budget-friendly oriented alternative – here's one for you. Silentnight is known for being a high-quality brand so there is no fear regarding the overall quality.
Silentnight Eco Comfort mattress topper is made from 100% recycled plastic bottles. As such, it is not only good for the planet, but it is also very lightweight, soft, and fluffy as a cloud. And oh, it is very affordable.
Due to the popularity, we already had hands-on this mattress topper so you can check our full Silentnight Eco Comfort mattress topper review.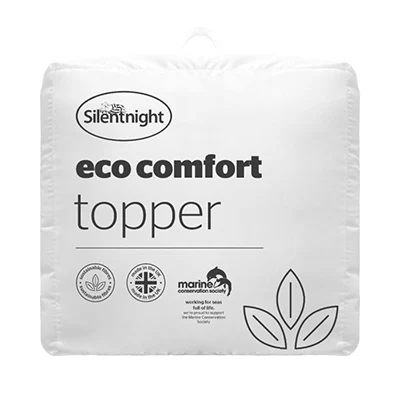 Very affordable
Soft and fluffy
Eco-friendly.
Not at all supportive
Non-hypoallergenic
Some durability concerns.
Consider Silentnight Essentials Pocket 600 mattress if you are buying Silentnight Squishy mattress topper
While we're on the subject of affordable, Silentnight Essentials Pocket 600 mattress could really benefit from a topper like Squishy. 
This pocket springs mattress is quite comfortable by itself, providing us with medium support. It is a good choice for side sleepers who want to opt for pocket-sprung system of coils that ensure a whole different level of comfort.
However, due to its pocket spring nature – it does require an additional top layer to really round things up. That is why these two would work together perfectly. Still, it will provide you with enough comfort even without the mattress topper. 
Do check our Silentnight Essentials Pocket 600 mattress review to learn more about this fantastic product.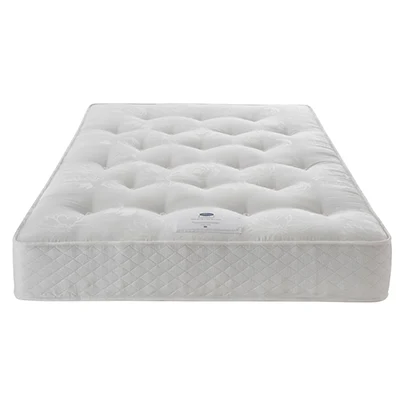 Very affordable
Breathable
Hypoallergenic.
Some durability concerns
Not pressure relieving
Not motion-isolating,
What makes this product better than some other similar ones?
Why should you buy Silentnight Squishy topper? What makes it stand out?
Well, to us, this topper does something that not many others do – it does what it says it does. Many manufacturers will promise you excellent cooling, comfort, support, pressure and pain relief, and more often than not – all of that together. However, what usually happens, you only get one, maybe two if you're lucky.
With Squishy, on the other hand – you get everything that you're promised. You get sweet, cosy comfort, fluffy feeling and hypoallergenic properties to top things off. Nothing more, nothing less, and we don't know about you, but we find that to be very refreshing in today's day and age.
How did we test the product?
When it comes to testing mattress toppers, especially the ones like the Squishy – there really isn't much to tell.
The process is simple. The first thing we do is order the product online. Fortunately for us, Silentnight sells their own products on their website, as well as on Amazon, so we get to choose the option that we prefer. In this case, we chose the official website. We've been met with free delivery, as is always the case with the UK residents, and after four working days – we had the topper in the office.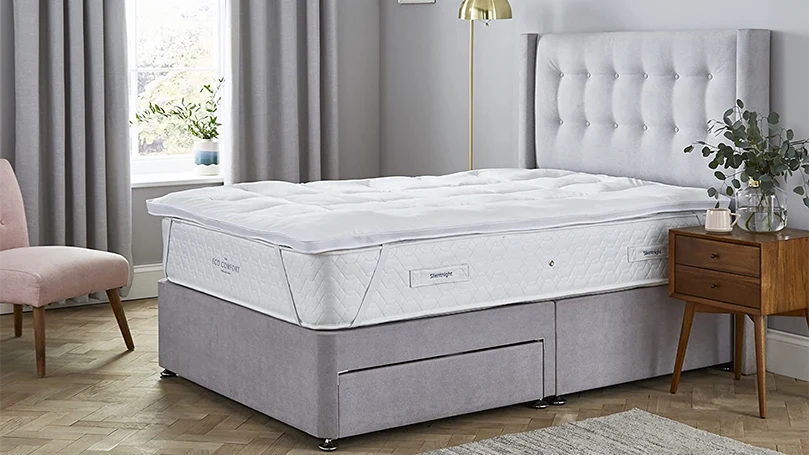 To make sure we don't write subjective, or possibly even a biased review – we've let everyone in the office test the topper. To be fair, let is not the right word, since that's everyone's job – but you get the point. Every single one of us had spent a few nights with this topper, and once we were all done – we've compared notes.
In this case, the notes we're pretty short and straight to the point, and we all agreed that this topper does exactly what it promises to do. It makes mattresses feel softer and cosier, it makes them hypoallergenic, and it doesn't make them hotter.
All in all, a positive outcome for this polyester topper.
FAQs about your Silentnight Squishy mattress topper
In the end, we wanted to wrap things up by answering a few FAQs we found interesting.
What level of firmness does Silentnight Squishy mattress topper offer?
If we had to put a number to it, we'd say 1 out of 10. This topper will make the mattress softer, not firmer.
Is Silentnight Squishy mattress topper good for all sleeping positions?
Since it's only 5 cm deep, this topper won't affect your sleeping position in any way. Your mattress, on the other hand, will.
Do I pay the delivery fee for my Silentnight Squishy mattress topper?
If you live in the UK – you don't. You get free delivery.