Firm Mattress Topper - When & Why Do We Need It?
Mattress toppers are a great way to rejuvenate an old mattress or make a new mattress perfectly comfortable. Just as mattresses differ in their characteristics, so do mattress toppers. While many toppers are soft, some toppers are used to add firmness.
Ever since a large number of people find out that a topper can really provide the necessary support, pressure relief, softness or on the other hand to add firmness, the sale of mattress toppers has skyrocketed. High-quality toppers will completely transform your mattress and you will feel as if you bought a new mattress, not a new topper, while mattress pads do not have such a big impact.
In many cases, customers opt for a topper when their mattress is too firm and uncomfortable. But there is also the opposite situation, when the mattress is too soft and unsupportive, so it causes back pain and other similar problems. Then a firm mattress topper is needed. We will give you answers to questions when and why you need a firm topper, and we have selected for you the top 5 firm mattress toppers in the UK to make your hunt for right mattress topper easier.
Add a header to begin generating the table of contents
Before you buy a firm mattress topper
Before you buy a firm mattress topper, you need to know in which cases the firm topper is not suitable. The first situation is if you already have a firm mattress. In that case, adding a firm topper will make your sleep surface as hard as stone, and that may not be comfortable.
Also, if you are side sleeper, especially if you weigh less than 60 kg, then a firm topper will cause shoulder and hip pain. Generally, side sleepers prefer softer mattresses and toppers. If you have a health problem, especially related to the musculoskeletal system, and you want to buy an extra-firm, orthopaedic topper, consult your doctor first.
What to consider when buying firm mattress topper?
Following are the most important things to consider when buying a best mattress topper and similar things you should consider for mattress pad too.
Pressure relief & firmness
When your mattress is too soft, then the logical choice is a firm topper. The firm topper is also even better at preventing wear and tear than soft topper. Which toppers belong to the firm topper category depends on many factors, and the main ones are your preferences and body weight. Certainly the firmness of one product is not the same for someone how has 60 kg and someone over 100 kg. But generally all toppers firmer than 7 on firmness scale from 1 to 10, are considered firm.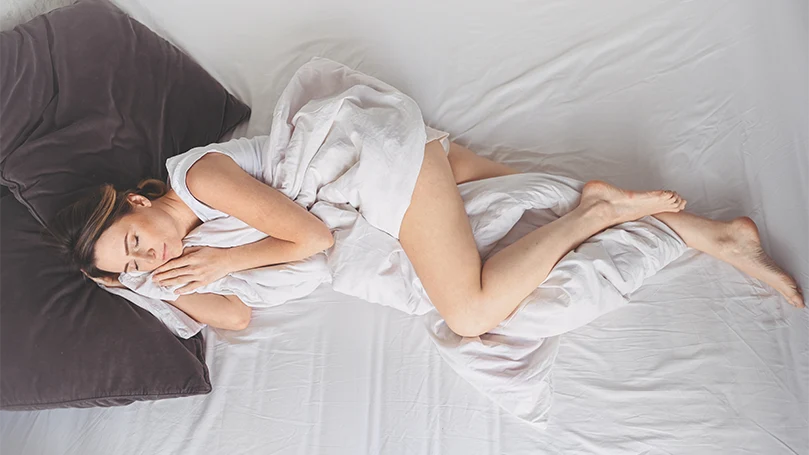 The firm topper should also be pressure relieving. This is influenced by the thickness, but also the characteristics of the topper itself, so when choosing, try to find a firm topper where a good balance is made between firmness and support on the one side and pressure relief on the other.
Your sleeping position plays the biggest role in choosing all sleep products, including the topper. Firm topper is a great choice especially for stomach sleepers. The firmness and support that such a topper provides will positively affect the position of the spine of the sleeper, as well as the position of every part of the body.
Many back sleepers will also benefit greatly from a firm mattress. Especially those with back pain. The number of side sleepers for which the firm topper is suitable is significantly smaller compared to the other two positions, as side sleepers need contouring.
Until a few years ago, there were not that many different types of toppers on the UK sleep market. Most of them were made of memory foam. But now the choice of toppers is almost as big as the choice of mattress. There are memory foam ones, hybrid, latex, feather and down, wool and many others.
Also, covers are made of different materials. Some are made of natural materials, such as cotton, and others of polyester. The most important thing for you is to choose high quality, durable materials, so that you know that the topper will be able to deliver the required performance for a long time.
There are toppers that are only 2 or 3 cm thick, and those that are over 10 cm thick. Thickness certainly affects the firmness, but also how much the topper will change the feeling you have on the mattress. The thicker the topper, the bigger the difference you will feel. So when you have a very old mattress, a thick topper is recommended.
Thinner toppers are often thinner than thicker ones, although that's not the only thing that affects firmness. Foam density also has a big impact, for example, when you buy a memory foam topper.
Tips for buying and using firm mattress topper
One of the general tips we always repeat is not to skimp on sleep products, especially when buying a mattress, topper and pillow. You are not going to buy those products every year, and they are of utmost importance for you night's sleep. Since the quality of sleep has a far reaching effect on your health, then sleep products are one of the most important investments for every person.
Another piece of advice we have to give you when buying a firm mattress topper is to choose high density foam. High density foam is very firm and durable, so the firmness will remain unchanged for years.
Choose firm mattress topper from reputable manufacturer because of the quality and durability
You should go with topper made of high density foam or if it is hybrid one, than pay attention to the foam layer
Warranty is very important, it should last at least 2 years, preferably more.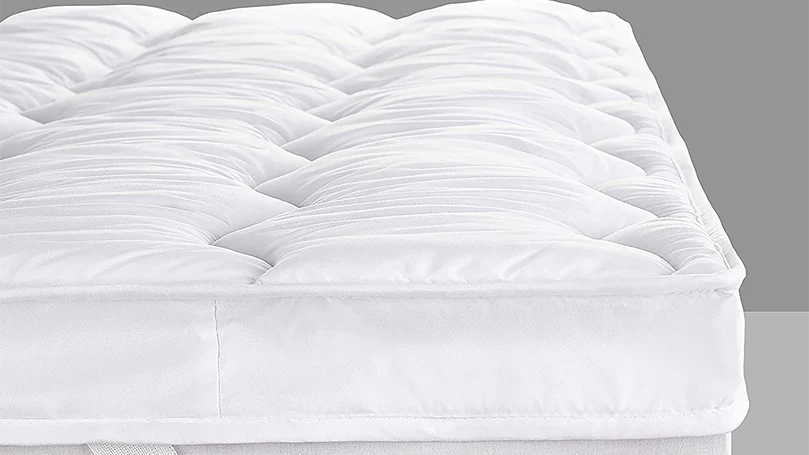 Top 5 firm mattress toppers
We had to research the market in detail to find the best firm mattress toppers that we would recommend, because there is a much larger selection of softer than firmer toppers. After many days and weeks of testing, these 5 have emerged as a best choice.
Next generation foam gives you a whole new sleeping experience.
This is a truly remarkable mattress topper, one of the best mattress toppers on the market. It will give you firmness and orthopaedic support, but without compromising comfort. On the contrary, it will further improve the comfort of your mattress.
5 cm of 3rd generation, gel-infused memory foam is certainly deserved for such performances, and night's sleep makes the bamboo cover even more pleasant. The bamboo cover is soft, breathable, and machine washable.  For more info, do check our review of Panda topper.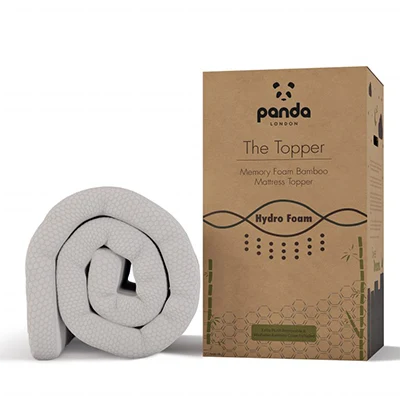 Hypoallergenic
Supportive
Breathable.
The quality and performance are at the highest level!
There are not that many hybrid toppers on the UK market, and the Simba Hybrid topper is one of the best. The closest to you is a very soft and highly breathable cover. Inside this topper are two layers of different foams, and between them is the Aerocoil spring layer with 2500 aerocoils.
The upper foam layer is made of open cell foam that is breathable, and below the Aerocoil spring layer is zoned foam support base, which provides stability, firmness and support. Topper is CertiPUR certified.
Read our Simba mattress topper review to find out more.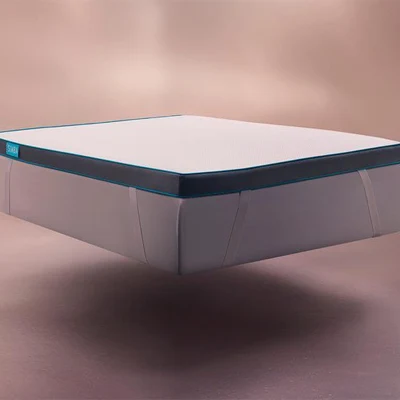 Premium product
Straps plus anti-slip base
Hypoallergenic
Slightly expensive when compared to similar products. 
3. Dormeo Octasmart Mattress Topper
The revolutionary Octaspring aerospace technology takes your sleep to the next level!
It would not be fair not to mention that the Dormeo Octasmart mattress topper is even more expensive than the Simba Hybrid topper, but as we said the price of the Simba topper is realistic, we consider the same for the Dormeo Octasmart topper. 
This is also a hybrid mattress topper, with two layers of foam and one layer of spring. Octaspring aerospace technology consists of special 3D foam springs, which combine the characteristics of springs and foam, with improved breathability.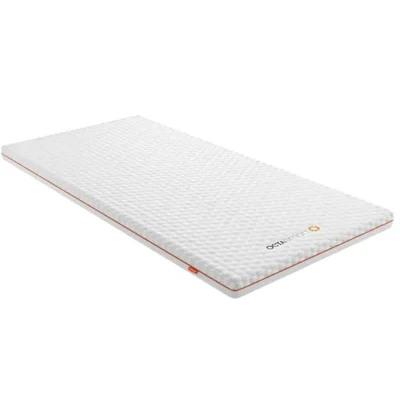 Highly durable
Supportive
8-year warranty. 
4. RECCI Memory Foam Mattress Topper
Very affordable, firm topper great for those with back pain.
We think that RECCI Memory Foam mattress topper is probably the firmest of all on our list, which is not common for memory foam mattress toppers, but RECCI has obviously decided to implement high density foam. We got a mattress topper that is around 7, maybe even 7.5 on a firmness scale from 1 to 10. 
However, if you are side sleepers, you should know that body counting is good. It has advanced heat insulation technology and highly breathable bamboo cover, and we recommend it to all hot sleepers. 
Do check our Recci memory foam topper review to learn more about it.
Affordable
Hypoallergenic
Temperature regulation.
5. LinkDream Mattress Topper
This is one highly supportive orthopaedic topper.
When you see that a mattress or topper is " orthopaedic" it means that it is medium firm to firm, because extra support is needed. This is a gel memory foam mattress topper, so not as hot as many other mattress toppers, thanks to the gel. 
The gel foam layer is 2cm thick, and the high-density base in charge of firmness is 6cm thick. It is divided into 3 pressure support areas. A 100-night trial and 10-year warranty are available. It is CertiPUR certified.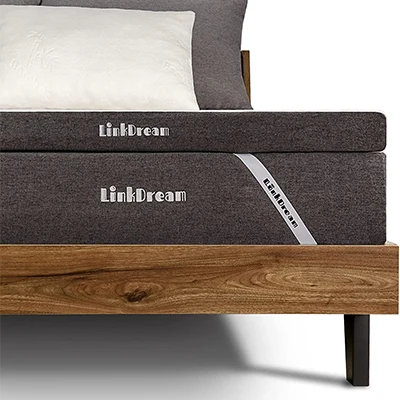 3-zone support
10-year warranty
Great motion isolation.
Slight off-gassing issues. 
The advantages of owning a firm mattress topper
Owning a firm mattress topper can even solve certain health problems, such as back pain and sleep apnoea. Many soft mattresses that allow you to sink too much, especially if you are stomach sleepers, will almost certainly cause back pain. To solve this problem, you need to buy a new mattress, or go with a cheaper and equally effective option – to buy a firm topper that will give a plenty of support. Also, sleep apnoea that is very annoying and even a dangerous condition can also get worse if your sleep surface is not firm enough.
Of course, a high quality topper will improve the quality of your sleep and you will suddenly have a great night's sleep, and in the morning you will feel rested and ready to start the day.
You will get rid of stubborn back pain, sleep apnoea and many other conditions
You will significantly reduce wear and tear on your mattress, directly extending its service life
Improving night sleep will have a positive impact on all spheres of life.
FAQs about your firm mattress topper
Our FAQs section is best way to end this guide.
Is a firm mattress topper absolutely necessary?
We can't say it is absolutely necessary, that depends on numerous things.
Will a firm mattress topper help me with my back pain?
Firm topper will surely help you with back pain, especially if you are back or stomach sleeper.
Should I use a firm mattress topper if I suffer from hip pain?
No, such toppers are not suitable for people with hip pain, they can even make hip pain worse.
Is a firm mattress topper suitable for sleepers with neck and shoulder pain?
Those with neck pain can benefit from firm topper, but if you suffer from shoulder pain, answer is same as for hip pain.
Will a firm mattress topper reduce my lower back pain?
We expect it to reduce lower back pain or even make pain go away.
How can I make my firm mattress topper less firm?
You can't, since you can't put something between topper and yourself.
Can a firm mattress topper cause back pain?
In theory, yes, firm mattress can cause back pain, but only in case when it is too firm, like 9 or 10 on firmness scale.