Silentnight Electric Blanket Review - Heat Up Quickly & Stay Comfy
Electric blankets, also called heated blankets, have been on the UK market for a long time, but it can be said that they have not achieved the expected popularity. One could debate why this is so, and The Sleep Advisors have tested Silentnight Electric blanket for you, offered by one of the UK sleep industry household names – Silentnight.
Who is Silentnight electric blanket for?
Silentnight Comfort Control electric blanket, after all like any electric blanket, is for cold sleepers. Cold sleepers are those people who are especially cold at night, because they are more sensitive to cold air or their body does not retain heat while sleeping.
But you don't have to be cold sleepers to use an electric blanket, because practically everyone will, at some point, enjoy feel warm when using electric blanket while watching a favorite movie, for example. 
It's just that probably not everyone will use electric blanket all night, and cold sleepers will. Also, Silentnight Comfort Control electric blanket is great for couples, because there is a Dual Control model, which we will talk more about later in our review.
What do we use this product for?
We use Silentnight electric blanket to keep us warm and comfortable. Whether you use it while you sleep or during the day, the feeling of warmth under us created by the electric blanket evokes calm feeling and good mood. That is why as soon as cold days come, electric blanket is a must-have product.
Features you should know about Silentnight Comfort Control electric blanket
Electric blanket is certainly a much more complex type of sleep product than ordinary blanket, for example, so we will break down 6 most important features you should know about this electric blanket.
Safety concern is perhaps the primary reason why some people are reluctant to buy an electric blanket, even though they would like to. While there are safety concerns for old and damaged electric blankets, the risk of fire or burns when using a new one is almost non-existent.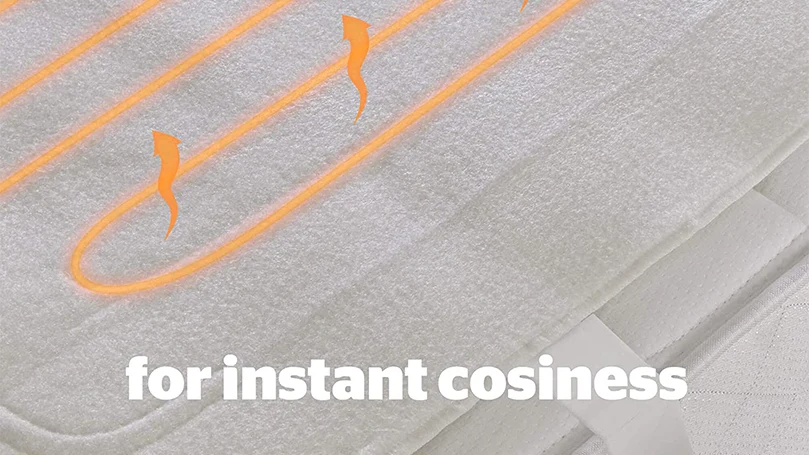 But to fully protect its customers, Silentnight has implemented overheat protection. This means that the electric blanket will automatically be shot down before overheating occurs. To make sure it's not just marketing, it's important to know that Silentnight electric blanket is BEAB approved which is a widely recognized European safety mark and successor to the British Electrotechnical Approvals Board, after local certification of electrical products was no longer permitted.
Double, King & Single sizes
Silentnight Comfort Control electric blanket is available in three different sizes:
Single – 65 x 135 cm
Double – 120 x 135 cm
King – 137 x 165 cm
Since many electric blankets are only available in single size, we like that other sizes are available here so couples can only buy one electric blanket, instead of two separate ones.
You do not always need the same level of heat. Sometimes you just want to feel the warmth of the electric blanket because you need that relaxing feeling, but you don't need it to really warm you up. While in some other cases when it is very cold you want the electric blanket to be your main source of heat. That is why this electric blanket has heat control. Three heat settings allow you to very easily, by sliding the button on the controller up and down, increase or decrease the temperature and that is also the on / off switch.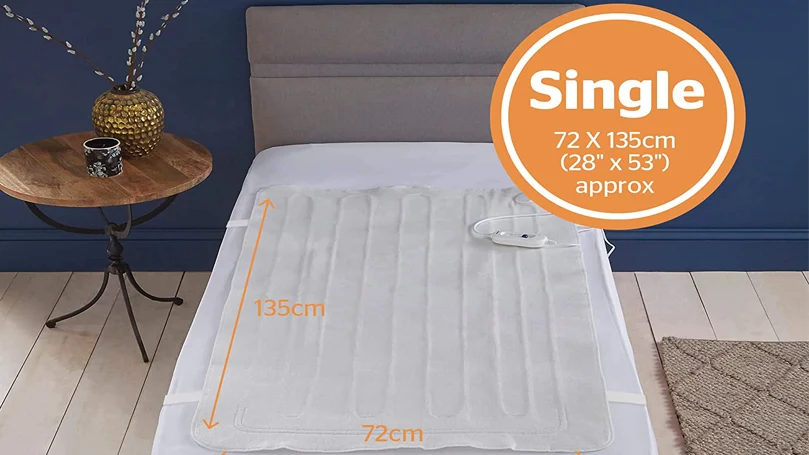 Many old electric blanket models, and even some new ones, take a long time to heat up. And then when you want to use it as soon as possible, it takes it half an hour or even more to reach the right temperature. This is not the case with Silentnight Comfort Control electric blanket because of the ultra-fast heat up. It will be ready to use in just a few minutes, except first heat up that can take up to an hour and then you can return it to low setting.
You probably assume that the electric blanket is not machine washable and then you wonder how you are going to maintain it, because every sleep product gets dirty quickly. That shouldn't worry you because this electric blanket is a fully washable. Yes, you read that right. It will always be clean and fresh, because you can wash it in the washing machine. It is only important to check the care label for washing instructions, so as not to make any wrong step, damage it and lose the right to warranty.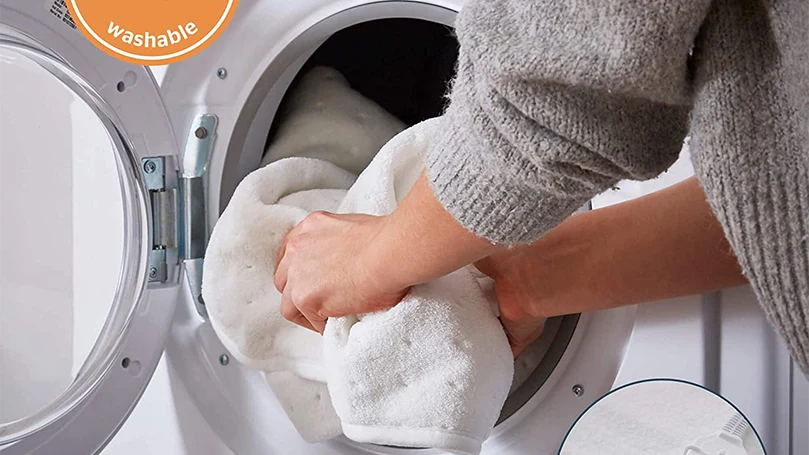 It is always important that the product has a manufacturer's guarantee because in addition to knowing that you will not waste money, it also tells you what the company thinks about the quality of its product. This electric blanket comes with a 3 year manufacturer's guarantee which includes overheat protection.
Review of Silentnight electric blanket
Silentnight Comfort Control electric blanket is one of the electric blankets from the series of electric blankets that are high quality and safe, offered by the famous UK sleep company Silentnight. Silentnight Comfort Control electric blanket has overheat protection to avoid burns or fire. You can switch between 3 heat levels, which is very simple, via the controller. It heats up quickly, so it will be ready to use in just a few minutes.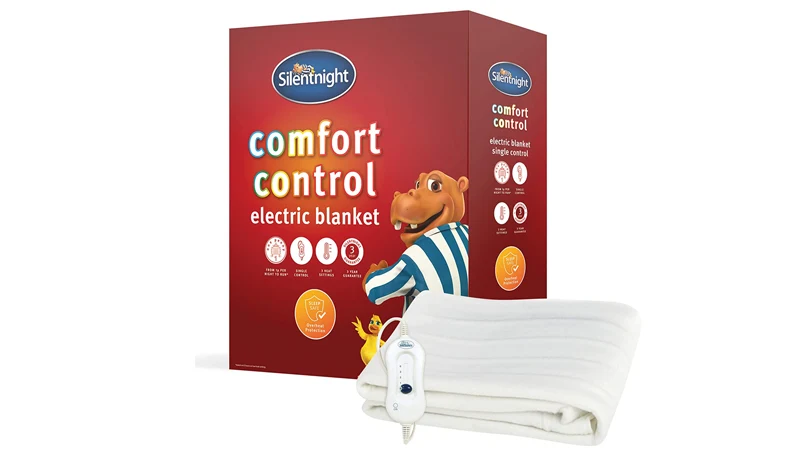 It is fully machine washable, so although it is electric, it is very easy to maintain, when care instructions are followed. It comes with a 3 year manufacturer's warranty.
Three available sizes
3-year warranty
Machine washable.
Bulky controller
Not the most comfortable to sleep on
Durability concerns.
What we like about Silentnight electric blanket
Overheat protection guarantees that you will be safe while using this electric blanket
Due to the option to switch between 3 heat levels, you will always be able to find the ideal temperature
It is fully compatible with memory foam mattresses and toppers.
What we didn't like about Silentnight electric blanket
The plastic controller is quite bulky, so it can sometimes bother you
You may not find it the most comfortable to lay on, although it probably won't be a problem
Some customers complain about longevity.
Additional Versions of Silentnight Electric blanket
Since Silentnight electric blankets are quite similar items, we think that there is no need to write a review for each model separately, but we will tell you about the most important features of other Silentnight electric blankets in this review dedicated to Silentnight Comfort Control electric blanket. All models have overheat protection and 3 levels of heat, so we won't mention it again.
Silentnight Dual Control Electric Blanket
It is unlikely that you and your partner have the same affinities just about everything, including how warm the bed will be. Silentnight solved this problem by providing personalized comfort and complete control. Thanks to dual controls, you can both choose the warmth you want on your side of the bed. Really great feature for all couples and of course, this one is only available in Double and King sizes. Others features are the same.
Silentnight Fleecy Electric Blanket
If you want additional warmth, then choose this model that has a soft fleece fabric. Fleece is a soft and warm fabric with a texture similar to sheep's wool, but synthetic, so it is hypoallergenic and vegan-friendly.
Silentnight Easi Heat Microfleece Electric Blanket
The only significant difference is the ultra-fast heat up that Silentnight Easy Heat Microfleece Electric Blanket has and Silentnight Fleecy Electric Blanket does not.
What makes this product better than some other similar ones?
We really like Silentnight Comfort Control electric blanket, so there is at least a few things that makes this product better than some other similar ones. Overheat protection is the most important feature because it guarantees you safety and meets all regulations.
Also, three levels of heat as well as ultra-fast heat up make this electric blanket very simple and convenient to use. It is fully machine washable, which is another advantage.
How did we test the product?
It is up to you to decide which of Silentnight electric blankets you will order and to choose the size. We have ordered all available models so that we can test them for you and we have waited a few working days for them to be delivered to us. Whether free delivery is included or not depends on the model and size you choose, further details you can find on their website.
WhenSilentnight electric blankets arrived, we immediately machine washed them because we were very interested in how to wash electric blankets. Everything went great, it's just very important that you follow the emperor's instructions so that something is not damaged.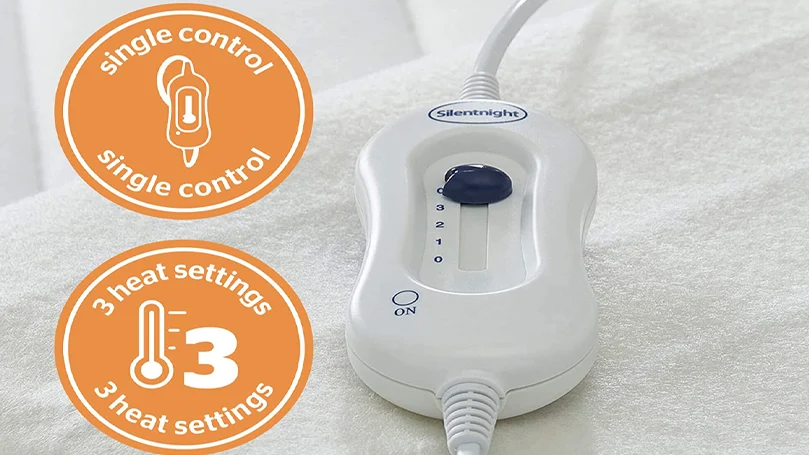 Putting an electric blanket on the bed is very simple, because some models have straps, and those that do not have straps have other methods of attaching to the mattress. When you lie down, you will feel that there is an extra layer between you and the topper or mattress, but we do not believe that it will bother anyone.
Aside from the first use when you have to wait longer, the ultra-fast heat up option is really great. It only takes a few minutes for your bed to get warm. Level 1 and 2 will probably be used most often, while heat level 3 will only be used when it is very cold. Dual control works great and is a great choice for couples, while fleecy models are extra warm.
FAQs about your Silentnight electric blanket
Let's wrap up this review with answers to some of the frequently asked questions about Silentnight Comfort Control electric blanket.
How often should I wash my Silentnight Comfort Control electric blanket?
If you sleep on it every night, you should wash it every 7 to 10 days, so it depends on how often you use it.
What should I not do with my Silentnight electric blanket?
You should avoid using hot water bottle and an electric blanket at the same time, plugging wet electric blanket or using an electric blanket with an adjustable bed or a waterbed. Also it is not recommended for kids.
How long will my Silentnight Comfort Control electric blanket last?
Although there are some durability concerns, we expect Silentnight electric blanket to last at least 3 years.
Does Scooms Merino wool blanket comes in different colours?
Yes, it does come in 4 different colour variations.