Luna Weighted Blanket Review - Super Cozy & Soft-To-Touch Pick
Luna Weighted Blanket is one of the most popular and most loved weighted blankets on the market, so we wanted to get our hands on one and test it out for ourselves. To find out what we've learned about it – stick around with us for a few more moments!
Who is Luna weighted blanket for?
Luna weighted blanket is for every adult that wants to enjoy a snug, yet gentle pressure hug from a blanket. But more than that, weighted Luna blanket is ideal for everyone that struggles to fall asleep or has trouble dealing with anxiety.
Weighted blankets are known for their calming effect, by simulating a feeling of a hug by creating a deep pressure touch setting similar to one we'd get when someone hugs us.
So, all in all, this Luna blanket is good for pretty much everyone, but it is especially good for those needing assistance to fall asleep.
Add a header to begin generating the table of contents
What do we use this product for?
As we've mentioned just now, weighted blankets have been known to help people deal with issues like insomnia, anxiety, and even ADHD.
However, to be perfectly clear, weighted blankets aren't a treatment for any of those issues, but are simply an aid that could possibly help you feel and sleep better. For any further information or advice on mental health and issues – consult with a medical professional.
And, while we're on the subject of using Luna weighted blanket, we can:
Use it to help fall and stay asleep and create a gentle setting for sleeping
Use it to feel relaxed and comfortable
Use it to settle the nervous system through deep pressure touch
Use it to help cope with anxiety
Use it to help cope with insomnia
Use it to help cope with ADHD
Use it to help cope with depression.
Does Luna weighted blanket come in different versions?
As is the case with most weighted blankets, this one is also available in several different versions. And, as is often the case with weighted blankets, the main difference between them lies in the weight of the blanket.
The one we're reviewing today is the 15 lbs queen size blanket version, but you can also find this gravity blanket in the 12 and 20 lbs weight options as well.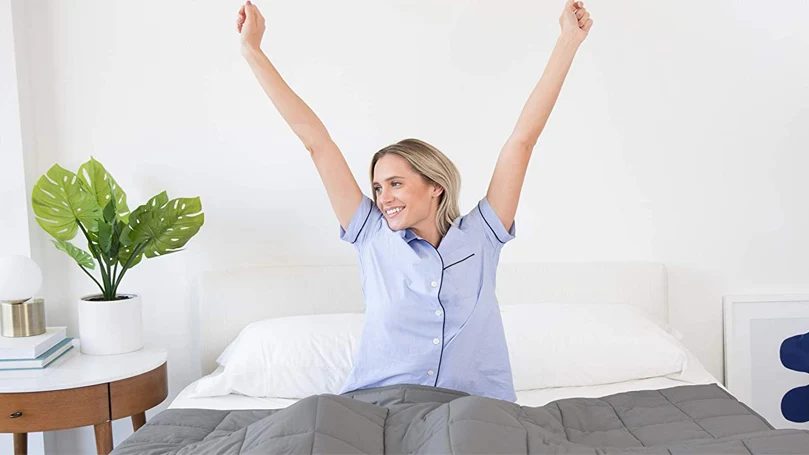 12 lbs for a weighted blanket isn't a lot, and as such, this lighter-weight version of Luna weighted blanket is ideal for those under 120 lbs, meaning it's perfect for small stature people, teenagers and women. The rest of this weighted blanket is identical to the one we've reviewed.
20 lbs version of Luna Cotton weighted blanket is for sleepers with some extra weight. It's for the ones that weigh between 180 and 220 lbs. Naturally, everyone above 220 lbs body weight is also welcome to use the blanket, although they might feel like they need something a bit heavier.
However, not many weighted blankets are over 20 lbs, so this one is just about as heavy as they get.
Features you should know about Luna weighted blanket
Now, let's learn a bit more about what makes this weighted blanket special.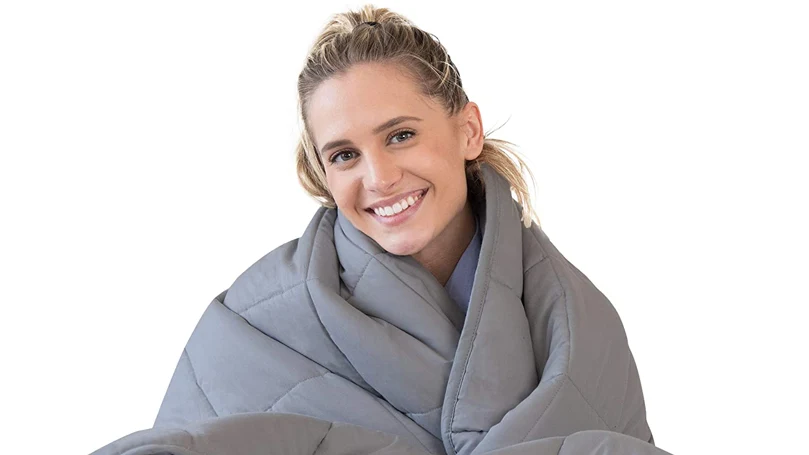 Unlike many other weighted blankets which are quite simple and straightforward in design, Luna cotton weighted blanket is made from 7 layers.
Luna's innovative thinking combines 7 layers into a streamlined patented layered construction that promotes even weight distribution and keeps the air circulating.
And, even at 7 layers, this one is still an affordable weighted blanket.
Ultra-soft & cooling cotton fabric
Covered in a naturally soft organic cotton fabric and filled with cloud-like microfibre and glass beads, Luna is carefully constructed for breathability and temperature control.
The outer shell of this weighted blanket is made from 100% organic cotton, making this one both the washing machine friendly and super comfortable.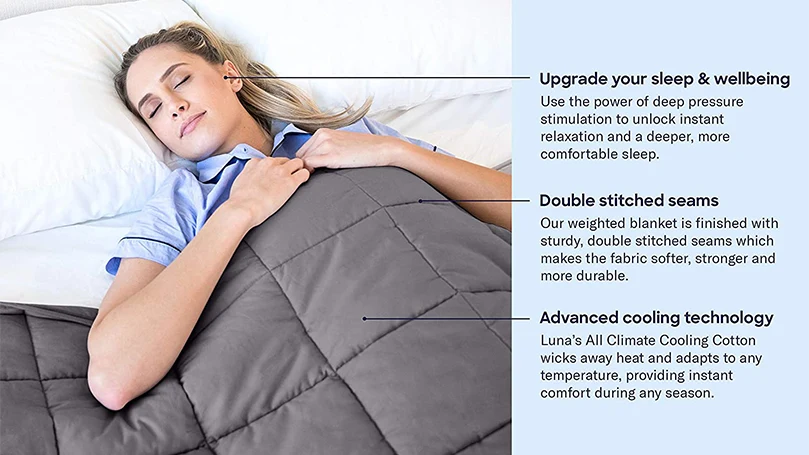 And, you'll be pleased to know that the cotton, as well as the glass bead fillings and microfibre, have been tested and OEKO-Tex certified, ensuring everything's made from sustainable materials. Also, not having to worry about any harmful chemicals or substances is pretty neat, too.
The ultra-soft and cooling cotton outer shell also helps the sleepers achieve a comfortable sleeping temperature. As is often the case, this is not a removable cover.
Premium glass beads for equal weight distribution
Luna Cotton weighted blanket is filled with premium-quality glass microbeads. Glass beads are a much better option than plastic beads or plastic pellets or any other alternative filling for a weighted blanket.
Not only do medical-grade glass beads allow for even weight distribution across the entire body, but they also help with temperature control. Glass beads aren't known to retain heat, nor is the 100 OEKO-Tex certified cotton, so despite this weighted blanket being quite heavy, you shouldn't get sweaty and hot underneath in normal conditions.
8 ties for secure fastening
The fillings will stay in place for a long time, but most of the time, weighted blankets themselves – won't. That is precisely why this weighted blanket from Luna comes with 8 ties for secure fastening.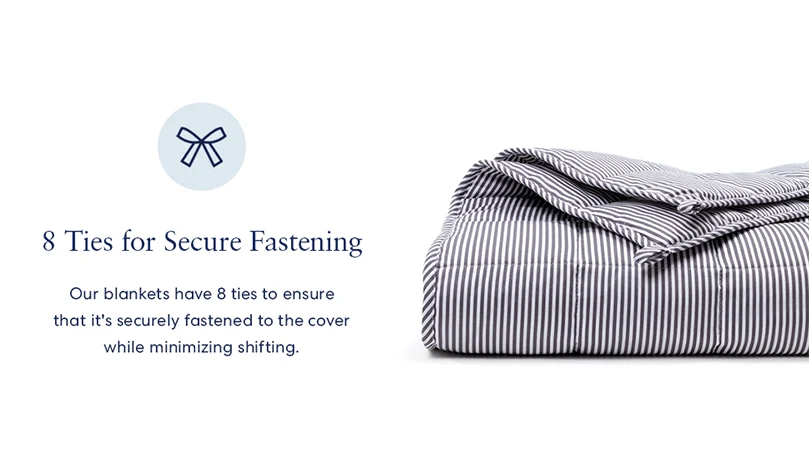 With two of them in each corner, this weighted blanket should be easily secured inside of a duvet cover or a blanket cover, so that you stay comfortably covered all night.
Review of Luna weighted blanket
As far as weighted blankets go, we feel like we can safely say that this is if not the best weighted blanket we've ever tested, then one of the best weighted blankets we've ever tested.
The main reason why we're saying this is because weighted blankets have a reputation of getting too hot, and despite being advertised as "breathable", they usually are not. Luna blankets, on the other hand, actually are.
The patented layered construction, glass beads and organic cotton shell material are the ones that promote breathability and airflow, among many other things.  The glass beads are also hypoallergenic, and so is the cotton cover, so anyone struggling with allergies or respiratory issues should have no problem using this cotton weighted blanket.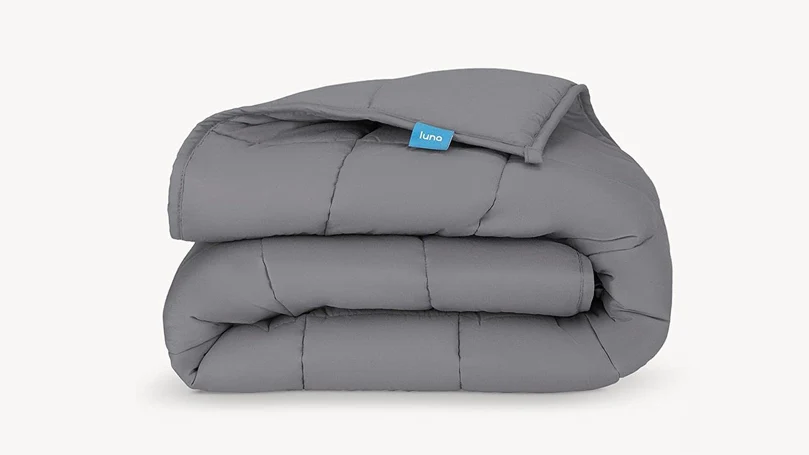 As long as you choose the blanket of appropriate weight – you should enjoy it no matter what. In case you don't know, a weighted blanket should amount to up to 10% of your body weight.
In addition to all of that, this cotton weighted blanket is also machine-washable and hypoallergenic, so it is both easy to clean and keep clean. You could also hand wash it, but choosing hand washing over a washing machine isn't something we'd do. Just make sure you follow care instructions.
Cover: Cotton
Fillings: Glass beads; microfibre
Weight: 5,4 kg, 6.8 kg, 9.07 kg
Size: Children, Twin, Full, Queen, King 
Suitable choice for an average sleeper 
Hypoallergenic & machine-washable 
Retains less heat than an average weighted blanket.
Cover sold separately 
No regular trial period.
What we like about Luna weighted blanket
One of the best price-to-value rationed weighted blankets on the market 
Different weights
Hostile toward dust mites and allergens 
Even weight distribution 
Machine-friendly. 
What we didn't like about Luna weighted blanket
Cover is bought separately 
Kids version not available at the moment 
No trial period at all.
What makes this product better than some other similar ones?
We have already said that this weighted blanket stands out from other weighted blankets because it is durable. What we forgot to mention is that out of all weighed blankets we've ever reviewed – this one is the best as far as the price-to-value ratio goes.
Another thing that makes this weighted blanket better than the other weighted blankets are the corner ties. Because of them, you could easily slip this weighted blanket into a removable duvet cover and simply attach it to the edges after a little DIY project.
How did we test the product?
Every test starts the same way – by ordering the product. In this case, we've ordered the blanket from Amazon, and in a matter of five days – our new weighted blanket was in the office.
Now, weighted blankets are often used to help people cope with some problems, which made our testing process a bit harder. But, we did our best to objectively assess and review this weighted blanket. So, here's how we did it.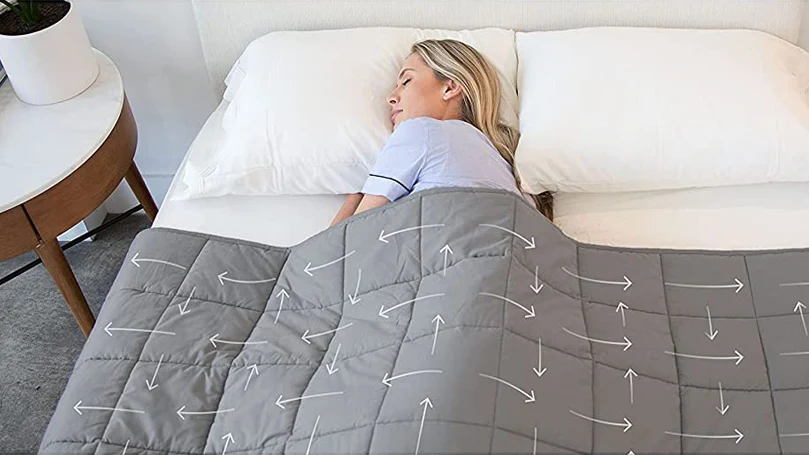 Before each of us here at The Sleep Advisors spent a few days testing the blanket, we first inspected the blanket together as a group. We wanted to test the stitching and the pockets to make sure the glass microbeads were equally distributed, among several other things.
Among several other things, we've also tested the durability of the blanket, as well as its breathability, measured its weight and so on.
After we did all that – we sat down and wrote this review.
FAQs about your Luna weighted blanket
In the end, we thought we'd wrap things up by answering some FAQs.
How to wash my Luna weighted blanket?
Luna weighted blankets are machine washable at 30 degrees Celsius.
Is Luna weighted blanket an appropriate choice for allergy sleepers?
Yes. Luna weighted blankets are hypoallergenic, making them suitable for allergy sleepers.
Should sleepers with anxiety, PTSD & depression use Luna weighted blanket?
Yes, they could. Weighted blankets are known to be helpful with these kinds of issues.
Is the delivery of Luna weighted blankets free of charge?
Yes. The delivery of the Luna Cotton weighted blanket is free inside of the mainland UK.
Do I get a warranty on Luna weighted blanket?
Unfortunately, you don't get a warranty with this one if you buy through third-party sellers like Amazon or directly from Luna website.