Panda Duvet Review - A Fluffy Bamboo Duvet That's Cozy & Lightweight
"Light as air, soft as silk and oh-so-fluffy" – that's how Panda describes their Cloud duvet. We, on the other hand, are going to wait a bit before we call Panda duvet anything other than a promising product. Is it more than that? Well, let's find out in our review!
Who is Panda Cloud duvet ideal for?
As a 10.5 TOG duvet, Panda Cloud might just be your go-to, all-season duvet. Crafted to perfection with bamboo in the filling, as well as the cover, Panda duvet promises to be just breathable enough to withstand some warm nights. 
However, you and we are fully aware that on those really hot summer nights, not even a 4.5 TOG duvet feels good. Aside from that, here's who else might find this duvet ideal.
Add a header to begin generating the table of contents
What do we use this product for?
As anyone will tell you, a 10.5 TOG duvet should be able to serve you well all year round, but where it really shines is during spring and autumn. Don't get us wrong, Panda Cloud should be good for the better part of winter and summer, especially if you have great air conditioning in your home. 
But, aside from being used as your go-to cover during the night, Panda duvet can also help you achieve better sleep if you're one of many that happen to battle with allergies. We all know how bothersome dust mites and other common household allergens can be, but luckily for you, Panda Cloud duvet is not a piece of bedding likely to harbour any of them. Instead, the duvet is perfect for:
Sleepers struggling with allergies
Sleepers who want a lightweight, yet gentle-like duvet
Sleepers who prefer sustainably-manufactured, vegan and eco-friendly products.
Features you should know about Panda Cloud duvet
To better understand Panda Cloud duvet, we've decided to talk to you about some of its unique and defining features. Getting to know these will not only help you understand this product but also help you realize which features we focused on during our testing prior to writing this review.
50% bamboo & 50% nano-microfibre filling
This is a 500 GSM heavy duvet, which means that the 50% bamboo and 50% nano-microfibre filling have been perfectly engineered. Not only does this make it lightweight and fluffy, but it also makes it feel as much as feather and down as possible.
The blend of bamboo and nano-microfibre is silky smooth and equally distributed throughout the whole duvet, which means you won't have to worry about bunching or clumping, even after washing. 
Yes, that's right – this duvet is washing-machine friendly. Not only can you just chuck in the entire duvet into your washing machine, but thanks to the bamboo/nano-microfibre fillings, the Cloud duvet will air-dry twice as fast compared to a regular, microfibre duvet. If needed, the duvet could also be tumble-dried at a slow cycle and low temperature.
100% antibacterial, moisture-wicking and hypoallergenic product
Another neat feature of the bamboo/nano-microfibre fillings are the hypoallergenic properties. As you know, bamboo is naturally hypoallergenic, amongst other things, and when perfectly blended with Panda's own microfibre, you get a filling that is as allergy-safe as one can get. 
But, that's not all. Aside from being anti-allergenic and anti-bacterial, the fillings inside of this duvet are also excellent at wicking away excess moisture. By keeping the duvet dry, you will not only get to sleep in a sweat-free environment, but the dust mites, bacteria and mould will also lose their beloved damp environment, which is another thing that will keep them at bay.
100% bamboo cover, made from ethically sourced bamboo
The filling of this duvet isn't the only thing made with, or better yet, from bamboo. The non-removable cover of Panda Cloud duvet is a bamboo rayon cover made from 100% ethically sourced bamboo. Panda's bamboo is sustainably grown in managed forests, meeting the highest social and environmental standards. 
Despite the fabric being bamboo rayon, a fabric known for being notoriously water-guzzling and treated with harsh chemicals, the rayon Panda uses is made using 30% less water than cotton, and without the use of any pesticides, fertilizers, or any other harmful chemicals. To top things off, like every other Panda product, the Cloud duvet is vegan-friendly and delivered in a recycled and recyclable box, with a re-usable bamboo bag.
All-around 10.5 TOG rating
10.5 TOG rating is universally considered as the optimal, all-season, all year round rating for a duvet, which is exactly why Panda decided to make their Cloud duvet a 10.5 TOG one. As you may know, TOG ratings are measured in controlled conditions, and they do not tell the whole story of how warm or cool the duvet will be. 
Therefore, another thing that helps this duvet be every-season-friendly are the bamboo and nano-microfibres. Bamboo is naturally temperature-regulating. Its natural fibres are known to be insulting come wintertime, but they are also known to stay cool and breathable during summer. 
When paired with Panda's nano-microfibre, the fillings inside of this duvet will disperse the extra heat during the summer but also return the heat back to you during winter.
Corner loops for staying attached
We all know how vexing it is to pull the duvet up during the night, only to realize that you've only pulled up the cover while the duvet is folded in half somewhere around your hips. Well, to prevent that, as well as kicking your duvet in the middle of the night to set it right, Panda has equipped their duvet with corner loops for staying attached.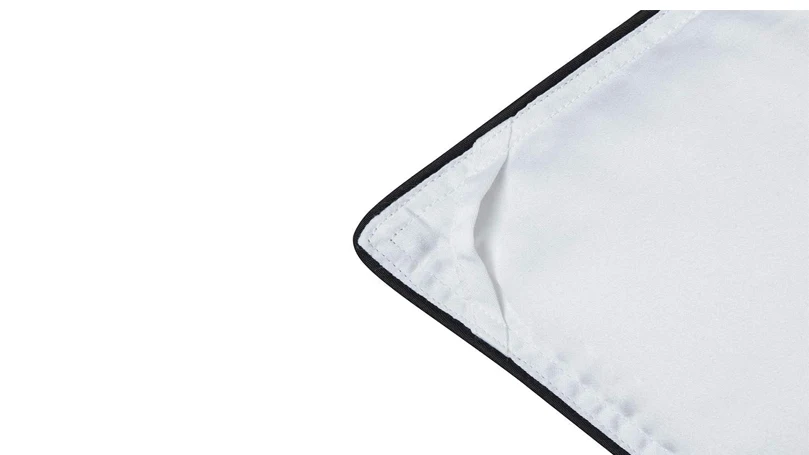 The trick is, these will only work if you pair them with Panda's own bedding that comes with the matching, hidden straps. Now, Panda's bedding is very high-quality, and we wouldn't mind pairing it up with this duvet. However, if you don't want to do that, there is a way around it. Here's a life-hack, brought to you by The Sleep Advisors, if you will.
Namely, you could simply just sew in a simple strap inside of any duvet cover and attach that to the corner loops of Panda duvet.
Every single thread, fibre, stitch, and dye used to manufacture Panda duvet has been rigorously tested for potentially harmful substances. To testify to the fact that there were no harmful substances used during the manufacturing process of this duvet, Panda Cloud duvet comes with an OEKO-TEX Standard 100 certification.
Review of Panda Cloud duvet
To begin our review of Panda duvet, we'll start nice and easy – with the design. Panda duvet is simple yet elegant: entirely white with only the stylish black piping around the edges and a tasteful Panda logo in the corner. The stitching is flawless, both around the sides and throughout the pockets that hold the filling in place. Also, the bamboo rayon cover is ultra-soft, almost silk-like, and is incredibly gentle to the touch.
Now, onto the most important thing – the duvet performance. During our tests, we've come to a conclusion that Panda duvet comes as close to an all-season duvet as possible. 10.5 TOG rating and 500 GSM weight, paired with lightweight, thermo-regulating bamboo and nano-microfibre filling, really make the Cloud duvet worthy of its name. The duvet managed to keep us both warm and cosy and fresh and cool during our testing. Naturally, this doesn't include extreme conditions because this duvet will keep you neither warm nor cool if the room is really cold or really hot. For that, you'll need 13.5 and 4.5 TOG duvets, respectively.
 Finally, Panda duvet comes covered with a 30-night trial period during which you can test, and if needed, return the duvet, free of cost. If you decide to keep it, you'll be pleased to know that the duvet is covered with a 5-year guarantee.
On the other side of the spectrum, there isn't really too much to talk about. Aside from not being able to perform excellently in very hot and cold conditions, the only "drawback" of this duvet would be the fact that those favouring snug duvets won't enjoy it.
Cover: Bamboo rayon
Fillings: Bamboo and Nano-microfibre
TOG: 10.5
Size: Single, Double, King, Super King.
Thermo-regulating
Comfortably lightweight
Hypoallergenic.
Not warm enough for very cold nights
Not cool enough for very hot nights
Too lightweight for some sleepers.
3 things that convinced us to buy Panda Cloud duvet
It's soft, lightweight and comfortable – like any respectable all-seasons duvet should be
Its anti-allergenic and anti-bacterial properties will come in handy for sleepers struggling with allergies or respiratory issues
Bamboo's thermo-regulating properties make this duvet one of the best all-seasons duvets on the UK market.
3 things we didn't like about Panda duvet
The duvet might end up feeling not snug and warm enough during very cold nights
Despite a breathable bamboo cover and fillings, the duvet won't be able to keep you cool during hot summer nights
Panda Cloud is not a good choice for sleepers that prefer a snug, hug-like duvet.
What makes this product better than some other similar ones?
The UK market is flooded with products similar to the Cloud duvet, so, what should you get this one? 
Well, for starters, a duvet should last you a very long time, considering the way it's used. And, from as what we could tell – this one will. Panda Cloud duvet is very durable, and we can see it outlasting its 5-year warranty.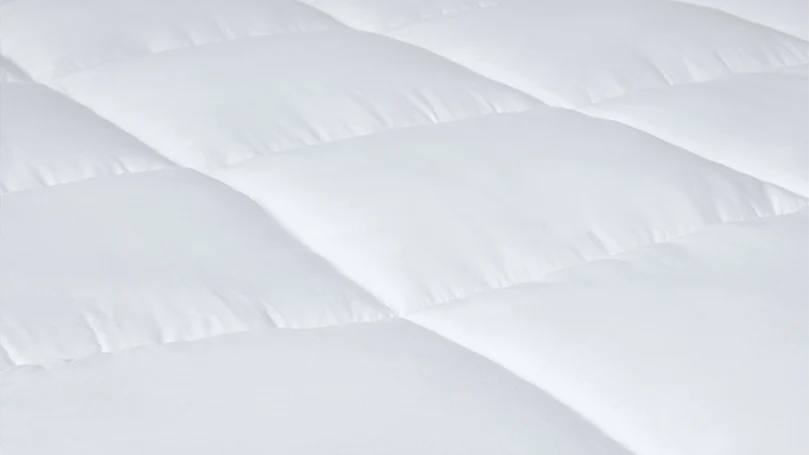 In addition to that, Panda duvet is one of the rare all-seasons duvets that can actually hold water to that claim. Despite not being able to prevail in very hot or cold conditions, we don't really see anyone pushing the temperature in their rooms as far as we did, so this one should work all year round.
 And finally, in the midst of everything that is happening to our planet right now, Panda's contribution to saving the planet through its eco-friendly, sustainable products is nothing if not something to be proud of.
How did we test the product?
Finally, allow us to guide you through our testing process.
The first thing we do is obviously order the product. Since we're based in the UK, the delivery and the shipping were free, and only after a few days, our new duvet was ready to be tested and reviewed. 
Upon inspecting the packaging and the duvet itself, we've determined that there were no damages of any kind to the product, which meant we could move on to the actual testing, which in the case of a duvet, is pretty straightforward.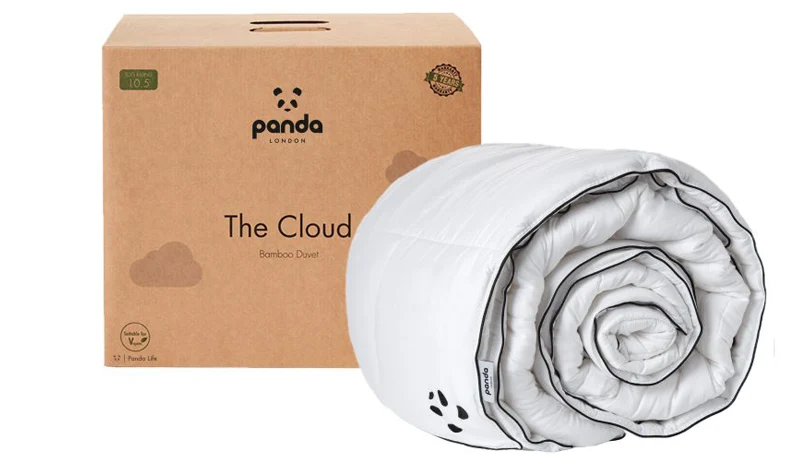 Essentially, all we have to do is spend a few days and nights with the duvet while we play around with the thermostat and simulate the seasons in our office. In addition to that, we give the duvet a thorough wash, just to see how it behaves after it. Also, we do our little test to check the durability and longevity of the product, and once we're done with all that – we write this review for you.
FAQs about your Panda Cloud duvet
In the end, allow us to answer from FAQs about Panda Cloud duvet.
Are bamboo duvets good for sleep?
Yes. Bamboo's natural properties make it a great fabric choice for a piece of bedding.
Are all Panda Cloud duvets made in an ethical and sustainable way?
Yes. All Panda products, including the duvet, are made in an ethical and sustainable way.
Is Panda Cloud duvet good for the winter?
Generally, yes. However, if you prefer to sleep in a very cold room, we'd suggest looking for a 13.5 TOG duvet instead of this one.
How do I wash my Panda Cloud duvet?
Easy – just roll it up and put it into your washing machine.
How do I wash my Panda Cloud duvet?
Since it comes with removable cover, you should machine wash cover every 7 to 10 days and then your pillow are going to be clean all the time.