Panda Bamboo Bath Rug - A Bathroom Rug You'll Absolutely Love
Bathroom rug is certainly not the first thing that comes to your mind when you equip your bathroom. You will probably buy towels, bathrobe and bathroom decor first. However, we think it's a mistake, because the bathroom rug is a very useful thing to help you avoid slipping when getting out of shower and thus ensure safety, especially when it's high-quality like Panda Bamboo Bathroom rug.
Who is Panda Bamboo Bath rug for?
The rug is made for anyone who wants a rich, luxurious and fluffy rug after the shower time. It is the primary choice for people who don't like synthetic materials like polyester, but rather enjoy natural high quality fibres that won't irritate the skin or cause any allergy issues.
The rug is made of bamboo material that is known for high quality hypoallergenic and anti-dust mite abilities. The silky feel may be a bit odd in the beginning until you are used to it. But once you get used to it, you will have a trouble using anything that is not made of silk, cotton, or bamboo.
Add a header to begin generating the table of contents
Features you should know about Panda bathroom rug
Surely you want to know what materials this super soft bath rug is made of, as well as other important features, and all this information can be found in this part of our review.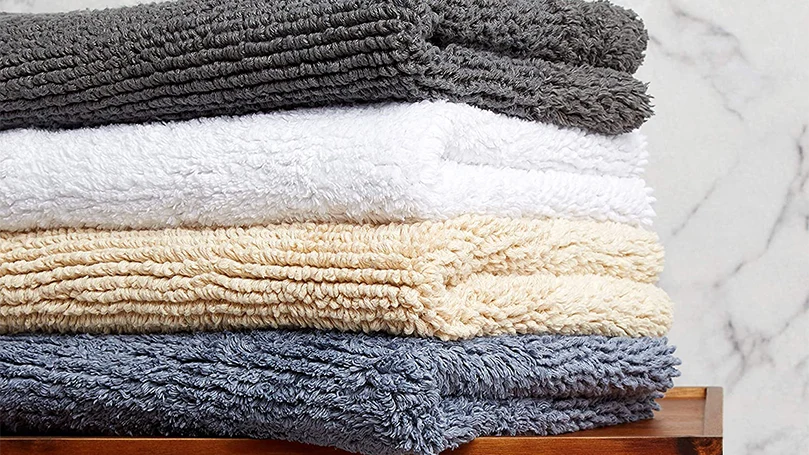 60% of cotton & 40% bamboo
The combination of cotton and bamboo proved to be the perfect choice, and we also believe that the experts from Panda chose the ratio of cotton and bamboo ideally. Both long staple cotton and bamboo are very durable materials, so we expect this bath rug to last a long time.
Also, both materials are very soft and the bamboo has a silky texture, very similar to cashmere. The blend of these two materials is ultra-absorbent, which is the primary purpose of this product.
Bamboo makes up 40% of the blend, and we've said that before, but the bamboo found in this and many other Panda's products deserves to be talked about in a separate paragraph. It is organically grown in managed forests.
This means that the highest social and environmental standards are met. Bamboo requires three times less water than cotton, and grows up to three feet a day, which means that this plant is sustainable. Also, you should know that pesticides, fertilizers or chemicals have not been used. In addition to all this, bamboo has fantastic natural characteristics, but we will talk more about that in the next paragraph.
Antibacterial, odour-resistant & hypoallergenic
Bamboo has amazing characteristics, which make it the perfect material for sleep products, as well as for products such as towels and bathroom rugs. Bamboo is naturally antibacterial, which means that bacteria will not multiply, even though it is a wet environment. Also, it is odour-resistant, so there will be no unpleasant odours after a few days.
Bamboo is hypoallergenic, so it can be used by all allergy sufferers and people with sensitive skin. The situation is even better because it is grown free of pesticides, fertilizers or chemicals.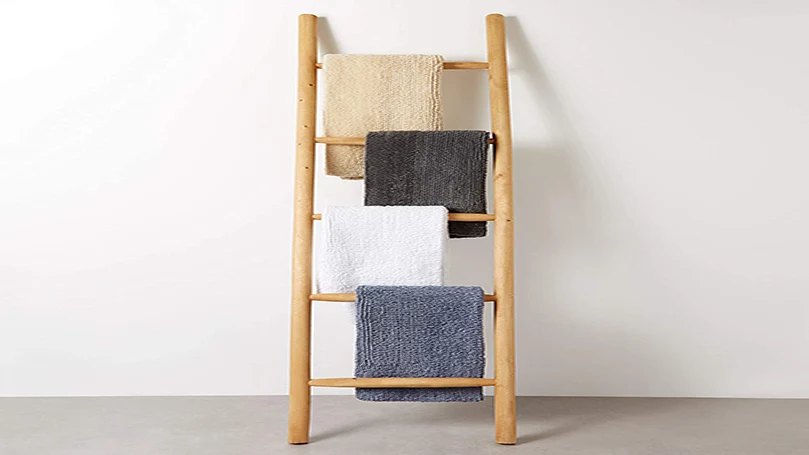 Handcrafted item with the superior softness
As you know, any product that is handmade is more valuable than one that is produced as part of a large factory production. Panda's Bamboo Bathroom rug is handmade from natural materials and is therefore so soft and feels luxurious.
It is handmade in India, where there are many experts in traditional rug-making techniques. They create a classic, reversible pattern design.
We must say that we were very pleasantly surprised to learn that this product has a 1-year warranty against defects of any kind. This is the type of product that usually comes without a warranty, actually we didn't find any bath mats with warranty and even if there are few, still that is not often. So the fact that this bath rug comes with a 1-year warranty shows how confident the company is in the quality and durability of the product.
Review of Panda's Bamboo Bathroom rug
Bathroom rug from Panda is made of a blend of cotton and bamboo, in a ratio of 60% of cotton and 40% of bamboo. The materials are perfectly balanced in this blend to get softness, moisture absorption and durability. Bamboo is an eco-friendly material since it needs very little water compared to other plants, and it grows extremely fast. Also, the Panda company uses bamboo that is organic, grown without pesticides and other types of chemicals, so this product is 100% eco-friendly.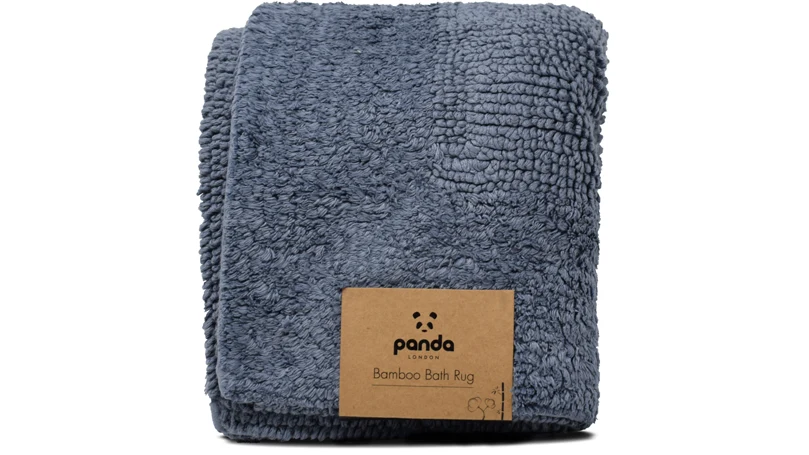 Bamboo and cotton are naturally hypoallergenic, and they are also antibacterial and odour-resistant. It is handcrafted in India and it comes with a 1-year warranty. You can wash your bath rug in the washing machine at 30 degrees C and we advise you to use eco-friendly detergents. It is tumble dryer friendly, but you should not dry it that way more often than once every few months. It is available in 4 neutral shades suitable for every bathroom.
Dimensions: 80 x 50 cm
Material: 60% cotton and 40% bamboo
Colours: Grey, Ink, Sand, White.
Eco-friendly
Anti-bacterial
Luxurious & super-soft
1-year warranty.
Only one size 
A bit more expensive when compared to similar products
Bamboo odour.
What we like about Panda's Bamboo Bathroom rug
It is so luxuriously soft, that you will enjoy every moment you stand on it
This is a 100% eco-friendly, socially friendly product  
Bamboo is a natural hypoallergenic and anti-bacterial.
What we didn't like about Panda's Bamboo Bathroom rug
It is available in only one size – 80L x 50W centimeters
When you know all about this bath rug, it is clear to you that it is not expensive at all, but there are customers who will not want to give more than 30 pounds for this product
Bamboo odour is noticeable at first.
What makes this product better than some other similar ones?
Without a doubt, Panda's Bamboo Bathroom rug is one of the best, if not the best, bath rug on the UK market. That is why there are so many features that make this product better than some other similar ones. We will mention only some of these features. For example, cotton and bamboo make it so soft and pleasant for our feet, while at the same time rug absorbs water very quickly and efficiently. It is hypoallergenic and antibacterial. Also, it comes with a 1-year warranty, which is certainly not the industry standard for this type of product, as rugs and bathroom mats generally do not come with a warranty.
How did we test the product?
Compared to other products, especially mattresses, which take us a month or more to test, testing this product was very simple. Free delivery is available, and your product will arrive in 2 to 3 working days. Other delivery options are available, such as next day and Saturday delivery. Panda is shipping products worldwide.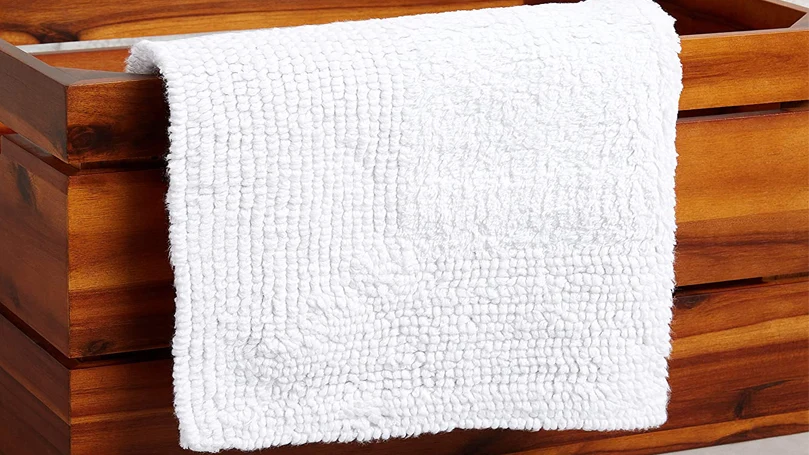 When the product arrived, we were immediately amazed at how soft it is. We washed it in the washing machine, to make characteristic bamboo odour disappear, and then we tested it. When we first stepped on it, we had the impression that we had never stepped on anything softer and more comfortable. After that, we tried to keep our feet as wet as possible, to check how well it absorbs moisutre when you step on it with wet feet.
FAQs about your Panda Bamboo Bathroom rug
The last section of our review is the FAQs section, where you will find answers to some more questions about your new Panda's Bamboo Bathroom rug.
Is this Panda bathroom rug moisture-repellent?
Yes, since bamboo is naturally mold and moisture-repellent.
Is this Panda bathroom rug better than a bathroom mat?
Panda's Bamboo Bathroom rug is incomparably better than the average non slip bath mat, because in addition to soaking up water after a bath, it is also very nicely designed and made of high-quality materials.
Is this Panda bathroom rug good for people with allergies?
We highly recommend every Panda's product to people with allergies, including this bath rug.
Does this Panda bathroom rug contain any harmful chemicals?
No, it does not contain any harmful chemicals, because Panda company pays so much attention to health of customers and preservation of environment.
Does this Panda bathroom rug come with a trial period and a warranty?
It comes with 1-year warranty, but without trial period, which is expected for this kind of product.