There are people who cannot be awakened neither by light or loud sounds or any other disturbances in their sleep environment. But the vast majority of people, including light sleepers may wake up to the slightest change in their sleep environment, especially if it is light. That's why an eye mask is something that can help a lot. Here is your review of Panda Bamboo eye mask by The Sleep Advisors.
Who is Panda eye mask perfect for?
Panda eye mask is certainly perfect for light sleepers, people with allergies and sensitive skin. Light sleepers respond to any type of disturbance, such as light, sound, partner moving in bed and the like. Eye mask can help them with one of these disturbances, and that is light.
And since Panda eye mask is made of hypoallergenic and naturally antibacterial materials, which are also very soft and pleasant for facial skin, allergy sufferers and people with sensitive skin and those who have acnes will enjoy using this eye mask.
Add a header to begin generating the table of contents
Why do we need this Panda eye mask?
We need Panda Bamboo eye mask if we sleep during the day, if even the slightest presence of light in the morning can wake us up, but also if we often travel by plane or bus. Also, if we wake up in the morning and our skin is wrinkled, an eye mask can prevent wrinkles.
Daytime napping

Nighttime sleeping

Treating insomnia

Traveling by plane or bus

Wrinkles

Relieving migraines.
Features that set Panda Eye mask apart from other competitors
Now we will introduce you to the most important features of Panda eye mask, to know more about the features that set it apart from other competitors.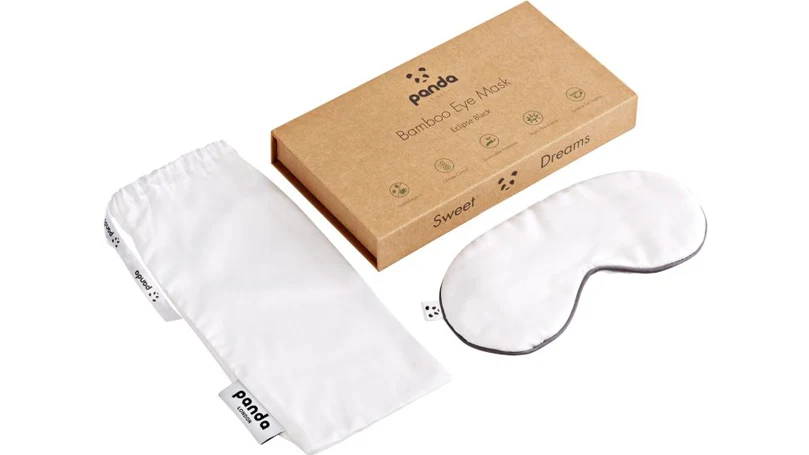 100% naturally and hypoallergenic bamboo
Panda is a leading UK sleep company for products made of bamboo. They offer pillows, topper, bedding, duvets and other products that are 100% made of bamboo or bamboo is combined with some other materials. Panda eye mask is made from 100% bamboo, inside and out. Bamboo is a great material because it is hypoallergenic, antibacterial, breathable, soft and durable.
Also, it is eco-friendly since it requires less water than cotton. And Panda uses bamboo from approved forests. Also, it is grown pesticide free and it is plastic-free, so this is a 100% eco-friendly product. It even comes in a recycled and recyclable gift box, with a bamboo travel bag. This is truly great products for vegans and all people who care about environment. Dyes are also rigorously tested and the eye mask is certified to Standard 100 by OEKO-TEX, so feel free to choose whatever color you want, everything is safe.
Panda Bamboo eye mask is quite large and is only available in one size, but that shouldn't worry you. Although it is large, it is lightweight, so it will be very comfortable for you. It is deliberately designed to be large, to block light from all sides and give you complete darkness.
Adjustable strap makes it suitable for everyone. It will fit perfectly without pinching or feeling tight for people with a larger head, and people with a smaller head will be able to fasten it so it doesn't fall off as they move during the night. So we can say that Panda company has managed to achieve that one size really suits everyone
We want all the sleep products we use and are in contact with our skin to be soft and smooth. And especially the eye mask because it covers our face. Panda eye mask is silk-like soft thanks to top quality bamboo. Many layers of perfectly soft bamboo will make it so pleasant to wear this mask.
One more important thing to mention is that bamboo is a vegan-friendly and cruelty-free alternative to silk. It is equally soft and gentle, but worms, who are animals, will not suffer as is the case with silk production.
No plastic or harmful chemicals
The world is facing a major environmental crisis that is mostly caused by the excessive use of plastics. That is why you will be glad to hear that Panda eye mask doesn't contain plastic, same like other Panda products, so even the buttons are made of bamboo and not plastic.
Also, this product is certified to Standard 100 by OEKO-TEX which tells you that it is free from harmful chemicals and toxins. OEKO-TEX is one of the most famous certificates in the textile and sleep industry.
Big praises to Panda for giving warranty for this type of product, since such small products usually do not come with a warranty, so this is one of the exceptions in the UK market. It comes with a 1-year manufacturer's warranty against defects of any kind, which are not caused by your mistreatment.
Light sleepers, people who suffer from insomnia, as well as those who often travel long distances and are affected by jet lag, due to alterations to the body's circadian rhythms, will especially benefit from using Panda eye mask. Also, everyone else who wants to improve their night's sleep should use this mask which is so soft and comfy. Although large, one size fits all because of the adjustable strap and because it is lightweight.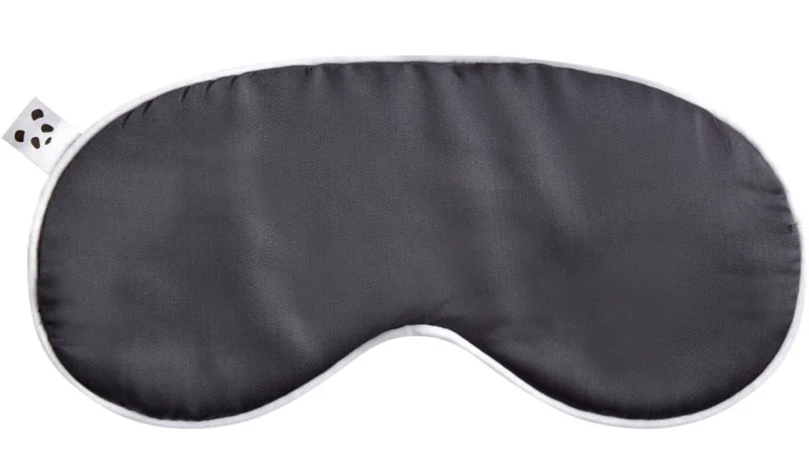 It is made of 100% bamboo which is an eco-friendly alternative to cotton and a vegan-friendly alternative to silk. The OEKO-TEX certificate guarantees that it is free of chemicals. It is machine washable at 40 degrees C and comes with a 1-year warranty.
Material: 100% lyocell made from organic bamboo/100% rayon made from organic bamboo; bamboo microfibre
Adjustable strap: Yes
Colours: Eclipse Black, Urban Grey, Vintage Pink and Pure White
Machine washable: Yes.
Breathable

Hypoallergenic

Machine washable.
A bit more expensive, compared to similar products. 

Can lead to oversleeping

Slight odour upon unpacking.
3 reasons why we like Panda eye mask
Panda eye mask is one of the softest and most comfortable eye masks on the UK market

 Made of hypoallergenic and antibacterial materials

Eco-friendly and certified to Standard 100 by OEKO-TEX.
3 reasons why don't we like Panda eye mask
Slightly more expensive than the average eye mask, but a few times better

 It can lead to oversleeping, which is actually a compliment to an eye mask, but one should be aware of that fact

When you unpack it, you will have to wash it immediately, to neutralize the bamboo odour.
Consider Deep Sleeps Silicone Earplugs if you are buying Panda eye mask
Light sleepers could benefit even more from using Panda eye mask if they also buy Deep Sleeps Silicone Earplugs and thus neutralize the light and sounds. 
You get 6 pairs of reusable and washable silicone earplugs. Noise attenuation is 27 dB. Earplugs will block your partner's snoring and similarly loud noises, thus allowing you to sleep peacefully. They are easy to clean, using warm soapy water or alcohol gel.
 You get travel cases to keep them safe and clean when not in use. Soft silicone is hypoallergenic. Sometimes, they are hard to mold, which can be a problem for people who have a very small ear canal.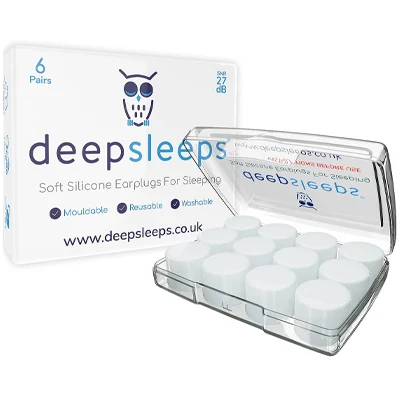 Reusable

Universal size

Affordable.
Hard to mould

Durability

Moisture build up.
What sets apart Panda eye mask among many other similar items?
We don't know where to start this part of our review, because we think Panda eye mask is such a good product, that it has virtually no competition in the UK market. But we will single out a few features that especially make it stand out.
Due to its size, this eye mask perfectly fulfills its primary role, which is not to allow light to reach your eyes. In addition, it is very light and comfortable, so it will not disturb your sleep in any way. Also, it is 100% eco-friendly, vegan-friendly and hypoallergenic. Easy care and 1-year warranty are also worth mentioning.
How did we test the product?
Just a few clicks separate you from ordering Panda eye mask. If you choose the UK delivery standard, you will wait 2 to 3 days for your eye mask to arrive, and there is a next day and the Saturday delivery option too. You have to pay extra for all three options, and if you order two eye masks then the UK delivery standard will be free.
The first thing we really liked when we received the shipment was the recycled and recyclable gift box that complements the eco-friendliness of this product. When we unpacked it, slight bamboo off-gassing was present, but we believe you will first notice how soft and silk-like it is. We washed at 30 degrees C in the washing machine before use.
During the overnight test, all members of our test team were able to use it without any problems. Adjustable strap is really adjustable and everyone will be able to adjust to their head circumference and preferences. It is very pleasant for facial skin, and does not allow light to reach you from either side. It is breathable, so hot sleepers can also use it. In the morning, it is noticeable that your skin is less wrinkled than usual.
FAQs about your Panda eye mask
Let's wrap up this review with the answers to frequently asked questions about Panda eye mask.
Does Panda eye mask have any chemical elements?
No, it does not have any chemical elements and it is certified to Standard 100 by OEKO-TEX.
How do I wash my Panda eye mask?
Your Panda eye mask is machine washable at 30 degrees C, using eco-friendly detergents, without adding bleach and fabric softener.
Does Panda eye mask come in a universal size?
Yes, thanks to adjustable strap, Panda eye mask comes in a universal size.
How long will my Panda eye mask last?
Panda eye mask comes with a 1-year manufacturer's guarantee against defects of any kind, so you will have it for at least a year, but we expect it to last much longer since it is high quality product.