Rocabi Weighted Blanket Review by The Sleep Advisors
If you are on the market for your first weighted blanket, probably you are going to be overwhelmed by all these different models that are seemingly similar. As weighted blankets have become very popular in recent years, the UK market has been flooded with these products. We put this product to the series of tests and here is your Rocabi weighted blanket review by The Sleep Advisors.
Who is Rocabi weighted blanket for?
The focal point of our review is the middle of the three versions of Rocabi weighted blanket which weighs 20 lbs and that is 9 kg. So we will say that Rocabi is a weighted blanket for adults over 80 of body weight, as well as for those who like a very heavy blanket, but our advice is that the weighted blanket should not be heavier than 15% of your weight.
We are glad to inform you that it is for people with allergies too, because it is hypoallergenic and machine washable. It is perfect for those who want a blanket that is easy to maintain. 
Add a header to begin generating the table of contents
What do we use this product for?
If you are suffering daily or occasionally from disorders such as PTSD, ADHD, restless leg syndrome, insomnia and anxiety, and if you have trouble falling asleep in the first hour after going to bed, you can use Rocabi weighted blanket to help and improve your night's sleep. 
We use it for more restful sleep
We use it for making problems with anxiety easier
We use it for autism, PTSD and other disorders
We use it for hypoallergenic properties
We use it for Deep Touch Pressure Stimulation (DTPS).
Is Rocabi weighted blanket available in different versions?
Rocabi weighted blanket is available in two more different versions, one weighing 15 lbs (6.8 kg) and the other 25 lb (11 kg). We'll tell you some pros and cons of these versions, and the main features like cover material, filling and maintenance are the same for all three versions so we won't specifically mention that in this part of our review.
This is a version that is suitable for 90% of adults and that is why we believe that many people will buy it. Those with higher body weight or who prefer heavier blankets will stick with one of the two heavier versions.
Suitable for most people.
Every weighted blanket that weighs 11 kg is a very heavy weighted blanket, so Rocabi weighted blanket is no different. It will have a very calming effect on your nervous system, but be careful it can be too heavy as there is a possibility that you will not be able to move freely under it.
Cosy, even though it weighs 11 kg.
Too heavy for general population.
Features you should know about Rocabi weighted blanket
Now let's get back to the general features of Rocabi weighted blanket that you need to know more about. We will talk about cover, inner weighted blanket filled with glass beads, workmanship, trial and warranty.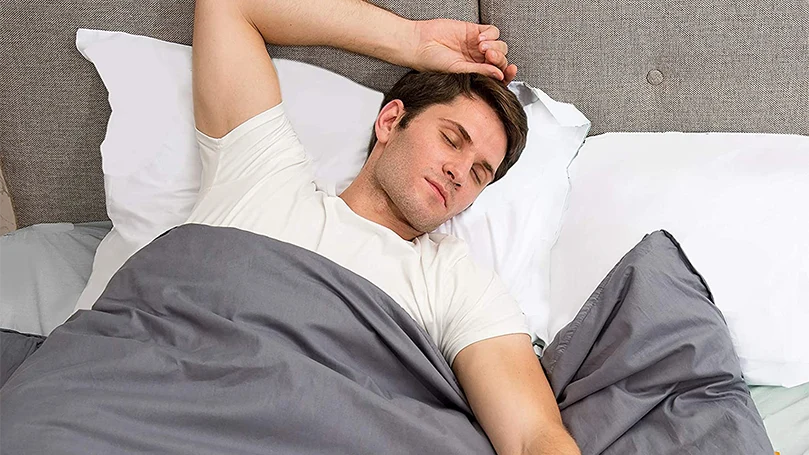 The vast majority of people still prefer cotton over many other synthetic materials, so anyone who considers cotton the most comfortable material will love to hear that the cover of this weighted blanket is 100% cotton. You will enjoy this very soft and cosy cotton cover which is highly breathable.
Also, the cover is hypoallergenic. It is removable and machine washable, so you can always keep it perfectly fresh and clean. It is available in one color – gray.
If you haven't had a weighted blanket by now, you're probably wondering what it is that gives it weight. There are weighted blankets that are knitted in special way and therefore heavy, but most have some sort of filling. The most common fillings are plastic pellets, glass or steel beads, and occasionally manufacturers use sand and similar natural materials.
Rocabi weighted blanket is filled with glass beads which are considered to be premium type of filling because they do not make blanket bulky and they distribute weight very well. They are also hypoallergenic and non-toxic. Breathability is great because the air has enough space to circulate.
High-quality corner ties and double-stitching
There are two very important reasons why we have singled out high-quality corner ties and double-stitching as separate features. Weighted blankets must be of higher quality and more durable than ordinary blankets because inner weighted quilt to hold a weight of as much as 9 kg in this case and that is why double stitching is very important. Corner ties with double stitching prevent clumping and leaking of beads so the weight is always evenly distributed.
Free trial & 365 day warranty
Weighted blanket is a fairly new product on the market and that is why many customers who buy them do so for the first time. If you are one of those who buy a weighted blanket for the first time and you are worried if it will be comfortable for you, you can buy this model without worries because you have 60 nights to test it and be sure that it is suitable for you.
Also, it comes with a 365-day warranty which is both a guarantee that it will be replaced in case of a defect and a guarantee that it is a high quality blanket.
Review of Rocabi weighted blanket
Rocabi weighted blanket is available in three weights – 15 lbs (6.8 kg), 20 lbs (9 kg) and 25 lbs (11 kg). All three weights are suitable only for adults. It is recommended weighted blanket to be 7 to 12% of your body weight or about 8% of the total weight of the couple using it. Which one you choose depends on your preferences too. It significantly affects the reduction of symptoms in disorders such as anxiety and insomnia.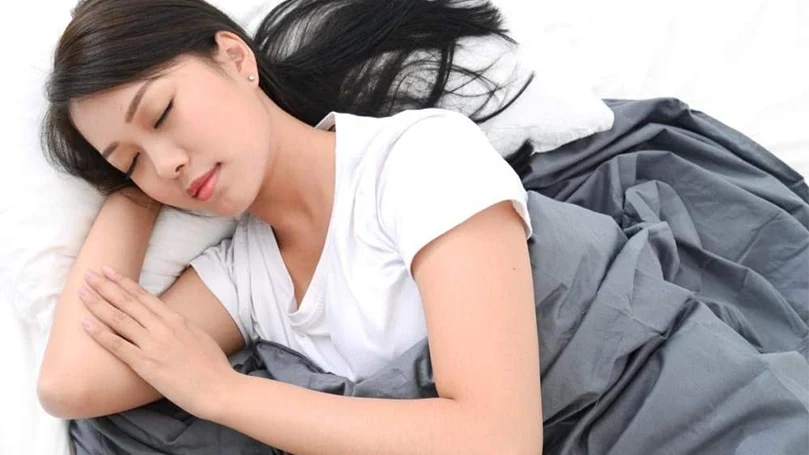 Hypoallergenic premium glass beads are encased in a highly breathable cotton cover. That is why this weighted blanket is comfortable and suitable for hot sleepers and allergy sufferers. Entire blanket is machine washable and cover is removable. It comes with a 365 day trial and you have 60 days to try it.
Weights: 15 lbs (6.8 kg), 20 lbs (9.07 kg) , 25 lbs (11.3 kg)
Cover: Cotton
Filling: Glass beads
Washable: Yes
Warranty: 1-year
Machine washable
Removable cover
Free trial.
Adult-only
A bit more expensive
Only one size – 2.03L x 1.52W metres.
Things we like about Rocabi weighted blanket
Rocabi weighted blanket is highly breathable and very comfortable weighted blanket
Free trial and 365 day warranty are something that will definitely attract even more people to buy it     
Maintenance is very easy because it is machine washable and tumble dryer friendly.
Things we didn't like about Rocabi weighted blanket
All three weights are suitable only for adults
It belongs to the category of more expensive weighted blankets
It would be good if at least one more size is available.
Check the alternatives to Rocabi weighted blanket
Check the alternatives to Rocabi weighted blanket
Nectar and Mela are two prominent UK sleep companies, so we think their weighted blankets are great alternatives to Rocabi weighted blanket, if you find our reviewee unsuitable for some reasons.
You probably remember that earlier in the review, in the part where we talked about glass beads, we mentioned that there are weighted blankets that have no filling but are made of tightly knitted material. Nectar premium weighted blanket is a great example of such a weighted blanket because it is made of 100% tightly knitted organic cotton.
It is eco-friendly product and OEKO-TEX certified. It weighs 5 kg and it is the only weight available, and that is quite enough to provide the necessary pressure on the nervous system and calm you down. It is fully machine washable at 40 degrees C and tumble dryer friendly.
Eco-friendly
Machine washable
Comfortable.
High-priced
One size
One weight. 
Mela weighted blanket is an luxury adult weighted blanket available in three weights – 5.5 kg, 7 kg and 9 kg. Anti-rustle weighted glass pellets mold to shape your body for maximum comfort. Glass pellets are housed in a breathable cotton shell, while the outer cover has two different sides. One side is 100% 300 thread count cotton and the other side is super soft recycled polyester. 
This means that you will always be able to choose the ideal at a given time, depending on the time of year and other factors. It is machine washable at 30 degrees C and you should flat dry it instead of using tumble dryer. All of Mela's products are Oeko-Tex certified.
Take a look at our Mela blanket review.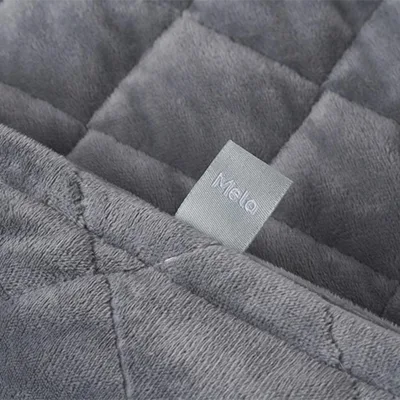 Easy assembly
Craftsmanship
Maintenance. 
Sometimes too hot
Not for kids
Eucalyptus cover not included.
Consider EVE Microfibre pillow if you are buying Rocabi weighted blanket
Although the Eve Microfibre pillow has a wedge shape, it is not a classic wedge pillow because the difference between the two edges is smaller compared to most other wedge pillows. It is suitable for side and back sleepers. Filling consists of two materials, hollowfibre and Aerelle cool night filling so this is the perfect choice for all hot sleepers. 
Cotton cover made of 233 thread count cotton is soft, comfortable and breathable. It is OEKO-Tex Standard Class II certified, which means that no harmful chemicals are used. Maintenance is easy since it is machine washable. 30-night trial and 2-year warranty are included.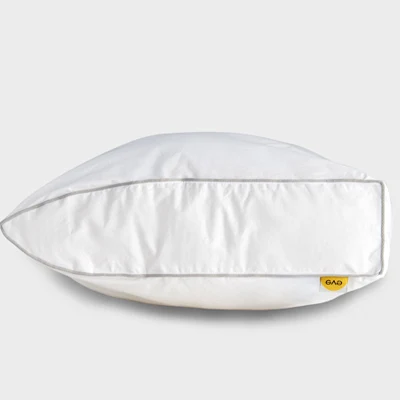 Wedge shape
Machine washable
Cooling.
One size only
Not for stomach sleepers
Too soft for some customers.
What makes this product better than some other similar ones?
We can't say there is one particular feature that makes Rocabi weighted blanket better than some other similar ones but it also doesn't have any serious flaws and that's exactly what makes this product better than competing products. Glass beads are a high-end type of filling, cotton cover is soft and breathable, and the product is overall very durable. It is hypoallergenic and machine washable. Also, you have a 60-night trial and a 1-year warranty. All this together makes this product a great investment.
How did we test the product?
Delivery is free so you just need to choose the desired weight and wait a few days for your new weighted blanket to be delivered to you.
We were lucky so we waited for a very short period to be delivered to us and we didn't waste time but started testing right away. We immediately checked the workmanship so that we could convey our impressions in that field and also to find any defect in case there is one. This was followed by a maintenance test which included a machine wash according to the instructions and then we dried it in a tumble dryer.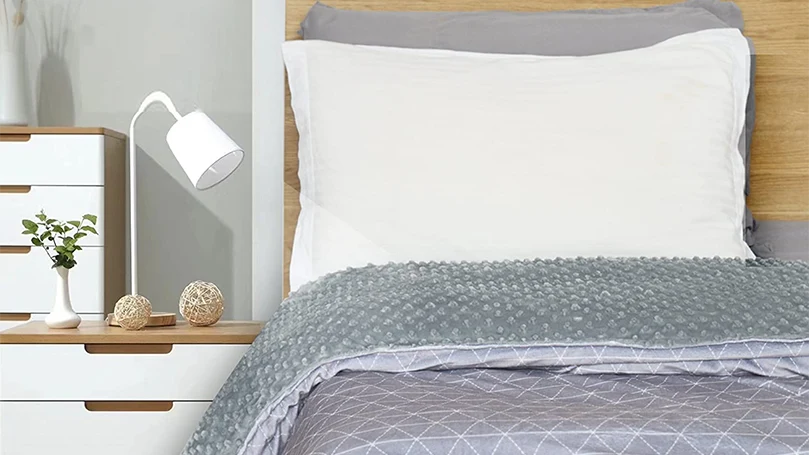 After that, we hired several members of our test team who weigh over 60 kg to use this weighted blanket every night for 10 days and test it, so we can give you a valid review. They evaluated the comfort of the whole blanket, as well as the cover, then breathability, weight distribution and everything else that are the most important characteristics of one weighted blanket.
FAQs about your Rocabi weighted blanket
Find out the answers to frequently asked questions in the final section of our review.
How to wash my Rocabi weighted blanket?
Rocabi blanket is machine washable at 40 degrees C and tumble dryer friendly so maintenance is very simple.
How long will my Rocabi weighted blanket last?
It comes with 1-year warranty and it is high quality product, so with proper maintenance we expect it to last at least 3 years, most likely even longer.
Is Rocabi weighted blanket hypoallergenic?
Yes, both cotton cover and glass beads are hypoallergenic so this weighted blanket is suitable for allergy suffers.
Will Rocabi weighted blankets help me with my anxiety, depression and insomnia?
Most customers who suffer from anxiety, depression and insomnia notice a significant improvement after just a few days of using Rocabi weighted blanket.
Do I pay for the delivery of Rocabi weighted blanket?
No, you don't, delivery is free of charge.