Four Poster Bed - What Is It & Why Room Needs One?
You will find many different types of bed frames on the UK market. Four poster bed is a luxury type of bed frame that can fit perfectly in almost any bedroom.
Four poster beds have been popular for thousands of years, which we will talk about later. This type of bed frame is available in many different options, so you will find ones with and without headboard and footboard, made of different materials (wood or metal) as well as those whose four posts are connected.
Such bed frames are called canopy and are very similar to four poster beds, so they fall into the same category of bed frames. Four poster bed can be very simple in design and also lavish so they are suitable for both modern and renaissance bedroom. In this article you can find more about four poster bed and why you need one.
Add a header to begin generating the table of contents
Is four poster bed an old design that goes way back?
The four poster bed is one of the oldest types of beds. Remember the movies you watched about ancient Egypt, ancient Rome, the Middle Ages, the Renaissance and all other periods of human history. You could see that four poster, canopy bed has always been a luxury type of bed frame used by the nobility such as Cleopatra and the richest members of every society. So it is an old design that goes way back, even before Christ.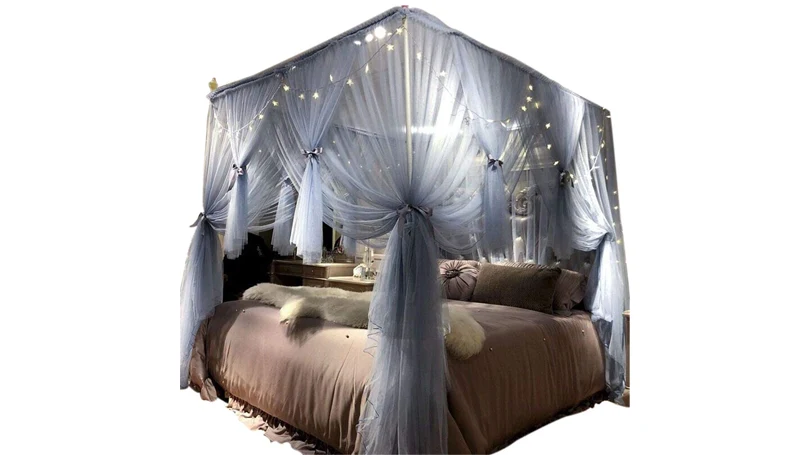 But that does not mean that it is an obsolete type of bed that is no longer popular today, on the contrary. Over the centuries, the design has changed, according to what people considered attractive at the time and also to the technological possibilities and available materials. Today there are four poster and canopy beds that are much simpler in design to fit the Scandinavian design that is very popular. But you can also find flamboyant four poster made of hardwood with a carved headboard and footboard that will make you feel like a king.
What advantages does four poster bed offer?
Four poster bed offers numerous advantages and that is why it has been a part of human society for so long. In the following paragraphs, we will focus on general advantages, but you should know that some other advantages differ according to the material from which the bed is made of. For example, wooden beds of this type are more attractive, while the average service life of metal canopy beds is longer. However, there is an even bigger difference between the types of wood / metal used, e.g. hardwood bed is a premium option. All these factors also affect the price of the product ranging from affordable to very expensive.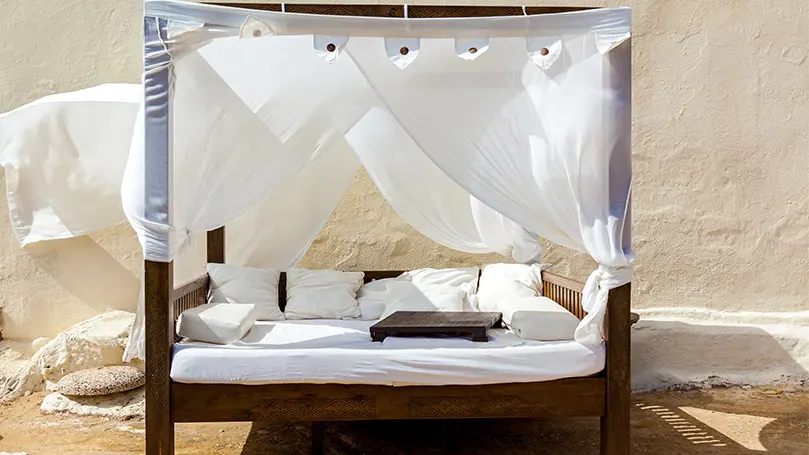 Bedroom should be place where you have the privacy you want. It is very important for the mental state to have an oasis. If you share a home with more people, especially if you have children, your privacy can be significantly compromised. A four poster bed can help you regain privacy. You will be hidden behind drapes whether you want to have an intercourse with your partner or relax without being interrupted.
Canopy will bring you warmth both physical and emotional. You can put thick curtains that will block the light and make you warmer due to thermal insulation even if you have central heating, similar to blackout curtains. Also, you can create cosy environment, which will give you a feeling of emotional warmth.
In the tropics, it would be very complicated to live without four poster bed frames. If you have ever visited an exotic destination or went to safari, you have seen that most hotels and accommodations use this type of bed and net to protect you from various insects, some of which are even dangerous. You don't have to live in the tropics to take advantage of canopy, you can also protect yourself in the UK from flies, mosquitoes and other annoying insects.
You can be sure that the four poster bed will be the focal point of every bedroom. Whichever design you choose, it will be the piece of furniture that looks best and attracts attention. A simple metal four poster and carved mahogany model can look equally decorative, if you fit them properly in the interior. Choose decorative curtains for canopy that will further decorate the room.
Why is four poster bed considered to be luxurious?
It is easy to conclude why a four poster bed is considered to be luxurious. Since the ancient times, the richest members of every society had four poster bed frames in their bedrooms. There are several reasons why this type of bed has not been affordable to others for centuries.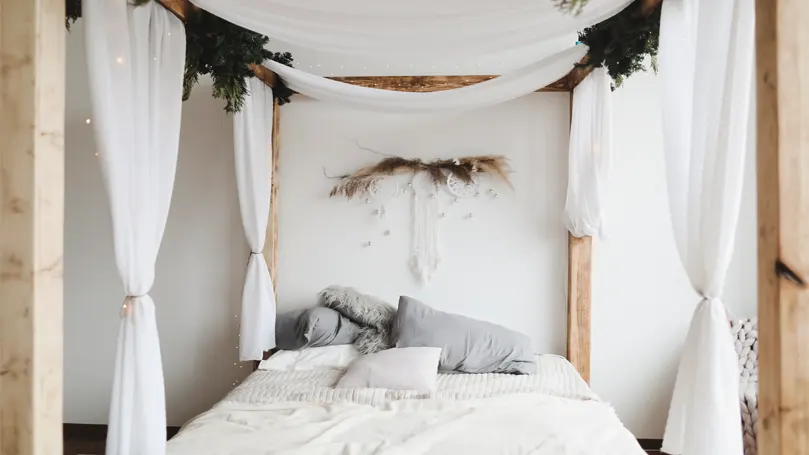 You need a large bedroom to have space for one of these beds, and most people didn't even have a separate bedroom at the time. Also, four poster beds were expensive because back then they were made exclusively of hardwood, and much more material is needed compared to making a simple bed frame. Even today canopy beds are among more expensive ones and you still need master bedroom.
This type of bed was never out of fashion since it was made for the first time. It is always possible to make small changes in appearance and functionality to adapt to current needs, but design is everlasting. So when you buy it, you can be sure that it will look modern in the next 10 or 15 years as well.
No, four posters will not automatically make your bedroom look rustic, because although it has a traditional design, it is very elegant. Of course, if you want an old-fashioned look of the bedroom, you can find the appropriate model but also many models that fit into the modern space.
Today it is possible to find small models, even small single for kids and low four poster bed. But generally these are big bed frames, which will give you a plenty of space and that is another reason why they are considered luxurious. Super King size canopy bed can be truly gigantic and.
What type of mattress is best for four poster bed?
The four poster bed is no different from other beds when it comes to choosing a mattress, so this bed frame will not dictate the purchase of the mattress. If you have a mattress that is comfortable for you, and the size fits the new bed frame, you can use it or you can buy a new mattress topper if you want to improve some of the features.
If you need to buy both a frame and a mattress at the same time, then once you have determined the exact size, you can start looking for a mattress. Consider your sleep position, budget, breathability, motion isolation and many other important factors before making a decision.
Conclusion - should I go with four poster bed?
Four poster bed has so many advantages and its look is tempting so we are not at all surprised that you are considering to buy one. If you have a master bedroom where you will have enough space even when you put one big bed frame, then it is definitely a good choice. It will improve your night's sleep because it will give you a lot of space, privacy, block the light and keep you warm. Not to mention how much it will improve the look of your bedroom, as best four poster beds have been doing for thousands of years around the world.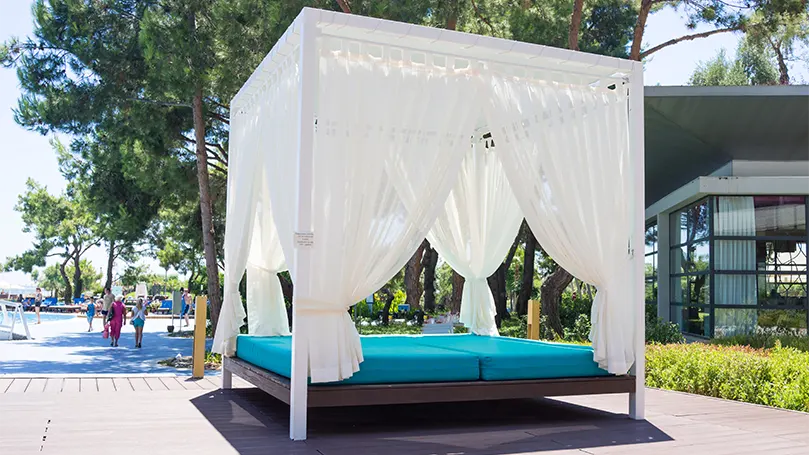 At the end of the day, you will have to decide for yourself if a four poster bed frame is ideal for you. We have given our best to introduce you to the history and characteristics of this type of bed, and you will know best to decide according to your budget, needs and desires.