Relyon Luxury Silk 2850 Pillow Top Mattress Review
When a company has been around for more than 150 years, it is a clear sign that they are doing things well. Founded in 1858 by a Somerset family of wool merchants, the Price Brothers and Co. the business initially produced wool mattresses. Later the Relyon brand was born and the company followed new trends and started producing mattresses that are not 100% wool. 
However, they kept the best of both worlds by combining springs and wool in many of their products. And one of those products is the Relyon Luxury Silk 2850 Pillow Top mattress. We conducted in-depth testing of that mattress and here is your review.
Who is Relyon Luxury Silk 2850 Pillow Top mattress for?
We weren't 100% sure what to tell you in this part. Relyon Luxury Silk 2850 Pillow Top mattress is definitely for side and back sleepers, as it provides gentle support and a feeling of sleeping on the cloud. 
But during the testing, we had the impression that it is also suitable for stomach sleepers since it is supportive mattress, so we were hesitant to say whether it is for all sleep positions or only for side and back sleepers.
In the end, we decided to tell you that it is perfectly suitable for side and back sleeping, and that it will be comfortable for many stomach and combination sleepers as well, but not for all of them because some will need firmer support.
When we talk about allergy sufferers and hot sleepers, it is suitable for both groups of customers.
Add a header to begin generating the table of contents
What do we use this product for?
We use Relyon Luxury Silk 2850 Pillow Top mattress for numerous purposes, and above all to provide comfortable sleep, gentle support and temperature regulation. Also, we use it for hypoallergenic properties.
We use it for comfortable night's sleep
We use it for support
We use it for pressure relief
We use it for motion isolation
We use it for temperature regulation.
Features you should know about Relyon Luxury Silk 2850 Pillow Top mattress
In this part of our review we will address in more detail each and every one of the most important features of this mattress.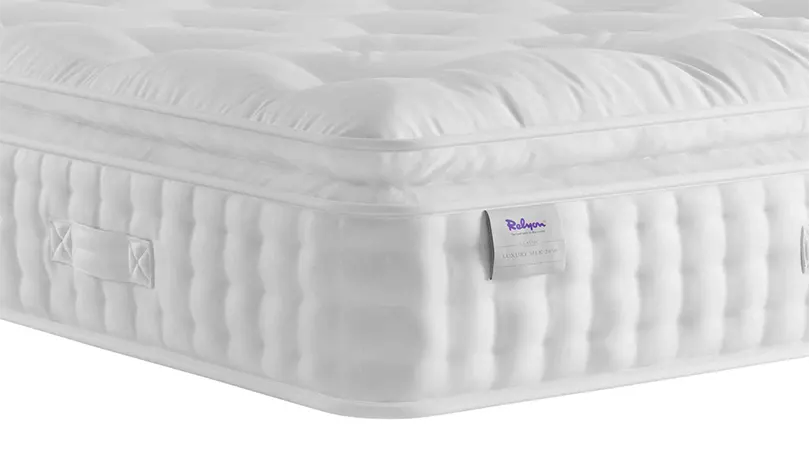 2850 pocket springs for even weight and pressure distribution
The heart and soul of this mattress is the pocket spring system, which consists of 2850 individual pocket springs (this is combined spring count in King size, and other sizes have proportionally more or less springs). This is not an orthopedic mattress, so springs provide medium, gentle support and distribute weight evenly.
Each of the springs is separately nested in the fabric pocket, and this significantly affects the functioning of this mattress. This means that each spring work completely independently and thus gives you personalized support. When we say personalized, we mean that it responds to your body weight and movements during the night. Also, it is very important due to pressure relief as well as due to motion insulation.
This mattress is recommended to the couples because they will not wake up each other, but everyone will have their own part of the mattress that the other will not have an impact on. You should also know that not all springs are identical, but firmer springs are located at the edges, so that the edge support is as good as the support in the middle of the mattress.
Hand tufted design for a better durability
At the beginning of the review we mentioned that this is a company with a very long tradition, whose beginnings are closely related to wool. So it should come as no surprise that they decided to use wool tufts.
Also, it should be noted that hand tufting is a traditional method of connecting layers of mattress, thus making it durable and stable. Wool tufts guarantee that you will not have the feeling that the mattress is moving under you, and wool tufts also further enhance the edge support, which is already great thanks to the special springs that are placed there.
Reinforced border with three-row stitchings
Everything on this mattress is made that way to provide maximum comfort and durability, and the company did not aim to save time of their craftsmen, but to give you with the best possible mattress. This can be seen by the robust mattress border with three-row side stitching too, which is another way to further improve durability and stability.
Lux blend of cashmere & silk
It is not uncommon for premium mattress manufacturers to add layers of natural materials over spring systems. The most commonly used is combination of wool and cotton, which bot have great characteristics, but in the case of Relyon Luxury Silk 2850 mattress, two even better and more luxurious materials were used – cashmere and silk.
Cashmere is a high-end type of wool that gives a luxurious feel, regulates temperature perfectly and is breathable. We all know how soft silk is and it is also breathable, so this blend is the perfect choice. Both cashmere and silk are hypoallergenic materials, and unlike wool, cashmere does not irritate sensitive skin.
Unlike many other products that feature only the spring system and layers of natural materials, this mattress has another layer, which is closest to you, and is mentioned in the product name – pillowtop layer.
This pillow top makes this mattress so comfortable, giving you a cloud-like feeling as soon as you lie on it.
The pillow top includes mini pocket springs that work to provide even better personalized support and a comfortable sleeping surface. We have to say that pillow top is a real touch of luxury.
Super-soft Damask top cover
It remains to tell you more about the cover in which this luxurious mattress is wrapped up. It is a luxury damask cover, which will immediately attract your attention due to its attractive appearance. Alongside attractive look, which is a less important feature of a cover, this is a super-soft cover that is very durable at the same time. It is finely woven which improves durability, so wear and tear will not be present even after a few years, if you treat this damask cover carefully. It is not removable.
Relyon Luxury Silk 2850 Pillow Top mattress is 26.5 cm deep (about 10.4 inches) which is more than the industry average of 20 to 25cm for pocket sprung mattresses. This means that even people who are heavier than average, and even those with a very high BMI can buy this mattress, because it is deep enough not to become too thin when someone heavy lies on it.
The duration of the warranty is another feature where the Relyon Luxury Silk 2850 Pillow Top mattress exceeds the industry average. When you buy this mattress, you have an 8 year warranty for peace of mind. This means that you do not have to worry if anything happens to him that is not the result of your mistake, because the manufacturer will repair or replace it. It is very important to know that the warranty is so long because you are investing a significant amount of money in the purchase.
Review of Relyon Luxury Silk 2850 Pillow Top mattress
Relyon Luxury Silk 2850 Pillow Top mattress is 26.5 cm deep, medium firm mattress. Depending on body weight, sleep position and preferences, some will say it is medium-soft, while others will say it is medium, but on a firmness scale of 1 to 10, it is around 6. This makes it ideal for side and back sleepers, but does not disqualify it for stomach sleepers either. 
The main part of this mattress for support and firmness are individual-wrapped pocket springs. Also, pockets springs isolate motion so that couples can have undisturbed night's sleep. Over 2850 pockets springs, you can find a durable insulation layer made of of cashmere and finest silk fibres that have the role of temperature regulation, but also giving softness and a luxurious feeling while you sleep.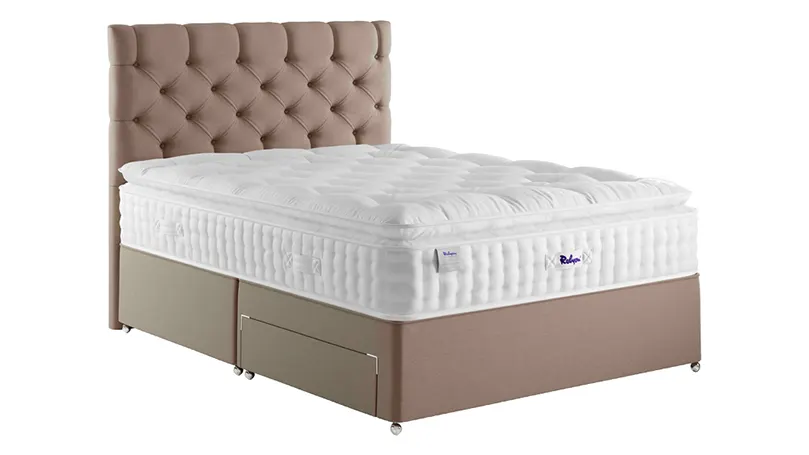 That's not all. Finally comes the pillow top, which features mini pocket springs, that are primarily there for comfort, but also for additional, personalized support. The mattress is encased in a super-soft Damask top cover. The whole mattress is very durable, both because of the materials from which it is made, and because of hand tufting and three-row stitchings. It is hypoallergenic.
It comes with an 8-year warranty. Relyon Luxury Silk 2850 Pillow Top mattress is approved by the National Bed Federation, it is fire resistant and handmade in the UK.
Type: Pocket spring
Material: Silk & cashmere
Firmness: 6/10
Support: 8/10
Mattress depth: 26.5 cm
 Warranty: 8 years 
Size: Single, Small Double, Double, King, Super King
Removable cover: No
Hypoallergenic: Yes
Trial: None
Care: Wipe with a damp cloth.
What we like about Relyon Luxury Silk 2850 Pillow Top mattress
The balance between comfort and support is so good that we expect that using this mattress will significantly improve your sleep quality
Lux blend of cashmere and silk, as well as super-soft Damask top cover suggest that it is a premium mattress
The temperature regulation is great, so you won't be cold in winter and hot in summer.
What we didn't like about Relyon Luxury Silk 2850 Pillow Top mattress
Single size, as the cheapest size, costs close to 1000 pounds, so this mattress will be too expensive for many, but those who buy it will not regret the decision
We have not found information about the trial period anywhere, and it is unacceptable that you do not have the opportunity to try the mattress
This is a very durable mattress, but it would be even better if it is double-sided.
The common problems with Relyon Luxury Silk 2850 Pillow Top mattress

We can't list many common problems with the Relyon Luxury Silk 2850 Pillow Top Mattress because there aren't many, if any. The price is certainly the first thing that comes to mind and probably the only one. 
We don't want to say that it is too expensive per se, just that it is significantly more expensive than the average in the UK market and we know that many people will not want to pay that much for a mattress. Try to find a coupon or buy during the discount season, the holidays are best time, since the discounts are up to 50%.
What makes this product better than some other similar ones?
Without a doubt, Relyon Luxury Silk 2850 Pillow Top mattress is a truly sumptuous mattress that will not disappoint all those who decide to buy it. However, what makes it better than some other similar mattresses that are also high-end pocket sprung mattresses with layers of natural fillings is the pillow top. The pillow top in which the mini springs are located gives an extra dimension of comfort and support. Alongside pillow top that is a topnotch addition, all other features are also great, like pressure relief, motion insulation, breathability and temperature regulation.
How did we test the product?
When we talk about delivery options, for all sizes, except King size, delivery is free and will happen within 3 to 5 weeks, which is not prompt, to be honest, but that's the way it is. If you opt for King size, then you can choose any day you want and then the mattress will be delivered to you, within a two-hour delivery window. Free delivery is available in both cases if it is to your building, and if it is to the room of your choice and if it includes the removal of an old mattress, then there is an additional charge. Weekend delivery is charged extra too.
Initial odour is barely noticeable, and long standing odoir does not exist, so you will be able to use it immediately. Our testing of mattresses, as well as other products, always starts the same way. We first check the entire product for defects, and then perform a durability test and a maintenance test.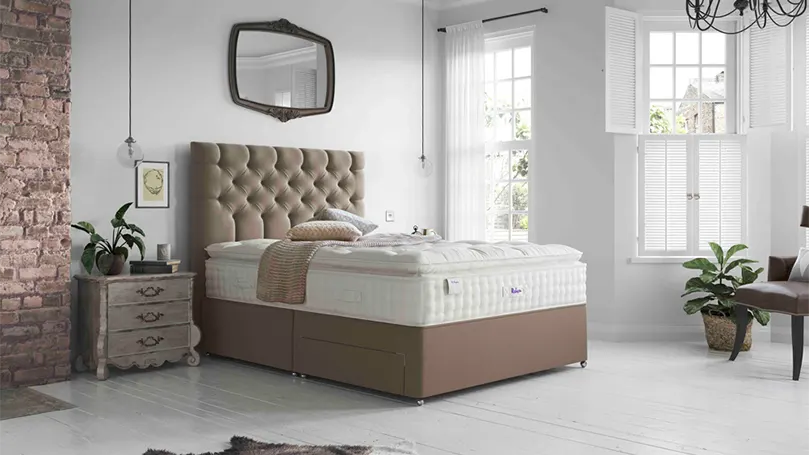 After that, our testers specialized in mattresses take over the product and conduct multi-week testing. Only after testing it in different sleep positions, then sleeping in rooms of different temperatures and so on, we are ready to write a review.
Overall impressions of the product after the testing
We feel it is appropriate to say that this product can change your life. If you have been sleeping on an old, budget mattress until now, and then buy the Relyon Luxury Silk 2850 Pillow Top Mattress, your night's sleep will be completely changed for the better.
The mattress is so comfortable because of the pillow top, and at the same time supportive. We have the impression that we have not tried many mattresses comfortable for every sleep position, but this is one of them. We got the impression that it is highly durable and that it is a very good long-term investment.
FAQs about your Relyon Luxury Silk 2850 Pillow Top mattress
We will use our FAQs section to give you answers to some more questions and to wrap up this review.
Is Relyon Luxury Silk 2850 Pillow Top mattress suitable for side sleepers?
Relyon Luxury Silk 2850 Pillow Top mattress is perfect choice for side sleepers, since level of firmness, support and comfort are all ideal for that sleep position.
Should back sleepers sleep on a Relyon Luxury Silk 2850 Pillow Top mattress?
Back sleepers should use this mattress because it will give them comfortable night's sleep and spinal alignment.
Is Relyon Luxury Silk 2850 Pillow Top mattress good choice for stomach sleepers?
Mattresses of the similar firmness as Relyon Luxury Silk 2850 Pillow Top mattress are usually not suitable for stomach sleepers, but this one is slightly different so there are stomach sleepers who will find its characteristics suitable.
How do I clean my Relyon Luxury Silk 2850 Pillow Top mattress?
If you spill something on it, you can spot clean it with lukewarm water and mild detergent, but to keep your sleep environment clean, you should use deep fitted bed sheets since cover is not removable.
Should I flip Relyon Luxury Silk 2850 Pillow Top mattress?
No, this is single-sided mattress, so you shouldn't flip it, just rotate it every few months.
Is Relyon Luxury Silk 2850 Pillow Top mattress hypoallergenic?
Yes, Reylon Pillow Top mattress is hypoallergenic and thus safe for all people with allergies.