Scooms Hungarian Goose Down Pillow Review
People are calling Scooms Hungarian Goose Down Pillow a luxury product on a budget. If that sounds like something you might be into – stick around with us for a few more moments, and let us tell you all about this pillow in our in-depth review!
Who is Scooms Hungarian Goose Down pillow for?
Made from Hungarian Goose feather and down, this fluffy, cloud-like pillow seems to be aimed at everyone. Ideally thick at 12 cm, Scooms Hungarian Goose Down pillow aims to satisfy everyone's needs, regardless of their sleeping position or body weight.
If you are on the hunt for a pillow with natural material, you shouldn't look any further as this pillow offers you everything you need for a comfortable and anti-allergic sleep. Furthermore, at a relatively competitive price for a high-quality product, we're sure many will find a way to enjoy this one.
What do we use this product for?
What is a pillow supposed to do? It's supposed to support your neck while you sleep while gently cradling your head in cloud-like comfort. If that sounds about right to you, well, then you'd like to know that this is exactly what Scooms Hungarian Goose Down pillow does. Also, despite what many might say, this feather and down pillow won't make your allergies act up, so you can use this one to stay sneeze-free during the night, as well.
Features you should know about Scooms Hungarian Goose Down pillow
Now, let's talk about this pillow a little bit more. As you know, there are many feather and goose down pillows on the market, so it might be smart to know precisely what you're getting with this one.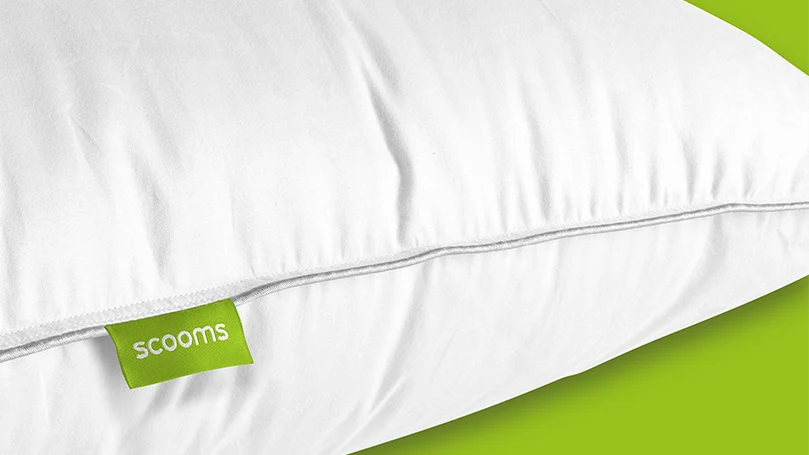 Inner core of 15% down and 85% feather
Unlike many other feather and down pillows, this pillow isn't simply stuffed with goose feathers. Instead, the body of this pillow is made from two separate layers, which consist of two filling materials.
 The first layer, or the inner core, is made from natural and ethically sourced 15% down and 85% feather. This is because feathers are usually a bit firmer than down, making this zone a bit sturdier and a lot more supportive than if it were the other way around. This way the filling provides the superb cushion and comfort.
Outer chambers made of 90% down and 10% feather
Around the inner core, we can find the outer chamber. The outer chamber of this pillow is made from 90% down and 10% feather. You could look at this outer core as a comfort layer. These chambers are designed well with the goal of heat retention and air flow.
In this case, the predominant material is down, making the outer chamber softer and fluffier. When put together, these two create a supportive yet perfectly soft and comfortable pillow filled with natural material, perfect for all your nights.
No pillow is complete without a good pillowcase. In the case of this pillow, pillowcase isn't removable, but to no avail.
High thread count makes this cover, or a pillowcase, perfectly pleasant to sleep on. As you might already know, a 300 thread count is often considered ideal when it comes to sheets, pillowcases and bedding, which is one of the several reasons why Scooms have decided to go with a cover of this quality.
Hypoallergenic & dust mite-proof
Another reason why Scooms went with a 300 thread count outer cover is to make the cover hypoallergenic. You'll notice just how smooth the cover is to the touch, and that's because it is tightly woven, making it virtually impossible for the allergens like dust-mites to come aboard. Naturally, a tight weave like this has its drawbacks, and in this case, it's the impaired breathability. But then again, when you have a soft, feather and down pillow that's hypoallergenic – breathability can take some time off.
One thing we haven't mentioned is that the outer cover is made from 100% Egyptian cotton. To be more precise, the cover is made from 100% sateen cover. Sateen cotton is virtually just cotton, only slightly differently woven.
If you know your fabrics as we do, you know that sateen cotton is remarkably smooth and silky to the touch, and that perfectly sums up this cover.
The only drawback of sateen is that it is slightly less durable compared to regular cotton, but then again, you wouldn't use this pillow without a separate pillowcase, so this isn't something you should worry about.
Review of Scooms Hungarian Goose Down pillow
Now, for the main event – the review of this fantastic pillow that deserves your time and attention!
First of all, we have to start off by saying that this pillow really feels like luxury on a budget. Now, this is far from an affordable, budget pillow, but compared to some other pillows you can find on the market – this one is very reasonably priced.
As far as comfort goes, resting your head on this pillow feels wonderful. The goose feather and down will gently nestle your head once you lie down. The pillow won't flatten, as it is generously filled with both down and feather, but you should remember to shake and plump it up daily.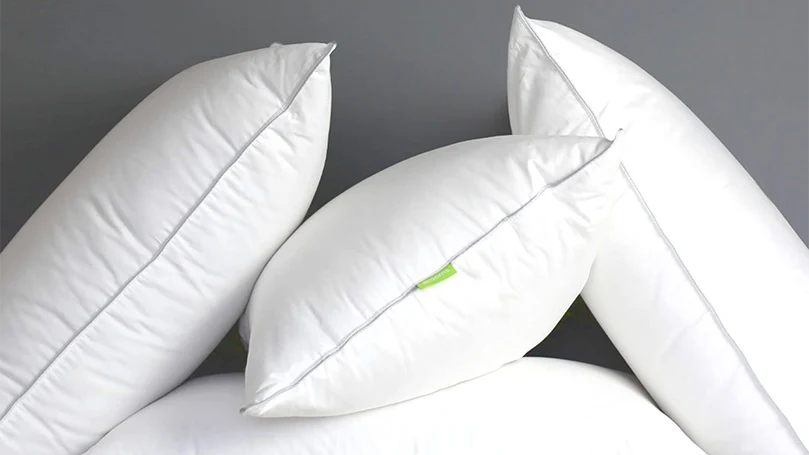 Support wise – we have no complaints. You will most definitely not get the same level of support as you would with a contour or a cervical pillow, but that's expected. As we've said, it won't flatten when you lie down on it, and when paired with an excellent mattress – it should be more than good for every sleeping position.
Finally, as far as durability is concerned – this is a fairly durable product. To support that claim, Scooms is giving you a 3-year guarantee. One of the best goose down pillows ever!
Soft and comfortable
Supportive
Hypoallergenic.
It gets a tad hot
Isn't the most breathable
No removable cover.
What we like about Scooms Hungarian Goose Down pillow
The pillow comes in two sizes, so it's easier for you to find a good match
The free next day delivery is great, but sustainable and recyclable packaging is even better
Even though it is soft and fluffy, it's still firm and supportive enough.
What we didn't like about Scooms Hungarian Goose Down pillow
It doesn't come with a removable cover or a pillowcase
The cover isn't the most breathable one on the market
On a hot night, you'll probably find yourself flipping it over to the "cool" side.
Check the best alternative to this pillow
If this pillow isn't your cup of tea, don't beat yourself about it. There are other feather and down pillows that may be better for you.  We saved you from doing the Google' work  – here's one!
White Company's Goose & Feather Down Pillow
If you're in the market for a non-luxury feather and down option – the White Company's Goose Feather and Down pillow might be the one for you. Coming from the recognized company, you don't need to worry about the quality of the product.
It's filled with 85% white goose feather and 15% down and encased in a 233 thread count cotton cover. This is not as high-quality construction pillow as our reviewee, but when discounted – they're basically free!
If you would like to learn more about this pillow, feel free to check our review of this branded pillow.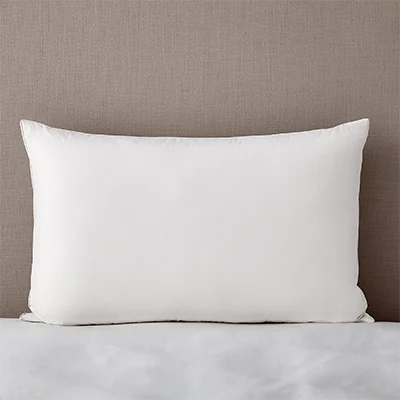 Soft and fluffy
Breathable & light
Incredible value-quality ratio.
Not ideal for side sleepers
It can get smelly pretty quick if you sweat a lot
Not enough neck support.
Consider Mela Weighted Blanket if you are buying Scooms Hungarian Goose Down Pillow
If you're buying Scooms pillow, you might want to consider adding a weighted blanket to the mix – you shouldn't miss this online chance really! This double-sided, quartz pellet-filled weighted blanket from Mela might just be the right choice for you.
With one side being cotton and the other one Minky – this weighted blanket should help you keep cosy all seasons. If you can't find your perfect duvet and can't decide on a blanket, this is your best choice!
We have a full review on Mela weighted blanket so make sure you check it out.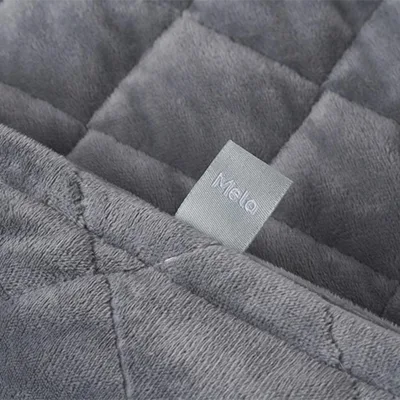 Very nicely built
Comfortable and snuggly
Seasonal range.
It still gets too warm due to synthetic material
Somewhat expensive when compared to similar products
Only a 30-day trial.
What makes this product better than some other similar ones?
The greatest thing about Scooms Hungarian Goose Down Pillow is its perfect balance of support and comfort. At the same time, this pillow and soft and incredibly comfortable to sleep on, while being supportive and firm, which is exactly what makes it suitable for pretty much everyone. The stitching details, the excellent materials and the perfect size will suit all sleepers who suffer from neck pain, want to take their night sleep to the next level or simply get a new pillow that is for all seasons.
If you want an excellent comfort, then do not hesitate and go for this pillow as this is the best quality you can get for the price tag you are paying. Combine it with some of the duvets that we have had reviewed and you have everything what it takes to sleep well.
How did we test the product?
The first order of business was getting the pillow. Thankfully, ordering the product was as easy as it could be. We visited the website of the company and read more details about the product first. We've filled out the address form, put the order in, and within 24 hours – we've had a new pillow in the office. So, not only do you get free delivery – you get ultra-fast delivery, too. No to mention that the company made a super-friendly website that helps you find everything about the product online.
This product comes in sustainable, natural, recyclable packaging, with no plastic waste.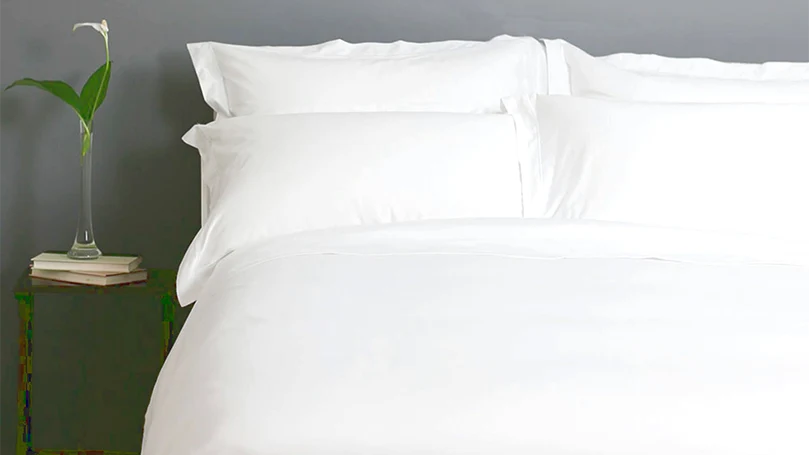 The first thing we've check is whether there were some feather shafts poking around and whether there was any physical damage to the pillow. Once we've concluded that everything's perfect – we've begun our testing.
All of us have spent a few days with Scooms Hungarian Goose Down Pillow in order to fully feel it out, and we have to say – we were quite pleasantly surprised with it. Many feather and down pillows are marketed as supportive, but they always easily flatten – but not this one. This one managed to both keep us comfortable and supported all through the night.
All in all, we've concluded that this is a very good pillow, almost anyone should be able to thoroughly enjoy.
FAQs about your Scooms Hungarian Goose Down pillow
Here is our FAQ section where you can find the most common questions about this pillow.
How do I wash my goose down pillow?
This pillow is machine-washable in its entirety, but you should do it more than twice a year.
Do I get a trial period for my goose down pillow?
You do get a 30-night trial period with this pillow. However, once the pillow has been used – it can't be returned. So, no – you don't really have a trial period.
Do I get a warranty for my goose down pillow?
Yes. This pillow comes with a 3-year warranty.
Does Scooms offer free UK delivery?
Yes, you get the free delivery and free UK delivery is free as long as it is within the UK's mainland.