Woolroom Natural British Wool Pillow Review
It seemed that polyester would completely suppress natural materials, equally in sleep and all other industries. But in recent years, customers are returning more and more to natural materials. Pillows filled with wool have many great characteristics and are 100% eco-friendly. In front of you is Woolroom Natural British Wool pillow review by The Sleep Advisors.
Who is Woolroom Natural British Wool pillow for?
This deluxe wool filled pillow is suitable for side, stomach and back sleepers. It is also good for hot sleepers, although you may think the wool is only for winter. But wool as a natural material that is highly breathable, wicks moisture away and dissipates heat.
Wool is naturally hypoallergenic, so this pillow is also suitable for all those who have allergies, unless they are allergic to wool. Wool also prevents the growth of bacteria and other types of allergens.
Add a header to begin generating the table of contents
What do we use this product for?
Since it is a medium firm pillow, it will give you both comfort and support. Pressure relieving is another feature of Woolroom Natural British Wool pillow that will suit everyone. Due to the support and pressure relief, you will not experience anymore pain and stiffness in the neck, spine and shoulders after waking up. And all this will not affect the comfort of a night's sleep because it is soft enough. So, in a nutshell, this pillow is great for:
Allergy sleepers
Side sleepers
Stomach sleepers
Front sleepers
Hot sleepers.
Features you should know about Woolroom Natural British Wool pillow
British Wool Balls is the main features you should know about Woolroom Natural British Wool pillow, but certainly not the only important feature. We will also talk about cotton percale and other properties that wool can offer to you.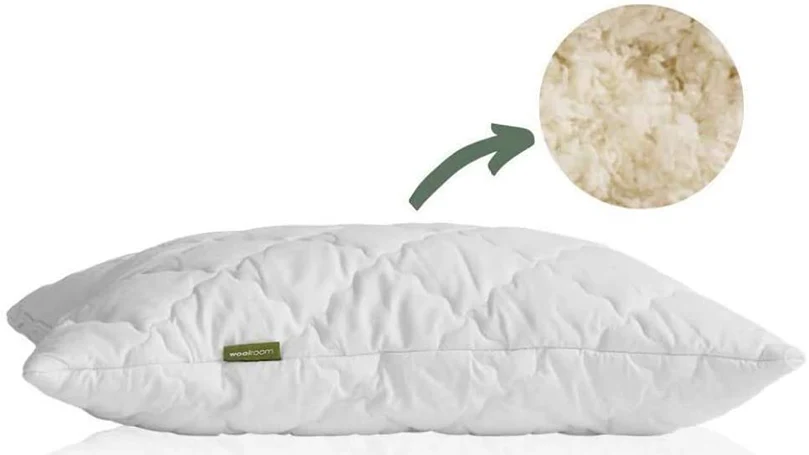 Microfibre is known as the best down alternative among polyester materials, and British Wool Balls represent the best natural replacement to goose down feather.
This pillow is filled with traceable organic British wool balls which are voluminous, weigh 770g and therefore create and maintain the loft very well. This kind of filling is medium firm and supportive.
Breathable cotton percale
To make this pillow all-natural, the 200 thread count cover is made of 100% cotton. Organic cotton is one of the softest and most comfortable materials and that is why it makes a great sleeping surface of this pillow. Also, cotton outer is cooling, further enhances breathability and along with wool filling works to wick moisture away from your head to make you comfortable all night long.
Natural anti-allergenic & cooling
As all materials used for Woolroom Natural British Wool pillow are ethically sourced, this pillow is naturally hypoallergenic. Wool comes from British farms that adhere to The Five Freedoms, and the cotton cover is OEKO-TEX Standard 100.
The combination of wool and cotton is cooling due to great breathability and removal of moisture and heat from you, so this pillow can be used all year round. And it won't be too hot for hot sleepers either.
As fleece is very dense in sheep, it is natural that many residual matter can be found. Most wool pillows and other wool products are single-scoured, but Woolroom Natural British Wool pillow filling is double-scoured to make sure there is nothing inside but wool. Still, distinctive scent of sheep will certainly be present because it is impossible to avoid it, but to a lesser extent than with single-scoured wool products.
Suitable to all types of sleepers
Back sleepers, stomach sleepers and side sleepers will be equally pleased with the performance of Woolroom Natural British Wool pillow. As it is a medium firm, it will be supportive enough for the back and stomach sleepers, and soft enough for the side sleepers. In all three sleep positions it is possible to achieve spine alignment when using this pillow which is most important for pain-free mornings and good night's sleep.
Review of Woolroom Natural British Wool pillow
Woolroom Natural British Wool pillow is 100% natural pillow filled with British Wool Balls credited for loft of this pillow and encased in 100% cotton cover. The medium firmness of this pillow makes it suitable for all sleeping positions. Breathability and hypoallergenic properties should also be mentioned as very important characteristics of this pillow. For all those who are not allergic to wool, this pillow is a great choice. Even those who think they are allergic to wool should be sure if they are really allergic or just their skin is irritated by wool. If it's just irritation, then you can use this pillow.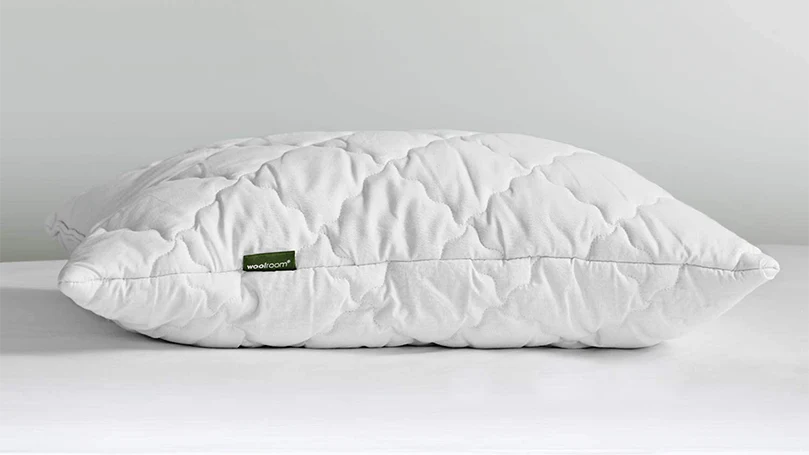 It is naturally flame retardant without any unpleasant chemicals. It is only available in one size and delivery is free. It is double-scoured.
Size: 48cm W x 74cm L
Washable: Dry cleaning only.
Materials: British wool balls fill; cotton encasing
Firmness: Medium
Removable cover: No.
Eco-friendly
Good for all sleeping positions
Breathable. 
Smell
Not for people allergic to wool
Not machine washable.
What we like about Woolroom Natural British Wool pillow
It is filled with top quality British wool and encased in the cotton cover
Great natural alternative to goose down feather pillows
Breathable pillow good for hot sleepers.
What we didn't like about Woolroom Natural British Wool pillow
Odour is very noticeable during first few days
People who are allergic to wool cannot use it
Some customers complained about wear and tear, so there is durability concern.
What makes this product better than some other similar ones?
We really like British Wool Balls as well as double-scoured wool and those two things definitely make this pillow among the best wool pillows on the United Kingdom market. We also support the endeavour of Woolroom to support British farmers.
How did we test the product?
It is available for next working day delivery for all UK orders over £ 50 which is great. You can also collect it at the store.
When Woolroom Natural British Wool pillow arrived we first had to air it out to minimize the odor that is present in most natural materials. Craftsmanship is great and the 200 thread count cotton cover is so soft. It is only available in one size, which some customers will probably not like.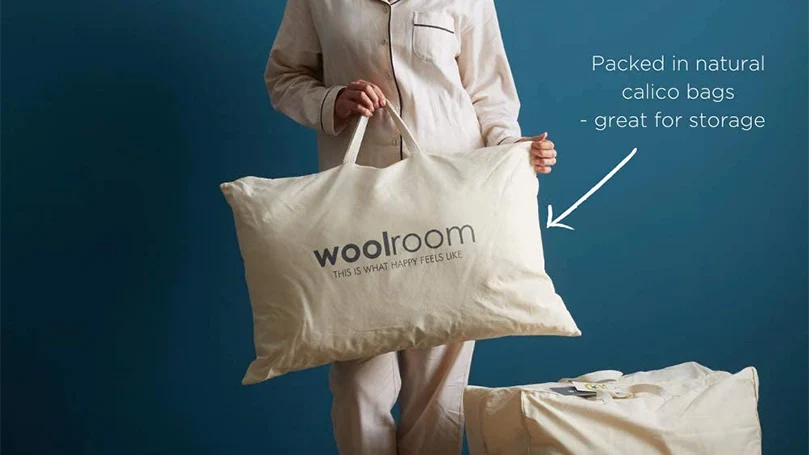 We repeated the overnight test 3 times to test it in different sleeping positions and it met all the requirements. Excellent balance of softness and support, and breathability is satisfactory. It can be used for all seasons. It happens to lose fluffiness at certain moments, but just have to shake it and it will be fluffy again. Some side sleepers may think this pillow is too hard, but our advice is to give it a chance for a few nights until you get used to it. Especially if you used a memory foam pillow before buying this one.
The cover is not removable and dry clean only, so you have virtually no obligation to maintain this pillow other than take it to dry cleaning.
FAQs about your Woolroom Natural British Wool pillow
We will use the Frequently Asked Questions section to repeat some very important things about Woolroom Natural British Wool pillow, as well as to answer some more questions.
Should sleepers with allergy problems use Woolroom Natural British Wool pillow?
Woolroom Natural British Wool pillow is completely safe for all sleepers with allergy problems, except for those allergic to wool.
Can I wash my Woolroom Natural British Wool pillow in a washing machine?
No, you can't wash it in a washing machine, dry clean only.
Will Woolroom Natural British Wool pillow lose his fluffiness over the time?
Woolroom Natural British Wool pillow may lose fluffiness but you will regain fluffiness by shaking it.
Should side front and back sleepers use Woolroom Natural British Wool pillow?
Even though it is a side sleeper pillow, a lot of front/back sleepers actually reported a high level of comfort and support.