Slumberdown Super Support Pillow Review
Neck pain is a big problem, especially if it is chronic. It is not only the pain, but it can lead to many other problems like dizziness, headaches and back pain. And one of the most common causes of this problem is insufficiently supportive pillow. Here is Slumberdown Super Support pillow review by The Sleep Advisors where you can find out if this pillow is the right choice for you.
Who is Slumberdown Super Support pillow for?
Slumberdown Super Support pillow is for side sleepers, according to Slumberdown company. We agree that it is ideal for side sleepers, but it is also suitable for back sleepers. It is great for all those who need a very supportive pillow.
Allergy sufferers is another type of customers to whom we would recommend this pillow since it is 100% hypoallergenic and machine washable. It is handcrafted in the UK, so if you want to support the local industry, then buy this product.
What do we use this product for?
We primarily use Slumberdown Super Support pillow for support. As you could infer from the name of this pillow, support is its main feature. You will certainly not be disappointed after trying it, because it will always keep your head, neck and spine in the correct position since it is super supportive. Those who experience night sweats will also use it because it is designed to move excess moisture away from your body. Therefore, the product is a great choice for:
Side sleepers
Hot sleepers
People with allergies 
People who need a a bit more supportive pillow for neck/back pain treatment. 
Features you should know about Slumberdown Super Support pillow
In this part of our review, we are going to analyze most important features of this pillow. You can find out more about type of support, filling material, maintenance and hypoallergenic properties.        
Slumberdown Super Support pillow offers firm support, and when they designed it, they certainly had side sleepers in mind. As most people sleep on the side, more than two thirds of people in the UK, then this pillow will suit many, especially those who like firmer support pillow. With just the right position of their bodies, they will sleep well.
It provides firm support, but not too firm. On a firmness scale of 1 to 10, it deserves 6, but provides support as if it is 7 or even 8. That's more than enough support to keep the head, neck and back properly aligned even with heavier people. In the morning you will wake up pain-free, because you will sleep in the correct position all night.
This pillow is filled with 100% polyester fiber called Dacron fibre. Dacron filling is soft and breathable, making this pillow comfortable and suitable for hot sleepers. Dacron filling helps carry excess moisture away from your body, so you will always have a dry sleep surface.
If you are wondering how this pillow is so supportive, and it has Dacron filling which is soft, the reason is the unique core block that provides firm support. Dacron filling has a role to make your sleep comfortable, as support is not the only important feature for a pillow.
Washing & drying machine-friendly
Although you can't see that with the naked eye, every night your face leaves dead skin cells, oils and other things on the pillow. So even though the pillow is seemingly clean, it must be washed regularly to avoid sleeping in a dirty environment, as this can lead to acne and other problems.
This pillow is fully machine washable at 40 degrees C. It is recommended to use mild detergents. Also, it is dryer friendly, which is great because it often happens that the pillow core is not completely dry if you just hang it dry.
None of the materials used for production of Slumberdown Super Support pillow aren't likely to cause allergies. Also, chemicals and toxins that can cause allergies and irritations have not been used. That is why this is a 100% hypoallergenic product that is safe for all allergy sufferers, people with asthma and other similar respiratory problems.
Review of Slumberdown Super Support pillow
Slumberdown Super Support pillow is one of the most supportive pillows for side sleepers on the market. This medium support pillow will hold the head and neck of each side sleeper in an ideal position, thus enabling spine alignment. The foam core with Hollowfibre will reduce everyday aches so you won't feel any neck/shoulder pain. Back and side sleepers have reported a lot better sleep experience after sleeping on this pillow.
Along with side sleepers, those who sleep on their backs will like this pillow because it will be comfortable and supportive for them too. It is filled with 100% polyester Dacron fibers that are soft, comfy and breathable. Still, it is not one of those soft pillows that are good for the first two months before they lose their firmness.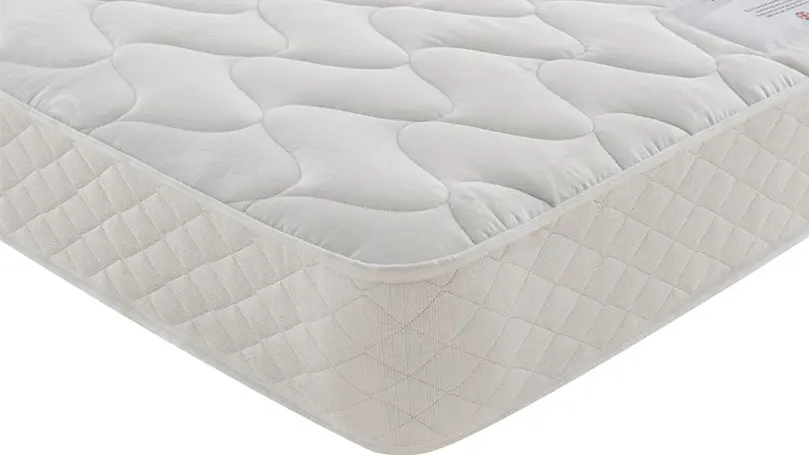 The pillow comes with a soft touch microfibre cover that will ensure nothing but a great night's sleep. It is a firm pillow that is fully machine washable and you can tumble dry it. Slumberdown is part of the John Cotton Group, established in 1916, based in West Yorkshire, UK so this pillow is made in the UK, supporting local industries. With such a background, you can be sure that this pillow is going to give you a comfortable night's sleep.
Type: Dacron polyester fibres
Removable cover: No
Size: 74 x 48 cm.
Things that we do like about Slumberdown Super Support pillow
Side and back sleepers looking for a supportive pillow will be very pleased with this pillow
It is machine washable and dryer friendly
Thanks to Dacron filling, breathability is good.
Things we don't like about Slumberdown Super Support pillow
Not really suitable for stomach sleepers
Some customers have complained that it has lost most of its features within the first 6 months
Cover is not removable, so you either have to wash whole pillow every time or to buy pillowcases.
What makes this product better than some other similar ones?
are a lot of comfortable and supportive pillows on the United Kingdom market, but we haven't had a chance to try a lot of pillows that are as supportive as this one, and yet comfortable. By using this pillow, side and back sleepers will eliminate neck pain. And if they do not have neck pain, then they should use this pillow as prevention. It is hypoallergenic and machine washable which is also worth mentioning. The next time you consider using two soft pillows to ensure enough support without compromising firmness, remember that this one comes as the perfect solution!
How did we test the product?
You won't have to wait more than a few days for your Slumberdown Super Support pillow to arrive, if you live in the UK Mainland.
Off-gassing was not present, so we were able to start the overnight test immediately. However, we decided to wash it first after the quality inspection. In this way, we conducted a maintenance test, and also provided ourselves with a completely clean sleep environment, and we recommend that to you too.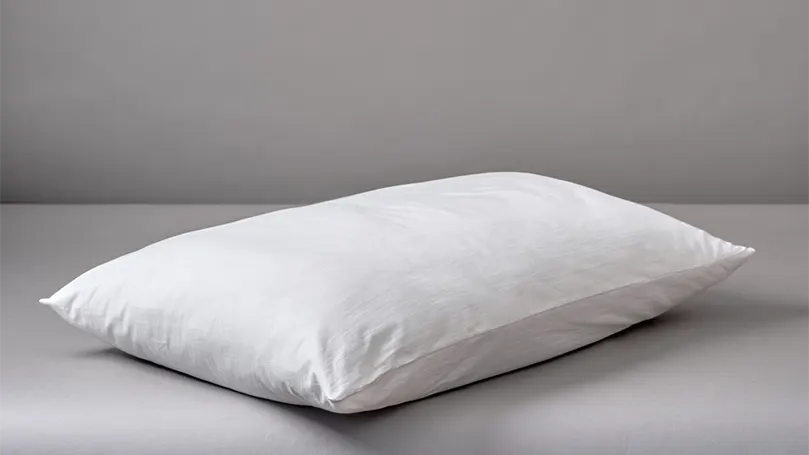 During the overnight test, we tested it in all three sleep positions, although we knew in advance that it is not good fit for stomach sleeping, but we wanted to see for ourselves. It is definitely not a great one for stomach sleepers, although we also tested some pillows that are even less suitable for stomach sleepers than this one.
The side sleeper from our test team was very pleased and had no complaints. The back sleeper found this pillow comfortable, although not as much as the side sleepers. Breathability is good, albeit we might have expected it to be a little better in that field.
FAQs about your Slumberdown Super Support pillow
We have come to the end of our review, but there is always some more useful information we can give you. In this case, these will be the answers to frequently asked questions.
How big is Slumberdown pillow?
The size of this pillow is 48cm W x 74cm L which is similar to the standard UK pillow size and it is 15 cm thick.
How much does my Slumberdown Super Support pillow weigh?
Slumberdown Super Support pillow weighs 1.4 kg.
How do I clean my Slumberdown pillow?
It is machine washable at 40 degrees C and it is dryer friendly, so maintenance is really simple.
Can back and stomach sleepers use Slumberdown Super Support pillow?
Most back sleepers will find this pillow suitable, while it is not recommended for stomach sleepers because it will position their neck in improper position.
Is 600 springs in Layezee 600 Pocket mattress enough for a comfortable sleep?
Although it is preferable that the mattress has a larger number of pocket springs than 600, in this case that is enough for a comfortable sleep.