Slumberdown Climate Control Duvet Review
On paper, Slumberdown Climate Control duvet promises to deliver a comfy sleeping environment and help you sleep soundly regardless of the weather and the seasons. Whether that's really the case, well, we're about to find out in this Slumberdown Climate Control duvet review.
Who is Slumberdown Climate Control duvet for?
Slumberdown's duvets are filled with a breathable Dacron filling to keep you cool. Scientifically proven to help carry excess moisture away from your body, as well as regulate temperature, Decron fillings is a seemingly perfect choice for the all-season duvet such as this one.
On that note, we'd say that this duvet is for everyone looking for a duvet they could use all year round. Naturally, a 10.5 tog duvet won't be ideal for summer, but if you're a one-duvet kind of person – it should do the trick.
Add a header to begin generating the table of contents
What do we use this product for?
Thanks to the innovative Climate Control range technology, this duvet is, in theory, suitable for all seasons, and will provide you with just the right temperature for a comfy sleeping environment all year round.
However, that is not all that this duvet is capable of. As you're about to see, we can also:
Use it to sleep soundly and get a restful night's sleep
Use it to carry excess heat away from the body
Use it to keep dust mites and other allergens at bay
Use it to cleverly regulate temperature.
Does Slumberdown Climate Control duvet come in different versions?
To make your life easier, Slumberdown Climate Control duvet, in addition to the 10.5 tog version we're reviewing, is also available in 4.5 and 13.5 tog versions. On that note, let's explore the entire product range.
The 4.5 tog version of the Climate Control duvet is all about keeping cool during the summer. With a duvet this lightweight, you can rest assured knowing that you won't wake up during the night, drenched in sweat. Excess moisture and trapped warmth won't be a problem with this one.
Just like our 10.5 tog reviewee, this duvet is also filled with the breathable Dacron filling and encased in the high-quality polyester cover, which also makes this duvet hypoallergenic, machine-washable and tumble drier friendly.
Specially designed for hot summer nights
Light, cool and comfy
Machine-washable and tumble dryer safe.
It might be too big for a regular laundry washer
Some longevity concerns.
A high tog counts towards extra warmth, which means that this 13.5 tog version of the Climate Control duvet is ideal for cold, winter months. This duvet traps more heat during the night, allowing you to blissfully rest all night long.
As you can probably guess, other than the tog rating, there are no significant differences between these three. They all come in the same sizes, they're all filled with the breathable Dacron fabric, they all carry excess moisture, and they're all non-allergenic.
Specially designed for cold winter months
Warm, lightweight and breathable
Hypoallergenic.
Might be too big for a regular laundry washer
Some durability concerns.
While this wouldn't actually count as an alternative version, you could also get these duvets in pairs with one another, or even in pair a 10.5 tog one with two Climate Control pillows. Both versions are available as king, single and double duvet versions.
Features you should know about Slumberdown Climate Control duvet
Now, let's take a look at some of the defining features of this duvet.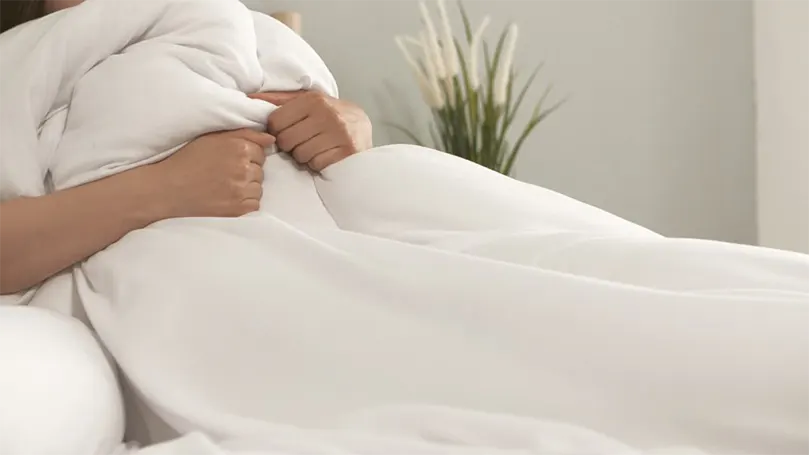 Cooling Dacron fill & ADVANSA technology
The Climate Control range technology and the Dacron fillings are scientifically proven by ADVANSA to be efficient at regulating temperature, allowing you to rest assured you're going to get a good quality sleep.
The Dacron fibres work wonders to move the excess warmth away during hot nights, but they also help warm you up during the cool ones. We wouldn't exactly call this active temperature regulation, but the Climate Control range certainly comes very close.
Washing machine & dryer-friendly
As is often the case with synthetic fibre-filled duvets, this one is also machine-washable and can be tumble dried. Naturally, you could also spot-clean and leave this duvet out to air-dry, but we don't really see the need for you to do it. Just keep the temperature at 40°C and the drier on the slow cycle, and you should be alright.
Not only is this duvet filled with hypoallergenic synthetic fibres, but the duvet cover is also made from fibres that are naturally resistant to dust mites, mould, or other common household allergens.
It is scientifically proven that common household allergens could cause health issues, and especially for the sleepers struggling with respiratory issues, or the ones prone to allergies. But, don't worry, with this one, you will be able to sleep soundly, all night long, without any of these pests bothering you.
10.5 should be the ideal tog rating for both keeping cool and staying warm and cosy – at least according to sleep experts. In practice, we have learned over time that there is no such thing as a perfect all-seasons duvet, whether it is a 10.5 tog or a 9 tog one. At one point or another, you're either going to get cold or you're going to get hot during the night.
But, to be fair, a 10.5 tog rating is as close as it gets to a perfect, all-seasons rating. It should be more than suitable for the better part of the year, especially in the UK climate.
The Dacron fabric is synthetic in nature. In other words, this is a microfibre-filled and polyester microfibre encased duvet.
Microfibre is an excellent choice if you need, prefer or want a lightweight, feather and down duvet, but the one that's easily washable and also not known to cause allergies or harbour allergens.
Also, microfibre is known for being cool and gentle to the touch, which is another neat thing about it.
Review of Slumberdown Climate Control duvet
One of the things we haven't mentioned so far is the fact that as far as microfibre duvets go – the Climate Control 10.5 tog duvet is quite budget-friendly. It's so affordable, you could probably find more expensive bedding. However, affordable pricing isn't the only thing that matters.
What's more important is how good the duvet actually is. All things considered – this is a good duvet. It's cosy, comfortable and light, and it will gently hug your body. It is also quite breathable, thanks to the special Dacron fibres and a solid polyester microfibre cover. All in all, sleeping under this duvet should be a breeze – all year round.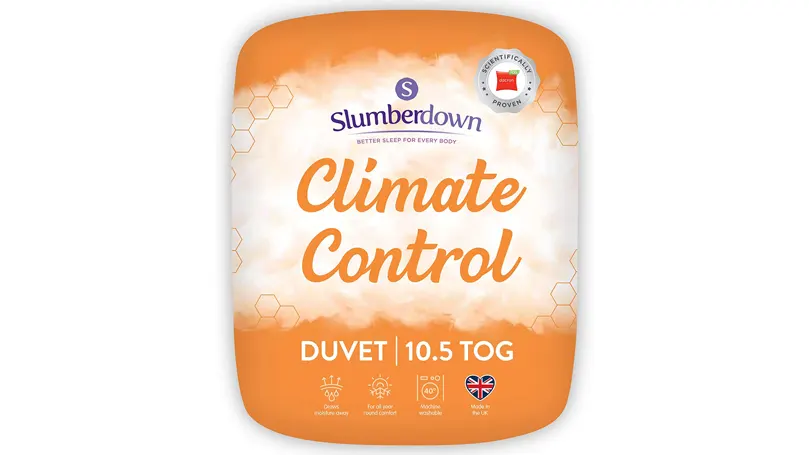 In addition to all of that,  Climate Control duvet is also hypoallergenic, so you should have no problem with allergies during the night.
On the not so bright side of things, not even this duvet will make your bed cool during the warmest summer months, but that's just the way it is. But, more importantly, Slumberdown's Climate Control duvet is known to develop cold spots over time, according to customer reviews, and that's not a problem that should be overlooked. Some sleepers have experienced this problem after only a few months of use, so be aware of that. However, when you sum things up – it is not a big deal and a problem that would convince you to avoid this duvet.
Size: Single, Double, King
Material: Polyester; microfibre
Filling: Dacron microfibre
TOG rating: 10.5 TOG
Cover: Microfibre
Machine washable: Yes
Tumble dry: Yes
Warranty: N/A
Trial period: N/A.
What we like about Slumberdown Climate Control duvet
You could sleep under this duvet for the better part of the year
It offers a cosy and comfortable sleeping experience as it gently covers your body
It is an affordable option
It is breathable and hypoallergenic.
What we didn't like about Slumberdown Climate Control duvet
It is known to develop cold spots (non-equal distribution of fillings)
It probably won't serve you for a very long time
It is only available in Single, Double and King sizes.
What makes this product better than some other similar ones?
There are several things that make this product excellent, and few that don't, but when you factor in the price, especially when it's on sale, this one becomes one of the best value products on the UK market.
But, more importantly, this product comes as close to the all-seasons product as possible, and we're quite certain that you'll be able to comfortably sleep under this one for the majority of the year.
How did we test the product?
As is always the case, we follow a strict procedure when it comes to testing our product, and the one we've tested prior to writing this review was tested in the following way.
First, we ordered the product from Amazon. After all, this is the "Amazon's Choice" product. It took a few days for the duvet to arrive, and of course, the delivery was free.
Upon arriving, we've inspected both the package and the duvet itself for any signs of damage. Following that, we've inspected the seams, the stitching and the overall build quality of the product.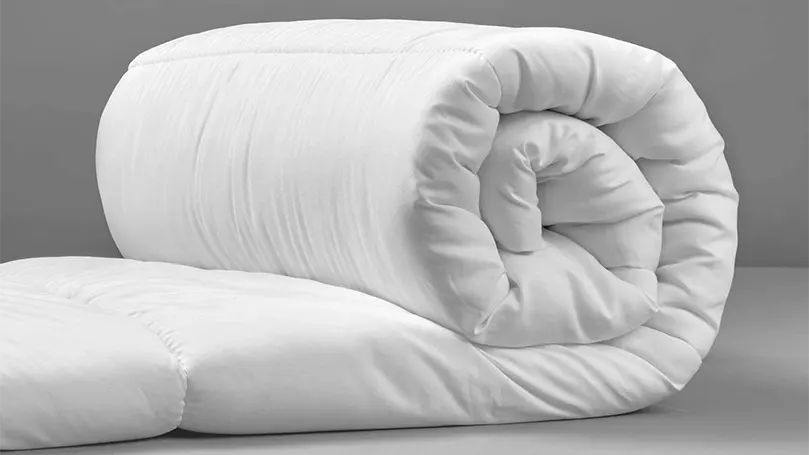 Next up, we've proceeded to test the duvet "hands-on". Each of our team members had spent several days and nights with this duvet, testing it in controlled conditions, mostly to see how good the climate control of this duvet actually is.
The hands-on testing allowed us to learn more about the duvet's comfort and feel, breathability, durability, as well as overall quality of the entire product.
FAQs about your Slumberdown Climate Control duvet
In the end, let's answer some FAQs.
Can I use Slumberdown Climate Control duvet during the wintertime?
Yes, you can. However, for wintertime, we'd recommend using the 13.5 tog Climate Control duvet.
Is Slumberdown Climate Control duvet suitable for the summer?
It's okay, but if you really want to get a better night's sleep in the summer, we'd suggest going for the 4.5 tog version of the Climate Control duvet.
Does Slumberdown Climate Control duvet come with a warranty and a trial period?
Unfortunately, you get neither a warranty nor a trial period with this duvet.
Do I pay the delivery fee for Slumberdown Climate Control duvet?
You will get free delivery as long as you're based in the mainland UK.
How long does Slumberdown Climate Control duvet last on average?
Not too long. Some customers have complained of poor quality and short life span, so we do have some doubts about the longevity of this duvet.