Homescapes Duvet Review - Anti-Dust Mite Luxury Warm Duvet
Goose feather and down are widely regarded as the best natural duvet filling, and that's precisely what you'd find inside of a Homescapes duvet. Now, what we want to know is whether this duvet is as good in practice as it is in theory, so we've decided to test it. What we found out, you read in the following review.
Who is Homescapes duvet for?
If you live in a colder climate, you generally have the need for warm bedding such as this 13.5 TOG Homescapes duvet. On that note, this duvet is for everyone in need of a warm, feather and down-filled winter duvet. 
Whether you are an adult, senior citizen or a kid (not a toddler, because this one is not available in cot bed size) doesn't really matter, as pretty much everyone can use this duvet. 
If you prefer the lightweight feeling of a feather and down duvet and you aren't allergic to goose feathers, that is. So, apart from that, we can't see why anyone wouldn't want to give this duvet a try.
Add a header to begin generating the table of contents
What do we use this product for?
As we've said, a 13.5 TOG duvet is best used in the winter or late autumn. At 13.5 TOG, this duvet will be able to handle even the coldest of rooms, within reason, of course.
Now, this begs the question – are there more usages to this duvet? Well, if we're being completely honest, not quite. Duvets such as this one are pretty one-dimensional, but the good thing is, you can buy this duvet in additional tog ratings of 4.5 and 10.5 TOG, as well as a combo of two, 4.5 and 9 TOG-rated duvets, so you can mix and match, and use them all year round. 
However, this one, in particular, we can:
Use it to warm up ourselves during cold, winter nights.
Features you should know about Homescapes duvet
Now, let's talk a little bit more about what makes this duvet different from the others on the UK market.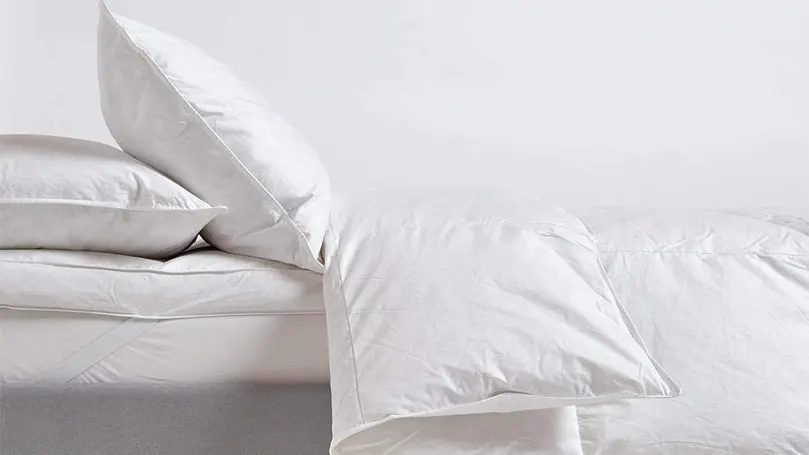 13.5 TOG goose feather & down
TOG rating is used to describe how warm and insulating the duvet is. Seeing how a TOG rating can range from 2 to 15, with 15 being the warmest, Homescapes duvet is a pretty insulating duvet itself.
As we have already mentioned, this is a 13.5 TOG, goose feather and down-filled duvet. Goose feather and down has been used for centuries at this point because of their natural ability to retain heat and keep us warm during the night. And, at a 13.5 TOG, this duvet will really keep you warm during the night.
100% cotton down-proof casing
The cover of the duvet, or duvet casing, also plays a major role in how comfortable, breathable, and insulating the cover will be. However, the casing could also be the difference between your duvet being hypoallergenic or allergy-causing. 
In this case, we have a 100% cotton, 233 thread-count down-proof casing. What down-proof means is that the fabric is tightly and densely woven to prevent shedding of feathers, and minimize the possibility of an allergic reaction. But, with that being said, we still wound urge you to get this duvet if you are allergic to feathers, or are severely prone to allergies. The cover itself is hypoallergenic and will keep dust mites at bay, but it is always better to stay safe.
The cotton fabric cover itself is also very smooth and pleasant on the skin, but we would still recommend using an additional duvet cover set for easier maintenance.
15% goose down & 85 goose feather filling
Goose feather and down is generally larger and stronger than duck feather and down, which is why a duvet with 100 % goose feather and down filling has a better fill power.
Homescapes feather duvet is generously filled with goose feathers and down. More precisely, it is filled with 85% goose feather and 15% goose down. This 85/15 ratio ensures you get a lightweight, yet cosy and warm coverage all through the night. Additionally, Homescapes only uses extra graded small feathers for a larger fill power and a better warmth-to-weight ratio, as well as even distribution of the fillings.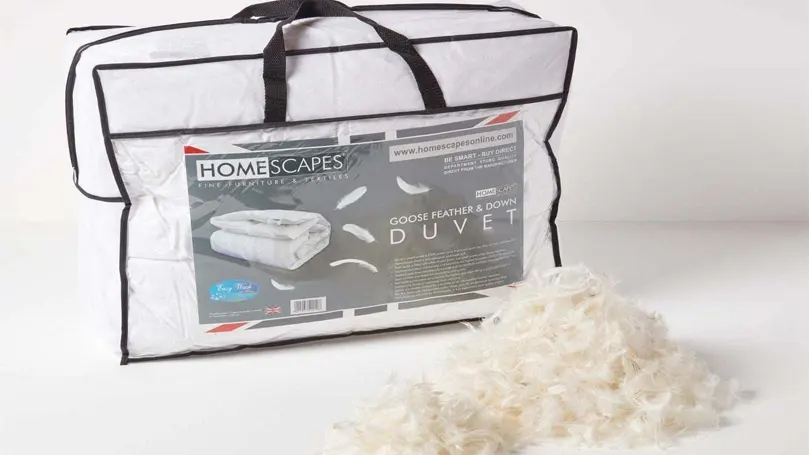 To prevent bunching and cold spots from occurring, the fillings are evenly spread and box stitched. This way, no matter the way you wrap yourself in your duvet or how many times you wash it, the fillings will stay evenly spread, and every part of the duvet will stay equally warm for years to come.
RDS & ISO-9000 certificates
ISO 9000 is defined as a set of international standards on quality management and quality assurance developed to help companies effectively document the quality system elements needed to maintain an efficient quality system. According to that, all elements of this duvet are manufactured in ISO-9000 certified factories to ensure the best level of quality of the product. 
Additionally, all the feathers used in this duvet are RDS certified, ensuring that they have been ethically sourced and tested for traceability and quality. Loosely translated, that means no geese were harmed during the manufacturing of this product, nor was there any "live-plucking" involved.
Homescapes duvet is made to last for years with proper maintenance. To help you do that, Homescapes had made their duvet machine-washable at 40 degrees Celsius. In addition to that, the duvet can also be tumble-dried on a low heat setting, or you could just air dry it. 
The scent you'll feel upon unpacking doesn't mean you have to wash the duvet right away. It is simply an indicator of natural fillings and materials used in this one. The scent will completely dissipate in a matter of hours without washing.
Review of Homescapes duvet
Let's start with the obvious – the design of Homescapes duvet. This duvet is classically designed. It's an all-white duvet, with box-stitched pockets containing the filling. The edges are nicely stitched, and all in all – we have no complaints in this department. 
As far as performance is concerned, this duvet does what you'd expect it to do. It's warm and cosy, and despite being pretty lightweight (4.4 kg for a King-sized duvet) it offers a pretty nice, gently hug. The duvet also breathes well, so unless you decide to sleep in a very hot room, we don't see why you would profusely sweat during the night.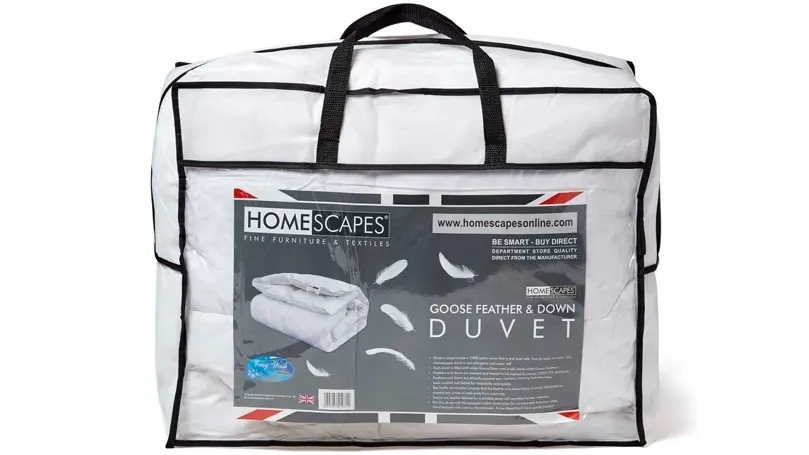 Now, the down-proof cotton casing promises to deliver an allergen-free sleeping experience, and due to densely woven fabric, we don't see why that wouldn't be the case. But, we've said it once, and we'll say it again – if you are prone to allergies or allergic to feather and down, don't look this way.
As far as the complaints go, we only see a few. One of the possible problems we can see you having with this one, other than a potential allergic reaction to feathers, is the duvet being too big for your washing machine. Another one is the lack of warranty and trial period. 
Size: Single, Double, King size, Super king
Material: 100% cotton
Filling: Goose feather and down
TOG rating: 13.5 TOG
Cover: 233 thread-count down-proof cotton
What we like about Homescapes duvet
Excellent insulating properties make it perfect for chilly winter nights
The duvet feels lightweight and cosy, but also quite breathable for 13.5 TOG
It is washing machine and tumble dryer-friendly.
What we didn't like about Homescapes duvet
Despite the down-proof cover, the feathers could still cause allergies for some sleepers
King and Super king-sized duvets probably won't fit most washing machines
The duvet isn't covered by a warranty, nor can you test and return it.
What makes this product better than some other similar ones?
A common problem for feather and down-filled duvets are the protruding feathers. With Homescapes duvet – you won't have to worry about it. Tightly woven 233 thread-count cotton casing will make sure all the feathers remain where they're supposed to – inside the casing.
In addition to that, we rarely happen to stumble upon lightweight, breathable 13.5 duvets, so this one's a refreshing sighting. Many sleepers don't prefer heavy duvets, even during the winter, and this one might just be their perfect match.
And finally, for an ethically-sourced goose feather and down-filled duvet – this one is an absolute steal. It's competitively priced, and as such, we deem this one an excellent value product that's definitely worth investing in.
How did we test the product?
The first step towards testing the product is ordering it. With this one, in particular, you have a few options as far as the delivery and shipping are concerned. There's standard, free delivery inside the UK if you order from Amazon or Homescapes website, although only on orders over 49.99 pounds. Under that threshold, the standard delivery is £3.99, express UK delivery is £5.99, and international delivery, which takes between 7 to 10 days, is £9.99. International delivery fees are subject to change. 
Now, let's talk testing process. The way we test duvets is quite simple. First, we inspect the duvet for physical damages like tears, stains and nicks, and we inspect the quality of materials and the quality of the craftsmanship.
Then, each of our team members spends several days and nights sleeping or lounging under the duvet. During that time, we note down our impressions, so we can, later on, discuss them. To ensure we get end up with an objective review, during our testing, we switch mattresses, and we also adjust the temperature in the room, so we can assess the breathability of the duvet. 
Finally, we test the duvets for durability and longevity by simulating long-term usage, discuss our findings, and in the end, we write the review. 
FAQs about your Homescapes duvet
In the end, we'd like to wrap things up by answering some FAQs.
Are Homescapes duvets suitable for all seasons?
If you consider the entire range of Homescapes duvets, then yes, they are. However, this particular 13.5 TOG duvet is only suitable for late autumn and winter.
How do I wash my Homescapes duvet?
The duvet is machine washable at 40°C, but you could also spot-clean it with mild detergent and warm water if necessary.
How long will Homescapes duvet last on average?
With proper care and maintenance, we can see this duvet lasting you at least a decade.
How long does Slumberdown Climate Control duvet last on average?
Not too long. Some customers have complained of poor quality and short life span, so we do have some doubts about the longevity of this duvet.