Silentnight Winter Nights Duvet Review
When the cold winter days come, all we want is for the long, stressful day to end and to snuggle into our warm beds. And our bed won't be warm and comfortable, if we don't have a proper duvet. Although all-season duvets are becoming increasingly popular in the UK market, many customers still want a real winter duvet such as the Silentnight So Snug Winter duvet. Here is your in-depth review of this product by The Sleep Advisors.
Who should use Silentnight Winter Nights duvet?
Cold sleepers as well as those living in colder regions will especially benefit from the Silentnight Winter Nights duvet. This is a very warm duvet that will warm even those who are always cold.
People who have allergies are also those who are recommended to use this product. It is made of 100% hypoallergenic materials, and has protection against dust mites and bacteria. Vegans should use it too, since it is vegan-friendly.
What is this product used for?
It is not hard to conclude that we use the Silentnight Winter Nights duvet to warm us up and to maintain such temperature during the long, cold, winter nights. However, that is not the only reason. This duvet is very comfortable thanks to fluffy DuPoint fibres, so it will improve your night's sleep not only because you will not be cold, but also because it will hug you.
We use it for winter months
We use it for hypo allergenic features
We use it for cosy night's sleep.
Features you must know about Winter Nights duvet by Silentnight

Now it is the right time to say a little more about the DuPoint fibers we mentioned in the previous paragraph, as well as about some other things you must know concerning the Silentnight Winter Nights duvet.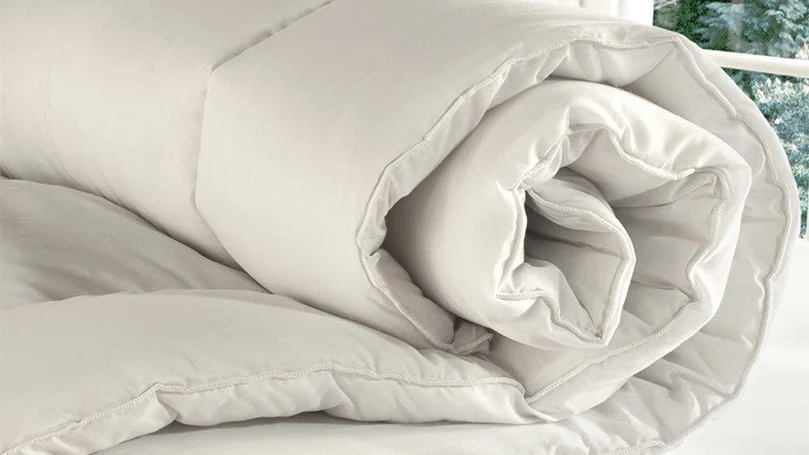 Now we come to the heart and soul of this duvet, which is generously filled with DuPoint fibres. These are innovative high performance fibres. DuPoint fibre is special type of hollowfibre, that is registered, because it has improved properties of regular hollowfibre material plus all the other already known features of hollowfibre.
DuPoint fibres are soft and comfortable, and also very warm. By making insulation between the cold outside environment, more precisely the cold air in the room and your body, you will never be cold during sleep again, even if you are cold sleepers. This duvet will keep you warm and insulated from the cold at the same time. In addition, bouncy fibers will be placed all around your body and thus give you maximum comfort.
230 thread count cotton-sateen cover
This lovely piece of silk bedding does not come encased in a silk duvet cover, which some might find strange. Instead, this one is encased in a luxurious 230 thread count cotton sateen cover.
Sateen cotton is known for being cool to the touch and letting the body heat pass through it, instead of retaining it, which will also add to the overall breathability of the product.
The cotton is also soft and gentle to the touch, and the overall quality of it is top-notch. However, since it is not removable, we would advise using an additional cover to tuck this silk duvet in.
Protection against dust mites and bacteria
Both hollowfibre and microfibre are 100% hypoallergenic materials, which means they are highly unlikely to provoke an allergic reaction. That is why all allergy sufferers can buy this duvet, but materials aren't the only thing that makes it suitable. It has protection against dust mites and bacteria, and dust mites are known to be one of the most common allergens in our environment. Also, there is no need to talk further about the harmfulness of bacteria.
40 Celisus degrees washable
Hypoallergenic materials and protection against dust mites and bacteria, would not be enough to provide you with a clean and harmful sleeping environment if this duvet was not fully machine washable.
This duvet is fully machine washable at 40 degrees C. You can wash it as often as you want because it is durable and signs of wear and tear will not appear in the foreseeable future. After washing and drying it, make sure that the filling is evenly distributed on the duvet, if not, take the opposite corners and shake it.
Review of Silentnight Winter Nights duvet
The Silentnight So Snug Winter duvet, often called just the Silentnight Winter duvet, is a duvet filled with DuPoint hollowfibres and encased in microfibre cover. DuPoint fibers are fluffy and cozy, which makes this duvet very comfortable. Also, this duet is very warm, whether you choose 13.5 TOG duvet or 15 TOG. Hot sleepers should look elsewhere, while cold sleepers and everyone else will be thrilled with its performance during colder nights. Non-removable microfiber cover serves as insulation and it is very pleasant for your skin. The whole duvet is hypoallergenic and vegan-friendly.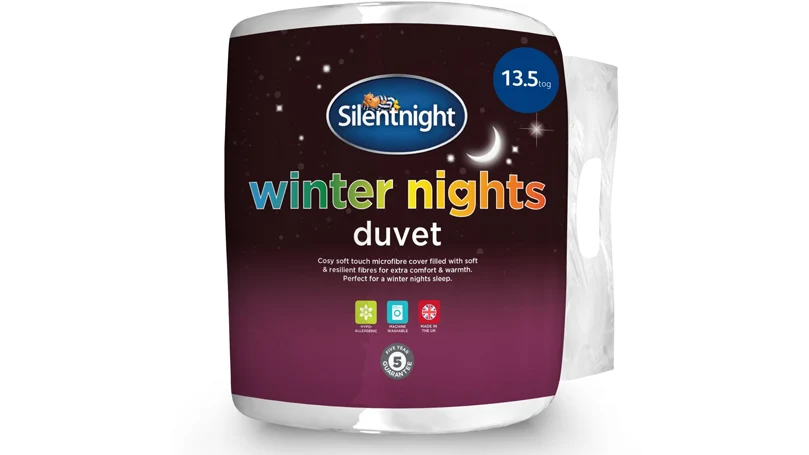 You can wash it in the washing machine at 40 degrees and then tumble dry it on low heat setting. It comes with a 5-year manufacturer's warranty.
Cover: Microfibre
Fillings: Hollowfibre
TOG: 13.5/15
Size: Single, Double, King.
5-year warranty

Machine washable

Hypoallergenic

.
Only for winter

Not for hot sleepers

Cover is not removable

.
What we like about Silentnight Winter Nights duvet
Silentnight Winter Nights duvet is very warm and also serves as an excellent insulation, so you will always be comfortable, no matter how cold the night is

It is very soft, fluffy and cozy thanks to DuPoint fibers.

It comes with a 5-year warranty which is rare for duvets that usually come with a 1 or 2-year warranty.
What we didn't like about Silentnight Winter Nights duvet
Only suitable for winter, certainly not all-season duvet

Hot sleepers will probably find it too warm even during the winter

Non-removable cover means you will have to wash it completely every time.
What sets apart this product from other similar products?
The 5 year manufacturer's peace of mind guarantee is the first thing that sets apart Silentnight Winter duvet from other similar products. It is very warm, comfortable and soft, and it is also excellent insulation, so you will sleep perfectly during the winter. For the winter duvet it is not heavy but rather fluffy thanks to DuPoint fibers.
How did we test the product?
When you order your Silentnight So Snug Winter duvet it will take 7 to 10 days before it reaches you.
Once it arrives, our recommendation is to wash it first, before you start using it. Before washing, first check all seams and the complete duvet, as it may sometimes be damaged during production or transport. You must report this immediately otherwise the 5-year warranty will not be valid and you won't get full refund.
Wash it at 40 degrees Celsius using a mild detergent and then hang it to dry or tumble dry it on low heat.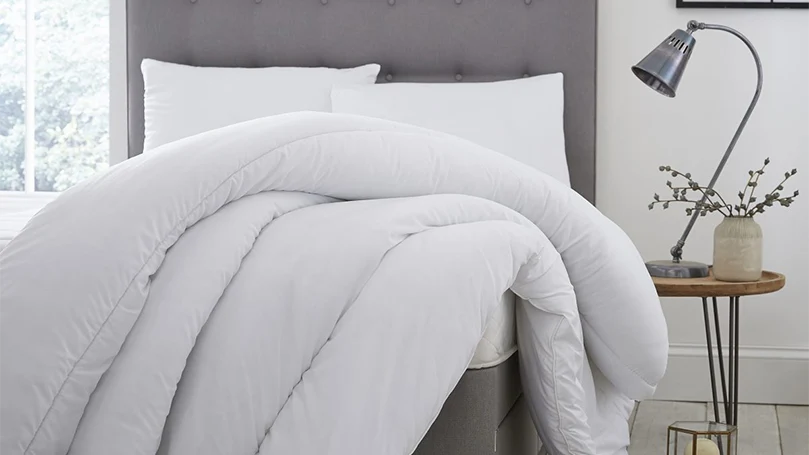 We tested it in winter conditions, because there is no point in testing it when it is warmer. All members of our test team were very comfortable and warm. They think it would give them a great night's sleep every night because they would never be cold and also it is not too warm or heavy. The hot sleeper from our test team thinks he could use the 13.5 TOG model during the coldest nights for comfortable temperature, while the 15 TOG is too warm in any situation.
FAQs about your Silentnight winter Nights duvet
In our FAQs section you can find answers to some more questions that customers often ask.
What is the TOG rating for Silentnight winter nights duvet?
You can choose between 13.5 TOG and 15 TOG when buying Silentnight Winter duvet.
Is this duvet good for people with allergy problems?
Yes, this duvet is great for people with allergy problems since it is made of hypoallergenic materials and it is dust mite free.
Can I use this duvet during the summer time?
Unless you live in Antarctica, you will find Silentnight Winter duvet way too hot for the summer months.