Silentnight Deep Sleep Duvet Review
Silentnight, a trusted bed brand and UK sleep company, has several collections, and the Deep Sleep collection is among the most popular ones. So we have tested Silentnight Deep Sleep duvet, to help you decide if this is the ideal duvet for you, since there is no trial period. Everything you need to know about this duvet you can find out in the following review by The Sleep Advisors.
Who is Silentnight Deep Sleep duvet for?
If you opt for the appropriate TOG rating, and this duvet is available in several different TOG ratings, it can suit everyone and during every period of the year.
It is for all those who have allergies because it is 100% hypoallergenic and also machine washable which allows you to always keep it clean and free of allergens.
Silentnight Deep Sleep duvet is suitable for vegans and is eco-friendly because it is made of recycled materials.
Add a header to begin generating the table of contents
Should we use this product during the summer or winter time?
There is no one answer to the question of whether Silentnight Deep Sleep duvet should be used during the summer or winter time, as you can choose between 4 TOG ratings.
The 7.5 TOG rating is for summer, and also for spring and autumn, while the 10.5 TOG rating is all-season, except for hot sleepers. You should use 13.5 and 15 TOG during winter.
Features you should know about Silentnight Deep Sleep duvet
In this part of our review, we will tell you more about the most important Silentnight Deep Sleep duvet features, and that include filling material, TOG rating, maintenance and hypoallergenic properties.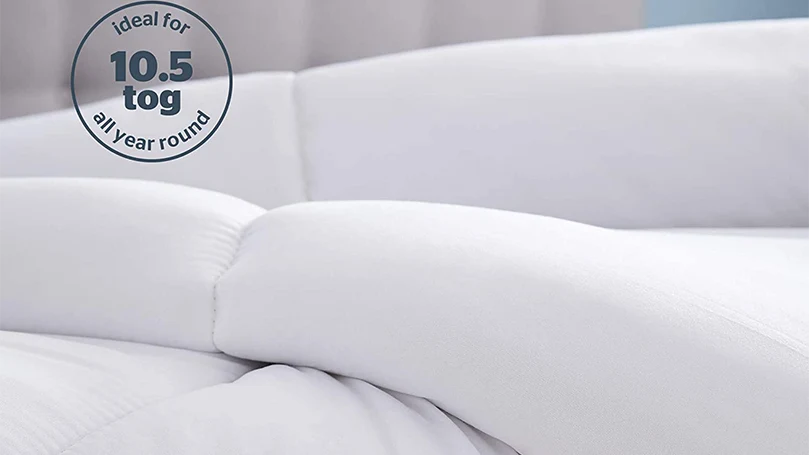 Deeply filled with Eco Fibres
We are sure that you, like everyone else, love when after a long and stressful day you go to bed and the duvet hugs you. This is exactly what Silentnight Deep Sleep duvet provides, thanks to hollowfibre filling. It is deeply filled with eco fibres that are made from 100% recycled materials, so it is eco-friendly filling. Using recycled materials is very beneficial to our living environment, because that way we are reducing the pollution of our planet.
Hollowfibre is soft and comfy, and also breathable due to its structure, so the duvet will be pleasant for hot sleepers as well. In addition to softness and breathability, it should also be mentioned that this type of material is durable so you'll have a deeper sleep achieved for a longer time.
We have already mentioned the various TOG ratings available to you, but now we will say a little more about the most popular option – 10.5 TOG. And why is this the most popular option? Well, because in the climatic conditions that prevail in most of the UK Mainland, the 10.5 TOG duvet is called an all-season duvet because it is suitable for most sleepers all year round.
For hot sleepers or some others that have specific requirements, it may not be suitable for all 365 days as for regular customers, but it will suit them for at least three quarters of a year. That is why most people like to buy an all-season duvet, to save money and storage space, because they don't have to spend money on two or even three different duvet.
Great for sleepers with allergies
The number of people who have allergies is growing from year to year because we are surrounded by polluted air, various chemicals and many other causes of allergies.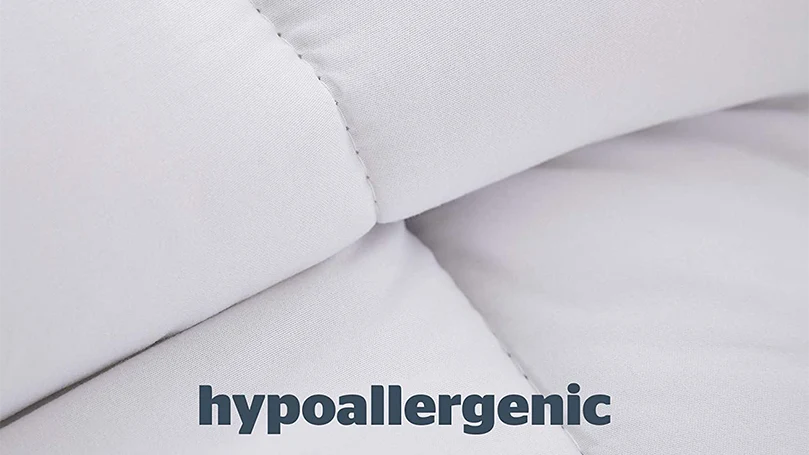 There is not much we can do to solve the problem of air pollution and the widespread use of chemicals, but we can use hypoallergenic products. Hypoallergenic means "below average" allergenic and has been used for over 50 years for cosmetics, textiles, sleep products and many other things. Silentnight Deep Sleep duvet is 100% hypoallergenic and is therefore a safe choice for allergy sufferers as well. None of the materials from which this duvet is made or any process during production are known to cause allergies.
Silentnight Deep Sleep duvet is fully machine washable at 40 degrees C. This facilitates maintenance and further affects the hypoallergenic properties, because when you wash it regularly, you know that the duvet does not contain dust mites or other allergens. It has excellent recovery properties, so you can wash it often and wear and tear will not appear soon. It is recommended to use mild, eco detergents both because of the duvet and because of the environment. The only downside is that you cannot remove the soft microfibre/polycotton cover.
Review of Silentnight Deep Sleep duvet
If you think that a duvet does not have a big impact on the quality of your sleep, this lofty duvet Silentnight Deep Sleep will convince you that you are wrong. The duvet from Silentnight's Deep Sleep collection is generously filled with hollowfibre and encased in superbly soft polycotton for maximum comfort.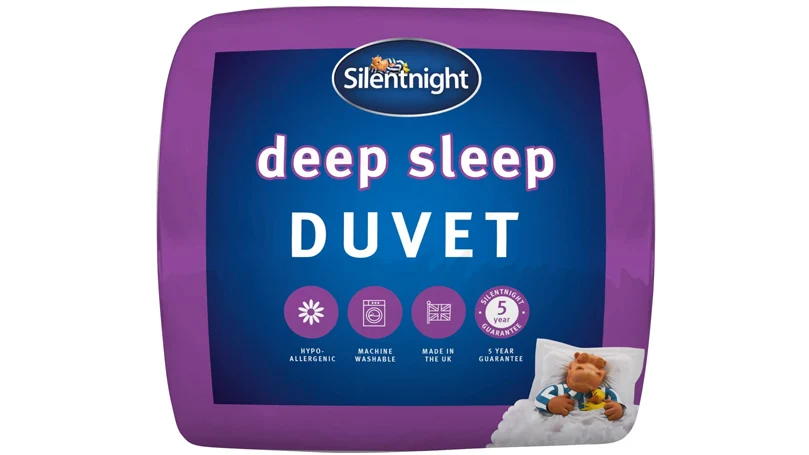 In addition to being huggable and comfy, hollowfibre is also eco-friendly because it is obtained from recycled materials. Different versions of this duvet are available. The TOG ratings in which it is available are: 7.5, 10.5, 13.5 and 15. The first is intended for warmer parts of the year, 10.5 is an all-season model, while the last two are for winter.
Duvet is 100% hypoallergenic and eco-friendly. It is fully machine washable at 40 degrees C and comes with a 5 year warranty. All in all – the duvet has an average rating value of 9/10, so we can say that this is high-quality product.
Material: Soft polycotton
Softness: 9/10
Size: Single, Double, King, Super King.
5-year warranty
Made in the UK
Hypoallergenic.  
Non-removable cover
No trial period
Delivery is not free.
Positive sides of Silentnight Deep Sleep duvet
It is very soft, comfy and it will gently hug you to sleep
If you are very sensitive to allergens, we know that it is difficult for you to find the right duvet for the cold winter nights
Option to choose between different TOG ratings and thus buy the ideal model for yourself.
Negative sides of the Silentnight Deep Sleep duvet
The cover is not removable, which is not a big downside since the duvet is fully machine washable, but it is certainly more convenient when the cover is removable and washable.
You cannot try it and return it if you have not selected the appropriate TOG rating.
Filling is not stitched into pockets.
Check the alternatives to Silentnight Deep Sleep duvet
While Silentnight Deep Sleep duvet is affordable, the alternatives we have singled out for you are significantly more expensive. However, price is justified, as these are two premium duvets that offer fantastic performances and a good night's sleep.
Bamboo needs much less water than cotton, and is also grown in managed forests, meeting the highest social and environmental standards.
Bamboo also has various other excellent characteristics, for example, it is hypoallergenic and breathable. Panda Cloud duvet is made of a mixture of bamboo and nano-microfibre.
Due to the characteristics of the materials it is made of, as well as the fact that it has a 10.5 TOG rating, this is an all-season duvet.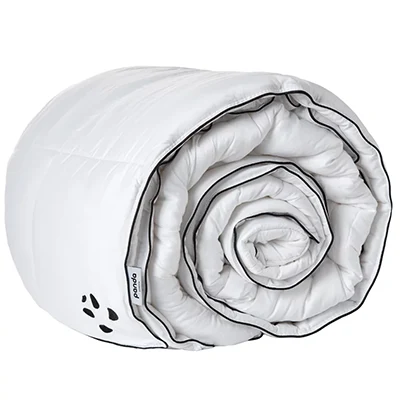 Breathable
Hypoallergenic
Eco-friendly.
Sometimes too hot
Must be maintained regularly
Expensive when compared to similar products.
Simba has implemented a special Stratos technology that absorbs heat that you do not need, and then releases it when you are cold.
Therefore, it is suitable for use throughout the year, no matter how hot or cold outside is. That is why this duvet is one of the best, but also the most expensive. 
Filling is stitched evenly into square pockets, so filling will never move. The Simba Hybrid duvet is hypoallergenic and eco-friendly.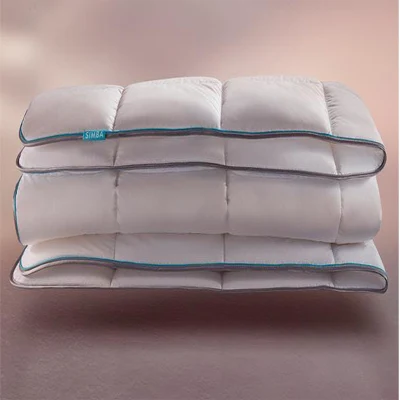 All-season duvet
Breathable
Eco-friendly.
Not for children
More expensive than similar products
Cover is not removable.
Consider Silentnight Geltex pillow if you are buying Silentnight Deep Sleep duvet
Silentnight Geltex pillow is a great cooling pillow thanks to GELTEX core that relies on patented air ventilation. The sides of pillow, using air mesh walls, ensures an optimal airflow and eliminate possibility of being hot while sleeping.  
Firm support and pressure relief will make it a top pick for anyone who wants to eliminate pain in the core areas like shoulders and neck. 
The luxuriously knitted polyester cover reduces the possibility for dust mite and bacteria growth, making it great hypoallergenic pick as well.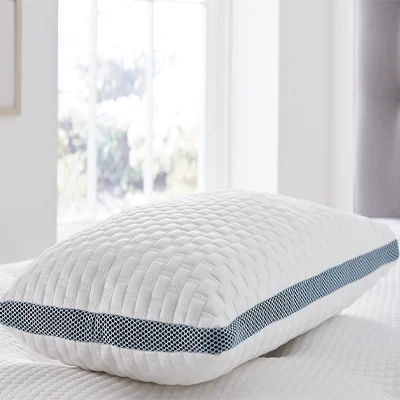 Supportive & comfortable 
Cooling
Hypoallergenic.
Some sleepers find it too firm
One one size is available
Stomach sleepers won't like it. 
What makes this product better than some other similar ones?
As more and more companies in all types of industries move their production to third world countries, it is always good to see when companies like Silentnight do not aim solely at profit but also support the UK economy. This duvet is proudly made with care in the UK and Silentnight deserves compliments for it.
Also, Silentnight Deep Sleep duvet is soft, cozy, hypoallergenic, and fully machine washable, which all together make this duvet very comfortable for use.
How did we test the product?
Testing Silentnight Deep Sleep duvets was more demanding compared to some other duvets, as there are 4 different TOG ratings, but we at The Sleep Advisors always test everything available, because otherwise the review might not be 100% accurate.
The quality inspection as well as the maintenance test passed without any problems and as soon as the duvets were dry, we were able to start with the overnight tests.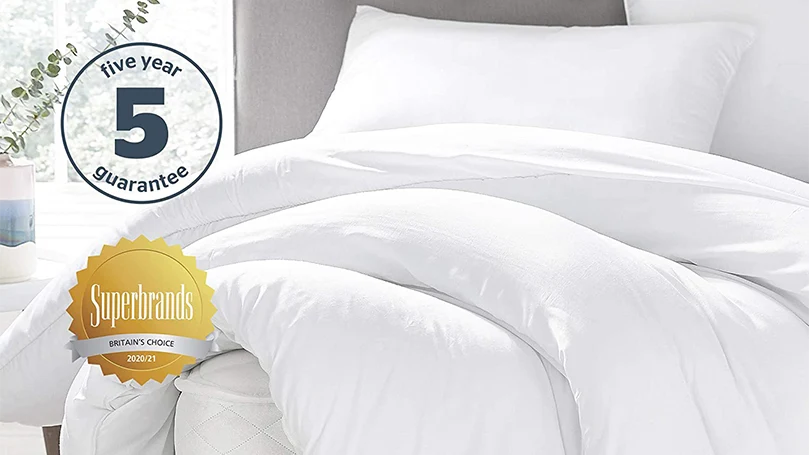 We first tested a 7.5 TOG rating which was slightly warmer than we expected. It is more for spring and autumn than for summer. We can say that some hot sleepers will use it during the winter as well. 10.5 TOG is a great example of an all-season duvet that will be comfortable for you both when it is hot and when it is cold.
The 13.5 and 15 TOG models are winter duvets that most people with central heating will not need. We liked how lightweight those two duvets are, considering they are true winter duvets.
FAQs about your Silentnight Deep Sleep duvet
Now that we have reached the end of our review, we owe you answers to some of the most frequently asked questions about Silentnight Deep Sleep duvet.
How heavy is Silentnight Deep Sleep duvet?
The product weighs 1.2 kg.
Is Silentnight Deep Sleep duvet 100% hypoallergenic?
Yes, Silentnight Deep Sleep duvet is 100% hypoallergenic because it is made of microfibre, hollowfibre and it is dust mite free.
How do I wash my Silentnight Deep Sleep duvet?
It is fully machine washable, so you can wash it in the washing machine at 40 degrees C and after that you can tumble dry it on low heat.
Is Silentnight Deep Sleep duvet good choice for hot sleepers?
Hot sleepers should opt for 7.5 or 10.5 TOG rating, depending on the season and then this duvet will suit them perfectly.