Simba Hybrid Duvet Review
Simba is known for making high-quality products, but is that the case with their new Simba Hybrid duvet? On paper, it sure seems so. However, before we start gushing over this seemingly perfect duvet, we wanted to put it to the test and find out whether that's really the case. What was our final verdict? Well, let's find out in our Simba Hybrid duvet review!
Who is the Simba Hybrid duvet for?
If you're in need of a highly durable, high-quality duvet that you can use all year round, then, Simba duvet is the right choice for you. 
This is a two-sided duvet with temperature regulating properties and a 10.5 tog rating, making it ideal for all seasons and for those who have trouble maintaining a consistent body temperature at night.
The duvet is an upgraded version of the old duvet – redesigned, but true to its origins. It also uses space-inspired technology that ensures optimal temperature and airflow.
Add a header to begin generating the table of contents
What do we use this product for?
Simba Hybrid is a duvet that you can use all year round. It's double-sided, with one side being the cool one and the other being warm. It's perfectly balanced at 10.5 tog, and as a cherry on top – unlike the previous model, this duvet is actually hypoallergenic.
Is Simba Hybrid Duvet an upgraded version of a previous Simba duvet?
Yes. Simba Hybrid is the new and improved version of the previous Stratos Hybrid duvet, which has  been discounted since. Unlike the previous model, this one is hypoallergenic, lightweight and made from recycled, via more sustainable methods. Overall – this is a much better all-around product that will never get out of date. especially due to its high quality cotton, higher thread count, widespread central heating/cooling.
Features you should know about Simba Hybrid duvet
Just like any other duvet – the duvet has its own set of defining features and characteristics that we wanted to talk to you about. Considering all the features, we can say safely that this is a a perfect all year rounder.
As we've already said, this is a two-sided duvet. Both sides of this duvet are made from pure, 300 thread count BCI cotton. The only difference is – the cool side is enriched with Simba's own Stratos technology, but we'll get to that in just a second. As you know, cotton is naturally hypoallergenic and great at wicking away excess moisture. Therefore, staying cool, dry and allergy-free shouldn't be an issue for you.
Furthermore, the cotton cover is square pocket-stitched, ensuring that the super-soft fillings of the duvet are evenly spread – preventing lumping or bunching. Therefore, it is super soft and highly recommended for sensitive skin.
Stratos temperature regulation layer
Stratos temperature regulation layer is what makes this duvet easily usable throughout the whole year. Now, Simba's explanation of the Stratos technology is pretty vague, which is reasonable, considering it does a wonderful job keeping things cool and they wouldn't want their competition to get a hold of it. To protect astronauts, the engineers had to come up with a new technology that was specifically designed for staying cool/warm without getting sweaty.
So, it was originally developed for space missions. But, all we know is that Stratos is an astronaut-inspired, phase change technology that is applied to cotton. Stratos promises to absorb, store and release excess heat when needed, and from what we've experienced during our testing – it delivers on its promises. Whether there are some temperature fluctuations, you will not get hot/cold no matter what.
With the new and upgraded Simba duvet, Simba decided to move on from the traditional feather and down fillings, as those could occasionally trigger allergies. Instead of feathers, Simba moved on to Simba Renew fibres. 
Simba Renew is a recycled plastic bottle fibre filling embedded with minerals, which also help in regulating body heat. These synthetic, siliconized fibres are thin, light and super-soft – making them the perfect filling for an all-season duvet. 
Not only that, but Simba Renew fibres are also hypoallergenic, so you will no longer have to worry about dust mites or any other allergens that can find their way into and onto your duvet
Review of Simba Hybrid duvet
If we were to put it simply, this is easily one of the best all-season duvets we've ever had the pleasure of reviewing. Everything about it is good or better. 
First of all, the duvet is very soft, light and comfortable. So, if you don't prefer the hugging feeling of a duvet – this is just the right choice for you.
When it comes to the craftsmanship and quality of the materials used, we can only say – bravo! Materials feel premium and luxurious, the stitching and seams are flawless, the design is great, and the duvet looks pretty durable. The only thing we would change is the "Simba" label, which is kind of harsh and rigid, but that's just nit-picking at this point. 
The main selling point of this duvet is certainly its temperature regulation. And we have to say – this temperature regulating duvet is remarkable. The Stratos side (blue side) will keep you cool even during the hottest summer nights. 
Finally, the recycled Simba Renew fillings are super-soft, hypoallergenic and that's pretty much all we could ask for.
On the other hand, even though this light duvet is advertised as machine-washable, in reality, it really isn't. In most cases, the drum of the washing machine won't be large enough to fit this duvet, so you will have to turn to professional cleaning when the time comes.
      Cover: 100% BCI Cotton & 100% BCI Cotton with Stratos
      Fillings: Simba Renew fibres
      TOG: 10.5
      Size: Single (200 x 135 x 4 cm), Double (200 x 200 x 4 cm

), King (

225 x 220 x 4 cm)

, Super King (

260 x 220 cm x 4cm).
Great temperature regulating properties
Very comfortable and durable
Hypoallergenic.
More expensive than some similar products
It might be too big for your washing machine
Only a one-year warranty.
What we like about Simba Hybrid duvet
Temperature regulating properties of Simba Hybrid are in the league of their own
It releases heat quickly
High quality thread count – high quality threads sourced
Hypoallergenic properties are always a welcome addition when it comes to duvets
Not one of those "heavy duvets"
Even though it only comes with a one-year warranty – the duvet is highly durable.
What we didn't like about Simba Hybrid duvet
It is one of the most expensive fibre-filled duvets on the market
Even though it is advertised as machine washable – it rarely is
It could do without the unnecessary plastic wrapping in the box.
Check the alternatives to Simba Hybrid duvet
If case you're not interested in Simba Hybrid for whatever reason, we decided to present you with some alternative options. Here, we're going to take a look at similar products, but still different enough that it makes sense for you to consider them.
Panda Cloud is another all-season 10.5 tog duvet, only this time, instead of 100% fibre fillings, we're looking at the mixture of bamboo and nano-fibre. 
Once again, we're looking at a hypoallergenic duvet, which is always lovely to see and unlike Simba Hybrid, this one comes with a 5-year warranty and a 30-night trial period.
The active temperature regulation is achieved via using bamboo-infused layer that keeps the heat away from your body and ensures you stay cool and moisture-free. Though it is not a down duvet, this can be a winter duvet but you can use it during the summer as well.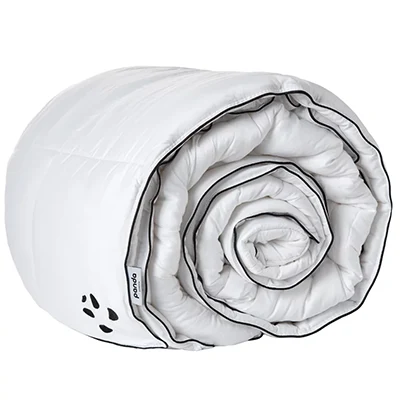 Perfect tog rating for all seasons; excellent temperature regulation
Very comfortable and durable
30-night trial and a 5-year warranty.
It might get somewhat warm during scorching summer nights
More expensive than some similar products
It might be too big for your washing machine.
Eve Light Eco is a 4.5 tog duvet that is mostly tailored towards people who sleep hot or towards the warmer months of the year. It won't be as warm during the winter, but it will be slightly cooler than Simba duvet during the hot summer nights. 
The duvet features several things that set it apart from the rest of the competitors, including light weight, hypoallergenic structure, sustainable and breathable materials that are good for allergy sufferers. 
The body temperature increases the heat normally, however, this duvet does not allow the hot air to stay trapped and make you hot.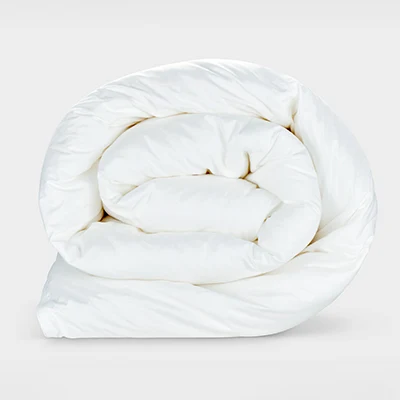 Very cool and breathable
Hypoallergenic and easily washable
Made from high-quality, sustainable materials.
It can't be returned if used
It might be too big for your washing machine
Not warm enough for cold winter nights.
Consider Simba Hybrid pillow if you are buying Simba hybrid duvet
If you want to add to your sleeping experience and stay in Simba Sleep family, you might consider getting Simba Hybrid Pillow. This is another high-quality product from one of the leading brands in the United Kingdom. Once again, you're looking at 300 thread count cotton enriched with Stratos technology, so you can be certain that you won't flip your pillow looking for the cooler side.
 Furthermore, this is a highly adjustable pillow, as the inside of it is filled with Nanocubes that you can add or remove to achieve desired thickness and firmness. The Nanocubes are temperature regulating technologies that keep you cool but also ensure you an appropriate pillow loft. The high quality threads and are visible so you can tell it is a high-quality product at first sight.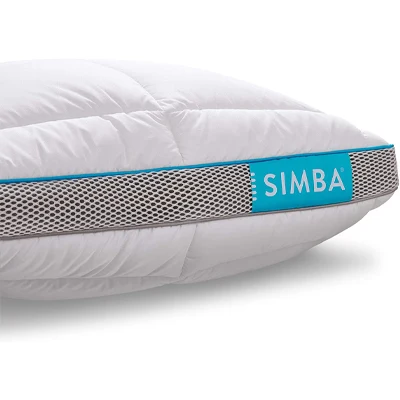 Super cool and breathable, thanks to Better Cotton Initiative
High level of durability
Good neck support
Core filler evenly spread for an even support.
Stomach sleeper may not find it that comfortable
Some sleepers find it too firm when filled 100% with Nanocubes.
What makes this product better than some other similar ones?
Simba duvet is arguably the best duvet when it comes to regulating temperature all throughout the year. You won't get too hot during the summer and you won't feel cold during the winter and that is by far the most significant advantage of this duvet. 
How did we test the product?
As with any other product review, we approach our duvet reviews with a single goal in mind – to provide you with an unbiased, objective overview of the product. We try to be as thorough and detail-oriented as possible so that we don't miss anything that might be crucial to the overall quality of the product.
When it comes to Simba Hybrid duvet, the first step is ordering the product. The ordering process is very straightforward. You visit Simba's website, you select the appropriate duvet size, and you move on to the checkout. At that point, all you need to do is enter the necessary information, and you should be on your way. Keep in mind, Simba does offer free delivery and returns, but in case there are some delivery fees, they will be calculated during the next step, so you won't experience any undisclosed additional costs.
The next step is unboxing. The package was delivered rather quickly and there weren't any visible signs of damage on the packaging. However, we did find it a bit annoying that the duvet was wrapped in layers of plastic wrapping, especially because Simba Sleep is known for using sustainable and eco-friendly materials in most of its products.
Upon further inspection, we've determined that the duvet was in perfect condition. The pocket stitching and seams were flawless, and there was a clear distinction between the "cool" and "regular" side of the duvet, so we didn't really feel the top/tail label was necessary. The "cool" side felt sticky, plasticky and very cool to the touch, but none of that was uncomfortable once we've put the duvet inside the covers. 
We've spent two nights under the duvet and we have to say – the difference between the cool and regular side is very noticeable. Both sides did what they were designed to do, and the overall feel of the mattress was more than comfortable. It was pleasant, cosy and not at all heavy, as was the case with a previous rendition of Simba Hybrid. 
FAQs about your Simba Hybrid duvet
In the end, we wanted to wrap things up by answering some of the most frequently asked questions about Simba Hybrid. As we've previously mentioned, due to the high popularity within the United Kingdom, this Simba duvet has been redesigned over the years, so we wanted to clear up any confusion that might be there.
Is Simba Hybrid duvet suitable for hot sleepers?
Yes. Simba's Stratos technology makes this duvet more than suitable for people that sleep hot.
How do I wash my Simba Hybrid duvet?
Unless you have a very large washing machine, we suggest that you wash your Simba duvet professionally.
Does Simba Hybrid duvet come with a duvet cover?
No, the Simba Hybrid duvet does not come with a duvet cover. However, we would advise using a duvet cover to prolong the life of your duvet.
Is Simba Hybrid duvet prone to moisture retention?
No. The upgraded rendition of the Simba Hybrid isn't prone to moisture retention, mostly due to the Simba Renew fibres that fill up the duvet.