Emma Mattress Protector Review
You have bought an Emma Original, Emma Hybrid, Emma Original Hybrid or some other mattress that meets all your needs and requirements. And that's why you want it to last as long as possible. The best solution to extend the service life of any mattress is a mattress protector. Here is your Emma Mattress protector review by The Sleep Advisors.
Who is Emma Mattress protector for?
Use Emma Mattress protector if you have a new mattress that you plan to use for years to come. The mattress cover will not make the mattress more comfortable, unlike the mattress topper. 
Instead, the mattress protector is useful for a mattress that suits you perfectly and you want to protect it from spills, damage and other things with the goal of extending its lifespan.
Add a header to begin generating the table of contents
What do we use this product for?
First of all, we use this product to protect the mattress, as its name suggests. But we also use it for hygienic reasons. You can take Emma Mattress Protector with you when you travel and put it on any mattress to protect yourself from something that may be present on that mattress, such as dead skins cells, bed bugs and so on. We can never be 100% sure that everything is spotless clean in hotels and other places. This protector is great:
Protecting your bed from pets
Protecting the mattress from spills
At prolonging the life of a mattress
At ensuring a hypoallergenic & breathable environment.
Features you should know about Emma Mattress protector
Emma mattress protector has 4 features we want to tell your more about. Mattress protectors are usually very simple, but Emma company made advanced mattress protector consisting of a few layers and additional features that will convince you to go for this product.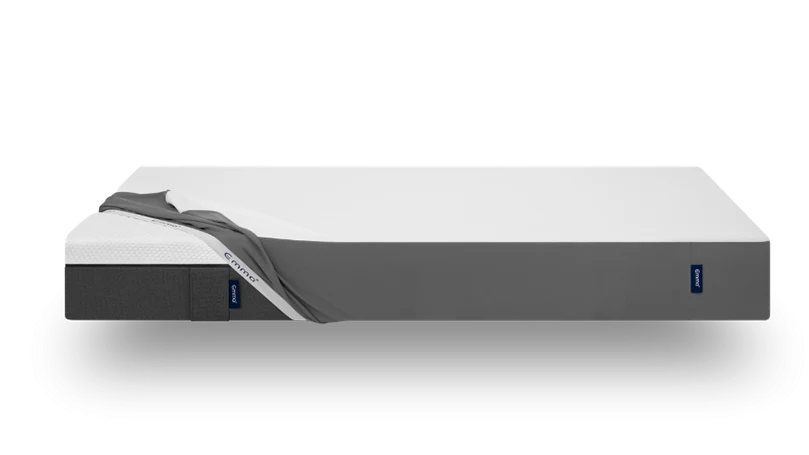 Allergies are something that affects a large number of people around the world, and according to data obtained in numerous studies, the number of children and adults who are prone to allergies is increasing. Dust mites are the cause of 70% of all respiratory allergies and therefore it is necessary to ensure a good protection against them.
That is why Emma implemented AllergyShield in their mattress protector to protect you from dust mites and pet hair allergens. The use of this mattress protector has been proven to reduce the likelihood of developing allergies thanks to Allergy Shield.
Are you one of those people who like to have breakfast and coffee in bed? Or to drink a glass of milk or wine in the evening while reading a book? As much as you enjoy it, it's not something recommended unless you have a mattress protector.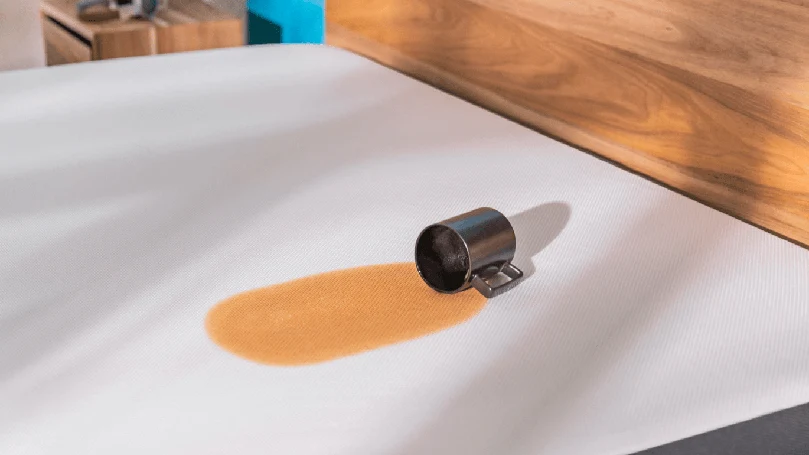 If you don't have a mattress protector, you can damage your mattress if you spill something on it or if you drop crumbs that will cause bacteria to grow. EmmaGuard layer is 100% waterproof and anything you spill while in bed will not be able to reach your mattress. And you will wash Emma Mattress protector in the washing machine and it will be impeccably clean.
360 degrees grip - crinkle free
Crinkling is one of the main reasons why people avoid putting a protector on their mattress. Although they know the benefits of using a mattress protector, it is very annoying that you have to put it back in place every morning because it has moved while you sleep. Emma Mattress protector has a 360 degree grip that will always keep this mattress protector in place. It is also crinkle-free, and completely silent so you won't even know there is something over your mattress.
Emma Mattress protector is made of 100% polyester which makes it durable and machine washable. But that is not all. Purotex technology is applied to this mattress protector which is another additional, very important feature.
Purotex technology is applied to the mattress protector which contains microcapsules that are filled with natural probiotics. Probiotics are 100% natural and are a natural remedy in the fight against allergies. These microorganisms also reduce moisture, which is an ideal base for the development of allergens.
Review of Emma Mattress protector
Emma Mattress protector is one of the best mattress protectors on the UK market because it is 100% waterproof, hypoallergenic and wrinkle-free. It will significantly reduce the wear and tear of your mattress and prolong its lifespan significantly. It is naturally hypoallergenic and also protects you from dust mites, bed bugs and many other things, making it ideal for those prone to allergies.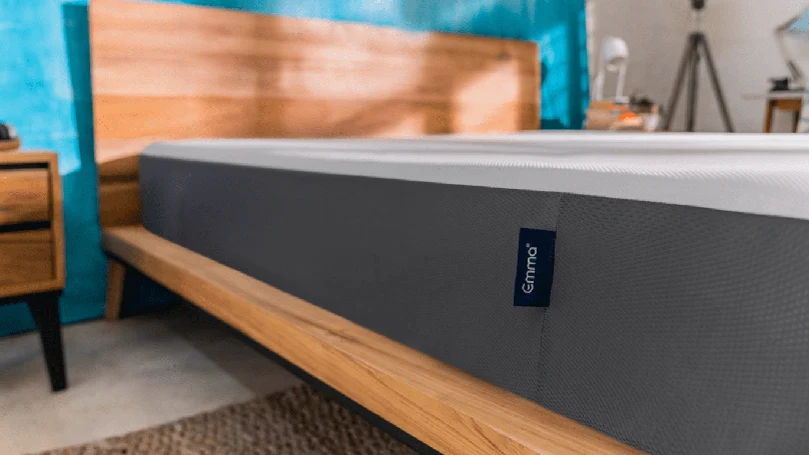 Free shipping, long trail period and warranty make it even more desirable. It doesn't move while you sleep, and it's easy to install on one of Emma mattresses.
Material: Polyester
Filling: Purotex capsules
Washing: at 40 C degrees; No tumble dry
Size: Single, Small Double, Double, King, Super King.
100% waterproof
Wrinkle-free
100-night trial.
More expensive than most of mattress toppers
100% compatible with Emma mattresses, but not with some other ones
Some may don't like it is two-tone design.
What we like about Emma Mattress protector
100% waterproof so you can drink coffee in bed without the risk of damaging your mattress
Protects you from dust mites and other allergens, as well as from bed bugs 
Free delivery, long trial period and 10-year guarantee.
What we didn't like about Emma Mattress protector
Customers when they decide to buy a mattress protector usually expect a cheaper product than this one
Although it is very breathable for the mattress protector, it is still waterproof and that is why it can be hot from time to time
Perfect fit for Emma mattresses, but be sure to check the size before ordering it if you have a mattress from another company.
What makes this product better than some other similar ones?
A very long trial period as well as overall quality is what makes this product better than some other similar ones. It is 100% waterproof and comfortable to sleep, which are the most important characteristics of a mattress protector. Also, it is hypoallergenic, so it is specially useful for people with allergy problems.
How did we test the product?
Emma is a company that is very friendly to its customers and this is reflected in a few things that you will notice immediately upon ordering. In addition to the fact that the ordering process itself is very simple, you will see that delivery is free and that you will receive a mattress protector in a maximum of three working days. Also, a 100-night trial is available which is so much when it comes to a mattress protector. This is the same length of the trial period as for the mattresses.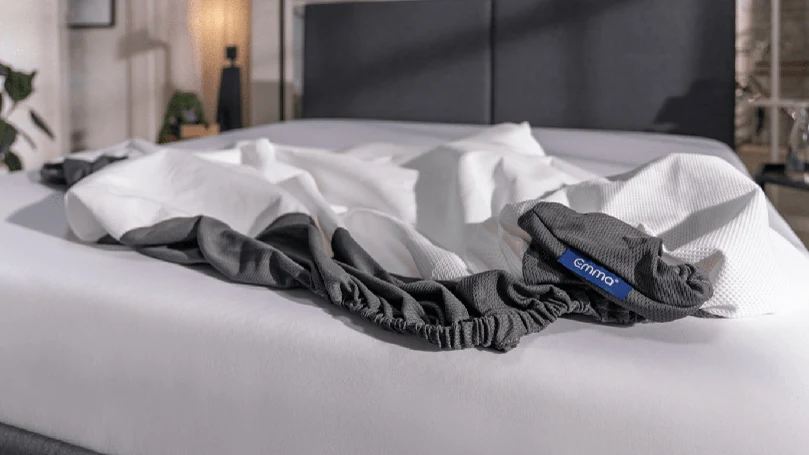 Upon unpacking, we installed it easily on Emma Original mattress. It can be seen that it fits perfectly and once we place it, the protector was practically imperceptible. Since it is waterproof, we did a few tests to check if it is really 100% waterproof. We spilled several different types of liquids in different amounts and the mattress remained intact. So this mattress protector has passed one of the two most important tests. The second was an overnight test to determine what the sleeping experience was like on it. It's wrinkle-free, so it doesn't matter if you sleep restlessly, it will always stay in place. Also, overall we were comfortable, breathability is good.
We finally removed it, washed it in the washing machine at 40 degrees Celsius and then put it back on the mattress when it dried. No signs of sagging or any problem whatsoever.
FAQs about your Emma Mattress protector
We were told that their customer service is mostly receiving questions about whether Emma Mattress protector is a waterproof, hypoallergenic, how it is maintained and whether it can be used on any type of mattress. So we will answer those questions for you in our FAQs section.
Is Emma mattress protector waterproof?
Yes, Emma mattress protector is 100% waterproof so once you put it on a mattress, you won't have to worry about spills anymore.
Is Emma mattress protector hypoallergenic?
Emma mattress protector is hypoallergenic making it suitable for all those prone to allergies.
Can I use Emma mattress protector on any type of mattress?
You can use it on any type of mattress, but you have to check size, since it is compatible with Emma mattresses.
How do I wash Emma mattress protector?
All you have to do is to remove it and wash it in the washing machine at 40 degrees C. Do not tumble dry it.