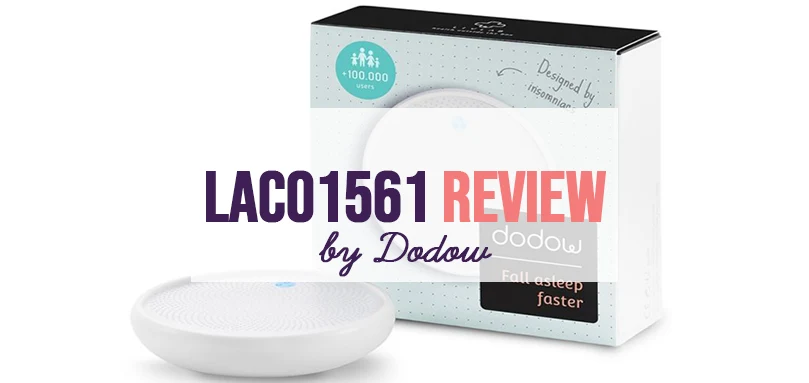 LAC01561 Review, By Dodow
An alarming amount of people suffer from a lack of quality sleep. About 1 in 3 persons have suffered from some kind of insomnia in their life. On average, we sleep almost 20% less than we did 100 years ago, too. With these facts it doesn't come as a surprise that almost 10 million people in the US use some kind of sleeping aids. The consumers demand healthy and natural products that increase the quality of sleep. Luckily, The Dodow has made a little gadget specifically to cater to this crowd.
The Dodow project is a three-man startup of young entrepreneurs that share a passion for fighting low-quality sleep and insomnia. Members of the development team are ex-insomniacs that found a solution in their product! So if the manufacturers being the guinea pigs for their own product doesn't convince you in the seriousness of the project, we don't know what will. Check their Amazon page and learn more about this wonderful team of inventors.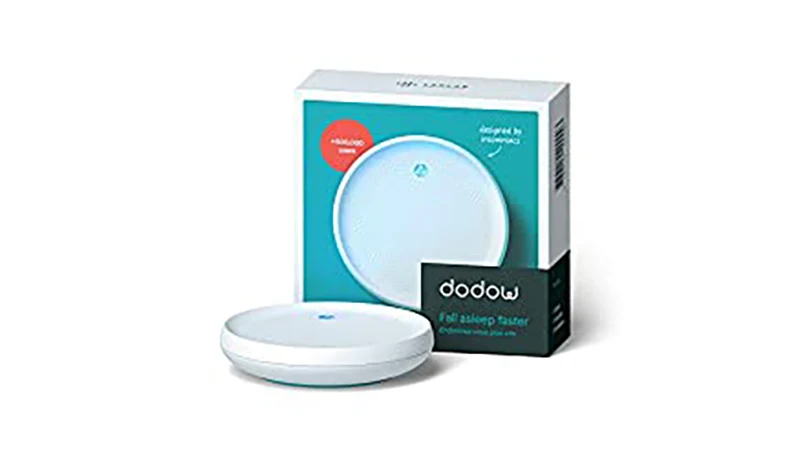 The Dodow is a light metronome specifically catered to the needs of insomniacs. If you feel stressed out from your day-to-day and have trouble falling asleep, this device should do the trick. No medication, no complicated setup – just a small device intended to usher you into sleep with rhythm.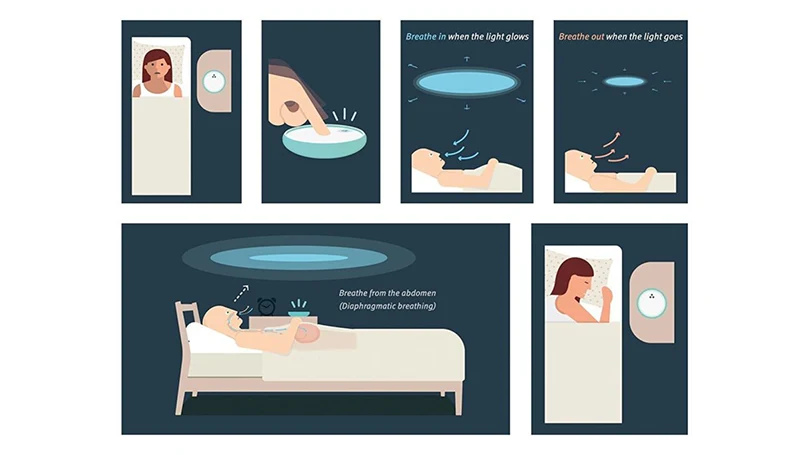 The downside to this product is that it can't really be enjoyed if you sleep on your side or stomach. There is a rather simple solution – to tilt the gadget and lean it onto something sturdy in order to project the blue light on the wall across from you. However if that doesn't work for you you might as well skip it until they come up with a solution for it (i.e. a Dodow holder, similar to mobile phone holders in cars?). We're just throwing ideas around, but you get the gist.
The Dodow gadget is fairly easy to use. It has a 'touch sensitive' top for browsing through features and three blue led lights which project onto the ceiling. You follow the metronome rhythm and correct your breathing. The Dodow is fairly easy to use: it has on/off, 3 light settings and an 8 – 20 programme. The only thing that we've noticed is that the touch settings part is a bit tricky to get a hold of. It's not as sensitive as a touchscreen would be nowadays, but it doesn't detect pressing either. Therefore you have to try and find the 'optimal' amount of pressure to get it to work.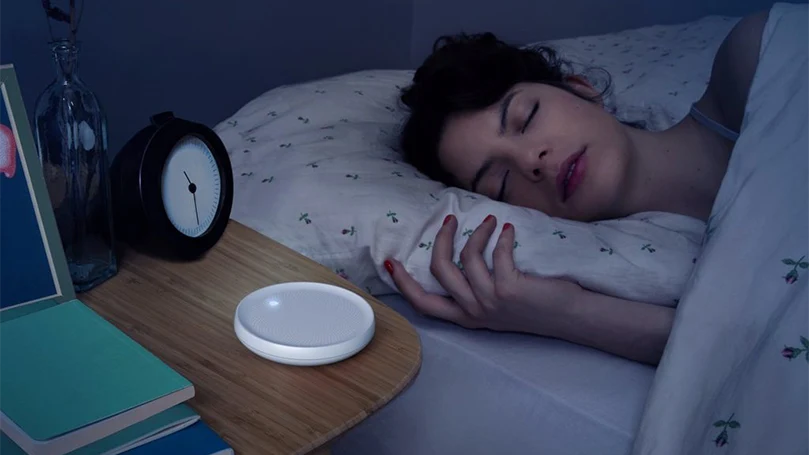 The product is made out of industrial plastic with mobile use in mind. Even though it cannot fold, it isn't clunky or hard to pack. The circular shape makes it easy to grasp and pack into your suitcase or backpack to take it wherever you need. 
The Dodow is a 7x7x7 cm object weighing 299g (with batteries). It can easily fit any nightstand or travel bag. It's fairly travel friendly and we recommend you take it with you when you leave home because that's when it's the hardest to fall asleep.
The only way to power it right now is via 3 AAA batteries. This is simple enough, although it would be nice to have an alternative power solution. It lasts pretty long with batteries and the only downside to it is basically that it doesn't have any charging options. Ideally it would be best if we could use it at night and let it charge by day. Who knows, maybe the next model will have that too!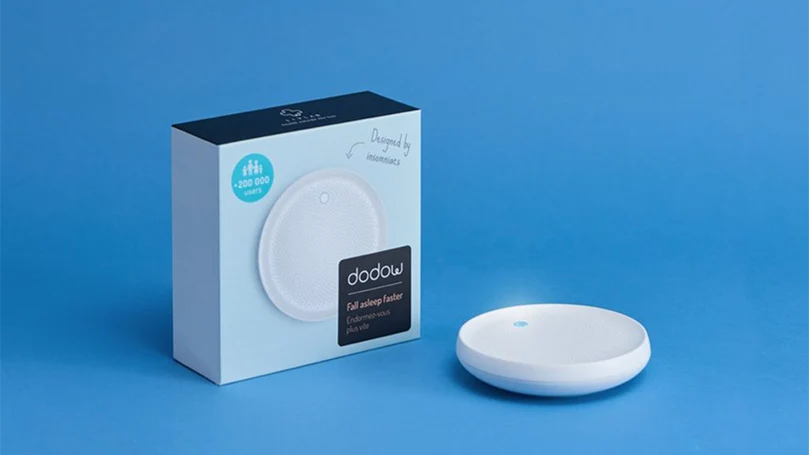 With responsible use, the Dodow will be at your side for many years to come. It is a simple, durable and manageable gadget – longevity is guaranteed. Make sure to change batteries or remove them if you aren't using the gadget for a longer period of time.
The current market price is at 44 GBP. This is probably the biggest question mark around the product. The mostly positive responses from consumers gives some faith to the price tag. If your problems match those of satisfied customers, you should give it a try for sure!
| | |
| --- | --- |
| MATERIALS | Industral plastic, no risks of allergies, irritations or other health related problems. Easy to clean. |
| DIMENSIONS/WEIGHT | Small and light, easy to travel with and fits any bedroom. |
| POWER REQUIREMENTS | 3 AAA batteries aren't a big ask – however this is the only way to power the device. |
| DURABILITY | Will last for ages, built to endure travel and use. |
| PRICE – QUALITY RATIO | Think about it. |
Trial period, warranty, shipping details & refunds
Standard Amazon warranty rules apply. Refunding the product is possible in case you feel like this isn't the right solution for you. Learn more about it here.
The Dodow is a great product for those feeling anxious or having trouble relaxing before bed. It is light, easy to carry and slick in terms of design (kind of like Apple products). A very practical solution that is quickly set-up and ready for use!