Silentnight Geltex Pillow Review
Although memory foam has established itself as the most widely used artificial material in the sleep industry due to its many great characteristics, this does not mean that many manufacturers are not working on new materials that can further enhance the sleep experience. One such material is Geltex, so let's go through all the features of Silentnight Geltex pillow together and find out what it can offer your. Let's see what this brand offers with their pillows!
Who is Silentnight Geltex pillow for?
Silentnight Geltex premier pillow is certainly not just for a specific type of customer, but most people will find it comfortable enough. But if we need to single out one type of people who will especially like it, they are the ones who want a pillow that is more cooling than the average memory foam pillow.
If we are talking about sleep position, then Silentnight Geltex pillow is ideal for side sleepers, while loft is unsuitable for most stomach sleepers. The other types of sleepers can use this pillow, but it is very likely that it won't be suitable for other types of sleepers than side sleepers. 
What do we use this product for?
We use this product for its cooling properties and support. The open cell structure of Geltex provides great breathability and that is why you will never be hot while sleeping on this pillow. Since Geltex is more elastic and flexible than memory foam, then it provides active support, because it will follow your every move. Active support is especially important for restless sleepers.
Features you should know about Silentnight Geltex pillow
Our main focus will be to tell you more about Geltex, knitted cover and hollowfibre as the three most important features of this magnificent product.
Increased breathability with GELTEX
To address one of the biggest drawbacks of memory foam, and that is the lack of breathability, Silentnight company has launched the Geltex that they use for mattresses and this pillow that has gel infused core for temperature regulation. In combination with the ventilated structure, there is on way your body gets hot.
Geltex allows air circulation several times better than in memory foam, and has very similar characteristics when it comes to pressure relief and support. So we give 5 stars for breathability and we are sure that many hot sleepers will buy this pillow since it will cool them down even during hot summer nights.
Knitted cover with air mesh walls
The comfort of your sleep is greatly influenced by the cover. This Silentnight product is a wrapped into luxuriously knitted polyester cover that is very soft and comfortable, so many customers do not use a pillowcase, but sleep directly on the knitted cover. Cover, as well as the rest of the pillow, is hypoallergenic so it is safe for everyone.
To improve breathability even more, you can find mesh walls on every side of this pillow, so this is a really fantastic example of how a cooling pillow should be designed.
Hollowfibre for better comfort
Cooling gel is not the only thing that makes this pillow supreme choice for hot sleepers. To make the breathability great not only because of the Geltex located in the core of this pillow, but to keep the air circulation everywhere, the Geltex center is encased into a hollow fiber which as you can deduce from the name has a distinct effect on breathability.
Review of Silentnight Geltex pillow
This pillow is a highly breathable pillow that provides firm support, pressure relief and comfort. At the center of this pillow is the Geltex, which is a cooling replacement for memory foam, and is also much more responsive than memory foam. There is hollow fiber around Geltex, and closest to you is a luxurious knitted cover that is very soft.
While pretty much all types of sleepers can use this pillow, t best fits the side sleeping position, and will also be comfortable for most back sleepers. On a scale of 1 to 10, the firmness of this pillow is 7. It is not quite designed for the stomach sleepers so this group of sleepers may want to skip this product. 
Handmade in the UK
Supportive & comfy
A bit firmer structure
Hypoallergenic
Affordable.
Not for stomach sleepers
Only one size available
Too firm for some customers.
What we like about this product
Unparalleled breathability and gel infused core for the perfect sleep of all hot sleepers
Firm support and pressure relief are excellent
Luxury knitted cover is soft and durable.
What we didn't like about this product
It is not comfortable for stomach sleepers because it will raise their neck too much
The cover is not removable and therefore not machine washable, so although it is soft and comfortable, you will probably need a pillow protector
Some side sleepers complain that it is too firm and becomes flat over time.
Check the alternatives to this pillow
There are several reasons why you may want to consider alternatives to this pillow. Maybe it is unsuitable for your sleep position or you may want natural filling.
White Company's Goose Feather & Down Pillow
Feather and down pillows have been popular for hundreds of years and that will never change. This one is high-class, luxury goose feather & down pillow that will give you the super comfort.
If you want a fluffy, soft and breathable pillow, then White Company's Goose Feather & Down Pillow which is filled with a blend of 85% goose feather and 15% down will suit you. It is soft, but thanks to fathers it is supportive too.
Don't forget to check our full review on this luxury goose feather & down pillow.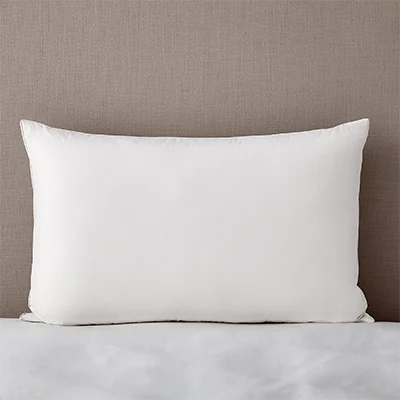 Comfortable
Durability
Quality materials.
Professional laundering is highly recommended
Slight smell issues
Too soft for stomach sleepers.
At least once you bought a pillow and it was comfortable, but to make it perfect for you, you wish you could adjust it a bit. Now, that wish comes true – OTTY Adjustable pillow allows you to adjust its loft and find your perfect sleeping position.
The OTTY Adjustable pillow allows you to add or remove filling and thus make the loft height ideal according to your needs. This is one of the most comfortable pillows you'll ever find.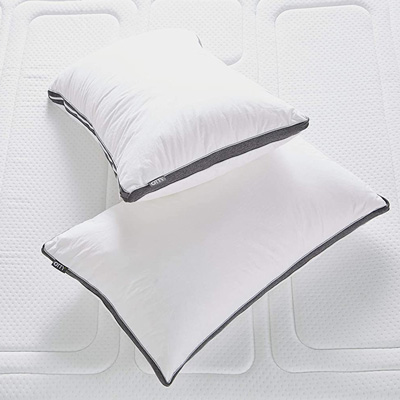 Free delivery
Adjustable loft
Highly comfortable
Hypoallergenic 
Hefty price tag, especially when compared to similar pillows
1 year warranty only
Not firm enough for stomach sleepers.
Consider Emma Hug Weighted Blanket if you are buying Silentnight Geltex pillow
Weighted blanket is primarily recommended for those suffering from insomnia, anxiety or some other similar disorder, but it will also improve everyone's sleep. If you want top quality weighted blanket, Emma Hug Weighted Blanket will not disappoint you.
It comes with a great trial period and multiple-layer construction so it is one of the best weighted blankets you can find at the moment. It weighs 7kg, so it won't be too heavy for you.
We have a full review on this Emma weighted blanket so feel free to check it out.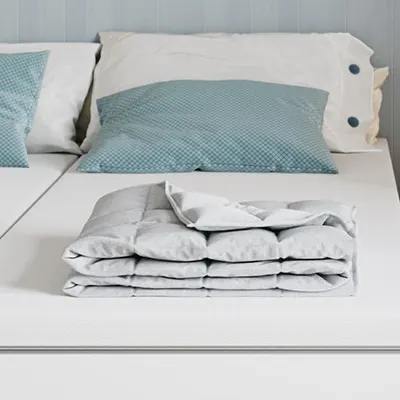 200-night trial
Top quality product
7-layer construction.
Super-cozy.
You have to buy bamboo cover separately and it is not cheap
Only one weight available
Only one size available.
What makes this product better than some other similar ones?
We have repeated it many times during this review, but we will repeat it one more time if needed Breathability and cooling properties are the main properties that make this pillow better than some other similar ones. It is 5 stars product that will ensure you the optimal night's sleep and accoring to the reviews from the sleepers who used this product, this product from Silentnight is mainly designed for the side sleepers.  It features Silentnight GELTEX, which is great for temperature control plus the firm support, which is ideal for people who are looking for the additional support from their pillows. Plus, it comes from a recognized Silentnight brand, which is one of the most popular sleep brand names in the UK.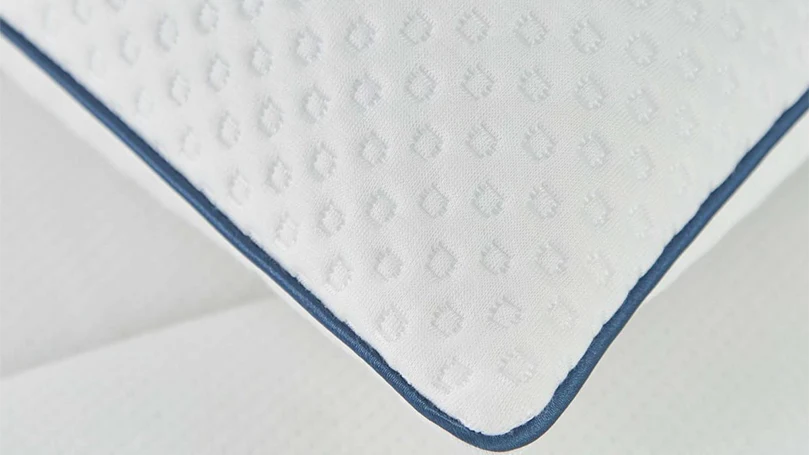 Aside from the majority of positive things that Silentnight Geltex Premier pillow offers, there are a few things that you might not be satisfied with. If you are a hygiene-nerd, you should know that you cannot remove the cover of this pillow since it is not removable. A customer may find this to be problem when it is time to wash the pillows. Therefore, you'll need to get a separate pillow case or a pillow protector. Another potential problem may be reported by the stomach sleepers who can't get the superb level of comfort. Some of the sleepers also find it too firm, so some of the sleepers may look for other pillows. 
How did we test the product?
We were very eager to test this pillow because we didn't get a chance to try Geltex often, and our pillow was delivered after a few days. When you add to basket this product, decide on the type of delivery. Slight off-gassing is barely noticeable (as stated in a description), significantly less present than with memory foam products. Craftsmanship is great, and the knitted cover is very soft and you will be able to notice the top quality polyester. The dimensions of the pillow are 65 x 40 cm, which is a bit smaller than the standard size, but it should be big enough for you.
During the overnight test, our primary focus was on breathability and cooling features and Silentnight Geltex pillow fully met expectations. The support is good, and you will probably need some time to get used to active support, because at first you may feel like the pillow is "alive" but you will quickly get used to it. After the overnight test we were also sure that it would cause neck pain in stomach sleepers, while it is ideal for side sleeping. The back sleeper in our team was pleased with the performance of this pillow.
As sponge and warm water are the only way how you can maintain this pillow, our advice is to use a pillowcase or protector, although the cover is very comfortable, but it will get dirty quickly since you will use it every night.
FAQs about your Silentnight Geltex Pillow
The FAQs section is a great place to answer some more questions about your new pillow or to resolve your concerns if you are still unsure if this is the right product for you. Hurry up to learn a few more things before you check the brand's shop and their stock inventory for this item!
Is Silentnight Geltex pillow too firm?
No, it is not too firm, on scale from 1 to 10, it is around 7.
Should side sleepers use this pillow?
Yes, it is great choice for side sleepers.
Is this pillow good for back sleepers?
While back sleepers may not find it as comfortable as side sleepers, this pillow is certainly suitable for them as well.
Should I use this pillow if I suffer from a neck pain?
Yes, you can use it to treat the neck pain.
Should stomach sleepers use this pillow?
There is a very little chance that this pillow will be comfortable for a stomach sleeper.
Is Geltex the same as the memory foam?
Geltex is not the same as the memory foam, since it is gel infused and much more breathable and elastic when you sleep. Learn more about Geltex at Silentnight's website.
Can I wash my Silentnight Geltex pillow in the washing machine?
No, it is not machine washable, you can wipe it clean with a sponge and warm water.
Is the delivery free of cost?
Yes, the delivery for this product is free of charge.